Hells Dungeon – Full Review
Hells Dungeon is a Haunted Attraction located in Dayton, OH.
3866 Linden Ave, Dayton, OH 45432View All Details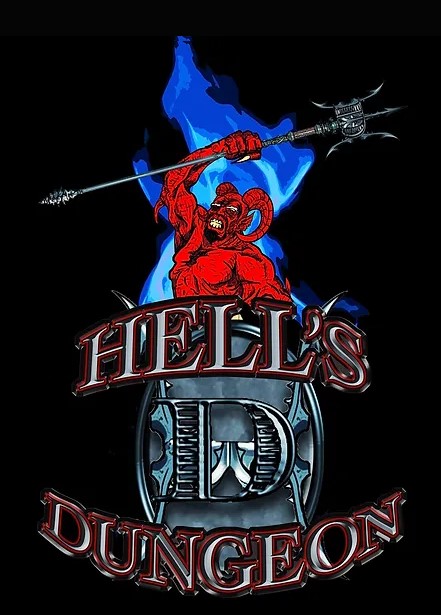 Features:

Free Parking, Restrooms/Porta Potties On-Site, Food/Concessions, Gift Shop/Souvenirs, You will NOT be touched, Original Characters, Indoor Waiting Line, All-Indoor Attraction, Family Friendly

Most Recent Video from The Scare Factor:
(Scroll for Scores and Written Review)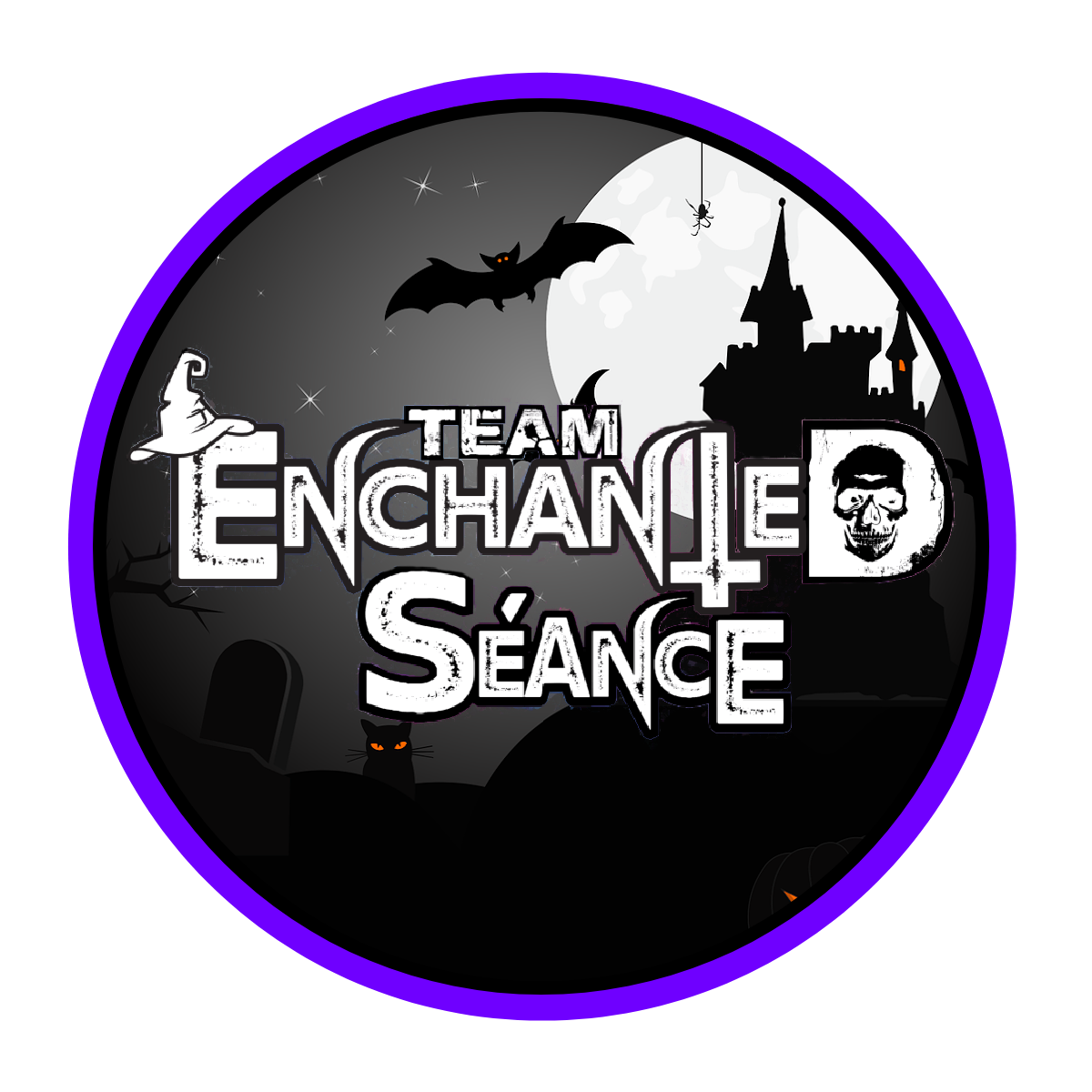 This attraction was reviewed on September 30, 2022 by Team Enchanted Seance.
---
About Our Reviews and Rating System
---
Final Score: 7.51
Final Scores – By Category

Final Scores – By Attraction

Summary:
You are standing at a doorway littered with the remains of those who dared to enter before you. You hear screams echoing throughout the hallways, signaling the demise of other travelers. The door swings open. Growls reverberate off the walls and through the narrow corridor; you've reached your final judgment.
Rufus, the gatekeeper of the underworld, arises from his throne, sniffing and appraising his next victims. He can smell our fear.
He makes a deal: salvation will be ours if we escape these unhallowed grounds. But should we fail, our souls would forever become prisoners in Hell's Dungeon! The screams continue, and the ground trembles, a brief foreshadowing of the terrors ahead.
---
Cast Score: 7.75
Cast Scores – By Question

Cast Scores – By Attraction

Cast Review:
It takes more than 60 actors to staff Hell's Dungeon every night. Some are under the age of 18 and are first-time performers in the haunt industry. But don't let that fool you. These maniacs are out for blood, and we are on the menu!
Cast members are energetic and deliver multi-layered dialogue. We encountered most characters several times as they jumped from scene to scene. Even first-time actors had shocking lines, the most notable of which was a little girl screaming, "please take this darn baby; all it does is cry and poop!" Interactions were rather lengthy, but the cast remained committed to their scripts. We did notice that some of the actors' engagements functioned solely to point us in the right direction, as the beginning quarter of the haunt had a confusing layout.
The queue actors were rather mischievous. Unsuspecting guests were gathered in the corner of the room for the duration of their wait. Time-out was monitored by the soul of a dead child and its witty clown companion. Those who attempted escape were held ransom for a hefty fee of $1 in exchange for their freedom. One poor prisoner was chased down several times after paying their fee. They're ruthless and persistent here.
Our most memorable conversations were with the clowns Raunchies and Bubbles. They performed some Pogo tricks, took a few pictures, delivered witty jokes, and made balloon swords to use as protection. This season will be Bubbles' last, as he enters the military this November. We are sad to see him leave Hell's Dungeon, but we wish him the best of luck in his future endeavors.
From all of us at The Scare Factor, thank you for your service!
---
Costuming Score: 7.48
Costuming Scores – By Question

Costuming Scores – By Attraction

Costuming Review:
Much of the cast we encountered at Hell's Dungeon sported complete and realistic looks, relying heavily on face paint and prosthetics.
The make-up crew had the daunting task of getting this large production ready.
Despite this, appearances were noticeably more menacing than in the past. We did see a few areas for improvement, with some characters sporting little to no make-up (the doctor/ corpse girl). While they were passible, some blackened eyes or layered cosmetics could enhance the effect.
The voodoo priestess, Mambo Marie, was the most menacing in that her attire was the most elaborate and professionally crafted. We were genuinely terrified to look her in the eyes! We also saw an abundance of colorful characters, most notably the clowns. Although they were energetic and believable, we'd like to see more variety as we walk through hell.
Other standout cast members include the exuberant pet store worker, the mortician, the elevator attendant "going down and down and down," and the abundance of maniacs in the asylum… The Firewood family of hillbillies was especially threatening. And as for the giant assault robot…. need we say more?
---
Customer Service Score: 8.4
Customer Service Scores – By Question

Customer Service Scores – By Attraction

Customer Service Review:
Hell's Dungeon is located in Dayton, Ohio, on the backside of Eastown Shopping Center. Signage to find the haunt is somewhat scarce, but our GPS took us to the correct location on the first attempt. This is a significant improvement over our experience just two years ago. Parking spaces are free and plentiful, but the lot can be pretty dark. Additional signage would be appreciated, but, given the location, it may not be an option.
Concessions, tickets, and security were all stationed at their appropriate points and could be identified by their unique attire and the presence of handheld radios. Information regarding the haunt, including its storyline, directions, and online ticket options, was easy to find before arrival.
The mission of Hell's Dungeon is to supply the community with an enjoyable Halloween experience. Outside of that, the haunt provides teens and young adults with jobs in the hopes of building their resumés and keeping them out of trouble. The passion Fred, the owner, has put into this project has brought forth a new haunt family that we hope will be around for years to come.
---
Immersion Score: 7.48
Immersion Scores – By Question

Immersion Scores – By Attraction

Immersion Review:
The queue for the haunt is covered and located in the basement of the main building. Colorful lights and blaring music was played throughout, and there are segments of the line that are lightly themed. Both the queue and outdoor areas could use a bit more character to help emphasize that you are, in fact, at a haunted house.
As mentioned before, transitions between scenes can be somewhat confusing during the early sections of the haunt. Glowing arrows on the floor guide you in the right direction, and actors do an excellent job of blocking unintended passageways. The latter portions of the haunt were more straightforward, allowing our group's experience to be more self-guided.
---
Special FX Score: 7.49
Special FX Scores – By Question

Special FX Scores – By Attraction

Special FX Review:
There's a charm at Hell's Dungeon regarding their set design. It has an old-school feel that radiates the nostalgia of what haunted houses used to be. Lighting, props, and layout were all reminiscent of the attractions we visited in our youth. In our opinion, this is a show that all Halloween lovers should experience!
Sets were simple, effective, and littered with absolute eye candy. The sound effects were immersive and well-balanced, and the lighting was sufficient and appropriate throughout. Our favorite scenes include the crash site, the stable, the elevator, the funeral home, the pet store, and the pumpkin patch- complete with a jack-o-lantern assault!
---
Scare Factor Score: 6.96
Scare Factor Scores – By Question

Scare Factor Scores – By Attraction

Scare Factor Review:
We exited Hell's Dungeon with big smiles. It is clear that this performance is heading in a unique direction. While most haunts advertise themselves as the scariest, Fred has made it clear that his overall goal is for people to have fun; while still delivering the fear. With an exceptionally long layout and overwhelmingly large cast, Hell's Dungeon is sure to leave a lasting impression on families and thrill-seekers alike.
Some scares, including the drop panel, electric shock pad, and statue attack, were all creative ideas but required a substantially large group and setup effort to execute. We feel that some of these scenes would have been more effective if they were structured to seem less intentional and catch patrons off guard. The killer robot pursuit was one of the most creative finishes we have seen.
Be prepared to walk barefoot, as there is a 100% chance that one of the clowns will snatch your shoes! No, we're not joking!
---
Entertainment & Value Score: 7.36
E&V Scores – By Question

E&V Scores – By Attraction

E&V Review:
Our tour through Hell's Dungeon lasted 35 minutes, bringing our minutes per dollar score to a whopping 1.46, which is a respectable number compared to surrounding haunts and beyond. Tickets are just $24 and can be purchased online or at the gate. Concessions and merchandise are also available. Photos are purchasable at the gift shop once your adventure ends. They run for just $10.
Fred and his team have added 15 minutes to their show this season! Look no further than Hell's Dungeon if you're in the Dayton, Ohio, area and want a thrilling night of laughs and screams! HD is a massive haunt not only for first-time goers but for the seasoned thrill-seeker. Hell continues to expand and has, once again, exceeded our expectations.
---
View Full Score Sheet
---
Pics We Took From Our Visit:
---
Promo Images:
Click to Enlarge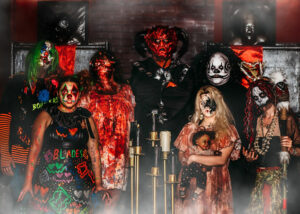 ---
Guest ReviewsGuest Average: 8.6 out of 10
Haint jampson – 10/10 – October 22, 2022This haunt good. I like clown actor scarey! There bendy contortion girl! Wow! Just cant say how …show more good!! Also! Wheelchair acesible. Check it out 100%
kara – 10/10 – September 24, 2022i love it here all the actors are amazing and kind. the effects are so awesome too. I got scared so …show more many times
Emmq – 10/10 – October 1, 2021Love this haunt I've seen it grown to amazing haunt it is and it keeps climbing
---
Past Awards
---
2022 Awards
Assault Robot (Given by: Team Enchanted Seance)
Bubblez (Given by: Team Enchanted Seance)
---
---
Past Awards
---
2022 Awards
Assault Robot (Given by: Team Enchanted Seance)
Bubblez (Given by: Team Enchanted Seance)
---
Join ourspookyadventures!
We visit Halloween haunted attractions year-round! Follow us for haunted house walkthrough videos, behind the scenes footage, and more!