Hill of Terror – Full Review
Hill of Terror is a Haunted Attraction located in Bonnieville, KY.
3666 Priceville Road, Bonnieville, KY 42713View All Details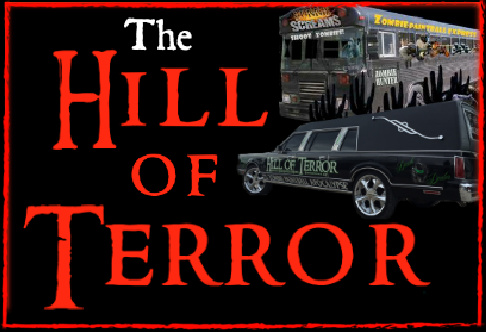 Features:

Free Parking, Restrooms/Porta Potties On-Site, Food/Concessions, Gift Shop/Souvenirs, Optional Games/Midway, You will NOT be touched, Uncovered Outdoor Waiting Line, Indoor/Outdoor Attraction

Team Zombillies reviewed this attraction on September 15, 2017.
Final Score:

8.53
Summary:
Going into their 8th year this season, Hill of Terror (HoT) has changed A LOT and, not only do they have one of the longest haunted trails we have faced, they're also the home of Zombie Paintball Apocalypse… hands down the most bad a$$ zombie paintball we've played to date! The trail has many new surprises this season for those who have been before and, if you haven't, be prepared to encounter a little bit of everything out here!
As you make your way through, you'll come across a barn, dark woods, paths, tall corn and multiple buildings. Many of your fears will be preyed upon, including heights, close encounters with water, clowns, confined spaces, mean dogs and a whole lot more! If a frightening forest adventure is what you seek, then head on out to Hill of Terror… and don't forget to grab your free candy before you leave.
---
Cast:

7.42
HoT has a large variety of creatures and madmen that are scattered throughout the trail. In a few areas, there are multiple actors in each scene; but then (as with most outdoor trails) there are times where no actors are present for several moments. Most of them can be found near the buildings and obvious scenes, but don't let your guard down while navigating the corn fields either (or maybe you should)!
During our travels we came across a couple of harlequins doing tricks and flips, a very intimidating stilt guy, a 'dog' named 'Sparky' (who had great vocals, by the way), a variety of victims, a couple of 'Twisties' and a car load of other random clowns. Some of them were very persistent about getting our group multiple times
The most relentless actor of the night was a particular clown with a mask that resembled Pennywise. Although he was mostly running at us with a chainsaw, he had at least one other unexpected surprise for us too! One of the Twisty clowns was especially intimidating and the victim in the tormentor scene in the cabin was very believable too. Overall, there was a mix of energy among the cast members, which kept things different throughout the length of the trail.
The zombies on the paintball ride are the most aggressive ones of their breed that we've ever come across. First of all, there were a lot of them. Secondly, they are NOT afraid to come up and even touch the trailer. It's almost as if the more you shoot them, the faster they come at you! One even acted like he was trying to grab the barrel of our gun, he was THAT close. Some of them do drop dead in their tracks, just for a little variety. At one moment the live DJ on the ride started screaming and, when we looked behind us, there were about 20 zombies following the wagon!
---
Costuming:

8.31
Much like the cast members, there was quite an assortment of costuming being used on the Hill. Masks seemed to be the 'go to' look, but there are also a few good makeup jobs here and there as well.
Masks varied in type and quality and the full-faced, silicone models were a great addition to the characters wearing them, but the latex ones affected how well those characters could talk to us. Makeup was applied 'lightly' for the most part, when used, which helped complete those characters' looks, but one stood out way more than the others and that was the female clown in the trailer park. We even stopped to take two or three looks at her before we left her scene! Admittedly, the trail is rather dark in some areas, which made it hard to really see all of the costumes in full detail at times.
There were also some costumes that blended in so well with their scenes that we were unable to pick them out until they made themselves known! Some of the other standouts include the female torturer in the cabin, the white-faced stilt walker, the dark angel and one of the Twisty's that was sporting a very 'nice' and grungy clown suit. His face was even deformed under his smiling mask, just like the real deal from AHS. His face was even deformed just like the real deal from AHS.
---
Customer Service:

9
Ignoring our trusty GPS, Hill of Terror was still fairly easy for us to find. Multiple banners sitting just off the road pointed us the correct way and, when we arrived, a custom, decked-out van and hearse were parked near the road at the entrance. A large barn displaying a green illuminated HoT sign is where free popcorn can be had and tickets can be purchased, as well as snacks, drinks and shirts.
HoT is a very large outdoor attraction that is split up into two areas. There is 'the bottom of the hill' and 'the top of the hill.' While at the bottom, you will purchase your tickets and wait in a line to be taken to the top of the hill. Our group didn't need to wait as it was later at night and there wasn't a line. Even though we weren't in this area very long, we did notice several clowns interacting with customers as well as 'Momus, the King of Zombie Paintball.' Once groups complete the haunted trail they will be brought by the party bus back to this area where there is another trail that leads back to the parking field, so be sure you don't miss that part.
To get to the top of the hill you can either go by bus or via the paintball wagon if you want to test your aim at LIVE zombies (we recommend the paintball route). At the top of the hill is a larger concession stand with some mean BBQ sandwiches, drinks, etc. They also had a gyroscope ride for those brave enough to try it out (A staff member told us that customers have been all about it this year)! Your destination – once on top of the hill – is the second barn. They have a coffin ride for those who want to experience what it's like to be buried alive. As we waited our turn, Toodles the Clown entertained us with his severed human head and a rather demented game of 'catch.' If you have questions, more friendly staff can be found at the ticket booth, the two bus/wagon loading areas, the food stand and the second barn.
Because the attraction does take place outdoors, there's always a chance for mud and there has been some each time we go. Be sure to plan accordingly when choosing your footwear for the evening. You will also have to interact with some scenery by getting down on all fours and crawling or sliding. In addition, be sure to watch for random roots, stumps and branches along the trail. We did have to navigate a very dark portion of the woods and, because we'd lost our night vision, we commented that we couldn't see where to go. A nearby actor helped us through the area, which was greatly appreciated and managed to do so without breaking character very much. To return the favor, we set out in search of his missing dog 'Sparky' (who turned out to be a rather vicious little critter). In other areas, there are some steps down out of buildings, buses, etc. and, in these areas, the actors warned us of those and sometimes they held doors open for us as well. This is a very large, long and interactive haunt, so just be ready to get down and dirty and the staff will make sure you have a scary good time.
Again, Zombie Paintball Apocalypse is one of the best we've seen of its kind, so there's a definite need to talk more about all of the awesome paintball-ness that's going down here on the Hill…
For an additional price, you will get a hopper full of glow-in-the-dark paintballs that are activated by the wagon's black lights so it's easy to see where you're shooting. They're like tracer rounds for paintball! Not only are there a bunch vicious and relentless zombies out here, but there are also quite a few unique targets along the way. The thing is, these aren't just regular ol' static props and dummies. When you shoot these targets enough, awesome surprises will happen! From air and water blasts to giant fireballs, we tried to every single one on our side of the wagon. But, we also tried to kill the zombies as well and, needless to say, we ran out of paint about halfway up the hill. Another thing we'd like to point out on this wagon ride is that the guns aren't as limited in range of motion as all of the other rides we've tried. This gives you more free range to shoot at the targets, zombies, the moving ATV (yes, apparently some zombies are smart enough to ride four-wheelers), barrels that they throw at you and so much more!
---
Atmosphere:

9.15
At the bottom of the hill, for the most part, there was an overall party atmosphere going on. Inside the ticket barn was a fortune teller that may get an early scream out of you. There was also what appeared to be a live news warning broadcasting on a TV for those who were waiting to get their tickets.
After the barn, we walked below a large arch with a HoT sign that welcomed us to the haunt. That's when things started to really liven up! Lights, dance music, dancing actors and the bus all helped in getting us excited for what's about to come… but not in a creepy way (that comes later). From the time we parked to the time we entered the haunted barn, music was heard the whole way. On the paintball wagon, the loud dance music and live DJ really helped in amping us up to slay some zombies on our way up the hill.
As we approached the second barn things started to get more quiet and much darker. We had to walk next to very tall corn to get to the queue line and it had us wondering what could be lurking in there. Screams, bangs and other noises were coming from within the barn. A dark angel greeted us and Toodles let us and others know we were at a haunt by greeting us in his own surprising way.
---
Special Effects:

8.16
When you walk this 40-minute hike, know that you are going to come across many special effects. They consist of a good blend of items that have either been bought or built in-house. There aren't a lot of fancy facades here or even that many full-sized buildings. Now, that's not to say that they don't have any buildings or shacks that you'll go through, but the trail is not set up like most of the ones we go to. Instead of being a twisty, turny path on limited acreage, the scenes and effects are spread out across their massive property, so it's rare to see what's coming up next until you actually get there. In most cases, this made them very surprising and unpredictable.
The scenes consisted of a large variety of designs. Some areas were very well decorated (such as the trailer park and zombie containment area), where others were more plain or relied on just the natural surroundings of the property. As we hinted above, several scenes are interactive in themselves and there will be times where your surroundings will force you to crawl, fit through some tight spaces, walk sideways and slide down multiple obstacles. Yes, we said slide. The rabbit hole is one of the most effective scenes at HoT and it only relies on creepy music, a few select lighting effects and the natural features of the forest. It is definitely something you should see and…. we promise' you won't miss it!
New for this season is a large, swaying bridge that goes over water and leads to the full-sized cabin, which ended up being our favorite part of the trail! As you slowly walk across, be sure to look down and let us know what you see (wink wink)! Some of the many other effects that we noticed include a skeletal surprise, a lookout tower housing a live machine gun, several computer animated effects, a talking zombie, vicious dogs, flames, a bed surprise, poppers, several air cannons, a spotlight, vibrating paths, a ghostly rocking horse, sparks… and so much more that we could probably write a book on the place! Many of these effects had great placements, especially the air cannons and water surprises (they nailed us with nearly every one of them)!
Sound effects were used in many places along the path, but they weren't encountered everywhere. Granted, we do know that some silence can be desirable and can help create suspense when used properly' we just didn't have it give us the heebie jeebies very often. Most of the sounds that were paired with animations sounded realistic and enhanced their effectiveness. We also heard Rob Zombie and Linkin Park songs, spine-tingling singing, horns, pulsating sounds and some more familiar soundtracks. The only thing we really heard that sounded weird or out-of-place was a pretty loud air compressor that was close to the entrance of one of the cabins.
---
Theme:

N/A
Instead of sticking to a single theme, HoT focuses on including something that will get under the skin of each customer that comes through. They also have a few areas for those that are harder to scare, so if they can't scare you all the way through, they're at least going to try to entertain you! Some of the themed areas we came across include the rabbit hole (a trip through their version of Alice in Wonderland), several clown areas, a zombie containment unit and many others that seemed to be created from HoT's own morbid imagination!
---
Fright Effect:

8.42
This trail is very lengthy and we were impressed at the variety of fright techniques that were tossed at us along the way. They provided so many startle scares here that it's impossible to predict them all! Some of the main ingredients to their fright concoction were distractions and suspense.
We found that, just when we would let our guard down, they would often nail us again from another direction. With that said, we did let out quite a few shrieks and, at one point, we came face-to-face with something that sounded hideous enough to make us want to avoid it altogether! An abundance of great hiding spots were used and worked particularly well in the areas where there was little to no sound.
If you visit HoT this season, we hope you like close encounters with water and the darkness because you will be facing them both head on! Some of the other types of frights that you may come across include abrupt noises, multiple chainsaws, very tight places, threatening weapon encounters and you might even play multiple rounds of 'chicken' with the actors when they' (see, we bet you thought we were going to give that little nugget away, didn't you? Nope! But we will say that…). They were not running behind us, they were running at us and fast, forcing us to move out of their way several times. They also excel in stripping your night vision from you with perfect timing, so good luck with that!
---
Value:

9.23
General admission to walk this massive, terror-inhibited excursion is priced at $20.00 per person. The trail itself took us just over 40 minutes to complete and that's NOT counting the trailer you can walk through at the bottom of the hill before exiting to your vehicles. That brings the Trail's value to a 2.03 MPD (Minutes of entertainment per dollar spent), which is above the average of 1.5 that our team sees most often.
If you love the idea of repeatedly blasting live zombies, you can get 40 rounds of paint for $10, 100 for $20 or 150 balls for $25. We had so much fun and ran out of paint so quickly that we wished we would have purchased more.
When we left HoT we were sweating from all of the fun and frights we'd just encountered! If you are looking for an attraction that offers a good bang for your buck, then this is a prime place to visit. They are only located about an hour south of Louisville and we drove around 2 hours to get there, and we'll add that we wouldn't hesitate to go again this season if we could! So if you are looking for a long haunted trail that offers a large variety of creatures, scares and fun, then visit Hill of Terror this season and tell Cybil The Scare Factor sent ya!
---
Promo Images:
Click to Enlarge
---
Guest ReviewsGuest Average: 6.56 out of 10
Sara c – 10/10 – October 11, 2019It was great !! Never have a moment to get bored !! Lots of work has went into this attraction!! It …show more was entertaining for sure !!
Brittani – 10/10 – October 5, 2019We come here every year never get tired of it! Always something new and exciting
Kaye Ball – 10/10 – September 13, 2019This has been my favorite. Above field of screams and Waverly hills……the staff is great! The …show more attractions are amazing. And never fells, there is always something new each year to scare me just enough to come back.
---
Past Awards
---
2019 Awards
Best Zombie Paintball (Given by: Team Zombillies)
Most Atrocious Scent (Given by: Team Zombillies)
---
2018 Awards
Most Realistic Scare - The Pond (Given by: Team Zombillies)
Best Pyro Scare (Given by: Team Zombillies)
Longest Outdoor Haunt (Given by: Team Zombillies)
Actor Shout Out - Stilt Man - Chase Williamson (Given by: Team Zombillies)
Actor Shout Out - Swamp Goblin - Todd Hodges (Given by: Team Zombillies)
---
2017 Awards
Grossest Scene - Fat Farting Guy (Given by: Team Zombillies)
Memorable Moment - Sparky the Dog (Given by: Team Zombillies)
Best Hearse (Given by: Team Zombillies)
Best Pyrotechnical Scare (Given by: Team Zombillies)
Best Haunted Trail (Given by: Team Zombillies)
---