Howl O Scream FL – Full Review
Howl O Scream FL is a Haunted Attraction located in Tampa, FL.
3000 E Busch Blvd, Tampa, FL 33612View All Details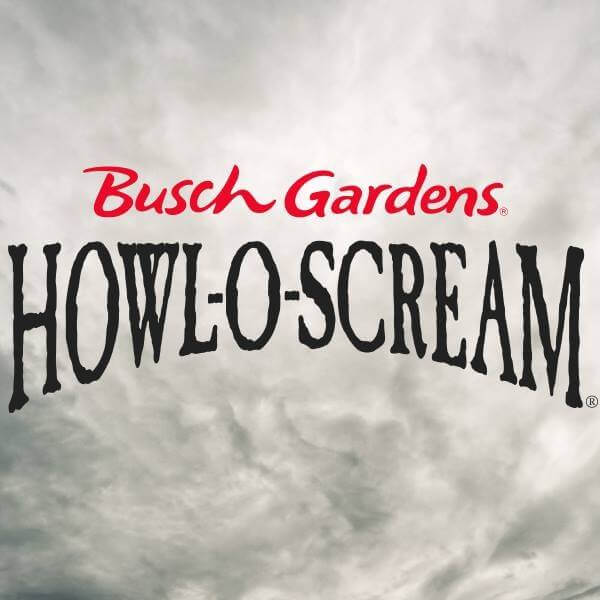 Features:

Paid Parking, Restrooms/Porta Potties On-Site, Handicap Accessible, Food/Concessions, Gift Shop/Souvenirs, Optional Games/Midway, "Old-School" (Low Tech), "Hi-Tech" Attraction, You will NOT be touched, Original Characters, Uncovered Outdoor Waiting Line, Indoor/Outdoor Attraction

This attraction was reviewed on September 21, 2018 by Team Giraffic Shark.
How Do We Get These Scores?

Final Score:

8.64
How Did We Get This Score?

Summary:
Beneath the moonlit sky, Busch Gardens Tampa Bay takes on a different atmosphere than that by day. While the award winning roller coasters and other thrill rides (including the 300+ foot tall drop tower, Falcon's Fury) may still be running, they are not the same rides by nightfall, as you may find yourself riding beside a monster, ghoul, or other creepy character. Howl-O-Scream spreads the scares throughout their expansive pathways throughout the park, leaving Guests truly #NowhereToHide, as their tagline suggests.
They also have some live show entertainment and, of course, the main attraction: six haunted attractions (after having 7 in 2017). With four returning haunts (MOTEL HELL, DEATH WATER BAYOU, THE BLACK SPOT, and UNEARTHED), Busch Gardens Tampa Bay welcomes two new haunts for 2018 (INSOMNIA and SIMON'S SLAUGHTERHOUSE). With SO much to do in a short evening, Guests may have to pick and choose which haunts, rides, and shows to experience.
Team Giraffic Shark did not have an opportunity to see FIENDS, the Howl O Scream-specific show this year; however, if similar to previous years, it is a fun show should weather not be cooperative for outdoor activities, or if a break from standing/walking is needed, however not a MUST-SEE attraction for those looking for a night of scares. Similarly, if any haunts are to be skipped, keep the underwhelming THE BLACK SPOT and SIMON'S SLAUGHTERHOUSE towards the bottom of the to-do list. On the opposite end of the spectrum, do NOT miss INSOMNIA, in its first year with an extremely strong debut, among other great haunts. You're in for a truly thrilling night, should you venture to Busch Gardens Tampa this Halloween season.
---
Cast: 8.21
How Did We Get This Score?

HOWL O SCREAM needs a LOT of performers to staff all of their attractions and the large amount of characters they put out on the streets for this event. With that consideration, they are bound to get a wide range of talent and performance ability. Thankfully, they certainly don't skimp on the number of performers in the houses; with scare actors around every corner, there is rarely a dead spot in the houses.
However, sometimes these performers seem to be dropped into the haunt without a story or reason for being there, featuring unmotivated scares, no story-driven interaction in highly-themed houses, and limited interaction other than a pop-out scare with minimal follow through. One of note was a pirate wench who spent more time rolling up her sleeves and saying 'move along' than attempting any sort of a scare. Locations that were previously heavily used to deliver story pieces were underperformed this year (i.e. performer with floating chair in DEATH WATER BAYOU and half-costumed lady in queue of the same haunt, as well as the performer corralling Guests at SIMON'S SLAUGHTERHOUSE and the pirate on microphone at the entrance to THE BLACK SPOT, partially due to poor audio support causing a muffled amplification). There were several times where cast switch outs were witnessed and they tended to lag, with conversations occurring between performers, eliminating the scares and shattering any suspension of disbelief or illusion of theme and story.
Although there are those few shortcomings, there are a large number of truly-passionate performers who seem to live for getting great scares and interactions with their Guests. Of note are the stunt performers on the streets, especially the ground sliders. Despite a heavily physical and demanding role, these performers are EXTREMELY energetic and committed to a strong and aggressive performance. A performer resembling a cemetery groundsman was very interactive and engaging, creating a great distraction for his scene partners to approach and attempt a scare. Another performance of note was a character in a roaming horde that found great fun in antagonizing Guests through sassy banter (we shall refer to him as some S&M Pocahontas Beetlejuice combo platter, as Costuming is a different discussion).
---
Costuming: 8.47
How Did We Get This Score?

Costumes, makeup, and masks are generally very thorough and well done at HOWL O SCREAM, so much so that a few areas where attention to detail is lacking makes them stick out like a sore thumb. A common theme this year was a mask held on with a thick black elastic band, not covered by a hood, wig, cowl, or any method, but allowing the performer's hair to be seen with a very visible black band, especially noticeable in the scare zone areas, and even more so before nightfall. Some of the 'skin/slaughterhouse' -themed masks could have a burlap or themed tie to go over the elastic since the characters are appearing to be wearing a mask of skin or meat, but in general, the black elastic ruins the illusion of character or themed mask.
There were also a few missing pieces such as stilt pants on the stilt walker in UNEARTHED, and while he packed a really effective scare, his shiny stilts were immediately distracting. THE BLACK SPOT is filled with pirates, many of which are dressed in blousy white shirts, making it impossible for them to hide in dark corners, hindering the scares in this attraction. Of special note are the beautiful costumes in the Dia De Los Muertos area. The attention to detail and authenticity made them very fun to look at as they dance through the streets.
---
Customer Service: 9.45
How Did We Get This Score?

Customer Service at Busch Gardens Tampa Bay is always solid and reliable with knowledgeable and helpful staff, and HOWL O SCREAM is no exception. From the parking lot attendants to the custodial staff, everyone is dedicated toward great Guest Service and an overall great experience. The team members working the VIP media area were exceptionally friendly and helpful, creating a wonderful atmosphere for the invited Guests of the evening. Many haunts also featured a mobile upgrade team member with a tablet able to facilitate any upgrades on the spot (front of line passes, VIP tours, etc.) without having to return to Guest Services; a great choice for a quick upsell opportunity.
---
Atmosphere: 9.1
How Did We Get This Score?

Busch Gardens Tampa Bay fills their entire park with theming for this haunted event. Saturated lights cast spooky shadows throughout the park, themed background music surround the scare zones and general areas, some characters roam freely throughout the park, and there are even performers before you enter the gates. Upon exiting the park at the end of the night, there is a VERY cool projection show at the front gate playing along to the upbeat music, a fun atmosphere for all the characters and Guests in that area as they exit (and enter, for those entering after dark). The kaleidoscopic horror themed imagery is certainly fun splashed all over the surrounding buildings.
HOWL O SCREAM rather effectively transforms their MASSIVE park for this special event, really making it special for those excited for the Halloween season.
---
Special Effects:

8.62
How Did We Get This Score?

Special Effects vary widely at HOWL O SCREAM, from old school yet effective, to advanced and high tech. It is because of this dichotomy that they find their success, surprising Guests with high tech moments, while not placing them around every corner to create numbness to large effects. Of special note is one of the new haunts for 2018, INSOMNIA. This haunt included many practical original effects along with more advance special effects including lighting effects, projections, and more. Returning favorites UNEARTHED and DEATH WATER BAYOU also feature great special effects, and many slight adjustments this year allow them to be more effective. The addition of flickering flashlights in UNEARTHED created a great opportunity to see details in the dark corners of the house while providing a great distraction amplifying scares. The one unfortunate downfall is that these flashlights give away a few scares in some of the darker scenes, and allowing some mechanics to be seen that were previously hidden.
---
Theme:

9.04
How Did We Get This Score?

HOWL O SCREAM delivers highly-themed original houses, unlike many competitors, relying on various intellectual properties to influence their creative choices. These themes are always strongly represented through thorough, detailed, walk-through attractions. At times, the specifics of the themes can be muddled and lost without reading the descriptions in the map, or without solid story-driven performers setting up the premise through themed dialogue and script choices. Without these specifics, the overall theme is still conveyed; however, the average Guest may miss any subplot details.
Some slight theme deviations exist in places, most notably MOTEL HELL, where non-motel related rooms are explored, adding variety, but deviating from the motel theme. A few times throughout the haunted attractions, backstage doors were opened wide or left open displaying a mess of equipment and things not meant for Guests to see, ruining the suspension of disbelief and illusion of the haunt, hopefully to be chalked up to the fact that we visited on opening night, and the technical team was still testing/adjusting. Theming is never lacking at HOWL O SCREAM, with detailed sets and costumes and well thought out original storylines for all attractions and scare zones.
---
Scare Factor:

8
How Did We Get This Score?

Overall, HOWL O SCREAM packs a great amount of scares for the casual haunt enthusiast, while not being overly scary, but definitely not lacking either. Highlights for scares include INSOMNIA, DEATH WATER BAYOU and UNEARTHED with motivated performers and well-designed scares. DEATH WATER BAYOU and UNEARTHED have taken advantage of being repeated the past few years to be fine tuned and polished into solid haunts. INSOMNIA is coming out on top of the list right out of the gate as a strong haunt packing great scares along with its solid story, effects, and huge success over its predecessor, ZOMBIE CONTAINMENT AREA.
A few times, however, during INSOMNIA, there are some misdirection moments where it becomes hard to tell where to go as the scares and cast direction are not strong enough to steer Guests in the correct direction. THE BLACK SPOT and SIMON'S SLAUGHTERHOUSE are the least scary of the attractions. THE BLACK SPOT performers lacked story-driven interactions, and energy was low. Scare tactics throughout ended up with groups running into each other and piling up through the house. SIMON'S SLAUGHTERHOUSE had many repeat scare tactics, which grew old and weren't effective (i.e. live performer on cart or pile of body parts, similar line choices 'Get out of my house'). For a 17+ recommendation, Guests anticipate a haunt filled with gore, intense scares, and more than the rest of the attractions, but most left disappointed.
Another sadly-lacking area this year is the scare zones. In the past, the effectiveness of the scare zones has been one of the highlights for HOWL O SCREAM over other theme park haunts because of how immersive, detailed, and intense they are. This year, they seemed to be lacking in each of those categories. The toy themed scare zone by the Sesame Street land was very poorly lit, to the point where all creative elements were wasted on the lack of light to see them. The stunt performer in the area would swing back and forth in the dark because nobody could see him. The scare zone behind the tiger exhibit was MUCH stronger last year. Perhaps our team had poor timing, but there were very minimal characters, and the design did not take advantage of the tight walkway as they had last year to create impactful scares. The Dia De Los Muertos scare zone was beautiful and fun to watch, but besides the camouflaged performers, was not scary at all.
---
Entertainment & Value:

8.94
How Did We Get This Score?

HOWL O SCREAM presents six haunted attractions along with all major attractions remaining open for the event. In 2017, the park had seven attractions, and while there is still plenty to do to fill a night at HOWL O SCREAM, a decrease in attractions is a bummer. Hopefully Busch Gardens has a plan to come back with a vengeance in 2019 and step up their game with several new haunts and returning back to seven (or more) haunts. With short attraction lines, the value of this event is still very high, as it is easy to experience all of the haunted attractions as well as rides during the event, at a price much less than a day pass.
Busch Gardens runs several promotions for tickets, including early bird offers, group offers, and other incentives. There are also upcharge offerings such as a few front of line pass options, VIP tours, etc. Parking is also paid so carpool if possible, or plan ahead for an additional parking fee.
---
How Did We Get These Scores

Promo Images:
Click to Enlarge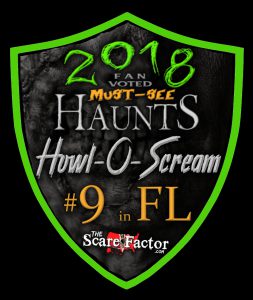 ---
Have you visited this attraction?
Join ourspookyadventures!
We visit Halloween haunted attractions year-round! Follow us for haunted house walkthrough videos, behind the scenes footage, and more!