Howl O Scream VA – Full Review
Howl O Scream VA is a Haunted Attraction located in Williamsburg, VA.
1 Busch Gardens Blvd, Williamsburg, VA 23185View All Details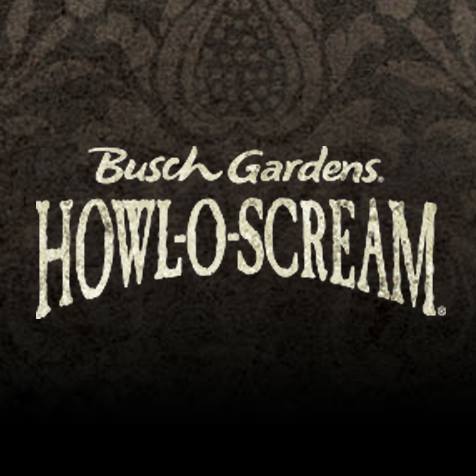 Features:

Paid Parking, Handicap Accessible, Food/Concessions, Gift Shop/Souvenirs, Optional Games/Midway, "Hi-Tech" Attraction, Original Characters, Uncovered Outdoor Waiting Line, Indoor/Outdoor Attraction

Team Scare Response Unit reviewed this attraction on September 23, 2017.
Final Score:

8.41
Summary:
It's time to start the creepy music, it's time to light the flickering lights. It's time to run in terror as this evil puppet show starts tonight! Busch Gardens' Halloween event, Howl-o-Scream is back this year, with Mr. Karver and his puppets being the (minimally used) highlight. Once the curtain rises, clowns, scarecrows, skeletons, Vikings, even lumberjacks come out seeking some fresh blood. With 7 haunts, 5 Terror-tories, 4 shows and specialty drinks hiding all over the park, this amusement park gets transformed into a place where nightmares come true. An amazingly-decorated park comes to life at night and the creatures that roam it are ready to feast. Below are some solo haunt scores and tidbits for each house:
Circo Sinestro- 8. It is set up just like a pop-up circus, with trailers about, tents that you walk in and out of and a lot of good jump scares and props.
Deadline- 7. A slow start leads into a pretty good haunt with some great details and scenes.
Catacombs- 7. Spooky scary skeletons.
Scarlett's Revenge- 6. Not to much action in this one and Scarlett herself doesn't make too many appearances.
Lumberhack- 4. Way too short and not enough scares. The actors were great, in-character and some of the props were really cool, but all the scares kind of came from a mile away.
Frostbite- 7. You know what's better than normal sized video screens? GIANT video screens! And an Icy Voldemort!
Cornered- 7. Visually detailed, makes you feel like you're in a cornfield. Scarecrows everywhere.
---
Cast:

7.79
From sentient scarecrows to killer lumberjacks and an ancient, unearthed evil to a chilling ice king, the cast used this year had high energy and great character. The scaractors were a mix of dialogue-using ghouls who fit the theme, jump scares hiding behind nooks and crannies and purposeful distractions to lead your attention elsewhere. At some points, it felt like an overabundance of jump scares coming from behind walls, but a good number of those also acted as distractions for another scare, so it evens out. Frostbite, their newest haunt, felt as though it could have been staffed a little bit better, but the real stars of Frostbite were it's giant screens which are normally used for its 4D ride, The Curse of DarKastle.
---
Costuming:

8
If there is one thing Busch Gardens knows how to do with their scaractors, it's make them blend into the scenery. Using things such as ghillie suits, teddy bears and even shrubbery, they can make a scaractor disappear into the walls, floors, and ceilings of their haunts using costuming skills (no teddy bears this year though). Nothing really stood out as absolutely amazing, but nothing was lackluster either. Every outfit was complete and authentic to the haunt. When masks were used, the blended nicely with the rest of the outfit. The makeup was very realistic and appropriate' except for one, which I think was done purposefully for comedic effect. Before entering frostbite, the guests get a video message from who we dubbed the Ice King and we all couldn't help but laugh a bit. The makeup was overly exaggerated, with an obvious gap to allow mouth movement, which didn't at all match up with the sound of the video. It was the horror equivalent of an old dubbed martial arts film… and we loved it.
---
Customer Service:

8.25
Being a major theme park, Busch Gardens seems to have triple checked all of the haunts and done everything they could to ensure there were no hazards. Lighting always showed where turns and edges were, preventing any accidental wall slams, but still hiding the scares. A park map, constant direction signs, and big signage with the haunts' names help make navigating easier and the haunts easier to find. There wasn't really much queue entertainment other than the music playing and, for one or two haunts, an occasional scaractor. But, the staff was extremely friendly and helpful, going out of their way to make sure guests are satisfied.
---
Atmosphere:

9.5
Every inch of the park is a pleasure to walk through during Howl-o-Scream. From their themed scarezones, to their nature walkways, practically every bit of the park is decorated with pumpkins, webs, scarecrows, and other Halloween staples. Their floating Jack-o-Lantern path is especially amazing at night and, once you get to the scarezones, it gets even better. Roaming scaractors terrorize passersby, as various props and effects go off all around. From fake flames over France to hanging "wanted" signs for Jack the ripper, the scare zones truly transform with the help of some great set pieces and, of course the scaractors. Music permeates the air, switching from eerie tunes to radio classics fit for the Halloween season. Even if you were somehow unable to tell you were at a haunt, you can at least tell you are in for a night of thrills, chills, and screams.
---
Special Effects:

8.58
The main special effect used this year were video screens. Between the giant 4D screens used in frostbite to the many smaller screens used throughout some of the other haunts, these were used in abundance and usually in good fashion. The once bland and quiet subway car in Deadline was brought to life, every window tuned into a scene of zombies trying to get in or attacking unlucky victims caught outside. Which, as a New Yorker, is still preferable to the 8am rush hour train into the city. Each house was filled with either music or sound effects which brought the scenes to life, such as zombies slurping, cackling clowns and even some backed-up toilets (smell included). There are a few parts where the detail is a bit lacking, but these are at least for a good reason. Frostbite is actually on the tracks of a ride, so walls are put up to stop guests from going anywhere dangerous and these are just big black walls. But again, the focus is on the big screens, not the walls. Other scenes, such as the voodoo hut in Cornered, are exceptionally detailed with the walls being covered in what looked like hundreds of handmade paper dolls. Even just the pathways in Cornered are detailed; a wooden fence completely disappears behind fake corn, making guests feel as if they really are trapped in a cornfield.
---
Theme:

8.05
Each individual haunt has a theme that is described on the website, giving guests a glimpse into what to expect. For the most part, if you don't do your research beforehand, you can still pretty much get the idea as you're walking through each haunt. Two of them, Circo Sinestro and Frostbite, actually give guests a short preshow to set them up for the upcoming terrors. Others, such as Deadline and Scarlet's Revenge, have backstories or plots to their themes which, if you do not know, will make you wonder why giant tarot cards block your path or why a miner is followed shortly by a subway car. But, with prior knowledge, these haunts pull off their themes very well. Frostbite and Scarlet's Revenge incorporate original characters with desires and personalities, making for very creative themes. The one thing that bothered me was that the overall theme for this years Howl-o-Scream was "Evil Encore," with a lot of emphasis on Mr. Karver and his puppets, who don't actually have their own haunt, but rather, have an updated escape room and a few rooms in Circo Sinestro. But, besides a puppet on a centerstage when you enter the park and a few banners scattered with a rhyme about his last audience, there is not much talk about Mr. Karver and his puppets.
---
Fright Effect:

8.1
We walked through each haunt with the same two people, since we were part of a tour with them. They had been there the night before and seemed to know where everything would pop out of, and yet they still got scared by a number of scaractors inside the houses. The cast does a great job of delivering scares of varying types to everyone in the group. I have to admit, even I got caught off guard once or twice. After the first 20 or so jump scares, it becomes a little bit predictable, but they still did their job in scaring the group and, like I said before, a good chunk of the jump scares also acted as a distraction for a different scare.
---
Value:

9
There are varying tickets for this event because, after you get the normal admission, you can then upgrade it with varying options. A skip the line pass is helpful, but what I go for every time I go is the all-access tour. With it, you get reserved seating at their shows (this year we got 3), a full course dinner, front of the line access to every haunt and even a few added bonuses (such as skipping the line for a roller coaster or two, and a very friendly tour guide). Granted, it is going to cost you a pretty penny, seeing how admission is about $80, and the tour is another $125. But you most likely will not be able to do every house, let alone every house, show, and meal if you get a normal admission. There is a skip the line pass starting at $50 if you don't care for shows and want to buy food at your own luxury. As for length, most of the haunts took a decent amount of time to walk through. Cornered and Frostbite felt like they took longer than the rest, while Lumberhack and Catacombs ended kinda early. But overall, you definitely get a lot for the price.
---
---
Guest ReviewsGuest Average: 1 out of 10
Rich – 1/10 – October 19, 2018Waste of time walked from one side of the park to the other and back missing attractions just to …show more return again to visit The one missed. Don't buy vip just get skip the line pass.