Review of Hush Haunted Attraction Haunted Attraction
Review of Hush Haunted Attraction Haunted Attraction
Review of Hush Haunted Attraction Haunted Attraction
Hush Haunted Attraction – Full Review
Hush Haunted Attraction is a Haunted Attraction located in Westland, MI.
37550 Cherry Hill Road, Westland, MI 48185View All Details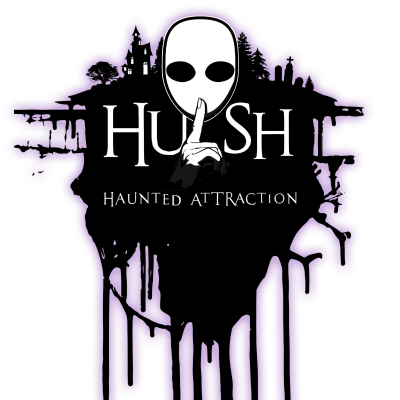 Features:
Free Parking, Handicap Accessible, Food/Concessions, Special Events, You will NOT be touched, Indoor Waiting Line, All-Indoor Attraction
reviewed this attraction on October 28, 2017.
Final Score:

9.1
Summary:
Hush Haunted Attraction takes place in Hush Falls, a town complete with streets, shops, sewers, bars, greenhouses, tunnels and much more. The town has been overtaken by a government tested virus, that has infected the citizens who have now turned into something very dark, very sinister, and very mad. This is the most creative and realistic, mini city we have ever toured inside a haunted attraction before, with nonstop action from the actors. Michigan currently has four attractions that this review team would rate a 9 or higher. These are places we would consider to be "Must See" haunts. Hush earns one of those four spots with their highly detailed scenes, original concepts, creative set design, and stellar acting.
---
Cast:

9.68
Hush has between 40-50 actors on staff on any given night. One thing that really stood out was the consistency of the performances from the entirety of the cast. We found all the characters to be quite believable, with a high percentage of them really nailing their roles with enthusiasm and flair. We had some wonderful interactive moments with several characters who used creative dialogue and used interesting sounding accents to their voices. The cast was also responsible for the majority of the scares which we will discuss later in Fright Effect, but for now, we will just say that the actors earned high marks for their scaring ability. Hush had a wonderful cast this season and they were, in fact, our favorite element of the attraction.
---
Costuming:

8.95
Hush's characters have a truly distinctive look that is created by the talented costume and makeup team. Everything looked original, authentic, and in many instances, highly creative. All of the costumes appeared to be custom made for their characters, which helped make them more believable and appropriate for their respective scenes. We noticed many professional touches like colored contact lenses, detailed applications, professional quality makeup work including prosthetics, and high-quality masks
---
Customer Service:

9.44
Hush is easy to find with GPS and we found parking to be a breeze even though it was extremely busy the night we attended. We easily spotted their flashing signage from the road, as well as the spotlight on the roof. There were plenty of helpful spotters directing traffic. We noticed several roaming actors entertaining those waiting in line and walking about. There were several concession options, plenty of porta potty bathrooms, and a gift shop all on site. The queue line is located outdoors so dress appropriately for the current weather conditions. The staff at Hush were very helpful, friendly, and quite knowledgeable about the area.
---
Atmosphere:

8.33
Being located on a busy strip right next to an auto service station does put a bit of a damper on the atmosphere. However, Hush does do a heck of a job in overcoming their geographical shortcomings starting with a nicely constructed exterior that resembles that of a dilapidated city, New Orleans style. Add in some loud rocking music, actors on the roof throwing beads down to the crowd, several other roaming actors interacting with the patrons, and videos showing on the wall of the building. All of this added quite a lot to the overall atmosphere which really helped to prepare us for our journey that lay ahead.
---
Special Effects:

9.4
One of the most striking aspects of Hush is the authentic look and feel of the structure itself, both inside and out. The construction of Hush Falls is quite brilliant, we felt like we were really in an actual town when walking through such scenes as back alleys, shops, sewers and a bar. 90% of the entire build is custom created by Hush's set designers/builders, most everything you will see is designed and built on-site. We felt this really gives the attraction it's own distinct, immersive style, more so than any other attraction we have visited in Michigan. The design of the more 'closed in' portions of the haunt is executed particularly well by way of the particular layout of the passageways which add an element to the fear effect all on their own without additional props, set pieces or actors. Not only are the sets authentic and unique, they're also beautifully detailed. We don't like to give away any of the surprises, so we'll just say we saw a lot of cool original features (or would concepts sound better?) that we haven't seen at any other attraction. Hush does indeed get high marks for their level of originality. The lighting was well done throughout, though at times, perhaps a tad too minimalist. We would have enjoyed seeing a few scenes with more dramatic lighting.
---
Theme:

9.47
Hush Falls is a town that has been taken over by a government contractor who is using the citizens as human lab rats for their sinister experiments. Things went horribly wrong when the scientists tested a particular strain of a zombie-centric virus that spread uncontrollably among the citizens.The zombified citizens have now taken over Hush Falls and stand in your way of making it out of the city alive! We thought the structure of the city was really well put together with the realistic, highly detailed sets which really helped in making the theme come to life. The zombie citizen characters were quite imaginative, each having their own unique characteristics and defined role. Aside from not having a more authentic location, we thought everything else regarding the theme was quite creative and very well executed.
---
Fright Effect:

9.37
We enjoyed several excellent environmental scares, but none more effective than the fog-filled passageway with the arsenal of air cannons. It was so effective in fact one of our team members practically ran through the area to get out unscathed! The majority of the scares came from the stellar cast who employed a wide variety of effect scare techniques. From clever actor distractions to extended immersive interactions that often times required the use of props, the cast delivered the goods! Many of the rooms had excellent hiding spots for their characters who, for the most part, seemed to have their timing down pat, several times appearing when we would least expect it. We also enjoyed several prolonged creepy frights when the actors would follow us out of the scene and into the next. Overall Hush rated in our top 3 highest Fright Effect scores of the entire season!
---
Value:

8.71
General admission is priced at $18 and a VIP Fast Pass is $30. The night we visited there was a several hour wait in the general admission line, a VIP ticket would be a wise investment on busy nights like these, especially during the last couple of weekends in October. Our tour through Hush lasted 16 action-packed minutes with virtually no downtime. Our review group has toured all of what would be considered the top attractions in the state of Michigan and among these haunts, Hush is one of only two that are priced below $20. We feel this attraction is a very good value for the money spent. Hush will continue to be one of the "Must See" haunts on our list of attractions that we plan to visit annually.
---
Promo Images:
Click to Enlarge
---