Hush Haunted Attraction – Full Review
Hush Haunted Attraction is a Haunted Attraction located in Westland, MI.
37550 Cherry Hill Road, Westland, MI 48185View All Details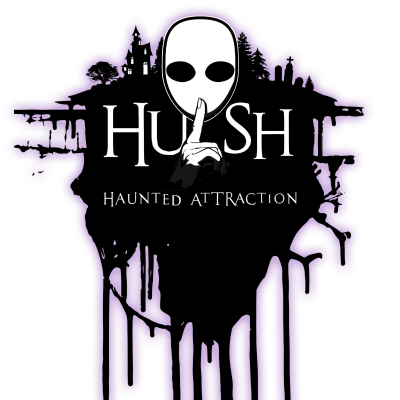 Features:

Free Parking, Handicap Accessible, Food/Concessions, Special Events, You will NOT be touched, Indoor Waiting Line, All-Indoor Attraction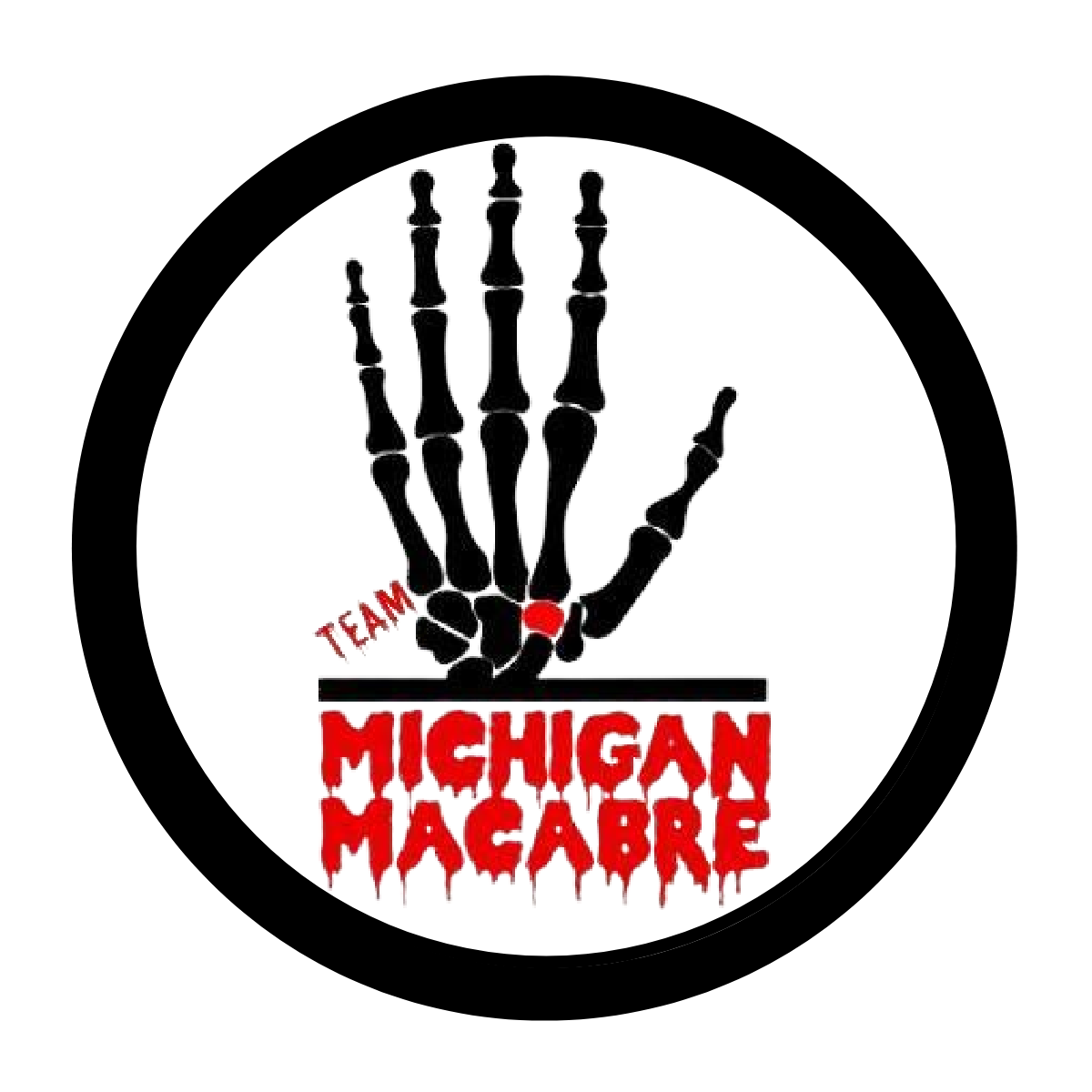 This attraction was reviewed on October 27, 2019 by Team Michigan Macabre.
How Do We Get These Scores?

Final Score:

8.73
How Did We Get This Score?

Summary:
Hush is at their new (and permanent) location for this haunt season, going from 7,000 sq. ft. to just under 40,000 sq. ft.! The halls and pathways of Hush are all new for your enjoyment!
The background continues to be in the lost city of Hush Falls, but new this year are the sights and sounds of the Hotel Lobby where an elevator drop, err, I mean ride will bring you to the Descent. Descent is the old mine shafts that collapsed and trapped all the souls within. Then you will find the Coven, where the witches of the Casper Coven were persecuted. Finally, you will reach the Rosecliff Manor, a home like no other with dark secrets tucked away in rooms. Hush continues with it's Louisiana theme luring you in through the intricate Hotel Lobby; however, things take a startling turn as you prepare for your stay.
---
Cast: 9.64
How Did We Get This Score?

The actors within Hush are an almost even mix between quick startle scarers and involved dialogue performers. Hush has a lot of stories they are trying to include you in, and the actors do an excellent job of getting the messages across. We truly appreciate when actors explain as they go, especially when there is an involved theme they are following.
There were a lot of performances that were impressive and unique. We were first confronted with a very disturbed bellhop who had whispered us a story in an incredibly creepy fashion, not to mention his slow, silhouetted walk through the elevator. He definitely set the mood.
The actor within the torture room, where the bodies were hanging, did a great job of continuously following us through and telling his story.
We were glad to see the banjo man made his return! He is a fun and welcoming gent who has energy and the voice to keep you entertained!
The maid within the Manor had a long dialogue that kept us listening carefully. We almost wish she would have used her large staircase and huge foyer to the Manor as her stage. There is a lot of room there and a lot of possibilities working within her set!
We saw enthusiasm, quiet stares, maniacal dialogue as well as purposeful dialogue from the actors. Every role was portrayed accurately for the character they were depicting. For instance, the possessed girl in the bedroom was quiet and contorting while her scene spoke for itself.
One actor was out of place, though, as we were meeting "Rodney" outside of the Manor, a clown appeared with us. There are no scenes within Hush that a clown would be appropriate, so we were taken aback when she started engaging with us. Must she have wondered over from some leftover carnival within Hush Falls?
Many of the actors used props to assist their performances. With all the details and goodies throughout Hush, we were happy to see some extension into using those props. From drum barrels to feather dusters, to shotguns and metal instruments. Warning: the props within the rooms are entirely available to those actors – BEWARE!
The elaborate space within Hush provides extra room for most scenes. Therefore, one actor could be the only one in a huge room like the dining room or the Manor foyer. In those instances, it seems like some more interaction between additional actors could be beneficial to fill the room.
Unique portrayals were experienced from actor to actor; they put thought and effort into their roles. The actors at Hush were some of the best we have seen this season!
---
Costuming: 9.62
How Did We Get This Score?

The costuming at Hush is of very high quality. We were able to get a close-up view as they showcase an example of their costuming within "normal" lighting while in the Hotel Lobby. The female in the victorian style garb was a treat to see. Her makeup, beautiful dress, ghostly eye contacts, and perfect hair all complimented her dialogue with us. Even the photographer before you enter was a highly detailed skeleton in a deteriorating, yet at one-time fancy suit.
However, within Hush, even more, intriguing costumes await you. Due to subdued lighting in a majority of the haunt, many details of makeup and costumes were masked to a degree.
One costume outshined them all; the statue was superb! He fit right into the scene, and we never saw it coming!! Possibly the best of the season!
Every actor was utterly encompassed in their costumes. Some makeup better than others, but when some are airbrushed and others not, that's an expected difference. A highlight of Hush is definitely the detailed costuming and makeup, they are at the top of the scale when it comes to the details. Hair, makeup, contacts, costumes, costume accessories are all observed to be of the most thematic degree. Good job, Hush, and keep that up!
---
Customer Service: 9.46
How Did We Get This Score?

With the help of a spotlight, hearse by the road, and lighted Hush sign, locating the building is quite easy. The only confusing aspect is the huge Skateland West sign on the building facing the main road. Obviously, that is what the building used to be, but perhaps taking the lights out of the sign would be helpful, as the Hush sign is substantially smaller than this one. Parking is available on-site, and it is easy to distinguish the ticket booth. Portable bathrooms are available as well outside of the venue.
No serious safety concerns were noted. Except upon exiting the elevator, there is a step up that we were warned about by an actor, but, hey, we are kind of slow learners'. it tripped up our first person out, but no injuries!
The staff at Hush were all very nice and accommodating. They were eager to talk about the experience you had and made sure you had a good time while in their care.
The website provides you with ticket prices, dates open, and the stories within Hush for the Descent, Coven, and Rosecliff Manor. What was not explained is how the story of the Willoughby's is incorporated, and the fact that Mr. WIlloughby is a serial killer! That's a significant aspect of the haunt that was not mentioned there.
---
Atmosphere: 6.7
How Did We Get This Score?

Not much is taking place on the outside of the new Hush location, at least for this opening season. There are no sounds or music, a food truck is off to the side, and aside from the spotlight and hearse, it would be a typical business parking lot. Once inside, you can hear the car horn from a prop going off every few minutes and the screams and bangs from within the haunt. Nothing additional was in place to provide you with scares or prepare you for a hauntingly good time before entering.
We were told queue line actors do roam, but we did not see any the night we visited.
---
Special Effects:

9.52
How Did We Get This Score?

A few different soundtracks could be picked out as we made our way through the haunt. There was water dripping in the industrial area, screams, and bees buzzing.
Of course, all of the sounds from the many animatronics can be heard echoing throughout the halls. Especially the sound of the car/train horn can be heard from everywhere within the haunt. That could probably be solved by putting some ceilings into the establishment (if code allows). Having such a big area being broken into rooms but not having ceilings for the haunt walls does not successfully quarantine the sounds to their specific scenes.
Hush has many, many, animatronics, most of which are home-made. As a bonus, due to not having ceilings built into the scenes, it does provide for some extra large props to be utilized. Rodney was our favorite, awe-inspiring spectacle, indeed. Some others start small and continuously grow, and others come out of holes and hidden areas to "capture" your attention!
In our book, Hush is known for its set design. Hush's scenes are detailed and unique. We noticed this year that a lot of the scenes were quite dark, and we strained to observe all of the details. The living/dining room that is conjoined were such large areas and provided for large pieces of furniture, artwork, and fireplaces. The foyer to the mansion had a two-story entryway with a curved staircase! The enormity of some of the scenes was striking. Again, it all comes down to the details of things like wallpaper hallways, high-tech props that blast you with liquid, house size facades with stained glass windows, and furniture that comes to life.
---
Theme:

8.6
How Did We Get This Score?

Hush is continuing to build off of their one-of-a-kind theme of a forgotten city in Louisiana called Hush Falls. This year, you are venturing through the mines and catacombs (Descent), the cemetery (Coven), and Rosecliff Hall (Manor) of Hush Falls. One part of the story regarding the owners of the Manor, the Willoughby's, was missing from the website. However, it was discussed by the actors while in the haunt. The story is, Mr. Willoughby, who was a serial killer in his time, is now forever haunting the new tenants who come along.
The actors did an excellent job welcoming us to the different areas of Hush, informing us of where we were and who we were encountering.
A few aspects were slightly confusing; for instance, we met "Rosenfeld" who identified himself as a 900-year-old vampire. We weren't sure how the vampire was incorporated into the theme. The Hotel Lobby seemed like a very cool entranceway, but that portion was not explained to us while we were there. If perhaps the bellhop while in the elevator told us where we were going, that could have helped. However, the other avenues were illustrated, and we like it when a theme all comes together.
---
Scare Factor:

8.46
How Did We Get This Score?

Hush is a dark, gothic haunt, and their scares go along with that vibe.
The actors spent time with each of our group members, especially the ones that were dialogue-driven. They involved every person, so nobody felt left out.
The overall scariness was steady as you walked through, the beginning to the end, all had an even level of startles, shocks, and fear involved.
Nothing terrifying stood out to us other than some expertly timed air blasts and scuttling actors along the floor. Hush's large rooms and scenes now offer many darkened corners and areas for hiding spots. Additionally, distraction scares were used very well, and due to the shapes and sizes of the rooms, they went off expertly.
On the other side of the coin, the large spacious rooms did make you feel almost more welcome. There were not many tight areas like you would see in a typical haunt where you are forced to maneuver around items and get close to the walls/props/actors along the way. This, in a way, made it less scary as we walked through. The rooms were so large and detailed you felt as though you were indeed in a two-story manor when you walked in, (which I am sure was the goal), and was successfully accomplished. However, this weirdly took away from the overall frightful bone-chilling induced feelings we are accustomed to.
---
Entertainment & Value:

7.35
How Did We Get This Score?

We wandered through the Descent, Coven, and Rosecliff Hall for 21 minutes. With general admission being $27.99, that is a minutes per dollar score of .75. There is a VIP ticket available, as well as a skip-the-line altogether immediate occupancy within the hotel. The queue line and the full attraction are all indoors at this new location. All the sights and experiences Hush has to offer is worth the cost of admission. The space Hush has available is immense; they were able to use it to their advantage in such a short time of preparing for this season. They have more they can work on regarding space and how large and open some of the areas are, but again being their first season in this location, it is a work in progress.
A food truck and other light snacks and refreshments are available for purchase. The owners shared with us, the queue line will be their primary focus next year, and we are excited to see what they have in store!
General Admission – $27.99
VIP Fast Pass – $37.99
Immediate Admission – $49.99
---
How Did We Get These Scores

Promo Images:
Click to Enlarge
---