Hush Haunted Attraction – Full Review
Hush Haunted Attraction is a Haunted Attraction located in Westland, MI.
37550 Cherry Hill Road, Westland, MI 48185View All Details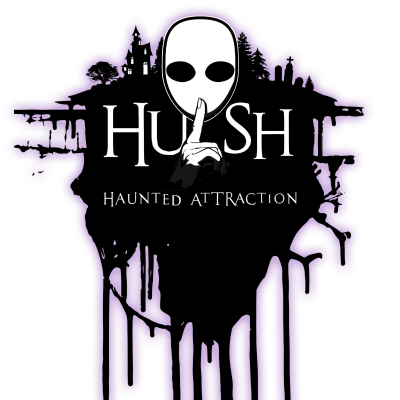 Features:

Free Parking, Handicap Accessible, Food/Concessions, Special Events, You will NOT be touched, Indoor Waiting Line, All-Indoor Attraction

Most Recent Video from The Scare Factor:
(Scroll for Scores and Written Review)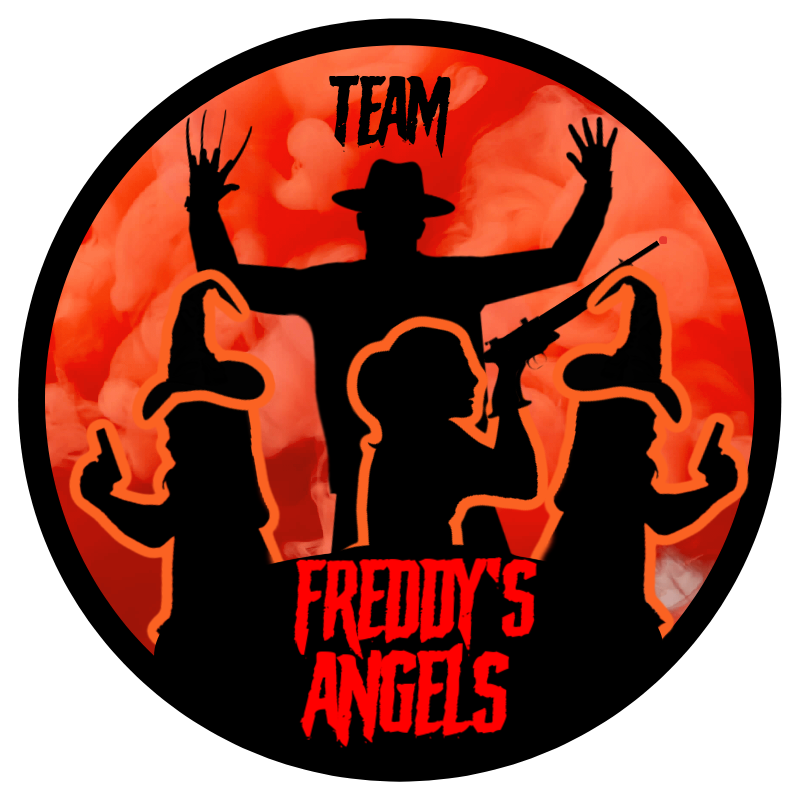 This attraction was reviewed on October 15, 2022 by Team Freddys Angels.
---
About Our Reviews and Rating System
---
Final Score: 9.01
Final Scores – By Category

Final Scores – By Attraction

Summary:
When our team got invited to join Hush Haunted Attractions, we were super thrilled to go. This haunt has been going strong for years, and our team leader was familiar with the older building before it finally got a revamp, a new building, and more to offer its guests; thus, hearing of this news, we were extremely eager to get inside and see what was in store.
Upon arriving on this early Saturday evening, the building was already flooded with guests, the line trickling around the building. There were characters of different guys bellowing the terror that awaits guests once entering, leaving patrons to stew in their own sweat and anxiety for what is to come. Once through the metal detectors, the entryway opens up to a beautifully-built New Orleans French Quarter-esque alley known as HUSH Falls Midway. Neon signs illuminated the first of their three hidden bars, shops, voodoo boutiques, and more lined this area. The well-planned design funnels guests into line ques to bring the feeling of the passing of strangers when walking down the New Orleans streets. Monsters lurked around every corner, some altering you to their presence, some silently stalking you so close they could smell you. Beads rain down on you from a mock balcony while you await your fate, bringing more of the vibe, and amping you up to what lies in store.
---
Cast Score: 8.81
Cast Scores – By Question

Cast Scores – By Attraction

Cast Review:
The HUSH crew knows how to haunt, some a little too well. No matter if you are in the first, second, or last themed attraction, the standard is quite clear and that is scary 24/7. From their accents to their mobility, the cast remains in character at all times. Even though their characters require quite a bit of physical and mental exertion, each time a patron comes through, its show time. We were walked through twice to get a feel for the haunts and bar experience individually, making sure as not to miss any details. The second time around, each cast member was just as vibrant as the first time.
There was a mix of jump scares as well as personal space scares, which when well planned, can be an effective scare tactic. Having someone so close to you, you can feel them breathing on you but when in silence, it can stir quite a bit of fear. Some were able to blend in with the props so that you couldn't tell they weren't a part of the set up, adding an even better camouflage scare to the mix. Having experienced the original HUSH to now, it is amazing to see the cast develop as they have, into true professionals.
One of our favorites was the clown in black and white, in the haunted manor just looking for a soul to play with him. If you refuse his request, his high-pitched voice quickly drops into a blood curdling low bellow as he becomes upset and terrifying. As he got quite close to us, asking if we would like to try mothers pumpkin seeds, the hair on my arm raised.
---
Costuming Score: 8.85
Costuming Scores – By Question

Costuming Scores – By Attraction

Costuming Review:
After walking into the HUSH FALLS Midway, characters and monsters greet you and prowl the waiting area, looking for their next victim. Due to the brighter lighting, cast members step up the detail and work put into their costumes. Between the rainbow murder clown to her twin brother in black and white, you can see the work put into their makeup and costumes and why you feel a bit on edge. There is a witch whose makeup and costume are so detailed, when you look at even their hands, it looks as though their hands truly look horrifying. Most of the costumes require multiple layers and are well planned out, not hastily chosen and thrown on. Even the bartenders at each speakeasy were dressed to the nine in costumes, maintaining the genre theme throughout.
There are characters with simpler makeup applications but it fits the character they are portraying, some being more human-like. This is also important as most have the innate fear of something that looks almost human but isn't. If the makeup is over the top, this takes away from the characters ability to cause the optimal scare. There were characters that could have added a bit more detail to their facial makeup but it wasn't enough to diminish the overall experience and it was warmer in certain parts of the haunt.
---
Customer Service Score: 9.5
Customer Service Scores – By Question

Customer Service Scores – By Attraction

Customer Service Review:
The location is well-lit and easy to locate based on information provided on their website, which was easy to navigate. The only issue found was the parking as there is not a lot of space to begin with, and it quickly fills. It took quite a bit of time to loop around the lot, only to find no spots available. While there is some information on their website in the FAQ section about parking, it is not easily found. There were no exterior signs indicating where the overflow parking was located. After speaking with the staff, we found the overflow lot across the street and at CVS next door (after certain hours) were options. Having the communication between staff that a lot is full or directing some to that direction prior and outdoor signage, would be a great help to keep things moving smoothly.
Safety is a big focus at HUSH, ensuring guests and cast alike remain safe and the structure is sound and without hazards. The staff was very friendly, helpful, and easily accessible. We spoke to several cast members just to get their perspectives on the haunt and the experience. All were great to speak with and really passionate about what they do. The front-of-house team makes an effort to get customers in and taken care of as soon as possible. There can be a wait so obtaining the immediate pass should be a consideration if you are in a time crunch.
---
Immersion Score: 8.89
Immersion Scores – By Question

Immersion Scores – By Attraction

Immersion Review:
If you are outdoors waiting to enter, some monsters make their rounds to size up the incoming fresh meat. There weren't many, and the line wrapped all the way down the sidewalk almost to the traffic light. Those first interactions keep the customers engaged and excited for what's to come rather than down and resentful for waiting so long. Once you are able to get through and into the building, it makes the waiting all worth it.
Although there are 3 attractions, you go through all of them as though they are one large haunt. Because each has its own theme, you get to experience 3 different worlds that somehow blend to make one story.
The story of the haunt begins with an old hotel littered with cobwebs, dust, and a fun photo-op before you get the bejeezus scared out of you. You're then directed to the elevator, not to your room, but to the "basement," where the story unfolds before you.
Unlike most haunted experiences, each room and space isn't random but specifically designed to flow and make sense as if you are actually walking through it from floor to even detailed ceilings. Moreover, interacting with all five of your senses: the drinks from the hidden bars that don't skimp on the liquor, the textures of the walls as you try to navigate your way through, rooms with specific odors like musk or even cinnamon, the ornate detailing of each room that draws to the eye, and the screams from down the halls that warn you of what you have in store.
In the Manor, you are enclosed but not by just boards painted in black, it looks as though it's the worn ceiling of an old house, some pieces damaged but mostly intact. This makes you feel as though you are in the house just by how the ceiling is constructed, keeping you immersed from all angles.
The vibe was contrasted throughout the entire scare as seamless transitions took us from one attraction to the next, stopping at each bar for a tasty drink. They hold true to their word, not everyone has access to these bars, which are all beautifully done, making sure you feel as though you went back in time or traveled to a haunted place.
---
Special FX Score: 9.02
Special FX Scores – By Question

Special FX Scores – By Attraction

Special FX Review:
When the screams of patrons are louder than your sound effects, you are doing something right. That is not to say there weren't top-notch sound effects in place, there were just really scared people going through. In the hotel basement, the machinery sounds seemed almost real and it felt as though you were truly in an industrial basement, even down to the little clink and clank of chains hitting pipes or steam would trick your mind from time to time. Those may seem miniscule but they are important for immersing your customers into the nightmare that is your haunt.
The amount of detail really caught our attention, all five senses were affected at some point of the walkthrough which doesn't happen often. In the garden, the statue and walls felt as though they were made of concrete, even the statues that were worn or broken were well done to truly look as if that is what they were. The window in one of the towers is an original stained glass window recently found to possibly be hundreds of years old. The wallpaper that lines 2 of the 3 haunts was planted with care adding wear and tear for the perfect old look. The ceiling, as mentioned before, is detailed with wood slats to give the broken-down house feeling, which many haunts don't see as important (because customers may not look up) but HUSH does.
The props really delivered the whole scene, they weren't just thrown into a pile, they were carefully placed for the best aesthetic as possible. From the taxidermy in the hotel to the canning jars and lids in the crazy cook's kitchen, both added to the scenes and were important to the totality of the haunt. We even noticed that the smell would change. In the mansion, it smelled almost of moth balls and cinnamon, the Catacombs were earthy, and mildew filled our nostrils. We had yet to experience that at a haunt as effectively.
There were some animatronics but not an overabundance which is the balance you want to have. They were placed to provide both jump scares and to camouflage into the scenes, making it hard to know if or when they would activate or not, which drove us crazy; well done. Only one did not work which was towards the end of the last attraction, but it was being repaired, so all should be in working order currently. The animatronics that werr used were well-made and placed in areas where they would be most effective. Our favorite is located in the third attraction, but we don't want to ruin the fun.
---
Scare Factor Score: 8.91
Scare Factor Scores – By Question

Scare Factor Scores – By Attraction

Scare Factor Review:
If we were to gauge the level of scary by the screams we heard as we went through, we would say it's terrifying! You aren't sure what will greet you when you make the next turn with a balance of jump scares, loud noises, hidden spooks, phobias, and up-close and personal scares. The play on phobias does well in multiple parts of the haunt, causing the patron to remain unhinged long enough for the next scare to terrify.
There were different intensity levels, from a British cook wanting to cut us into pieces to a twisted, fun clown who wanted to devour us if we made him mad. Even as a seasoned participant, there are only so many things you can prepare for. One of those types of scares will get you, and you will enjoy it. There were some more predictable jumps, but only for those that are more seasoned. A less suspecting guest will likely become their next victim. You never know what you might have to face at the end of the tunnel… Good luck.
There is a wide variety of scares in each of the three attractions as well as nice resting stops at the bars letting you soothe your parched throat that is sore from screaming, only to go right back into the darkness. They would come at you from every angle, never coming from the same as the previous.
Overall, they did a great job of spacing the scares throughout each attraction, lending you time to really immerse yourself into the scenes and check out the decor that is so life-like. This amplifies the effect of the scares further as the focus has been shifted elsewhere than paying attention to their surroundings.
---
Entertainment & Value Score: 9.28
E&V Scores – By Question

E&V Scores – By Attraction

E&V Review:
Our overall satisfaction with HUSH is high. They have done a phenomenal job from the very first year I was able to experience them. It left us wanting to see more and to go through more than once, just so we could see all of the detail, the cast, and experience it all again. The three bars really add a fun aspect to the haunt, giving a fun adventure as if you were tasked with a secret mission. You get to not only be scared but enjoy a cool beverage that tastes divine and return to the scares.
You have several options for tickets ranging from the general admission to fast pass or immediate and your choice of VIP Bar Creep Pass. General admission ranges from $19.99 to $32.99 at peak times. The Fast Pass is an additional $11 cutting down your wait time to ⅓ of the usual wait. the Immediate Pass is an additional $22 (on top of GA) but cuts down the wait in line to usually 5 minutes. The V.I.P Bar Creep Pass allows admission to all 3 bars, a keepsake lanyard, and digital photo that is an additional $10 and does not include your drinks. The pricing can seem a bit steep initially, but for the overall experience, it is worth it. It is the only haunt of its kind currently in the U.S. They have a standard they need to uphold which means top-notch equipment and team members.
There is a merchandise store at the end of the haunt with multiple T-shirts, pins, photos, and more. It is easy to access, well managed and offers plenty of space to decompress before you venture out to your car and head home in the dark.
Hush Haunted Attractions definitely set the bar with this one. Their story is one not easily forgotten with their diverse use of effects that scare the wits out of not only yourself but by interacting with all of your senses. With their dedicated team and meticulous attention to detail, the haunt will be one you won't soon forget. You can tell they put extreme thought and precision into executing their exciting new venue… One we take our heads off to.
---
View Full Score Sheet
---
Pics We Took From Our Visit: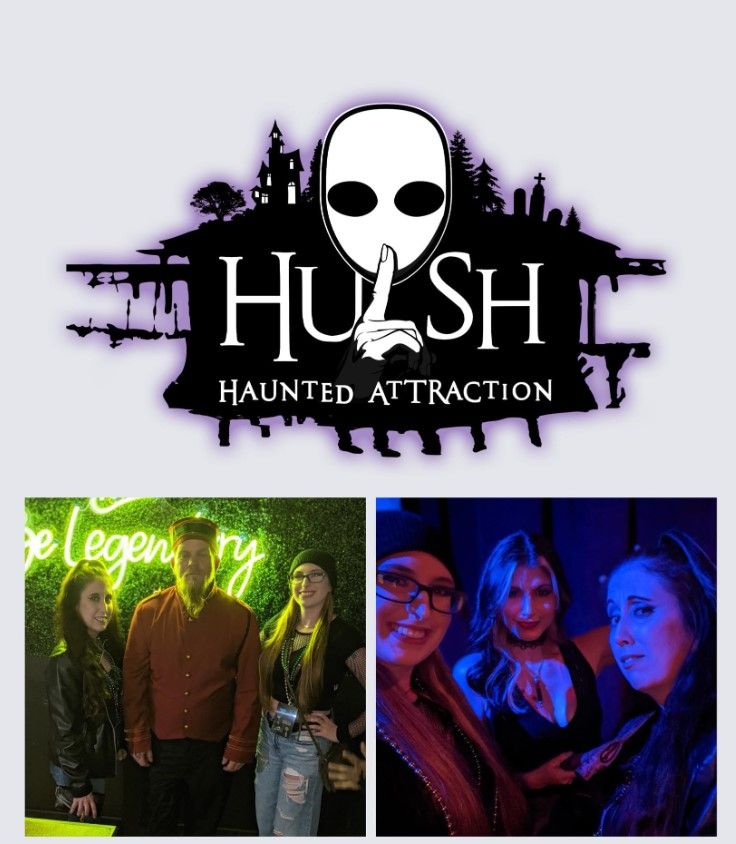 ---
Promo Images:
Click to Enlarge
---
Have you visited this attraction?
---
Past Awards
---
2019 Awards
---
---
Past Awards
---
2019 Awards
---
Join ourspookyadventures!
We visit Halloween haunted attractions year-round! Follow us for haunted house walkthrough videos, behind the scenes footage, and more!