Hysteria at Connors Farm – Full Review
Hysteria at Connors Farm is a Haunted Attraction located in Danvers, MA.
30 Valley Road, Danvers, MA 01923View All Details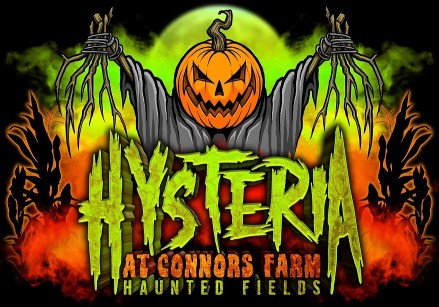 Features:

Free Parking, Food/Concessions, Optional Games/Midway, You will NOT be touched, Original Characters, Uncovered Outdoor Waiting Line, All-Outdoor Attraction

Team Hallowoosh reviewed this attraction on October 20, 2017.
Final Score:

7.75
Summary:
It's been four years since Connor's Farm Haunted Corn Maze transformed into Hysteria, and they are still going strong. I like to describe Hysteria as 'the haunted attraction you were hoping to see when you came to Salem.' Located twenty minutes away from the center of Salem, Connor's Farm in Danvers, where the actual witch trials took place, holds the largest haunt in Essex County. If you're making plans to go check out all the witch stuff in Salem, Massachusetts in October you're trip will not be complete until you check out the horrors that lay in the woods and cornfields of Hysteria!
---
Cast:

6.75
When we went through this year we couldn't help but notice how the cast was a mix mash of enthusiasm. I'd say almost half of them actually tried being a character and put in a great effort while the other half really hardly did anything. One of the first actors we came across was this old dirty witch like character. She was hunched over with her hair covering her face and shaking like a lunatic towards us. I think it was the next actor on the trail was sort of slouched against a tree and slowly stepped out of the shadow as we walked by. The majority of the haunt was much of the same when it came to the actors.
---
Costuming:

6.7
Many of the actors hid in the shadows and even stayed in the darkness when attempting their scares. This made it rather difficult to see their costumes. From what we could see though, it was clear that many of them were in simple costumes and almost all of them were in a mask. The few we saw wearing makeup seemed to have relatively good design. A few cuts and bruises on their faces was a nice enough break from all of the masks we were seeing.
---
Customer Service:

8.8
Connor's Farm is a highly active attraction right on a main road and four minutes from the second biggest highway in Massachusetts. You will instantly notice the abundance of lights beaming from the giant farm stand while driving down the road. There is no other businesses on this road, making it practically impossible to miss especially at night.
First and foremost Connors Farm is a excellent farm stand. We would say easily in the top 10 in Massachusetts. Tickets are purchased within the store where the magical aroma of hot cider, hot apple crisp, and fresh out of the deep frier hot cider donuts fills the whole area. With all the nice produce and baked goodies all over the place it's easy to forget why we showed up in the first place. If that wasn't enough, after you purchase your ticket they make you walk around the back of the building where the BBQ stand is! Pulled Pork Sandwiches all day every day for this guy.
Behind the farm stand is where the haunted attraction begins. They have a mechanical bull riding pit and a big bon fire for everyone wanting to take a break for a few minutes before embarking on the trail.
General admission lines get very long at Hysteria. We were lucky enough to get the VIP tickets that cut out waiting time down to maybe 1 minute as opposed to some people who had been waiting there for almost 2 hours. This year the lines were put in the orchard and it provided some great opportunities to scare unsuspecting guests.
---
Atmosphere:

7.87
We start at a well-lit farm stand with absolutely nothing scary at all. If anything it is filled with the best fall time cheer you can get. Then we made our way into a dark apple orchard with nothing scary to really speak of but the darkness was a little eerie for us. We enter the haunt beginning at the treeline that surrounds the orchard. The tall trees tower over us with red, blue, green lights scattered throughout the forest. And all we can hear is the screams and pounding music echoing their way out of the woods. Things go from happy to evil in a matter of minutes.
Other than the hot cider donuts I think my favorite aspect of Hysteria is the barriers they make for the trail. For the majority of the trail we were surrounded by a creepy collection of branches with jute netting all over it. At one point there were some giant branches sticking out of the ground and it felt like I was walking through a giant's rib cage. The lights in the woods reflecting off the trees and all the strange textures they made for walls was the scariest part for me.
---
Special Effects:

8.05
Hysteria does have a few new animatronics this year that are all working in pristine condition. A zombie falls from overhead and shakes and rattles all over the place making a great screaming gurgling sound. These are the kinds of props I like to just stop and watch for the duration of the animation.
There were a few times we were listening to general creepy halloween music. In the particular spots we could hear the music it was very faint. However there are multiple sections throughout the haunted trail with loud techno or heavy metal music.
I've been through too many vortex tunnels in my haunted house adventures, the big spinning tube you walk through and feel like you are going to fall. Going through one of these things lost it's magic around the fourth time I went through them. There isn't many things that bother me more than walking through one that isn't working properly or at all. That being said I would like to say that Hysteria has one of the best vortex tunnels I have ever been through. Not that there is anything special about it, it's just working the way they are supposed to work. You would be surprised how many attractions paint the inside walls the wrong way and it ruins the effect. Hysteria has it painted and moving just right that I actually had the same disorienting feeling I had the first time I ever went through one.
---
Theme:

7.3
Hysteria has become more or less a general haunted attraction with no real theme to follow. The attraction description says the trail will take you around a real 17th century burial ground but there is very little to suggest that theme is being utilized. We did see crazy mad demon characters and a trailer full of monks that could have had something to do with an old burial ground. Be prepared to encounter plenty of crazies and psychos and demented clowns, just don't expect them to be related in anyway.
---
Fright Effect:

7.8
For us the creepiness of the lights in the woods played out very well and was a great distraction for the actors to get us with loud bangs and screams. The farm stand and BBQ make the place feel much more family friendly than it really is. In effect this made us jump from one mood to the next by bringing us some happiness with the sweet smells of fresh fall baked goods and suddenly we are walking in the dark towards an evil forest. We didn't have much time to think about what we were going into, only that we were pleasantly happy with hot cider and doughnuts. The loud banging of heavy metal and techno music makes walking forward a little difficult too. When you walk out of the woods towards a rusty trailer with strobe lights flickering inside but all you can hear is Marilyn Manson's music getting louder and louder your brain doesn't think about what the danger could be, it just says danger and tries to stop your legs from moving.
---
Value:

8.73
$30 will get you into Hysteria at Connors Farm. $45 for a VIP ticket will skip you to the front of the line and I highly recommend it. The trail took us about 32 minutes to complete, giving Hysteria a great minutes per dollar value of 1.07. Overall, Hysteria at Connors Farm gives you a great way to celebrate October. From all of the fall themed foods and drinks to the bloodiest chainsaws and clowns, this haunt is one you will not soon forget.
---
---
Have you visited this attraction?
Join ourspookyadventures!
We visit Halloween haunted attractions year-round! Follow us for haunted house walkthrough videos, behind the scenes footage, and more!