Hysterium Haunted Asylum – Full Review
Hysterium Haunted Asylum is a Haunted Attraction located in Fort Wayne, IN.
4410 Arden Drive, Fort Wayne, IN 46804View All Details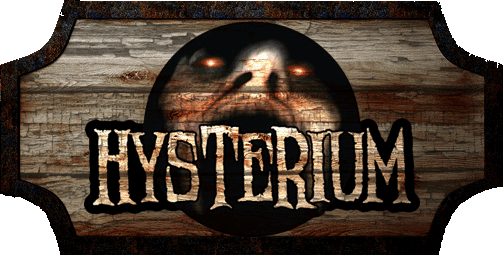 Features:

Free Parking, Restrooms/Porta Potties On-Site, Gift Shop/Souvenirs, Special Events, You will NOT be touched, Original Characters, Covered Outdoor Waiting Line, Indoor/Outdoor Waiting Line, Indoor/Outdoor Attraction

reviewed this attraction on October 27, 2017.
Final Score:

6.17
Summary:
Hysterium Haunted Asylum in Fort Wayne, Indiana began its life as The Haunted Cave back in 1998 and, after being purchased by Brett Molitor in 2013, it reemerged as Hysterium Haunted Asylum for the 2014 season and has been under that name ever since. The parking here is all 'on-street', so find a place to park and walk on up. There is a nicely lit sign at the entry way, which is guarded by two impressive skeletal warriors on horseback. Hysterium has some beautifully decorated rooms, a rather large cast and two escape rooms that could earn you 'Front of the line' access to the haunt if you make it out on time.
---
Cast:

6.96
The cast at Hysterium was quite interactive, although there was not much of a deviation in dialogue. There was a lot of 'play with us', 'get out' and when prompted for verbal interaction most of them shied away and just stuck to their script. One of our favorite characters, however, was Phyllis ' The Necrophiliac Clown. She was quite an entertaining character, especially when she offered to make Jason 'her type.' The entire cast did do a really good job of staying in character and would often incorporate parts of the scenery in their act.
---
Costuming:

4.92
Hysterium kind of fell short in the costuming and makeup areas. In the first room, the waiting area, there was a girl wheeling herself around in a wheelchair wearing some very clean modern street clothes. There were several characters that night whose costumes looked thrown together and not real authentic. There were a few characters that had some really exceptional costumes and makeup, but they were not the majority. This was the same for the makeup aspect of their characters as well'some were really nicely done, but most were not and there were quite a few over-sized masks being worn by some actors. That being said though, we were able to understand how they worked into their particular scenes.
---
Customer Service:

6.25
Hysterium was fairly easy to find with the aid of a GPS (they are listed as Hysterium Escapes in Google Maps, don't worry, you're going to the right place). An unlit sign out at the main road let us know that we were headed in the right direction. Parking is on-street near the haunt with some lighting. On busier nights, parking may be a challenge, so hopefully there are plans for a paved lot in the future. Right at the entrance of the haunt's courtyard was a police vehicle belonging to the on-duty cop onsite. The ticket booth was right next to the entrance and staffed with friendly employees who directed us right where we needed to go. The police officer stood at the entrance of the haunt with a metal detector wand, and surprisingly, this was the only haunt we visited this season that put forth such a security measure. While many haunts require you to be 'on your honor' regarding possession of weapons, it was nice to see that Hysterium took the extra step to assure their patrons' safety. However, inside the haunt we had a few safety concerns, mainly at the show's finale, which could be a potential fall hazard for especially unbalanced people like Katie.
---
Atmosphere:

7
The main courtyard at Hysterium is well decorated and the Midnight Syndicate tunes playing over the speakers let you know that you were definitely at a haunted house and helped to get you ready for what lay ahead inside the attraction.
---
Special Effects:

7.34
Most of the scenes at Hysterium are beautifully detailed and some are quite intricate. They have the first sewer scene and elevator effect that we saw this season. The waiting room was actually pretty convincing as well, although throughout a lot of the haunt, you get to see the ceiling/roof of the warehouse that it is housed in which can tend to pull you out of the storyline a bit. There were some appropriate sound effects throughout the haunt and they did a good job of properly lighting the various scenes.
---
Theme:

4.9
Hysterium Haunted Asylum definitely started out as an asylum, with a group of talkative and interactive patients in their day room, but as we continued on our tour, the theme became a bit less evident. The inclusion of a sewer scene and clown area, while beautifully decorated, didn't really do their part to carry on the haunt's theme. There was a door maze near the middle of the haunt which may have been intended to space groups out a bit, but in this case actually had us mixed into another group until the actors chasing us through took mercy on us and showed us the way.
---
Fright Effect:

5.67
While the cast at Hysterium focused a large amount of their attention to the female members of our group, they didn't let the male members get away unscathed. They do not utilize a lot of distractions, which tends to make the scares pretty predictable overall and, in a haunt that prefers the tried and true startle scares, makes it a bit less frightening than it could be. The finale was a completely chainsaw-free breath of fresh air, and an actor had us playing Simon Says with him inside a vortex tunnel. While it was definitely fun, it could also be a hazard to patrons with poor balance, so play at your own risk!
---
Value:

6.3
General admission passes at Hysterium are $13, and $20 for a fast pass. Hysterium also offers a combo pass for $20 which buys you general admission tickets to both Hysterium and Haunted Hotel in Huntington, Indiana. Our walkthrough at Hysterium took us 12 minutes, which gives this haunt an entertainment value of .92 minutes per dollar. We suggest purchasing the combo pass, which will not only give you a pretty nice discount on both haunts, but also increases Hysterium's entertainment value to 1.60 minutes per dollar. Save some money and see two great haunts in the Northeastern Indiana area!
---
Promo Images:
Click to Enlarge
---
Guest ReviewsGuest Average: 10 out of 10
Ryan – 10/10 – October 16, 2020It was awesome. It's a lot better then the haunted cave. Love the changes, and we had a great time! …show more It really scared my children. The acting and displays were better then we could have asked for. Great time and scares for Halloween.
yasss – 10/10 – October 12, 2019IT WAS FUN! i've been to many haunted places and this was by far the best. i've been to indy, and …show more never knew in my city, Fort wayne there was one scarier.
Jeffrey – 10/10 – September 28, 2019This place totally had me creeped out even though Im an avid haunted house finder and ave been …show more through many. Their actors are top notch and one of the best haunts I've been to in quite awhile!
---
Past Awards
---
2022 Awards
Best Vortex Tunnel (Given by: Team Zombillies)
Qro - Chance Hallaran (Given by: Team Zombillies)
Mo - Jelly May (Given by: Team Zombillies)
---
2020 Awards
Funniest Scare - Bobby and Bennie (Given by: Team Zombillies)
---
2019 Awards
Best Intro Scene (Given by: Team Zombillies)
Craziest Patients (Given by: Team Zombillies)
---