Review of Hysterium Haunted Asylum Haunted Attraction
Review of Hysterium Haunted Asylum Haunted Attraction
Review of Hysterium Haunted Asylum Haunted Attraction
Hysterium Haunted Asylum
Hysterium Haunted Asylum is a Haunted Attraction located in Fort Wayne, IN.
4410 Arden Drive, Fort Wayne, IN 46804View All Details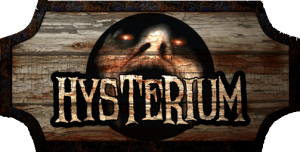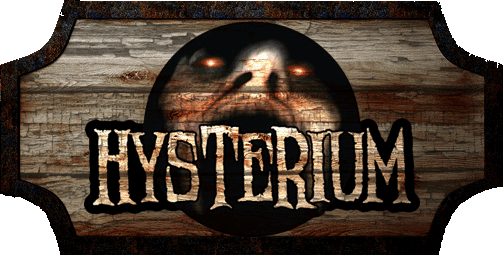 Features:
Free Parking, Food/Concessions, Gift Shop/Souvenirs, Special Events, You will NOT be touched, Original Characters, Indoor/Outdoor Waiting Line, Indoor/Outdoor Attraction
Final Score:

7.98
Summary:
Our yearly trip to Indiana brought us back to the familiar skeletal warriors on horseback that guard the entrance to Hysterium Haunted Asylum in Fort Wayne. This year, the patients have taken over the asylum and have transformed it to fit their liking. Deranged doctors and neurotic nurses beware…the inmates are running the asylum and there's no place to hide!
---
Cast:

8.45
While a number of characters used some variation of the phrases "get out" or "let's play," there were a number of characters who interacted heavily with us and their surroundings. Even those who chose to use classic haunted house lines for the most part, were able to elaborate on what kind of games they want to play. The energy level of the actors was great, and the day room in the first scene was especially memorable.
---
Costuming:

7.44
Most of the costumes and makeups were appropriate for their scenes. An actor that wandered the queue line and surrounding plaza was shuffling around strapped into an authentic looking straightjacket. The majority of the cast wore aged and tattered scrubs, with makeup to match. Since the haunt was being controlled by the patients, makeups were generally pretty "human" in nature and, while there weren't any that particularly stuck out, they were well done.
---
Customer Service:

8.46
Hysterium is listed as Hysterium Escapes in Google Maps. Parking is on-street, which is somewhat lit by streetlights and is a first come, first serve situation. We were able to park our van relatively close to the haunt's entrance early in the evening.
The ticket booth is situated right inside the entrance of the haunt's plaza. Right inside the entrance is also a cop car, and there are two uniformed officers on site; one who roams the grounds and one who is set up with a metal detector wand at the entrance of the haunt itself. While a lot of haunts will have a police presence, this is the first one that we have ever been scanned out. It is nice to see Hysterium taking their actors' and the public's safety so seriously. There were a few areas with uneven floors, and a step down after exiting a vortex tunnel that had us slightly concerned for a trip hazard. Other than that, we didn't notice any real areas of concern as far as safety goes.
---
Atmosphere:

8.8
The main plaza of Hysterium is well decorated with fallish décor and has speakers softly playing Midnight Syndicate music to enhance the mood. A few roaming actors would occasionally emerge from the haunt to interact with the folks waiting in line or the queue line actors before returning, so you got a small taste of what was waiting for you inside as you wait your turn. You can even try out their escape room as you wait. The sound of a boom canon sporadically echoes through the night and often catches patrons off guard as they wait in line.
---
Special Effects:

8.08
Many of Hysterium's scenes are very well decorated with lots of care and attention to details. They do have very interesting and unique interpretations of the classic dot room and pallet maze as well. In long corridors, the wall panels are decorated with doors and chair rails, which is a nice touch of realism. We were also relieved to find that a friendly psycho was stationed in their maze of doors to help us find our way through this year. There were, however, many spots where the ceiling of the warehouse was visible, which allowed us to slip slightly out of our roles as the helpless victims. The sewer scene was, by far, our favorite scene in the haunt. It was beautifully constructed and highly realistic.
---
Theme:

7.3
As mentioned before, this year, the patients have taken control of the asylum and have created their own little sanctums inside the facility. We had to ask what the theme was because, under the guise of a haunted asylum, there were a few elements that weren't making sense or really fitting in for us. But, upon discovering the theme, some items began to fall into place. We did learn their plans for future theming and we must say that we are looking quite forward to it. The one thing that still feels a little out of place for us is "Billy." It is a great looking prop and we understand wanting to use it…it just felt forced in.
---
Scare Factor:

7.39
Hysterium does a pretty good job of coaxing screams out of their visitors, although they have a tendency to "Scare and Scoot." It's a lot of startle scares brought on by quick, loud screams. However, they do a pretty good job of sneaking up on you and don't shy away from going for anyone in the group.
They would benefit greatly by utilizing some distractions to help amplify their scare tactics and give themselves some easier prey. At the end, Katie was given the "antidote" (a jelly bean) and we went on our merry way. While this wasn't a very strong finale, it was definitely the most unique one we have seen.
---
Entertainment & Value:

7.88
It took us around 20 minutes to make our way through Hysterium and with a general admission ticket costing only $15, we felt as though it was money well spent. This puts their minutes of entertainment per dollar at 1.33. The amount of time that we were in the attraction this year was quite a bit longer than the last time we visited.
There weren't many moments that we weren't being entertained in one form or another and for an additional $5 you can also try your skill at their escape room. We look forward to seeing what evolves at Hysterium in the future.
---

Photos from Review Trip:
Click to Enlarge
Promo Images:
Click to Enlarge
Have you visited this attraction?