Indy Scream Park – Full Review
Indy Scream Park is a Haunted Attraction located in Anderson, IN.
5211 South New Columbus Road, Anderson, IN 46013View All Details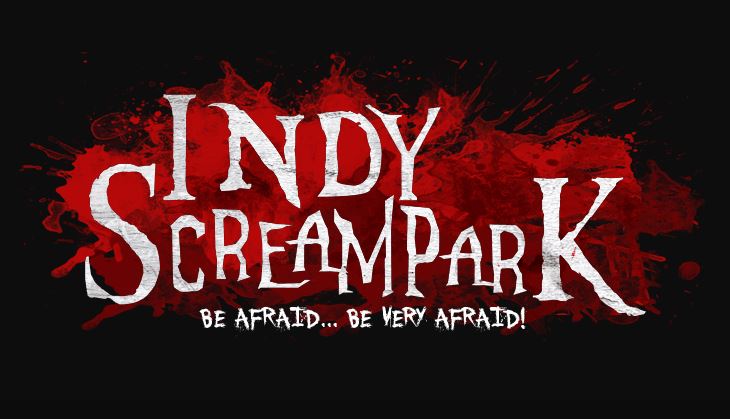 Features:

Paid Parking, Handicap Accessible, Food/Concessions, Gift Shop/Souvenirs, Optional Games/Midway, Special Events, "Hi-Tech" Attraction, You may be touched, Original Characters, Indoor/Outdoor Waiting Line, Indoor/Outdoor Attraction

This attraction was reviewed on October 23, 2021 by Team Big Spooky.
How Do We Get These Scores?

Final Score:

8
How Did We Get This Score?

Summary:
Indy Scream Park is a multiple-attraction haunted house compound in Anderson, Indiana. This complex is located about an hour north of Indianapolis and is home to 5 individually themed haunted attractions and also boasts an all-new large midway that includes covered seating, a concession stand, and even Bonzo's Beer Garden on-site for loads of fun for all ages! Indy Scream Park with bring your greatest fears to life while you're attending their park and will show you just why they're not your average amusement park.
MUTATION takes you through a hospital that's riddled with several different creatures that have no cure on how to stop the mutations or how to control them. KILLGORE'S 3D CIRCUS is a circus that is jam-packed full of clowns and other killer creeps inside of their tent. NIGHTMARE FACTORY: BLACKOUT takes you through a pitch-black tour of an out-of-commission power plant. BACKWOODS allows you to travel through a forest that is filled with cannibalistic hillbillies blocking your path while trekking through the darkness with a single glowstick to light your way. Lastly, ZOMBIELAND: UNCHAINED is a post-apocalyptic zombie fortress that your group has to try to escape from.
Zombieland and Mutation both allowed for a free upgrade for the people who entered. For those that are 18 and older, you have the ability to opt into a glow-necklace that allows for a more interactive and more inclusive experience. Our group did take advantage of those opportunities and therefore, this review will portray our experiences with these upgrades. It is possible to pass on this opportunity, and they will provide a more 'spectator' oriented show, that is not as intense and will not separate people from your group.
Mutation: 8.28
Killgore's 3D Circus: 8.3
Nightmare Factory: 7.86
Backwoods: 7.58
Zombieland: 7.99
---
Cast: 7.43
How Did We Get This Score?

In total, Indy Scream Park typically staffs around 100 individual creatures and monsters between all of their attractions and Midway. This is our group's largest event of the season and we found it very refreshing to see so many unique and interesting cast members. There are several actors inside of each individual attraction and even a few roaming actors that are ready for photo opportunities and to scare unsuspecting visitors while they're enjoying Bonzo's Beer Garden's adult refreshments or the many snacks and treats available at the concession stands.
Mutation: Inside Omni Labs, you can expect to encounter human test subjects that have been mutated with other organic materials. These 'zombie-esque' creatures are much more vocal and physical than a typical zombie, though. You will also interact with mad scientists who were tasked with the responsibility of creating these mutants and stopping their spread. The characters inside of this attraction were very exuberant in their efforts. They were constantly shouting and having our group perform tasks including trying to help find a cure by looking under microscopes or test tubes and even getting inside of a very real body bag! Our group was shoved around, pushed through rooms, and separated during our stay.
Killgore's 3D Circus:
Killgore's clowns were also very high energy. While inside of this tent of freakshow characters, many of the clowns were more playful, which can be expected of a clown tent. Many asked us to play and a couple said that we'd make great dollies for them. However, a few popped out of some very unexpected spots and were able to give us a huge spook while inside.
Nightmare Factory:
Since the main theme of the attraction was the idea that you were walking through a pitch-black, underground bunker, there wasn't much room for character interaction. In fact, our group only encountered a single cast member while inside of the attraction, who was located at the very end. He wielded a large taser-looking object and gave us one of the biggest scares while inside.
Backwoods:
While traveling through the depths of the dark woods, we encountered several hillbillies and rednecks that were very keen on eating us for dinner. There were several huts that lined the woods and inside of each of those housed crazy and hungry cannibalistic characters. Some of the most notable were the brothers. They popped out in their house from several different hidey holes, even catching us off guard and shouting through the window. Also, toward the end of the bath, there was a gentleman in a bathhouse that had a drop panel in a wall that caused us to jump nearly out of our shoes.
Zombieland:
Zombieland is the wasteland of a final frontier for zombies. Formerly supposed slaves, they were unleashed inside of the fortress and now wreak havoc amongst those who had previously survived the pandemic. While trying to escape the fortress, we interacted with several zombies who tried to gnaw on our flesh and grunted and growled at us as we were making our way through. Other characters we interacted with included previous survivors who gave us tasks to complete including proving ourselves not infected or facing the wrath of his power tools. While inside, our group was separated and one of us was even locked inside of a chainlink cell, waiting to be used as zombie bait.
Mutation: 8.09
Killgore's 3D Circus: 7.74
Nightmare Factory: 6.04
Backwoods: 7.22
Zombieland: 8.08
---
Costuming: 7.56
How Did We Get This Score?

Everyone's attire inside of the Scream Park had a general theme. Most characters had extra layering to help them blend into their scenes and attractions. Several cast members could be spotted wearing street clothing and popular branding and makeup was not overly dramatic except inside of the Killgore's clown tent. However, the costuming did not deter from the entertainment of the attractions.
Mutation:
Several lab coats could be spotted from the scientists in charge of implementing the experiments. Some also donned goggles and gloves as part of their get-up. All characters were very grungy and dirty– almost as if the mutations had just broken out recently. A few characters had blood dripping and other wounds to show that they were actually fighting off the creatures they had created.
Killgore's 3D Circus:
Inside the circus tent, we only encountered one type of character– CLOWNS! Although this could've been redundant, our team was very excited to see that not a single clown that we witnessed had the same makeup or outfit on as another. Each one had its own unique style, makeup, and costume that helped create different personalities and differentiate between the characters. Inside of the brightly colored rooms donned with blacklights, many had fluorescent makeup that was able to glow underneath the lights as well and even popped from behind the 3D glasses! In one of our favorite rooms inside of the entire park, we witnessed a mirror room that had black-and-white-clad clowns to better blend in with the darkness that surrounded them.
Nightmare Factory:
We didn't witness much in the realm of costuming for Nightmare Factory on account of the fact that it was pitch black for the majority of our time inside of the attraction. In addition to this, our group only witnessed one actual character while inside of the haunt. He had a very large electric weapon that resembled a taser, so we didn't get quite a great look at what he was wearing. To the best of our memory, he was in all black, had minimal makeup on, and wore a hat to top off his look.
Backwoods:
Inside of the trail that made up Backwoods, you could probably imagine what made up what the characters were wearing. Being from the midwest ourselves, a lot of the looks were quite familiar to us. They donned bib overalls, straw hats, and most of them were dripping blood from some sort of part of their body. The men didn't have on too many layers while the women wore more pajama-styled gowns. Inside of this attraction, we also saw a couple of victims who were held hostage. These victims typically wore street clothing that could be seen on a group walking through, except most of them had some sort of distressing on them to show signs of their struggle trying to escape. Other than some contouring of the face and blood on their bodies, there was minimal other makeup to be found.
Zomieland:
Many of the characters inside of the fortress had wounds to signify their change into the undead and most of the characters had blood on them in some form. Inside of this attraction, we saw quite a bit more street-style clothing, that an average person who attended the attraction may be caught wearing. However, we suppose this could be chalked to the fact that these were the outfits the zombies were wearing before becoming zombies. Several characters had on an extra layer such as a jacket or an overshirt and a couple even had some neat masks on! One character in the junkyard was especially creepy in a black gas mask.
Mutation: 7.54
Killgore's 3D Circus: 8.17
Nightmare Factory: 7.38
Backwoods: 7.49
Zombieland: 7.22
---
Customer Service: 9.9
How Did We Get This Score?

Before even getting near the attraction, you can see that Indy Scream Park puts a lot of time and effort into brand awareness and customer service. They had several billboards on the major highways that added to the suspense that you've almost arrived! When a bit closer, there were clearly marked signs that lead the way and when all else fails, we definitely always try to trust our GPS which took us right to where we needed to go!
Upon entry of the Scream Park, you will be met by parking attendants with vests and wands leading you to the shed where you pay for parking. Parking was $7.00 per vehicle this year. Inside the very large gravel parking lot, there were several large lights spaced out that helped to navigate the premises much easier. The midway was also gravel this year and featured new covered pavilions to enjoy some of the amenities while avoiding the weather!
Upon entry of Indy Scream Park, they now have large banners posted that have an actual map of the property! This also has a QR Code option available on the banner so guests can take the map mobile and always know where to go next be it a new attraction, the bathrooms, or the concession stands.
Each individual haunted house attraction had 3 different queue lines. One for general admission, one for VIP Fast Passes, and a third line that was labeled an exit. Each of the lines was labeled at the entry. Our group did double check before entering one, though, because the line isn't labeled again after entry.
All of the attractions were very flat and customer-friendly. It is important to keep in mind that of the 5 attractions, 2 of them are completely outdoors as well as much of the waiting areas are outdoors as well. Be mindful of this when visiting to ensure that you are wearing the proper clothing.
Before visiting, all of their information is easily accessible on their website and they also feature a very in-depth FAQ section that can be very helpful to any guest!
---
Atmosphere: 7.6
How Did We Get This Score?

Upon entrance of Indy Scream Park, you're immediately presented with a large red and white striped area that looks eerily similar to a carnival tent. They boast several large Indy Scream Park banners and signs. They even use ISP logo signs to break up the parking sections. Everything is very well labeled telling you exactly where you are. We honestly do not think there is a way to be mistaken.
After entering the large facade in the front that had 3 separate entrances and the ticket booth, we were presented with the very large Monster Midway. This is a very upbeat atmosphere with bright string lights, music, signs, and palpable energy that screamed 'a good time is happening here!' There were firepits, concession stands, carnival booths, and NEW! Bonzo's Beer Garden all waiting to be visited by guests.
Located at the back of the compound, past all of the fun and excitement of the Monster Midway, Mutation, Killgore's 3D Circus, and Nightmare Factory can all be found under a single tent. They each had separate queue lines and separate ambiances despite being so closely located. Outside of Mutation, there appeared to be a cement building with flickering lights, Killgore sported the signature red and white striped tent with a clown face entrance where you have to walk through razor teeth to enter, and Nightmare Factory appeared to be a dark, metal building of a factory that hasn't been in use for a while. Away from those three haunts, you can find Backwoods secluded down a path in the woods. This really set us up for what we were to experience. Lastly, Zombieland was a GIANT grey fortress that had barbed wire fencing around the top and blood-written messages on the walls saying to turn back.
---
Special Effects:

7.74
How Did We Get This Score?

Mutation:
This attraction was jam-packed full of intense effects from start to finish. Honestly, our group probably could've walked through several times and still not had the opportunity to take everything in. There were eerie strobe lights, a dingy hospital, experimental scenes, and blood was splattered in every direction. There were lots of loud banging and roaring noises that kept our senses on high alert and do not get us started on the large, mutant insects they have inside of there! They're sure to try to lock you into their grasps. While inside, one of our group members was even separated and placed inside of a body bag!
Killgore's 3D Circus:
As you could probably guess by the name, inside of this clown-themed attraction, our group had to put on 3D Glasses (which we almost missed out on, but we caught this mistake seconds before entering) and were able to witness some insanely cool UV artwork on the walls. The bright colors of the intense airbrush artwork of clown faces and other demonic creatures combined with the black lights and the 3D glasses caused a lot of the pictures to look like they were jumping out of the walls. Speaking of jumping out of the walls, one clown literally jumped out of a large wooden box, caused a huge slapping noise, and scared the bejeezus out of us. We also encountered a rotating tunnel illusion, and large, brightly colored animatronics. Our favorite use of the effects on-site was the large, dark mirror room that had mannequins and strobe lights making the room look endless and terrifying at the same time.
Nightmare Factory:
Although labeled a 'blackout' haunt, we found some of the most unique and effective uses of light and electricity inside of this attraction! Upon entry, we had absolutely no idea what to expect of this attraction. We were just told to hold onto the rope to guide us through the darkness. And let's be real here– it was so friggin dark!! That is' until it suddenly wasn't. Nightmare Factory was an assault on the senses. They made the entire experience disorienting by blasting loud rock music, having huge sounds of electricity crackling when the lights came on, and intense usage of bright drop panels that were motion censored for when groups came near. These were sure to garner at least a couple of jump scares even from the most confident and brave people in the group. After you finally get used to the idea of lights or sounds coming from above and/or around you, all of a sudden at the end, the electricity is on the move in the form of a giant taser-looking weapon pointed right at you!
Backwoods:
This attraction was the most actor-driven at the scream park. Since it's set inside of a very real trail inside of very real woods, it'd hurt more than help to go too far into the depths of special effects. Instead, they had some amazing scenes set up and used more natural-looking lights inside of mason jars to light the paths. Some of the more notable scenes included the initial shed that held all of the dead animal carcasses hanging from the ceiling, the hanging laundry line path with some creepy women telling us Poppa would be excited to see us as… oops… for supper, and the outhouse/bathroom shack that featured drop panels and a bloody bathtub. In lieu of large speakers and unrealistic music, Backwoods featured a very natural soundtrack that was compromised of the nature in the trail (crickets and other creatures), screams from other groups, and the murmuring and arguing of the characters you were about to encounter!
Zombieland:
The music inside of Zombieland was intense… to say the least. This loud soundtrack was carried throughout the settlement and many characters had to literally yell over it to get their dialogue out. Also featured here was a junkyard of cars, loud horns, wooden pallets, fog, and chainlink fences. These all came together to create the paths and structure of the facility.
Mutation: 8.28
Killgore's 3D Circus: 8.6
Nightmare Factory: 8.04
Backwoods: 5.83
Zombieland: 7.98
---
Theme:

8.44
How Did We Get This Score?

Indy Scream Park features 5 main attractions, each of them having individual themes they follow throughout the attraction. Although the names give some kind of idea as to what can be found beyond the entrance, we recommend reading the backstory behind each individual one online since they don't explicitly tell you before entering. It tends to add to the experience greatly when you understand not only what is happening around you, but also why that may be happening. All of the haunts also featured theme-related entryways with pictures detailing what may lay behind the queue line and most of them also had a facade that was appropriate for the storyline.
Mutation:
Inside of Omni Labs Corporation was well known for achieving mutations. Previously dealing with human testing, they decided to move onto what they deemed 'lower risk' organics. They tried to create new intelligent species and 're-engineered' animals, insects, and plants with small amounts of human DNA. After securing a contract with the Department of Defense, they wanted to create 'weapons-grade organic life forms' and their projects took a turn for the worse. It was very apparent upon entry that this was a location of experiments that had gone terribly wrong. Inside, stressed and scared scientists were frantically looking for a cure and some of the mutants they had been working on were loose wreaking havoc.
Killgore's 3D Circus:
Mr. Killgore runs what is supposed to be one of the most mysterious shows in America. He brings his circus to small towns across the country during Halloween seasons and makes a' killing. He is said to lure in large crowds by showing the mesmerizing 3D show, then as time moves on, severed body parts show up around town and screams can be heard from the tent. Once the town begins to catch on, Killgore and his circus disappear overnight. Although while waiting in line of Killgore's 3D Circus, you can see the neon sign flash to only Kill, this theme was a bit harder to catch onto while inside the actual attraction. What is VERY apparent, though, is the circus theme and the killer clowns inside.
Nightmare Factory:
Inside of Nightmare Factory: Blackout groups are paraded through the darkness of a power plant that went dark. The word around town was that something happened inside that was so terrible that the reactor just shut down without warning. We were forced to find our way through the pitch-black factory with nothing to guide us but a rope. Inside, we saw some truly terrible things and were forced to face a great fear: nothingness.
Backwoods:
Inside of the Backwoods, the Tate family holds this neck of Bearstone National Park and claims this piece of land as home. They've had control over this land for over 5 generations and the rumors of the family alone are enough to make locals avoid the area. The only people the Tates see these days are unlucky travelers who experience car trouble or lose their way. While trekking the trail, we made our way through several structures that made up different parts of the Tate family's civilization and were even invited to be supper for the family!
Zombieland:
On the plot of land now known as Zombieland: Unchained stands a fortress called Outpost 49 is the last remaining 'sanctuary' in the territory formerly known as Indiana 12 years after the zombie apocalypse. After their commander, Jeb Sr. became infected himself, he let his slave army of zombies loose onto the rest of the population. Although this was expressly said inside of the attraction, the idea of zombies was pretty apparent and there were several survivors within the fortress that were trying to complete their average tasks while still upholding the integrity of the civilization's humanity.
Mutation:8.38
Killgore's 3D Circus: 8.35
Nightmare Factory: 8.24
Backwoods: 9.15
Zombieland: 8.1
---
Scare Factor:

7.86
How Did We Get This Score?

Each haunt inside of Indy Scream Park is so unique and different. The one thing they all have in common, though: their intention and ability to be able to scare you. Out of all of the pop scares, creepiness, uneasiness, and phobias that lurk within this vicinity, we are certain that SOMETHING here will definitely get you good.
Mutation:
We opted in for the glow stick experience that gave our group a more intense and immersive experience within this attraction. This was by far the most intense and exciting attraction for our group while on site. While inside the lab, we encountered in-your-face interactions with characters, and we were physically moved around into new scenes. We were separated from the other members of our group and didn't get to reconnect until the very end of the attraction. One of our members was placed into a body bag and another member was attacked by a large animatronic insect that nearly kept them in their grasps.
Killgore:
Inside of this intense circus show, it appeared that literally everything popped out at us. Even the paintings on the wall didn't quite seem to stay on the walls when equipped with our 3D glasses. Several clowns jumped out of very well hidden hiding spots and loud bangs added to the scares that were being done. The dark/strobe light mirror room filled with mannequins hit on several phobias for our group as well.
Nightmare Factory:
Anyone who says they're not scared of the dark has never been in an area that was actually pitch black and had things deliberately trying to scare them. Inside the Blackout attraction, you couldn't see your hand held in front of your face. However, the moment that the attraction decided to change those circumstances, everyone was made well aware. Since it was so dark, it was pretty much impossible to know when scares were coming. Having a loss of one of your senses, like sight, typically makes someone lean on another sense (like hearing) more heavily. However, it appears that the creators knew this and instead created a very intense soundtrack to keep those who enter quite disoriented. They also had great usage of electricity, both with lighting and sounds, that created intense effects that scared nearly the pee out of our group,
Backwoods:
Being inside of backwoods felt almost a little too real. If the idea that your group is really lost on a trail with no idea what direction to go in because your only guiding light is a glowstick and you're forced to socialize with cannibalistic hillbillies on your way out of this mess doesn't scare you, you might not have grown up in Appalacian country as our group did. This was enough to make our hair stand on edge. Not to mention, these rednecks and country folk didn't seem too kind about having trespassers in their neck of the woods. Inside of their homes, they had several drop panels and hiding spots that they were ready to show themselves from and make us run right on out. The finale of a chainsaw was long anticipated as you could hear other groups while on the trail, and yet one of the members of our group was so busy running from him that she actually tripped on the trail and he hovered over her!
Zombieland:
Zombieland: Unchained was the second attraction that had the option to do a free upgrade for a more immersive and intense experience. This experience had our group split up from one another twice while inside of the large fortress. Originally, just one member had been dredged into a room and held hostage by a power tool, until it was noticed that another member was waiting for us. At that point, multiple people were dragged into the room and asked to prove that we were not infected. After escaping, we were chases by clearly infected zombies, even having our pant legs grabbed and almost losing a shoe! We encountered some jump scares including loud horns and drop panels while in the fortress and got lost in a maze chased by some chainsaw-wielding zombies.
Mutation: 8.58
Killgore's 3D Circus: 8.12
Nightmare Factory: 8.25
Backwoods: 7
Zombieland:7.38
---
Entertainment & Value:

8.25
How Did We Get This Score?

Our group visited Indy Scream Park on Saturday night in late October. When speaking with management, he believed that it was one of the busiest nights they had had all season. On this night, general admission tickets were $49.95 on-site. If you purchase tickets online, they'll probably be a little cheaper since tickets are usually more expensive at the box office. General Admission does include unlimited access to all 5 attractions, which is extremely rare to come by! VIP Fast Pass upgrades can be purchased to take advantage of the Fast Pass lane once per attraction and then unlimited general admission after. They also offer Super VIP Fast Passes that included Unlimited No Wait access to each attraction, a private tour guide, and a $20 credit available in the gift shop. Information and pricing can all be found on their website. Pricing is subject to change at any point and does vary depending on the night you decide to visit.
Our escapade through Mutation took us 6 minutes. Our crusade with Killgore took us 4.4 minutes. Blackout took us another 5 minutes. Our trek through Backwoods took a total of 13.5 minutes and finally, Zombieland took us 7.5 minutes to escape.
In total, it took us about 36.4 minutes to complete all of the attractions and we spent 3 total hours at the scream park! That puts our MPD rating (Minutes of entertainment per dollar spent) at 0.73.
Not only does Indy Scream Park have 5 action-packed haunted attractions, but they're also home to a huge Monster Midway that hosts carnival games, fire pits, concession stands, and a large beer garden. They also have a zombie paintball attraction on-site for an additional cost.
They have a few roaming actors that stalk the Monster Midway. Although we did see them from afar, we didn't get a chance to interact with them out of fear of not getting to attend all of the attractions. We did, however, take a second to enjoy everything that the midway had to offer otherwise!
All-in-all, Indy Scream Park is an amazing bang for your buck entertainment opportunity that sure as heck knows how to cause a fright. You simply cannot go wrong with taking a day to visit this multi-attraction facility. My only advice is to take as much time as you need to soak in everything they have to offer. It sure is worth it!
---
How Did We Get These Scores

---
Guest ReviewsGuest Average: 5 out of 10
Samantha Cobb – 10/10 – October 18, 2018This place has it all. Small-town 'carny' feel. Actors who literally get in your face and don't let …show more up. They can even touch you if you wear one of their glow necklaces! There are no congo lines, which makes every house terrifying. I'll be back next year! Does anyone know if tickets are available yet?
Owen – 8/10 – October 16, 2019This place was a lot of fun. I went on a Wednesday because it is cheaper to go on week nights and …show more the lines were shorter. The shorter lines also meant we could go through the attractions over and over. Oh and if you are 21, they serve beer which makes it even better! haha
Lexie Sanders – 1/10 – October 21, 2019The actors barely scared us. Everything was cheesy, the costumes were bland. The only good thing …show more there was midway. I would never go there again
---
Past Awards
---
2022 Awards
Best Eats (Given by: Team Zombillies)
Michael Myers (Given by: Team Zombillies)
---
2019 Awards
Most Intimidating Character - Tree in Backwoods (Given by: Team Zombillies)
Best Electrical Scare (Given by: Team Zombillies)
Most Challenging Maze (Given by: Team Zombillies)
Best Use of Strobes (Given by: Team Zombillies)
Highest Rated Customer Service (Given by: Team Zombillies)
---
2018 Awards
Craziest Patients - Brickmore Asylum (Given by: Team Zombillies)
Actor Shout Out - Brickmore Asylum: Crazy Guy on Table (Given by: Team Zombillies)
---