Insanity Haunted House – Full Review
Insanity Haunted House is a Haunted Attraction located in Peru, IL.
3940 IL-251, Peru, IL 61354View All Details

Features:

Free Parking, Handicap Accessible, You will NOT be touched, Indoor Waiting Line, All-Indoor Attraction

reviewed this attraction on October 20, 2017.
Final Score:

8.48
Summary:
Once in a while, we come across a haunted attraction that we know very little about. We hadn't heard much about Insanity Haunted House prior to our late October visit and we weren't sure what to expect. What we encountered was an actor-driven, frightening and highly entertaining experience that we won't soon forget! We were so glad we were able to fit this haunt into our schedule and believe this attraction has a bright future ahead!
---
Cast:

9.14
We were pleasantly surprised at how well we were able to score the cast given that a good portion of the actors seemed to be middle school and high school aged, but judging by the high number of quality performances, these younger actors seemed to be well trained in the art of "scare." We especially enjoyed the extended interaction with the two girls in the bedroom scene, which we found to be one of the most entertaining moments of our tour. They both spoke their lines convincingly and showed off some impressive improvisational skills when we interacted with them. We also enjoyed the boy near the end of the tour who crawled after us relentlessly with surprising speed. We didn't come across one actor who broke character and each actor seemed to fulfill their respected role quite well. To sum it up, we found the cast as a whole to be one of the highlights of the tour.
---
Costuming:

8.17
The costuming and makeup work was well done with several characters' costumes being top notch. We noticed at least adequate cosmetic attention to all the characters and everything looked professionally done. Most of the costumes looked complete, believable, and they all seemed appropriate for their character's role. While we felt that they were all well done, we would like to see the addition of something more elaborate and original character-wise in the future.
---
Customer Service:

9.06
Insanity was located inside the Charleston Mall in St Charles, IL, which was very easy for us to find. There was a lot of free parking available in the mall's lot along with actual bathrooms, which is a bonus, as most often there are only porta-potties at these places. The ticket booth was easily accessible and the General Admission and VIP were easily identified. Once we were inside we did have a bit of trouble finding the entrance, but it was actually fun walking the lonely, nearly abandoned mall.
---
Atmosphere:

7.5
One would think that Insanity's location inside a large shopping mall would be a detriment, but there was a desolate creepiness to the nearly abandoned and now debunk Charleston Mall. While waiting in the queue line area we enjoyed the eerie music, the dim atmospheric lighting, and the roaming actor that we found to be highly entertaining. All of this helped prepare us for our journey inside the attraction itself.
---
Special Effects:

8.41
The rooms consisted of mostly classic haunted house sets like a library, kitchen, bedroom, and bathroom, but they were very well done with authentic looking details. We especially enjoyed the funeral parlor and movie theater sets which were as detailed as some of the bigger budgeted haunts we've been to. Insanity made good use of sound effects with an eerie soundtrack and realistic sounds that were appropriate for their scenes. This really helped to fully bring the scenes together as a whole. The lighting was well done throughout, though a few rooms could have benefited with a bit more lighting to see all of the great details in the room. While we didn't come across any of the high-end animatronics that you see at the bigger budgeted haunts, in a way we were glad we didn't as they would have seemed out of place here. Instead, Insanity gives you realistic sets that make you feel as if you're not actually in an attraction, but in a real haunted house!
---
Theme:

N/A
---
Fright Effect:

8.67
We really enjoyed the unpredictability and the large variety of scare techniques used at Insanity. We felt the majority of the scares were provided by the strong cast which excelled at hitting all members of our group. We got some really good 'pop' scares that we didn't see coming due to clever hiding spots. Several times the actors got our hearts racing with their creepy follow scares. But our favorite frights were provided by the characters who interacted with us. They did a great job of making us believe they were actually crazy which made us wonder if they were going to do something bad to us! Insanity used distraction scares very well. Often times something would gain our attention and then "bam" something would frighten us from a different direction. There was a brilliant environmental scare that utilized complete darkness in a very confined space. While we have seen this technique used often, Insanity does it in a way that makes it completely original and unexpected. Those readers who have claustrophobic tendencies beware!
---
Value:

8.42
The cost for general admission is only $17, which is well below the average cost of haunted attractions in the Chicago area. During the busiest nights of the season, we recommend a VIP (skip the line) admission which is $30. It took us 13 minutes to finish our tour of Insanity, which gives us a MPD (minute per dollar) score of .76. To us, the tour seemed much longer as there was always something happening with zero downtime. We feel Insanity is a very good value for the money spent as we were thoroughly entertained from beginning to end. We have heard they will be moving to a new location next season and we are excited to see what new terrors await with Insanity 2018! If you have not yet visited this haunt, we highly suggest you fit them into your schedule next fall, we know we will!
(This review was submitted on February 2nd, 2018)
---
Promo Images:
Click to Enlarge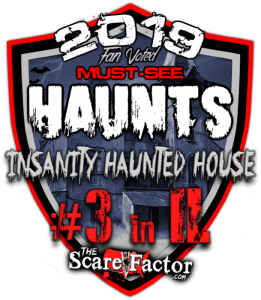 ---
Guest ReviewsGuest Average: 9.9 out of 10
Ryan Smith – 9.9/10 – October 29, 2023This haunt was great it was well paced as my brother and I went as a group together (it was his …show more first haunt) the jump scares were pretty relentless and they really used the blind corners to there advantage. The special effects and props were amazing sometimes had me wondering what was a prop and what was an actor. Each room was so well done i was horrified but in awe at the same time. The length took us about 20 minutes to get through (granted we were walking rather slow) it was definitely worth the $17. Definitely not what i expected at all very impressed.