Join The Scare Factor at FearExpo!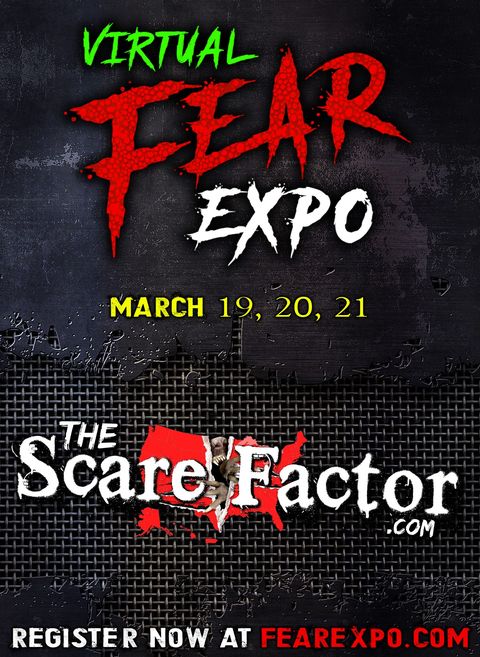 The Scare Factor was recently offered a virtual walkthrough tour of the haunted house industry's newest virtual trade show: FearExpo! One of the owners, Doug Shelden, described it to us as a real game-changer and, being a fellow online-only platform ourselves, we were excited to get a sneak peek of what they're bringing to the table in 2021.
What is FearExpo?
The start of the tour began with a quick briefing about what the operators felt some of the existing virtual shows were missing… things that are particularly attractive and beneficial for in-person trade shows and conventions. One of those things included being able to walk by the booths to see their latest products, and we feel that FearExpo has done a pretty good job of working around the confines of the interwebs.
FearExpo is entering the haunt show realm with a fully virtual experience. Without nerding out too much, it uses a 2D image map to create a 360-degree navigatable (navigatable?) environment. You can click on doors to access different parts of the show, enter vendor rooms, check out the virtual stage, and view "hotspots" on each vendor's booth to see what they have to offer.
Those hotspots may link to the vendor's social media profiles, product demonstration videos, live-streaming seminars and classes, stage shows, and just about anything else that the vendors want to offer. Many are also creating totally custom booths to help bring the experience of some of the most popular trade shows into their own virtual fruition! (Squeeeeee!!! We LOVE looking at all the awesome booths!)
FearExpo is also offering a full lineup of speakers and classes throughout its 3 days of operation…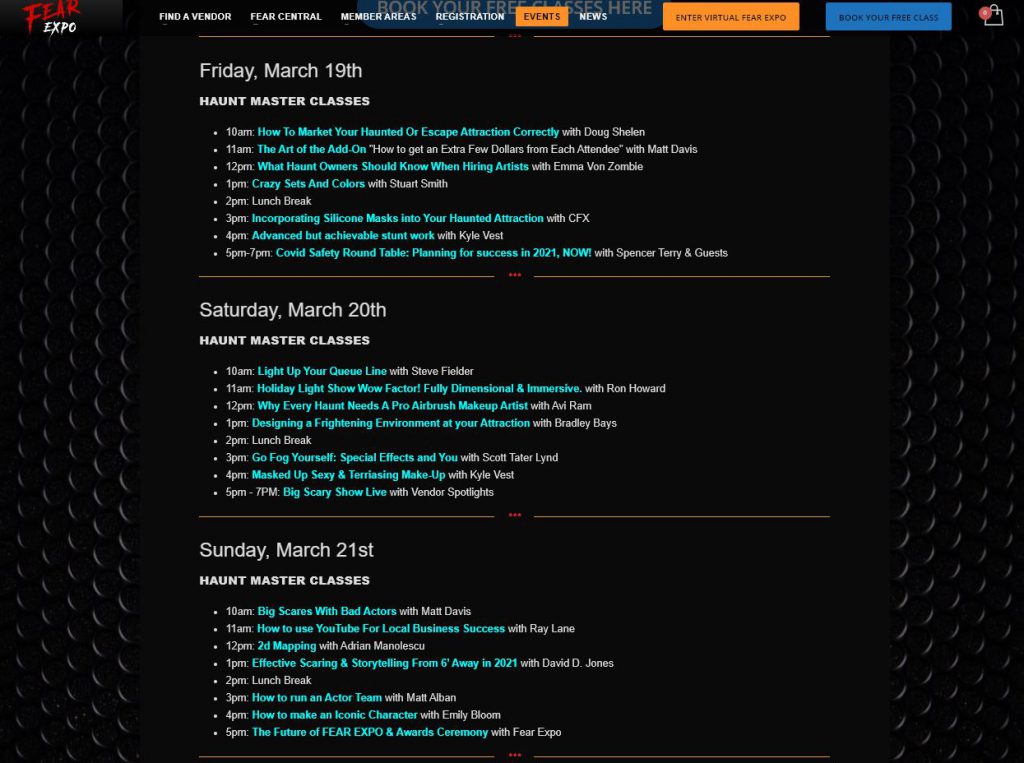 The best part is, FearExpo is completely FREE to attend, and has some very affordable booth prices for vendors (also starting at $0!). Here's a quote from FE that we recently received in an email from them:
Fear Expo Is:
A full virtual experience for customers

A real Trade Show floor with rooms and booths

We design your booth and profile pages

Price Point for every size vender

Shopping cart and Purchase Order Feature

Instant Chat and Appointment Booking Feature

Show Specials & Express Buy Options

Branding available everywhere.. floors, classes

Fear Expo will spend money marketing your company

Customer Buying incentives

Customer browsing incentives
There's also a whole social aspect to the show, where folks can create a profile, add friends, and chat with each other without leaving the FearExpo environment. You can earn points from purchasing and/or downloading products or videos, which can then be used towards purchasing the stuff you're looking at!
The Scare Factor @ FearExpo
The Scare Factor will be joining the lineup of vendors at FearExpo for its inaugural year, occupying 2 full rooms with our network of Scream Teams. Each of our booths will have links to contact each team directly, as well as some videos of us explaining what we do and how we do it.
Some of our topics will be deep-dives into our review categories, explanations of how professional reviewers fit into the industry, "A day in the life" types of stuff, as well as some general "Ask me Anything" Q&A sessions with us and our Teams. We'll be sure to post our schedule and links to those vids once we've got the wrinkles ironed out.
When is FearExpo?
FearExpo is taking place on March 19th, 20th and 21st, 2021.
FearExpo Social Media Links
Follow these links to learn more and interact with FearExpo directly:
Facebook @FearExpo
Insta @virtualfearexpo
YouTube: https://www.youtube.com/channel/UCLXPVjNmfF4qGzMfoh7TqrQ
Twitter @ExpoFear
And you can check out The Scare Factor's booth here: https://fearexpo.com/FearExpoVendors/thescarefactor/
Sign Up to Attend or Vend @ FearExpo: https://fearexpo.com/register-now/