Malice Manor – Full Review
Malice Manor is a Haunted Attraction located in Clarksville, IN.
640 Providence Way, Clarksville, IN 47129View All Details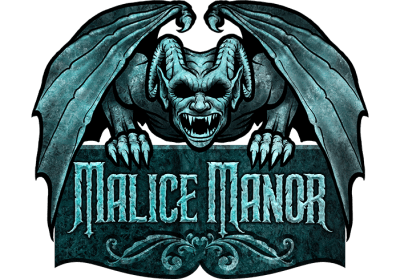 Features:

Free Parking, Restrooms/Porta Potties On-Site, Gift Shop/Souvenirs, Special Events, You may be touched, Original Characters, Indoor Waiting Line, All-Indoor Attraction

Most Recent Video from The Scare Factor:
(Scroll for Scores and Written Review)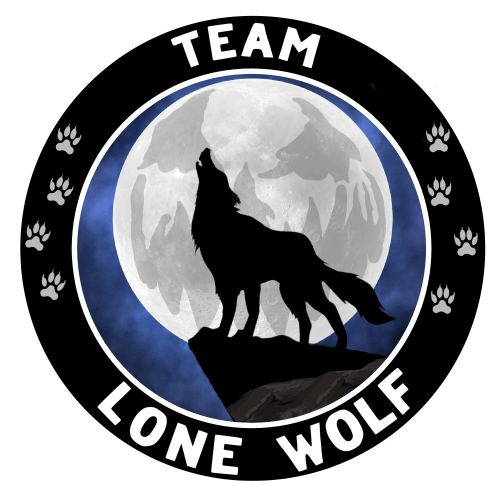 This attraction was reviewed on October 14, 2023 by Team Lone Wolf.
---
About Our Reviews and Rating System
---
Final Score: 8.7
Final Scores – By Category

Final Scores – By Attraction

Summary:
Are you familiar with the story of Pandora's Box? Many of us have heard about it at some point in our lives. It's a warning to avoid messing with anything or anyone you shouldn't – the consequences can be dire. Unfortunately for the Rancor family, that lesson didn't seem to fully sink in with the house patriarch. Lord Rancor loved traveling the world and collecting artifacts from all over, especially in the darker and more dangerous circles of the globe. On one fateful trip, he had an encounter with an entity so nasty its evil tainted his soul – and upon returning home, that darkness infected both him and everyone in his mansion. It also opened a portal, allowing all manner of monsters to infest the place. The horror that befell the Rancor residence has resulted in it being given an entirely new name: MALICE MANOR.
2023 is a year of celebration for Malice Manor – they are ringing in their fifth season! Owned and operated by veterans of the Kentuckiana haunt scene, the manor has grown significantly with each season: their waiting area is heavily themed and matches the story, the storyline is added to every year, and characters and scenes are changed or swapped out as the haunt evolves. For 2023, the manor's team has created several new scenes to scare guests- including a new ending- so I was super excited to pay Lord Rancor a visit and see what had changed this year. Ah, but I had to take care to mind my manners and tread lightly… the lord of the manor is still seeking new additions to his collection, and I definitely didn't want to end up being the next one!
(Note: this haunt was experienced completely alone, and no one else went through with me.)
---
Cast Score: 8.7
Cast Scores – By Question

Cast Scores – By Attraction

Cast Review:
A number of corrupted 'staff' still attempted to serve their home, albeit more horrifying than helpful… and all the menacing monsters that had taken it over certainly weren't helping either! Ambrose was an excellent host to introduce the show, as wicked as he was welcoming. There was a bit of threatening dialogue early on – a sinister voice sneered that I would be trapped in Lord Rancor's manor forever! The cook working the first kitchen scene was interactive but would NOT take "it's okay" for an answer when it came to the fruits of her labor… she was quite serious about it! I had to repeatedly yell, "It's delicious!" before she was satisfied. She also grew irate when she insisted I wanted 'more,' I assured her I did not. The seamstress sized me up when I came to see her, but I soon found out my own skin was the 'cloth' she'd be tailoring clothes from! (I asked what was wrong with HER skin, and she indicated the wounds on her face. Ouchie.) A young lady cleaning the bathroom shrieked at me to, "Take a shower, you disgusting pig! I can smell you from here!" (How rude!) The witch could be heard chanting well before I entered her chamber, building apprehension. When she spotted me, the chanting gave way to "I need just one more… one more sacrifice… to the altar!" And along came a lone wolf… lucky me? "Step right in. Let's get you in the process of BEING processed!" wasn't the welcome I was expecting from the first maniac running the butcher's shop. (That guy had jokes for days. He later made a comment about being a real 'lady killer'… given what kind of meat was being sold in there, I'm sure you can figure out what he really meant.)
Cast size was large enough that all important areas were covered, and I wasn't waiting and waiting for someone to appear. They had some great animatronics to help fill in any actor gaps, too. Some of their cast were a little shy compared to the rest, but most of them came after me with gusto. Sadly, I did not spot any line actors while I was there, so I was unable to award points in that regard.
---
Costuming Score: 8.59
Costuming Scores – By Question

Costuming Scores – By Attraction

Costuming Review:
For living in a place tainted with darkness, many of the staff residing in the manor still looked pretty good… if not touched by the hand of evil. Their host with the most, Ambrose, was dapperly dressed – yet he also had an animal skull concealing his face and sharp claws at the ends of his fingers. The dresses on the seamstress and a little girl in her room were appropriate attire for the characters. Makeup jobs varied in complexity; I saw a variety of sickly, haggard, dark, and gory faces. I can't fully remember which scene I saw her in, but a female actor had really nice makeup involving a black substance seeping from her eyes and mouth. Masks were also utilized – the spider creature lurking near the creepy crawlies' lair was among my favorites. And I received quite a shock upon meeting the big guy putting together some fine "cuts" in the butcher's shop… his entire brain was exposed!
In addition to weapons used to help with scaring, I noticed some other accessories being used. These included SFX lenses and a brightly colored, UV-reactive set of horns on the demon working the electric room.
Although some characters appeared fancier than others, like in many haunts, everyone I met seemed like they belonged in their environment. No one was wandering around in street clothes or anything else that would be out of place.
---
Customer Service Score: 9.67
Customer Service Scores – By Question

Customer Service Scores – By Attraction

Customer Service Review:
There were no signs or anything along Providence Way to let customers know the haunt was nearby – I had to look out for it. But the front of Malice Manor's building was lit up, and you could see a banner displayed over the front doors. Parking was free; there were a few spaces on site, or you could grab one in a nearby lot and take a short walk over. The area is lit well, and did not feel unsafe at all. When I walked in, the ticket booth was immediately to my right and easy to notice. Further ahead of the entrance, signs directed groups as to which way they needed to go if they had a General Admission or Fast Pass ticket. The former was priced at $25, while the latter was $40. In keeping with the story, Malice's queue is a maze of fences, but it wasn't hard to navigate.
I didn't see many risky areas in-house where guests might fall or crack their heads (though taller folks should be mindful of the two spots where they'll have to duck down!). You are advised to watch your step in one room involving copious amounts of bubbles, but non-slip mats were included to help groups stay upright. If it has rained recently, watch for slick, muddy patches on your way out of the gift shop and back to the parking lot.
Police were very visible the night of my visit, both inside and outside. Every staff member I spoke with was friendly and welcoming – not a mean face in the place! (Well, not one who wasn't supposed to be, that is.)
---
Immersion Score: 8.75
Immersion Scores – By Question

Immersion Scores – By Attraction

Immersion Review:
Not much was going on outside beyond some cool antique cars parked in the lot and brightly colored lights over the front of the building. Once I passed through the door, though, it was an entirely different story! The chatter of many excited visitors to the mansion was audible beyond the hedges hiding their queue, along with the ominous sounds of a thunderstorm overhead. Lord Rancor seems to have a thing for gargoyles, and they were featured heavily around the lobby and waiting area. Shrubbery and fences created the illusion you were setting foot on the grounds of the manor once you got in line, despite the haunt being completely indoors.
Most rooms in the house tied into its 'possessed mansion' theme in an obvious way. My adventure began in a dimly lit parlor; from there, I proceeded into a library with shelves of aged books, a dining room in dire need of cleaning, multiple kitchens, the seamstress' room, a garden, the garage, and much more. Some scenes seemed to be included mainly for their creep factor, such as the massive spider lair coated in webs – or for humor like the room with severed butts stuck all over the walls! (Yes, I'm serious.) Returning customers will notice at least five (!) new rooms have been built this year, including a new finale. I won't spoil that, but it was interesting and a nice change-up from the usual chainsaw chase.
The exit led straight to the gift shop, fixing the previous issue with freaked-out groups running from whatever waited for them at the end and forgetting to purchase their souvenir photo in the lobby. When I was there, they also had a vendor (502 Rocks) selling amazing custom tumblers.
---
Special FX Score: 8.62
Special FX Scores – By Question

Special FX Scores – By Attraction

Special FX Review:
Malice Manor's lovely logo was projected on the wall to my left when I entered the dimly lit lobby. While waiting in the queue, metal music played to keep the big crowd hyped up during their wait! Flashing light simulated lightning over the line, followed by the booming of thunder. On the far right wall, a movie was projected for groups to watch as they waited for their turn to tour the Rancor home. Prior to walking through the door- which seemed to open on its own!- fog spewed from the mouths of the gargoyles guarding it.
Lighting was appropriate for every scene in the house, both in color choices and how much was used. Nothing was too bright or too dark – just right. Realistic fire appeared to burn in the parlor's fireplace, over which a little girl's portrait wasn't as innocent as it seemed! Bookcases in the library could be moved, and red light and fog in the kitchen simulated something cooking on the stove. (Speaking of fog, my favorite use of it had to be the skull fountain in the manor's garden. Too cool!) One portion of the home seemed to have suffered a power outage when the darkness took over. I tried to be careful in feeling my way along its walls… the results could've been quite SHOCKING. Several animatronics were used – giant spiders leaped at me, a possessed banshee dropped- screaming- from above, I was nearly eaten by a massive shark (!), and watched a car crush its poor mechanic to death! Other effects forced me to engage with the environment, with the floor vibrating hard in one scene and another, requiring me to pick a door and choose my fate. Water was deployed at one point, too – so if you come here, prepare to get wet!
Most scenes were decked out with detail. Age and grunge were added to the walls. Loads of equipment and shop supplies were scattered around the garage. Shelves were filled with spell ingredients in the witch's lair. There was gore galore in the butcher's shop. Spooky music played in the parlor when it was your turn to enter the house – a nice transition from the somewhat chaotic environment on the grounds of the estate. This soundtrack continued through the house, with some variances (old-fashioned music overlaid in the seamstress' room, frightened breathing in the blackout area). If possible, better soundproofing would help with the immersion: I could hear the actor in the kitchen screaming at another group as soon as I entered the parlor.
---
Scare Factor Score: 8.53
Scare Factor Scores – By Question

Scare Factor Scores – By Attraction

Scare Factor Review:
The Manor seemed as eager to hold on to me as Rancor might've been – escaping its grasp was not easy at all! Threats seemed to be around every turn, both automated and alive. Most animatronics in the house were either positioned to spook you or served as distractions for actors to move in. One of the new scenes had an *excellent* hidden scare – I won't reveal that secret, but it was the best startle I got in the whole house! Never saw it coming! Characters threatened to do terrible things to me, and some worked together to briefly trap or creep on me in their rooms (like the two ladies working the underground cavern). Others used multiple hiding spots to sneak around and try to get me more than once in a scene. Weapons were brandished or struck against things to achieve further scares and keep people on edge.
You're warned about it before entering, but Malice Manor is a LIGHT CONTACT show. It's unlikely anyone will grab you, drag you away from your group, or pick you up, but your hair being stroked or gentle touching of shoulders and limbs will probably happen somewhere along your adventure. Ambrose gently scratching my skin with his claws made me jump a little (and laugh). A female actor in another room ran up behind me and dug her fingers into the nape of my neck, resulting in more laughter and shrieking.
A small bummer: the timing was off on an important scare late in the house. I figured being by myself might've thrown the actor for a loop, and they were waiting to see if anyone else was with me before they struck.
---
Entertainment & Value Score: 8.38
E&V Scores – By Question

E&V Scores – By Attraction

E&V Review:
My visit to Lord Rancor's home clocked in at approximately 13 minutes, resulting in an MPD (minutes per dollar spent) score of 0.52. This is pretty far below the full minute-per-dollar minimum I prefer to see in a haunt. However, a lot of haunts- while on the shorter side- are built with enough quality to justify a higher ticket price, and I believe Malice is one of those haunts. There is no attraction in the industry quite like theirs, and I thought they did an awesome job of keeping the customer immersed in the story they've created.
Is your curiosity piqued by now? Dare you venture into Malice Manor and try to discover the Rancor family's secrets? Good luck, and try to be a good guest while you're visiting… or you may just end up joining the "collection" of souls trapped within its walls!
---
View Full Score Sheet
---
Pics We Took From Our Visit:
---
Promo Images:
Click to Enlarge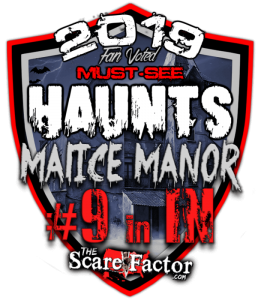 ---
Guest ReviewsGuest Average: 9.67 out of 10
Jessica – 10/10 – September 25, 2021It was an amazing haunt from beginning to end, the actor's never break character or anything, by far …show more one of the best haunts i've ever been too
Sam – 10/10 – October 19, 2019This haunt is amazing the actors love their job and it shows I was scared I was laughing I was …show more thrilled the whole time hands down the best haunt I've been to in a long time and the crazy lady with the shocker stick made me jump amd dance for her was my favorite she was wicked scary yet fun
Michelle – 9/10 – October 19, 2019These actors love their job this haunt is one of the best I've ever seen I was scared I was …show more laughing….I was mess…..the actors love making you scream jump and laugh
---
Past Awards
---
2022 Awards
Best Sensory Scare - Vibration Room (Given by: Team Zombillies)
Aine - Meredith Ritchie (Given by: Team Zombillies)
---
2019 Awards
Funniest Scare - Bubba's Bathroom (Given by: Team Zombillies)
Most Unique Characters (Given by: Team Zombillies)
Highest Rated Newcomer (Given by: Team Zombillies)
---
---
Past Awards
---
2022 Awards
Best Sensory Scare - Vibration Room (Given by: Team Zombillies)
Aine - Meredith Ritchie (Given by: Team Zombillies)
---
2019 Awards
Funniest Scare - Bubba's Bathroom (Given by: Team Zombillies)
Most Unique Characters (Given by: Team Zombillies)
Highest Rated Newcomer (Given by: Team Zombillies)
---
Join ourspookyadventures!
We visit Halloween haunted attractions year-round! Follow us for haunted house walkthrough videos, behind the scenes footage, and more!