Maniacs in the Woods – Full Review
Maniacs in the Woods is a Haunted Attraction located in Warren, OH.
2619 Hoagland Blackstub Road, Warren, OH 44484View All Details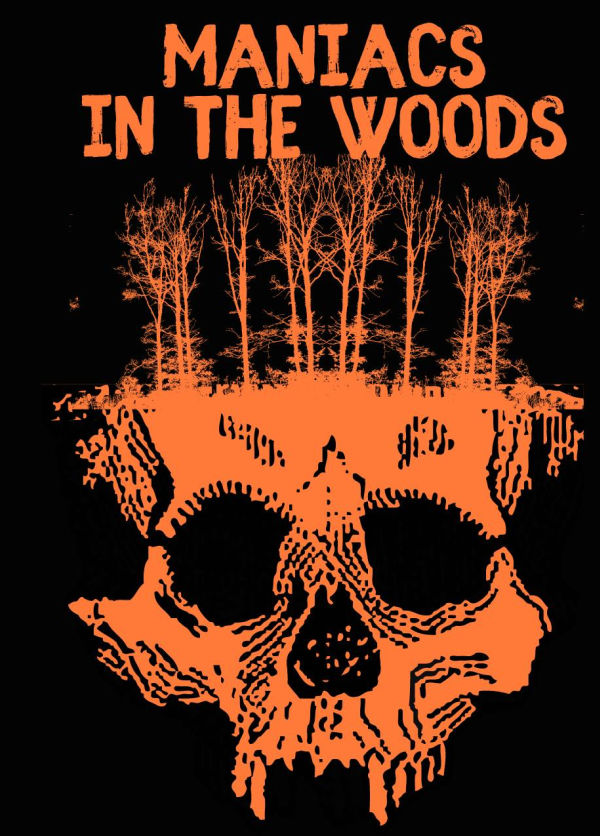 Features:

Free Parking, Restrooms/Porta Potties On-Site, Food/Concessions, You will NOT be touched, Uncovered Outdoor Waiting Line, All-Outdoor Attraction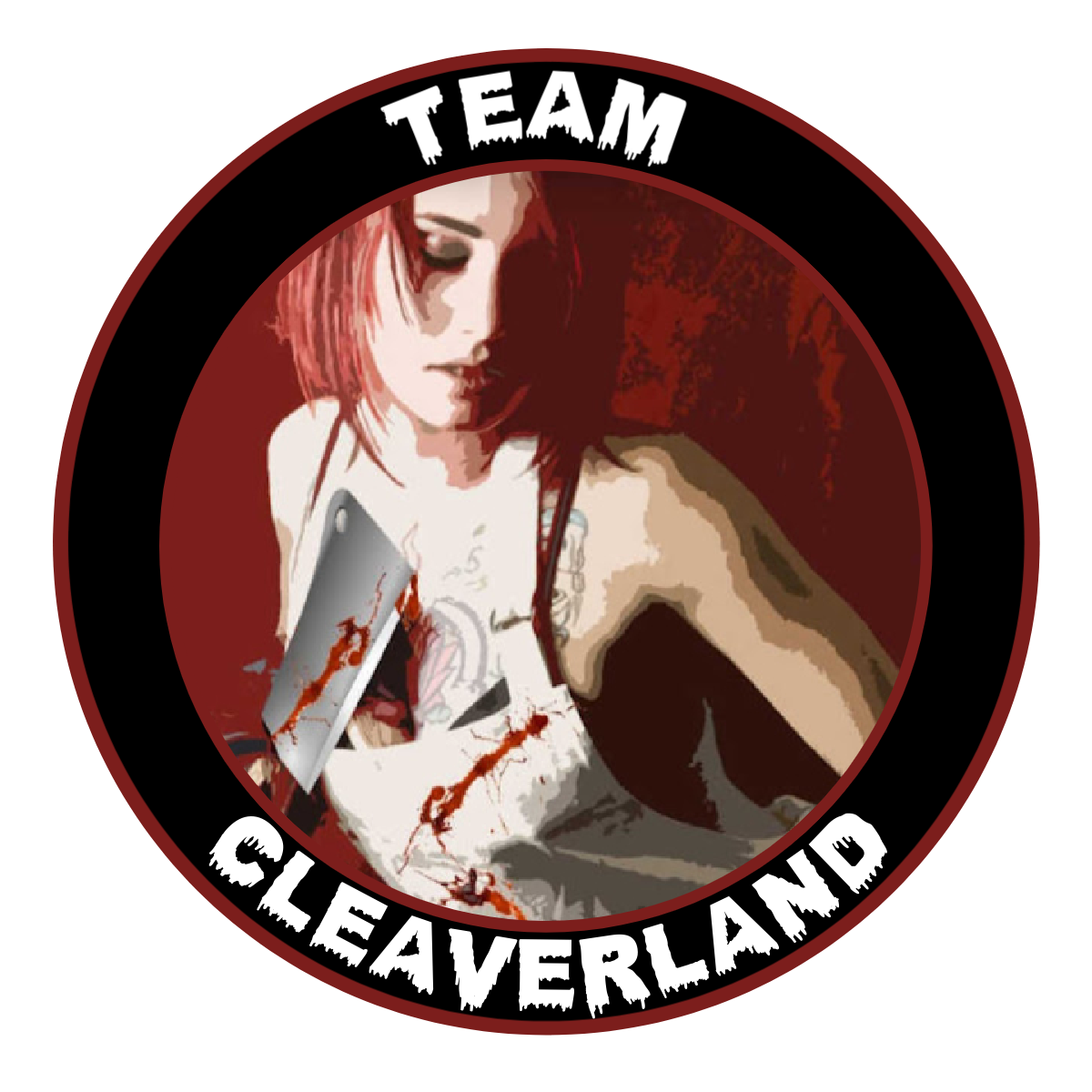 This attraction was reviewed on September 29, 2023 by Team Cleaverland.
---
About Our Reviews and Rating System
---
Final Score: 8.1
Final Scores – By Category

Final Scores – By Attraction

Summary:
Maniacs in the Woods is a super-fun charity haunt whose proceeds go to the Venture Crew #4054 youth organization. What they make here during the haunt season has helped them to take the kids as far away as Alaska for some awesome-sounding life experiences!
We made our first visit two years ago, in 2021. Probably like many people, we didn't go in expecting too much from a charity haunt charging a measly $10 and featuring a bunch of high school kids.
They changed our minds real quick! This place provided a pleasant surprise with its fun, pretty scary, freshly presented trail that delivered mucho bang for the buckage. And we had pretty much the same kind of enjoyable experience this time. Except…
One huge difference separating our visits was a radical change in the atmosphere outside the trail. It went from pretty silent to party city! We will detail that development in the Immersion section.
So, what happened on this visit? Spoiler alert: we met up with a bunch of… maniacs in the woods!
---
Cast Score: 7.49
Cast Scores – By Question

Cast Scores – By Attraction

Cast Review:
Once again, the cast members acquitted themselves well. The troupe is made up of all volunteers and mostly high schoolers. An adequately sized group had gathered for this evening. We felt like the actors did a good job populating the trail and came out at appropriate intervals.
They might have been a bit less talkative than last time, but we still got a good split between talkers, screamers, those who kept their lips zipped, and a whisperer who hissed 'don't scream.' Well, guess what, buddy, you're not the boss of our screaming. We went ahead with our screaming agenda.
Ripping headlines from the contemporary pop culture department, the summer of Barbie has officially extended into autumn. One of the maniacs was a mean girl, Barbie screaming at us from her life-size doll packaging. The lunatic clown got off some real Joker-esque laughing that followed us a good ways past the circus shack. The executioner and gravedigger also played their roles well.
Everyone seemed to have a handle on who they were, what they were supposed to be doing, their location, and their cues and timing, which was noteworthy for it being so early in the season.
One note for actors, please don't apologize for scaring us… that's what we're all there for! That's one thing we might put off to being pretty early on opening night; sometimes it takes a little while to warm up to peak performance. Also, we're pretty sure the cast has to ratchet between scarifying adults and toning it down for kids. We've noticed this is a popular haunt destination for families with smaller children, although we find it pretty darn spooky.
---
Costuming Score: 7.6
Costuming Scores – By Question

Costuming Scores – By Attraction

Costuming Review:
Maniacs in the Woods is one of those darkened places where it's kind of hard to see many costume details, aside from inside the tents on the trail and other areas with more lighting. That said, what we saw represented about an even split between masks and makeup, and the essentials were covered. Other than the clowns, most everyone had put on dark robes or clothing to blend into the shadows.
The queue actors looked marvelous. One of the clowns donned a floppy top hat, comically oversized bowtie, and a loud plaid sport coat with a giant flower pinned on, not to mention flashing a rather fierce looking blade. The mossy swamp beast appeared to have just slimed its way out of a radioactive bog. Ghostface looked spot-on and threatening. We watched him chase a kid over what seemed like the distance of half a football field, we're sure that kid would agree!
On the trail, the executioner embodied his part with the classic black mask covering the upper half of his face while swinging a hefty axe. The butcher had bloodied his uniform using the stabby tools of his trade. We found a gas masked goonie in a fog-filled tent, and a cat-masked creature on the ground reminded us of the animal-faced henchmen from 'You're Next.'
---
Customer Service Score: 9.78
Customer Service Scores – By Question

Customer Service Scores – By Attraction

Customer Service Review:
Maniacs in the Woods is located in Warren, Ohio, very close to Youngstown. No difficulties finding it with GPS, please note there's a little lighted sign close to the ground, under a larger, higher sign that says 'Optimist Club' –- that one's a bit easier to see and might better help guide you in.
Once settled in the free parking area, we went in the direction of the music and lights to easily find the ticket/shirt merch booth and attraction entrance. We noticed an ample police presence to deal with any maniacal activity of the non-actor variety, although as far as we've ever seen over three visits (we also went to their Friday the 13th blackout event in May of this year), this is a comfortably family friendly spot.
Even though they're maniacs, they've managed to set up a Facebook page that has most everything you need. They've also invaded Instagram and TikTok.
This is going to sound like a high thread count linens commercial, but WOW –- an awesome pillowy soft blanket of wood chips made this probably the most comfortable and nuisance-free trail we've ever walked. Seriously, it made a huge difference from what we're used to. There were a couple spots early on before our eyes adjusted to the dark where we might have walked off the trail, but pointing monsters set us straight and usually we could just keep an eye on the distinctive path of wood chips. Glow sticks on the ground also helped to lead the way.
We cannot let this section pass without mentioning that Maniacs in the Woods possesses one of the most coveted features in all of hauntdom: permanent restrooms. They are a thing of beauty and a joy forever. Let us now wipe the tears of joy from our eyes and move on.
---
Immersion Score: 7.82
Immersion Scores – By Question

Immersion Scores – By Attraction

Immersion Review:
In our previous review, the major negative we pointed out about the outside-the-attraction atmosphere was the silence. It was quite dark and quiet (aside from distant screams) all the way from the fairly long driveway to parking and ticketing. One of those suspenseful and trepidatious approaches where you start to wonder what you're getting into.
That's not necessarily a bad thing. Some people actually prefer that faux-danger, snuff film, murder alley style. In any case, we objectively noted that it felt very quiet other than the trail itself, whereas the industry at large keeps tending to full-blown entertainment spectacles/raves.
Starting last year, these maniacs have jumped aboard the party bus! They've built quite a festive atmosphere with DJs spinning pop horror tunes ('Werewolves of London,' 'Ghostbusters'), multi-colored floodlights, vendors, and multiple food trucks.
The vibe pendulum has swung all the way from 'I wonder if someone will be filming my corpse for a reel or will I die unseen' to 'come on shake your body (bag) baby, do the conga!' That might be a turn-off for some people, but we think it's a great opportunity to hang out a while longer …which we did.
Anticipation built with every bleat of the air horn that marked another new group of victims trotting off to be messed with by the maniacs. Our journey started at the entry point between two cement posts adorned with lanterns and bloody handprints.
In the beginning, and in a couple other spots, we could still hear the pop music. A few other detractions from immersion came in the form of an uncommonly tight squeeze tunnel, a recording accompanying a non-powered-up chainsaw attack that sounded more like a toy engine, and the couple of apologetic actors we mentioned in Cast.
But, we found the trail became quite immersive for the most part. The walkthrough was quite well spaced out and paced out. We'd walk for a little bit and then a prop or actor would grab our attention. Trying to follow the path and glow sticks through the dark woods, repeatedly getting scared, and the very good effects work all kept our head in the game.
It also helped that we did not run into anyone else in front of, or behind us. The door people had an effective timing system down to hold groups for a decent amount of time before the next got let through.
---
Special FX Score: 7.63
Special FX Scores – By Question

Special FX Scores – By Attraction

Special FX Review:
Inventive and creative are two words we'd use to describe the sets, props, scares, and really the whole walkthrough here. Those kooky maniacs showcased a fab mix of home-brewed props and effects work alongside some fantastic purchased / high-tech pieces.
A few very cool new animatronics wowed us: the nurse whose head twisted completely around on its neck, and a witch floating in the air holding on to her broom anchored to the ground, stopped us in our tracks for some admiration time.
Lighting can make or break a trail. Maniacs in the Woods employed sparse but highly effective lighting throughout, parceling out precious beams here and there to accentuate props, scenes, and mood. Fog-shrouded tents with colored lights, a filmy laser swamp, and little electric torches on a bridge typified their less-is-more approach.
The showrunners took a similarly spare approach to sounds. Through most of the walkthrough we only heard our footsteps, the actors, rustling trees, and insect buzz. We did hear some horn honks, thumping on a barrel, animatronic noises, and baby mewling. If the baby noises came from the actor playing a hideous mother instead of being piped-in sound effects, we say hats off to the actor.
We encountered a little bit of everything on the trail. A giant, and we mean giant, spider perched on its web. One section of trail led through a narrow tunnel of parallel clothes-pinned sheets on either side of us. The butcher set reeked of a rancid meat odor. The gravedigger came at us with a flaming shovel! We walked right into a mini headlight-and-horn trick. The nasty clown tent went out of its way to repulse with garish carnival atmosphere.
One effect in the graveyard really made our eyes pop out. We goggled at a freshly dug grave where something trying to rise up and out of it created undulating surface ripples in the dirt. Much respect for an ingeniously crafted illusion. There must be some future mechanical engineering students on the crew!
---
Scare Factor Score: 7.93
Scare Factor Scores – By Question

Scare Factor Scores – By Attraction

Scare Factor Review:
The best trails know how to use their wooded surroundings to best advantage in creating a scary environment. Such was the case here. The forest pressed in, dark and eerie. The quiet parts, where we could just hear ourselves breathing or the insects chirping, built great tension… to be released right around the corner, and then to start forming again.
The nurse animatronic with the spinning head elicited a groan of unease from us.
The darkness offered full cover for shadowy figures to conceal and reveal. Many of the maniacs demonstrated eager willingness to scramble around on the ground by our feet. We'd swear one jumped down out of a tree, freaking us way the heck out. The bedsheets trail corralled us and made it easier for monsters to track and harass us.
Some of the scarier actors of the night included a hissing, staring monster mama rocking a headless baby, and the maniacally giggling clown. Maniacs in the Woods prodded many phobias, including fear of the dark, the unknown, claustrophobia, clowns, spiders, imprisonment (human-sized cages, some of them occupied, made an appearance in the opening section), and medical traumas/bodily injury.
---
Entertainment & Value Score: 9
E&V Scores – By Question

E&V Scores – By Attraction

E&V Review:
It took us 17 minutes to do the Maniac Mash. Against the ludicrously low $10 price of admission, the MPD (minutes of in-attraction entertainment per dollar spent) came out to 1.7. That's top-notch value at an almost unheard-of admission price. Even amongst charity haunts, we think that's some kind of record.
Some of the other fun stuff around the maniacal encampment included a choose-your-background digital photo op area, a covered picnic bench pavilion with a horror movie playing, the DJ dance area, and a vendor purveying witchy merch and tarot readings.
In the name of comprehensive reviewing, we dutifully sampled tiny fresh fried donuts, a walking taco from one food truck, and garlic mozz sticks from the other food truck. All tasty fare and quite reasonably priced. Check the FB page for updates on the rotating schedule of vendors and food servicers throughout the season.
If you're anywhere near the area, there is absolutely no reason at all not to hit up this place. You would have to be some kind of maniac not to…
---
View Full Score Sheet
---
Pics We Took From Our Visit:
---
Promo Images:
Click to Enlarge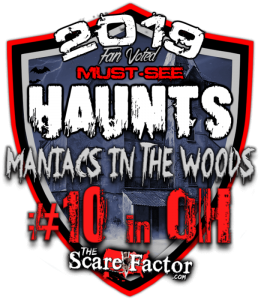 ---
Guest ReviewsGuest Average: 9.84 out of 10
Andrew – 10/10 – October 19, 2021Amazing super fun for all ages i will definitely work here.
Aaron – 10/10 – October 2, 2021Such a great time, for the price alone it's worth it but as a grown man I almost peed myself. 8ft …show more tall creatures and chainsaws you'd never see coming. Horror from start to finish. We will be back year after year. Check these guys out.
Brian – 10/10 – October 17, 2020Awesome time. So many scares and so well put together. Go check them out!!!!!
Join ourspookyadventures!
We visit Halloween haunted attractions year-round! Follow us for haunted house walkthrough videos, behind the scenes footage, and more!