McCalls Haunted Farm – Full Review
McCalls Haunted Farm is a Haunted Attraction located in Moriarty, NM.
34 Mccall Lane, Moriarty, NM 87035View All Details

Features:

Free Parking, Restrooms/Porta Potties On-Site, Food/Concessions, Gift Shop/Souvenirs, Optional Games/Midway, "Hi-Tech" Attraction, You will NOT be touched, Movie Characters, Original Characters, Indoor/Outdoor Waiting Line, Indoor/Outdoor Attraction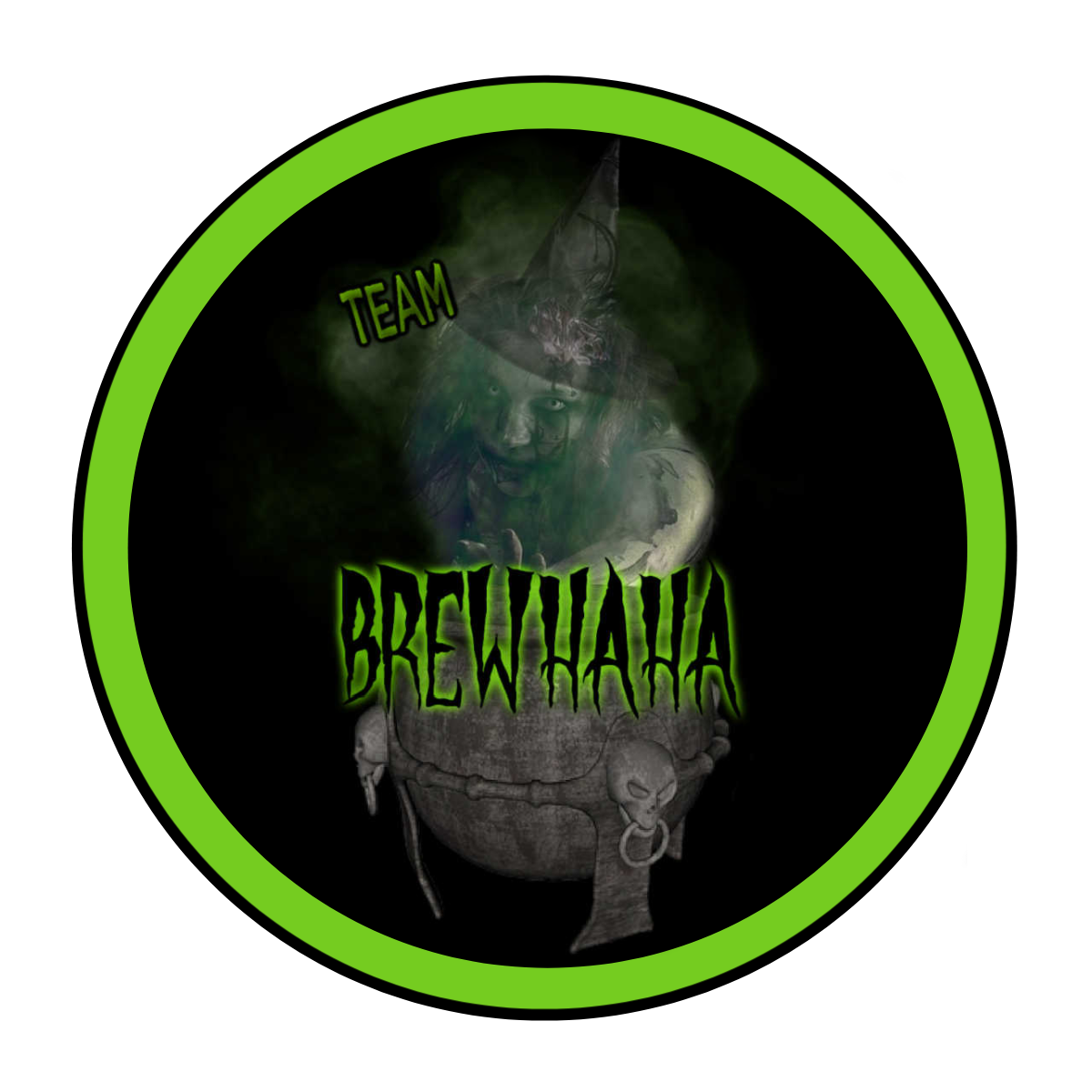 This attraction was reviewed on October 29, 2022 by Team Brewhaha.
---
About Our Reviews and Rating System
---
Final Score: 9.59
Final Scores – By Category

Final Scores – By Attraction

Summary:
Located in the nice little town of Moriarty, New Mexico lies McCalls farm. By day, families can visit the country store, visit the pumpkin patch, and get lost in a massive corn maze. But when the sun sets, the farm takes on a more sinister form as it transforms into the Haunted Farm.
While waiting for their timed entry, guests can play carnival games, go through the Curtain Chaos attraction, play zombie paintball and enjoy the many excellent food and drink. When it comes to the haunts, guests have two different haunted attractions that await to terrify them, The Field of Screams and The Haunted Barn. When your time comes these two haunts will make your fears and nightmares become a reality.
---
Cast Score: 9.6
Cast Scores – By Question

Cast Scores – By Attraction

Cast Review:
McCalls Haunted Farm has an outstanding cast throughout both haunted attractions and stalking the midway area. The actors each have their own demeanor that perfectly fits their creature.
Walking amongst the corn in Field of Screams, you will encounter a plethora of creatures and minions. The actors do a phenomenal job of going after each member of the group. Some will come rushing up to stare you down. I loved how in character the actors are, and each one had unique dialogue or sounds that fit their character. Actors within this haunt also used the sets and props phenomenally; several times they blended with the realistic props and figures for statue scares that made me jump. Some of the standout actors were the clowns who relentlessly stalked us, the bush people and the military that fired upon guests.
The Haunted Barn also was filled with intense actors. Each room and section had at least one actor, and they used every nook and area to their advantage. Many times several actors would go for the scare at once and several times I had a creature skittering by my feet. At times, scares came from above and actors would target from on top of items such as refrigerators and tables. The actors also did a great job of interacting with me by utilizing disturbing dialogue. Two particular actors who called me a big fluffy faced morsel described the many dishes they would create with me as the main ingredient, following me while they came up with more sinister recipes.
Outside of the haunts, there were also many characters to interact with and take pictures with.
---
Costuming Score: 9.5
Costuming Scores – By Question

Costuming Scores – By Attraction

Costuming Review:
The costuming throughout McCalls haunted farm was extremely well done. The hulking creatures stalking the midway area had complete custom costumes.
Throughout both the haunted attractions, each actor had a complete costume that appeared to be of Hollywood quality. Each costume fit perfectly with the setting they were in with appropriate weathering adding to the believability. Makeup was also very detailed; throughout the attractions, I did not see the same character makeup used on multiple actors. The blacklight makeup also popped on the characters with great little details around the eyes. The masks also seemed to be customized to each area and they were blended in with the costuming.
Some of the standouts were the gas-masked military within Field of Screams, the details fit with the time period with the sets. The characters within the saloon our of the Haunted Barn seemed like they came from a western movie. I loved that even the feet had custom work for the larger creatures.
---
Customer Service Score: 10
Customer Service Scores – By Question

Customer Service Scores – By Attraction

Customer Service Review:
When using their website, it was easy to locate McCalls using a GPS. Locating the haunted attraction was also easy due to the large LED sign for the farm. Parking is free and in a well-lit gravel parking lot with handy signs to mark each row, making finding your car after the night of terror a breeze. There were several portable and regular restrooms available.
The customer service from the staff was excellent, they are happy to answer any questions you might have. There is also a customer service location that is staffed right in the middle of the midway area. There are several shops that are open from a general store to a candy shop as well as several food locations, including an excellent green Chile grilled cheese sandwich.
In front of the line for each attraction are large TV screens showing the groups and the time slots so guests can enter the line when their timed ticket is up. The website is also extremely easy to navigate with the back story of the haunts, faq section, and a very user-friendly ticket page that is regularly updated with available time slots.
---
Immersion Score: 9.5
Immersion Scores – By Question

Immersion Scores – By Attraction

Immersion Review:
From the moment you enter McCalls Haunted Farm, you immediately get the fall feeling. Pumpkins and hay bales are spread throughout with fully themed buildings for the shops and food areas. Walking up to the haunts, you have custom-made signs at the entrance. The Field of Screams does not have a particular theme; the corn path is connected to several enclosed sets with different themes. In between sets, there was an incredibly creepy cemetery with some excellent jump scares. Within each set, the level of detail was amazing. One section that was themed to a military setting had actual military equipment while the air cannons looked like machine guns that were correct for the time period. Each enclosed area had so many authentic props including some taxidermy cats in the trailer home that creeped us out.
The Haunted Barn also has no theme but instead from the moment you enter, you are enveloped in stunning movie-quality sets themed from floor to ceiling. Throughout the labyrinthine layout it is amazing to see the level of detail from creepy sewers to a butcher shop all of your senses including smell are assaulted. Each themed area perfectly flows into the next with a well-themed section in between the sprawling rooms. I also loved the spacing in-between groups, only a few times towards the end of the attractions did we catch up with other groups
---
Special FX Score: 9.66
Special FX Scores – By Question

Special FX Scores – By Attraction

Special FX Review:
McCalls Haunted Farm is a high-tech and actor-driven haunt. Field of Screams uses a great combination of effects and animatronics. The corn path with its very tall corn stalks has several large and impressive animatronics that were timed excellently with some towering over guests. The real surprises hide within the sets with some being built in shipping containers.
Each set segment has several animatronics and effects, including great fog effects with one of the best laser swamps I have seen to a pumpkin realm that is themed from ceiling to floor. Compression bags were well used and just tight enough for you to struggle through. The use of lighting was also film quality with light leading to darker spaces and the strobe lighting was very detailed. Standout effects included the vines bursting through the walls, vibrating floors and very effective air cannons. The animatronics were also outstanding to witness with several that seemed custom-made for the props.
The Haunted Barn was filled with effects and animatronics. Several of the rooms had custom smells that fit with the scenery. The free-flow nature of the rooms also allowed for some great air cannons and moving set pieces. The sewer area used a combination of smell, fog, and running water to feel like you are deep underground. The haunt is also very well-lit so your eyes can soak up the details. The animatronics here were utilized effectively, with several attacking from above almost hitting guests in the head. Walking through the laser swamp area had an animatronic that burst from under the fog within inches from guests. The strobe lighting was excellent leaving guests completely disoriented. Even haunt staples like the claustrophobia bags and vortex tunnel had custom details to make them unique.
---
Scare Factor Score: 9.5
Scare Factor Scores – By Question

Scare Factor Scores – By Attraction

Scare Factor Review:
Both the Field of Screams and The Haunted Barn were intense, with guests barely able to catch their breath in between scares. The actors each bring an intense performance with some of them following from behind you. Throughout both haunts, we had people they added to our group that rushed past us due to the intense scares. The animatronics also were greatly utilized for both scares and distractions. I also loved how actors would act as a distraction for an animatronic scare. The soundtrack for both haunts added to the overall intensity.
---
Entertainment & Value Score: 9.5
E&V Scores – By Question

E&V Scores – By Attraction

E&V Review:
Timed entry tickets can range from $30.99 to $35.99 depending on the night which includes both attractions. Field of Screams took me 20 minutes to walk through, while the Haunted Barn took 30 minutes to walk through. Even at the higher ticket price, this brings the MPD, which is minutes of entertainment per dollar, to 1.39, which is a phenomenal scare for your dollar as the national average we see most often is one minute per dollar.
There is also a plethora of activities for guests to enjoy before and after the haunts. Overall, McCalls Haunted Farm is a haunt I would highly recommend to anyone who wants to spend an evening walking through some of the best haunted attractions in New Mexico.
---
View Full Score Sheet
---
Pics We Took From Our Visit:
---
Promo Images:
Click to Enlarge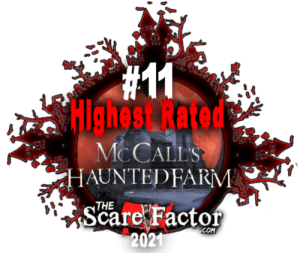 ---
Have you visited this attraction?
Join ourspookyadventures!
We visit Halloween haunted attractions year-round! Follow us for haunted house walkthrough videos, behind the scenes footage, and more!