Necrosis Haunted House – Full Review
Necrosis Haunted House is a Haunted Attraction located in Rantoul, IL.
1315 Enterprise Drive, Rantoul, IL 61866View All Details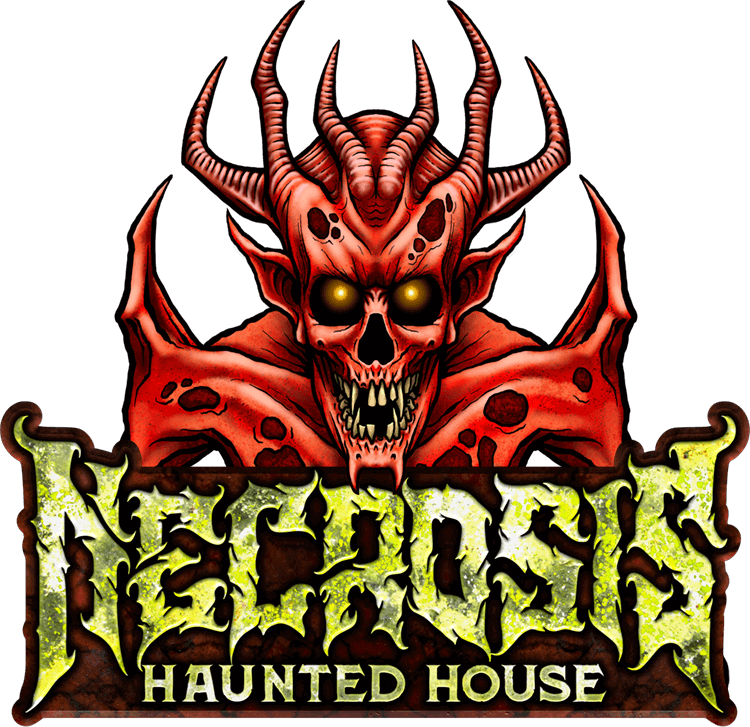 Features:

Free Parking, "Old-School" (Low Tech), Uncovered Outdoor Waiting Line, All-Indoor Attraction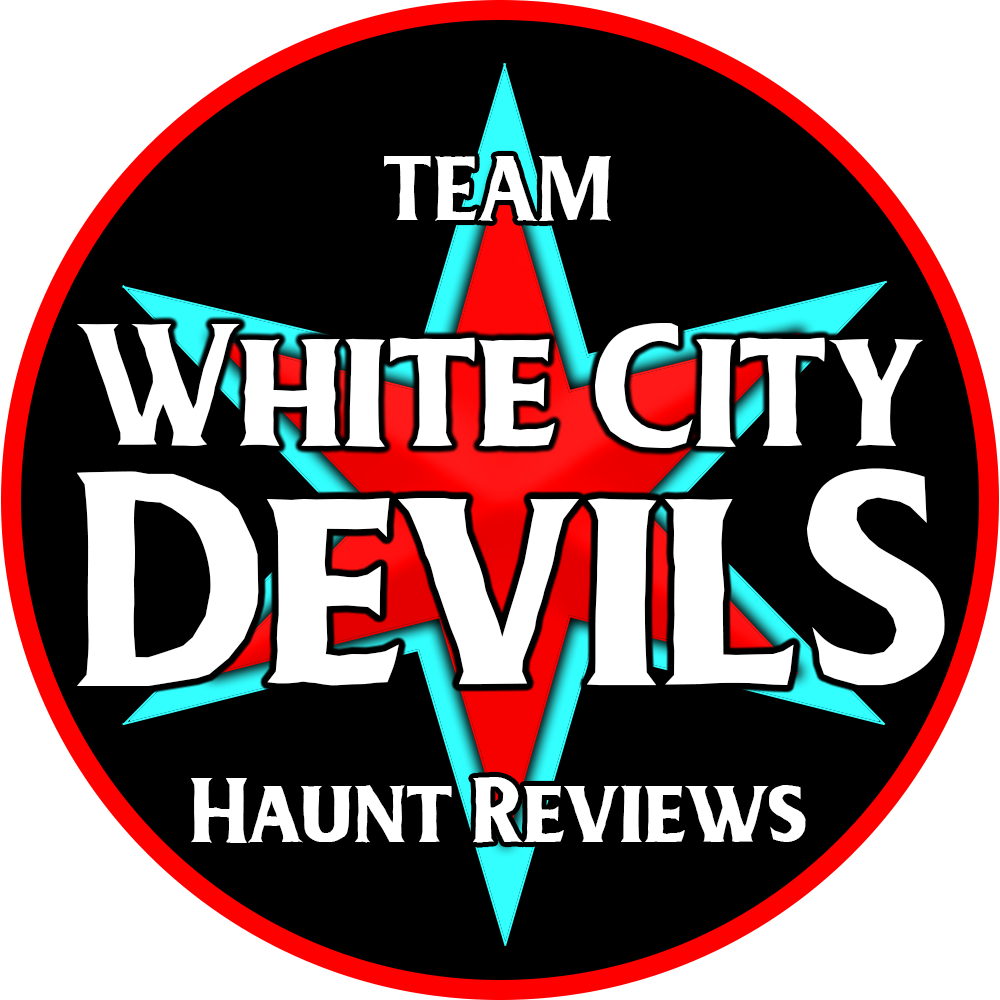 This attraction was reviewed on October 27, 2023 by Team White City Devils.
---
About Our Reviews and Rating System
---
Final Score: 8.57
Final Scores – By Category

Final Scores – By Attraction

Summary:
Due to scheduling conflicts, we did not get to visit Necrosis for their 2022 season. While this was a bummer, we couldn't help but be excited to finally attend this year since we were in Central Illinois for the weekend. This is their fifth season operating in this former airbase. After our visit this year, we can't wait to see what the future holds for Necrosis.
---
Cast Score: 8.28
Cast Scores – By Question

Cast Scores – By Attraction

Cast Review:
In our walkthrough, there were enough actors to complete each room, about 1 to 2 actors in each scene. There were plenty of great interactions throughout the attraction, and everyone seemed to have marks to hit and made a great impression on doing so. Some actors relied on a hog call to give a sort of warning as to what lies ahead for us, giving the impression that we were the pigs being led to slaughter.
In one scene we walked into, we were welcomed by a server who worked the diner we stumbled into. Upon verifying our reservation, the server promptly informed us that the party of two would be revised to a party of one. It seemed that one of us wouldn't be joining. A gentleman also invited us into their house, and their mama insisted on us staying for dinner. The hotel scene was another great scene where we had some good actor dialogue. The bellhop was interactive and encouraged us to participate by ringing the bell. Making our way through the different rooms and suits, we ran into other typical workers for a hotel, such as maids and janitors. They all worked well by asking about our stay and assuring us we would have our room ready, as they needed to clean up (likely a crime scene). We appreciate the efforts made here to provide a great experience for all their guests and can see improvement throughout previous seasons.
---
Costuming Score: 8.5
Costuming Scores – By Question

Costuming Scores – By Attraction

Costuming Review:
Costuming for Necrosis worked well with their respective scenes, as well as some cool queue costumes. In the queue, we did see an actor in a great clown costume roaming around, giving unsuspected guests sudden scares. We found the makeup/mask application to fit well inside the attraction. The dinner scene we mentioned before has some great 50s-era costuming with a touch of blood that helped us lose our appetite. Another great costume we saw was the possum person in the swamp area. The mask used, and the hooded robe to help hide it made it feel like some giant mutant back of the wood's creature.
Another great costume is closer to the end of the attraction during the church scene. The costume designs here are more priests-like with a hint of wickedness to help give the appearance we were walking into a demonic sermon. As we do appreciate these highlighted costumes, all of the others, of course, had some great-looking makeup, which was highlighted with tricks such as blood spatters and such.
---
Customer Service Score: 9.64
Customer Service Scores – By Question

Customer Service Scores – By Attraction

Customer Service Review:
Parking is plentiful on the side of the attraction and there is visible street parking. Tickets are available on the website and at the ticket booth. There is a concession stand with hot dogs (*squeals in Chicago*) and other snacks. Security is on site and helpful with any questions even if all the signs are not visible and you don't know where to go.
Inside, there are inclines, declines, and uneven paths that are not a major hazard to maneuver. There are also moments of heavy fog that could be potentially dangerous to some, but it is also not a hazard.
---
Immersion Score: 8.41
Immersion Scores – By Question

Immersion Scores – By Attraction

Immersion Review:
After getting our tickets, we headed on over to the fully renovated queue area. The line is completely covered from the rain, which worked in our favor because it was raining that weekend. A clown walked around and interacted with the crowd while heavy metal music played on the speakers.
Inside the haunt, we noticed different scenes and themes. Depending on their respective scenes, the actors and the scenery worked well together to be efficiently immersive. The only issue we had was the conga line that prevented us from experiencing scares ourselves and instead seeing people ahead of us getting the interactions. It was a busy weekend, so it made sense.
The exit leads to where the car parking lot is located. Before leaving, we stopped by the merchandise table to buy a few shirts and hoodies. The past few times we have been here, we have never gotten the opportunity to buy any so were quite excited.
---
Special FX Score: 8.55
Special FX Scores – By Question

Special FX Scores – By Attraction

Special FX Review:
In any haunted house experience, employing special effects is crucial. Here, we discovered the effective use of fog, convincing sounds, and intricate settings, contributing to an immersive and eerie atmosphere.
The rooms are meticulously adorned to match their designated scenes. The first room featured an industrial theme with toxic waste on display. We stepped into a hazardous room where a fog machine overhead engulfed us, creating the illusion of being exposed to poison.
The swamp was beautifully displayed as we descended into the fog. Above us, a tree with hanging branches and vines added a sense of realism, with its height and intricate details making it almost indistinguishable from a genuine tree.
We checked into the hotel and were given the honeymoon suite. Have you ever walked into the wrong room or been given the wrong key? Well, this was the perfect worst-case scenario if it were to happen. The walls were covered with blood, maybe a lover's quarrel or a jealous person. The words "love me" were written in blood.
An old car was parked that looked like it wasn't in working condition, but we were wrong by the loud honking sound it made. Throughout the haunt, we kept running into air cannons that were extremely loud and powerful, creating quite a few scares.
In the catacombs, we encountered a striking scene featuring fiery coals arranged to mimic the essence of hell. The pulsating red lights pierced through, creating the illusion of flickering flames. We were greeted by a giant animatronic that swayed back and forth, red lights illuminated the room to give it a demonic feeling.
---
Scare Factor Score: 8.61
Scare Factor Scores – By Question

Scare Factor Scores – By Attraction

Scare Factor Review:
The last time we were here was back in 2021, and this haunt has stayed looking as good as the last time. With the diverse types of scares given throughout, it is clear this attraction is going in the right direction. While most of the actors' interactions were growls, yells, and occasional verbal intimidation, they were still enough to execute scares efficiently.
Distractions were effectively used to create a few pop scares by the actors. The detailed settings get you rubbernecking to bring your guard down. There was a moment when fog shot down from above to simulate poison gas. The sudden and loud sounds were enough to startle us.
The nun is a hot topic this year because of social media, so it's no surprise that it is part of the grand finale. As we approached the haunt's exit, we were drawn to an altar featuring a pig placed as a sacrifice. Fixated on this eerie sight, an animatronic nun emerged from the darkness. Suddenly, red lights illuminated her face, and a powerful blast from an air cannon heightened the intensity, delivering a startling climax to our haunted experience.
Our only issue is since it was a busy weekend, there was a conga line starting halfway through the haunt. We got to see the actors executing the scares and the props activating ahead of us. Though we did get to see and expect what was about to come up, it didn't entirely diminish the scares or entertainment.
---
Entertainment & Value Score: 8.36
E&V Scores – By Question

E&V Scores – By Attraction

E&V Review:
Our walk-through time for this single-haunt attraction was 23 minutes. With general admission coming in at $30 (different prices depending on what day and week of the season it is) our MPD value was 0.77. This is great value for a great haunt that is bringing in visitors from all over. Necrosis did an excellent job this season of holding down the the scares in the Rantoul area and keeping guests happy all around. We are excited to see what the next season holds.
---
View Full Score Sheet
---
Pics We Took From Our Visit:
---
---
Guest ReviewsGuest Average: 9.9 out of 10
Rae Lynn – 9.9/10 – October 12, 2019My husband and I found this Haunted house easy to find. Parking is labeled and readily available. …show more From the moment you drive up to their building you get an uneasy feeling. It's located on the old air force base in Rantoul and it adds to the atmosphere. They have many different characters outside waiting to scare you before you even make it inside the building. Yes, there was a bit of a wait in line outside but for us that just meant the place was popular. Once you actually make it inside the building you are treated to a variety of horror styles, everything from cannibalistic hillbillies, a 50's style diner, an out of this world swamp, a clown hotel, and an ending straight out of hell!! Which personally we enjoyed greatly!! Their actors gave it their all and several scares we never even saw coming. Their costumes, makeup, detailing, and atmosphere were on par with many of the bigger city haunted attractions we have been to in the last couple years. It is definitely worth the money and wait in line. 100% would absolutely attend again!!
Join ourspookyadventures!
We visit Halloween haunted attractions year-round! Follow us for haunted house walkthrough videos, behind the scenes footage, and more!