Night of Terror – Full Review
Night of Terror is a Haunted Attraction located in Mullica Hill, NJ.
448 Lincoln Mill Road, Mullica Hill, NJ 08062View All Details

Features:

Free Parking, Handicap Accessible, Food/Concessions, Gift Shop/Souvenirs, Optional Games/Midway, You will NOT be touched, Original Characters, Covered Outdoor Waiting Line, Indoor/Outdoor Attraction

Team Hallowoosh reviewed this attraction on October 26, 2017.
Final Score:

8.02
Summary:
It had been six years since I visited the great Night of Terror at Creamy Acres Farm. I remember it was really the first attraction I ever saw outside of my New England area. The year was 2011 and it was the year I decided to make a habit of my haunted house addiction. I was looking for a great jump start into my reputation of being a haunted house enthusiast. I found that many of the big name haunts were located in Pennsylvania, plenty of them around the Philadelphia area. I found Night of Terrors online but it wasn't one of the haunts that was screaming it's own name on all the websites and magazines, so I treated it as a little appetizer before going to one of the big name ones later that night. Turned out to be one of the best attractions of the whole year. I have Night of Terror to thank for teaching me not to judge a book by its cover in the haunt industry. Ever since then I've been wanting to go back and relive the spectacle that Creamy Acres put on that year.
Creamy Acres is mainly a (if the name wasn't obvious enough) dairy farm. During the summer it is a great family agri-tainment venue with fresh ice cream and a farm petting zoo. They also grow a large variety of plants and have a well established garden center. They even host birthday parties. During the fall season they offer plenty more family fun with their hayride to the pumpkin patch and autumn themed games. But at night the farm transforms into a full blown terror fest! They have their Ride of Terror hayride followed by three separate smaller attractions, The Zombie Mayhem, Cornfield Maze, and Head Hunters. Two more attractions fill their barns with screams as you journey through Dark Dreams and The Slaughter Cave. Read on to see if you have what it takes to make it through a Night of Terror!
---
Cast:

7.9
We were told that on peak nights, Night of Terror actually has close to 200 people on staff. A good 160 of those people are actors. It sounds overwhelming at first but we realized after we were through all the attractions how important it was to have so many. The place covers a lot of ground. The actors that we saw in Night of Terror vary in talent but every one of them had plenty of ambition.
There was a particular point on the hayride where we entered a facility labeled 'The Zombie Rehabilitation Center.' There was a voice playing on some speakers that seemed to suggest this place was some sort of facility that could bring your loved ones back from the dead. I was trying to understand what the voice was trying to say but I couldn't hear much with a zombie girl screaming her lungs out in my ears. We liked how a clown came out of an ice cream truck and started terrorizing everyone on the wagon. I feel like some creative points should be awarded here since I don't see clowns coming out of clown themed things as often as I should. They have a great clown room on the hayride that has some clowns doing flips over a net directly above us.
The head hunters attraction was a short one but full of actors doing great characters trying to spear everyone and screaming about chopping off our heads. One of the actresses even played the role of some kind of evil magic witch and started praising the Gods like we were the sacrifice for them.
---
Costuming:

7.03
All the actors and actresses were dressed from head to toe in attire that matched their respective roles. Zombies had ripped and bloodied regular clothing and rednecks had nice dirty plaid. Everyone was either painted with blood and gashes or a dirty coal-like face. Our favorite costumes were with the head hunters. We don't get many chances to see this theme so it was a real treat to see something different. South American-style warriors in war paint and grass skirts, even the cool looking root-like witches. Too many times I have seen the perfect camouflage bush suit used and it very rarely gets me. With all the dried grass and bamboo sets it was easy to hide in this suit and blend in flawlessly. I didn't see it coming that time.
---
Customer Service:

8.4
This place is setup to entertain. Upon arrival, the ticket sale window is clearly visible. If you get there early you can check out their cool gift store, filled with tons of Night of Terror merchandise and other country farm store goodies to browse through. The ice cream/food window was open out front and drew in a big crowd, it looked like they offered a delicious variety of options. Around the corner, staff members direct you to the waiting lines. There is a booth before you go in with a popular bubbling drink that all the cool kids want to try and you will too. There are plenty of signs posted all over the place to direct you where to go. Most people prefer to do the hayride first and come back around to do the other two walkthroughs.
---
Atmosphere:

7.33
Outside of the haunts themselves there isn't too much happening in the way of a haunt atmosphere. This is largely in part due to the fact that they still run a daytime family fun business. Last thing they want is to show a bunch of infants a skeleton ripping guts out of a zombie. The main barn is set up so anyone can enjoy it with the food and gift shop. We had to walk behind the barn to get to the attractions. It did feel more like they were trying to hide them from the front. But as we went into the more spooky and gory, everything became more like a haunt and helped us get more into the spirit.
---
Special Effects:

8.08
The hayride starts off on a high note this year with a long journey into a long covered area with branches surrounding us on all sides. A bit of green light pierces through and for a moment it feels like a spooky enchanted forest. Not far into the tunnel we were attacked by the giant necromancer animatronic standing a tall 10 feet above the ground. While we were getting attacked by the giant skeleton, the wagon itself started to rock from left to right. This isn't something I've experienced too often on hayrides so naturally my first thought was we were tipping over. Quickly I realized it was just a moving platform and settled down but it was a pretty good scare for what it was. Not long after we exited to the tunnel there was a few more animatronics. One of them was a new one for me, some sort of demon body with the head or face of a spider. Those big fangs and all those black eyes are creepy beyond my wildest nightmares.
Night of Terror has quite the collection of animatronics that were all working very well and they were rather impressive too. A big reaper hung above the entrance to a barn telling us our souls belonged to him now. A big demon with some sort of rhino horn on it's face came charging after us. A large skeleton of a T-Rex comes out of nowhere and tries to eat everyone and a tall centipede demon creature lurked over us as we tried to escape! But one of my favorites wasn't meant to scare us. There is a great animatronic of a standing, robed skeleton with both hands grabbing the leg of a winged skeleton trying to fly away. The thing that makes this prop look incredible is that it looks like lead statues of skeletons that came to life. Not the boring old white skeletons, either. It speaks such volume to me. A sign of no escape has always been scarier than something telling you there is no escape.
At one point on the hayride, we had to drive through this alleyway with tall metal sheet walls on either side of us. Reminded me of Alexandria from the Walking Dead how the walls were up to keep the zombies out, or keep us in! Above us were these long pipes that were spewing firing straight up into the night.
I hadn't made any official count but I would be willing to say that Night of Terror actually uses more animatronics than most other haunts in the whole country. They just kept popping out left and right and everywhere. Particularly on the hayride, but the walkthroughs had a fair share of them as well.
---
Theme:

7.88
The themes between the haunts at Night of Terror are completely mixed. The main goal is to give you an overload of crazy haunt action. One minute we were in a zombie runway and then a trapeze clown net room and then the undead Jurassic Park. The first attraction off of the hayride was a little thing called Zombie Mayhem. I remember this place in 2011 being nothing more than an up and down dark maze. Now it is a full blown haunt. A washroom and a kitchen are just a few scenes you will see in there with crazy zombies trying to eat you all over the place. Head Hunters was obviously a south american tribe of people trying to behead everyone and they did a great job reiterating that goal. Dark dreams is supposed to be a journey through your own fears. They had different sets in there of situations that some might have a hard enough time getting past.
---
Fright Effect:

7.9
With the family atmosphere forcing the spirit of a great haunt to be pushed back behind the building, I felt like there was nothing to really help me get into the mood other than my own memories of the place. The hayride starts off quick and strong and it stays that same level of intensity the whole way through. The fright aspect of the hayride comes in the form of big animatronics that I haven't seen before that were working relatively well. The camouflage suit that got me at the Head Hunters attraction hasn't gotten me that good in a long time. But probably the best scare of the night was when I was looking one way and my partner was looking the other. An enormous rat head came flying at me trying to bite me and an equally as big dragon head came to bite my partner. We both backed up into each other and realized we were surrounded by these things. This sure made getting away a real challenge!
---
Value:

9.6
General admission will get you into 6 different attractions for $35, including a hayride which is the preferred place to get started. Though there are 6 attractions, there are only 3 lines to stand in since 3 attractions are daisy-chained to the hayride.
VIP admission is nearly double the price at $60 but with such long lines, it felt worth it to us. Night of Terror has been in the business for 20+ years and you can see how popular it has become by the crowds it draws in and the efficiency at which it runs.
The time it took us to complete the hayride, the little walkthroughs and the two bigger walkthroughs was about 52 minutes. At $35 for a combo ticket this gives Night of Terror a minutes per dollar score of 1.49. This is a really great value!
Night of Terror may have not been one of the scariest places in my travels but it still stands as one of the best hayrides I've ever been to. I would recommend this haunt to enthusiasts and first timers alike. A great and fun filled night is guaranteed at Night of Terror!
---
Promo Images:
Click to Enlarge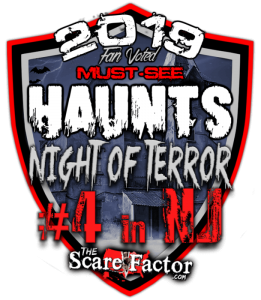 ---
Have you visited this attraction?
Join ourspookyadventures!
We visit Halloween haunted attractions year-round! Follow us for haunted house walkthrough videos, behind the scenes footage, and more!