Night Terrors Haunted Farm – Full Review
Night Terrors Haunted Farm is a Haunted Attraction located in Schoharie, NY.
4193 NY-7, Schoharie, NY 12157View All Details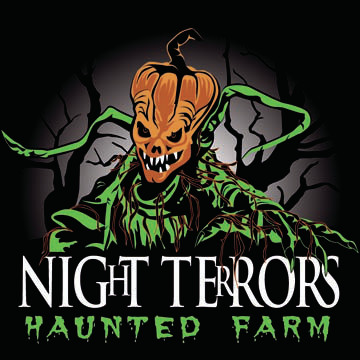 Features:

Free Parking, Food/Concessions, Gift Shop/Souvenirs, You may be touched, Uncovered Outdoor Waiting Line, Indoor/Outdoor Attraction

Team Hallowoosh reviewed this attraction on October 15, 2016.
Final Score:

8.22
Summary:
This is a full contact haunt. You will be touched.' If you weren't scared before, you sure are when you see this posted near the ticket booth. 'We are not responsible for any psychological trauma or future therapy costs resulting from your visit" it goes on to say. Well you can't say they didn't warn you. This is not a haunted attraction for the faint of heart. Just knowing the characters will touch you is enough to send shivers down your spine. They also play on some common intense fears including the darkness and clowns which left many people screaming in terror throughout the night.
---
Cast:

7.9
Some of the actors were ready to deliver their A-game performance and they deserve a well-earned shout-out, while others were just kind of there. Regardless, the actors who were really into it stood out and made things great! The clowns in 'Bezerkus Circus' don't clown around when it comes to unsettling foolery. They swarm around the circus tent just waiting to play with you. Watch out for Trixie, a fun-loving clown who sounds as sweet as can be when she approaches you, then the demon inside comes out of nowhere and you can't get away fast enough. As you leave the circus tent, you go right into the 'Maize Mayhem,' where the characters continue to impress with clever lines and manic temperament.
---
Costuming:

7.5
In general, the costumes were average and well-suited to the scenes. The clown costumes were the best of the bunch. Throughout the hayride, you see a variety of sketchy characters, some made up really well with ripped flesh coming from their face. In the dark 'Krouse House,' it was hard to see the actors, so not much can be said about their attire. However, in the entryway was a deranged character, pale as can be, ready to set the tone for the dark barn full of test experiments from the insane Dr. Krouse's experiments.
---
Customer Service:

9
Parking was free, well-organized and there was plenty of it in two open fields. Around the haunt were plenty of staff who were ready to help you out if you had questions. They are proactive about approaching you if you look lost or confused. Tickets are in the form of wristbands with five attractions on them and there are only three visible lines… which threw us off at first and, unfortunately, we missed getting off the hayride for the 'Zombie Attack,' which was a separate stop. I figured when the tractor guide asked everyone if they have tickets to the 'Zombie Shootout' it must be a zombie paintball attraction that is 99.99% of the time a whole other ticket you purchase. I had no idea it was actually the 'Zombie Attack' attraction in the combo ticket. It was a little confusing to me, but everyone else understood so I guess I'm just dumb. The staff was accommodating in getting us back to the right area without a problem.
---
Atmosphere:

8
This place feels like fun from the moment you walk in. At the center of it all are 2 food trucks with a lot of great food options and a seating area with multiple picnic tables. One of the food trucks even takes credit cards if you do not have enough cash on hand so nobody has to go hungry. The lines everywhere are long and the screams are coming from all around, most notably from the 'Maize Mayhem,' which everyone was talking about in the common area. You could even hear the 'howling of wolves' coming from the maze, which really makes you wonder what's going on in there.
---
Special Effects:

7.8
The use of fog was effective in drawing attention over to the new 'Krouse House,' which was positioned off to the side in a darker area. Although this was not the first attraction we visited, we did make note of the creepy, fog-covered facade and looked forward to going through. Our first stop was the hayride, which was a large wagon with wooden seats, no hay, but enclosed with barbed wire fencing covered in miscellaneous body parts for a unique effect. The hayride stopped at several scenes with spooky lighting effects and loud noises. The Zombie Attack provided you with small airsoft guns to hunt zombies in the woods. Sure there is no blood splattering all over the place, but if you point and shoot and something goes down that's real enough for me.
---
Theme:

7.8
The event takes place on farmland and utilizes what they have to create a variety of themes, rather than one throughout. The hayride was a different theme at each stop with rambling mental patients, hillbillies, a butcher, undead, priests, witches and gun-happy criminals. The only thing you knew from one stop to the next was that your chances of getting touched and picked-on was high. I do not recall any clowns along the hayride; however, there was an abundance of deranged clowns in the circus and maze. They seemed to escape often to visit the people in the common area by the food trucks. If none of that creeps you out, they have the fear of darkness covered in the creepy barn with a mad doctor who tests a person's capacity for handling fear before they go completely insane.
---
Fright Effect:

9
True to the warning at the ticket booths, the actors do make contact to freak you out. When you feel them lightly touch you, it makes you jump.
I remember sitting across from the entrance to the hayride where actors kept getting on and off at each of several scenes. There was a girl sitting right to the side of the door who the characters picked on heavily. Several screams came from her. You could see the difference in posture from when the ride began and 1/2 way through when she leaned into her boyfriend, hiding behind him as much as she could.
Oh and those clowns; well, they had the shiftiest personalities a clown can have and you are surrounded by them… never knowing what they will do next. Perhaps the clowns on site are victims of Dr. Krouse's experiments who have been driven completely insane. Will you make it out with your sanity intact?
---
Value:

8.8
You've got your haunted hayride, interactive zombie shootout, circus, corn maze, and the dark and scary 'Krouse House,' which is quite a variety of haunted scenes to get through. You are bound to get your worth of screams somewhere. Ticketing options start at $18 which does not include the newest attraction, the 'Krouse House' or the interactive 'Zombie Attack.' If you want to participate in everything, the general admission combo pass will cost you $30. Seeing the long lines everywhere prompted us to go for the 'R.I.P Combo' for $45/ticket which gave us access to the speed line, so worth it to skip the wait if you ask me.
---
Promo Images:
Click to Enlarge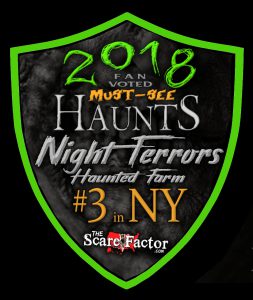 ---
Guest ReviewsGuest Average: 10 out of 10
Shsron – 10/10 – October 20, 2016Great nite at the farm! I go every year and bring a friend each time!
---
Past Awards
---
2016 Awards
Scariest Haunt in New York (Given by: Team Hallowoosh)
---