Night Terrors Haunted Farm – Full Review
Night Terrors Haunted Farm is a Haunted Attraction located in Schoharie, NY.
4193 NY-7, Schoharie, NY 12157View All Details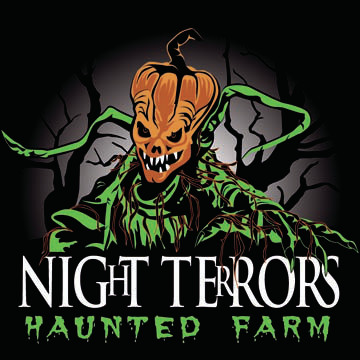 Features:

Free Parking, Food/Concessions, Gift Shop/Souvenirs, You may be touched, Uncovered Outdoor Waiting Line, Indoor/Outdoor Attraction

Team Old Crow Hollow reviewed this attraction on September 30, 2017.
Final Score:

8.11
Summary:
At first glance, Night Terrors seems like a small place with a bunch of haunts crowded around the main midway area, but this place is huge with 60+ acres of woods!
The Hayride takes you deep into the woods, where you will come across scattered scenes and various types of characters along the way. Near the end of the hayride, we suddenly stopped… still deep in the woods. This turned out to be the entrance to Dead End, the walking trail. Maize Mayhem, aka "the corn maze" is another one where it doesn't look that big from the outside, but it's long, dark and has some interesting sets you have to walkthrough. The Berzerker Circus is what you might expect, clowns, clowns, and some more clowns. Down next to the ticket booth is a small, dark building named after the deranged Dr. Krouse who greets you at the entrance. In this house, your group goes in alone against the doctor and his minions. It's quick, but dark, intense and a good way to cap off the night.
I plan to return next year with more folks for protection.
---
Cast:

7.86
They do give you fair warning, along with the regular safety points before the wagon takes off, that the actors WILL touch you. I would like to emphasize "WILL" and not just on the hayride, but in all the attractions. Now, we must have missed this sign at the ticket window while getting our wristbands, so it actually took me by surprise as I was not expecting that. But don't let that deter you from going, it just makes the experience more interesting and it's not like they rough you up.
Once the Hayride gets going, not only does the wagon stop at each scene, but the actors from that scene in almost every case then get on the wagon with you for a few minutes each time. It can be rather uncomfortable and a member of my team had the misfortune of having a bushy beard, which seemed to attract all the female creatures, as well as the big, burly chainsaw-wielding maniac in the butcher shop. They seemed to enjoy groping his beard in both hands and placing weapons on your shoulder or getting very close to your face with theirs. Dr. Krouse is probably the closest thing they have to an icon character.
The actors here are especially good as they are more about freaking you out than jump scares, so they follow and heavily interact with you. They do a really good job here… especially the wandering clowns. They don't want to just startle scare you, they want to stalk, linger and get into your head.
This place is so spacious that there are lots of places where more actors could fill in, or make the trail and cornfield feel not as sparse. If they were able to staff all the places they designed for people to be, this could be an unbelievable haunt!
---
Costuming:

8.33
Costumes were appropriate to scene and character. Most of the makeup was spot on, especially with the clowns. But, there were some areas where it seemed minimal. The costumes looked to be creatively made and not just something they pulled from the local Halloween store. Most of them matched their respective environments and this was really evident with the guys at the end of Dead End. There were only a few masks, but they looked to be original and unique to this haunt.
---
Customer Service:

8.5
When we first saw Night Terrors Haunted Farm as we came up from the South on the Highway, the lights and fog stand out against all the other darkness around you. You are surrounded by dark mountains and woods west of Albany in the Catskill region of Schoharie County. The Farm is right off the exit from the main highway and a quick couple minute loop back up a side road brings you there.
One word of warning for both Dead End and Maize Mayhem is that you should make sure you have good sturdy shoes in both areas. If long walks through rugged terrain are difficult for you (physically), then these two attractions may not be the best for you.
Once you are done with the Circus, you'll be back in the main midway area with a food truck (the food is really good), a souvenir shop, picnic tables and a bonfire that you can enjoy as you catch your breath, rest weary legs or before you head into the last and only indoor haunt: The Krouse House. The only real queue was for the Hayride and, with the low crowds on opening weekend, there may not have been a need for queue actors.
Staff was helpful, friendly, and organized. Kristen the co-owner was available for questions and to discuss the Haunt. Everyone was very professional and friendly to the point of being neighborly. Overall, Night Terrors is safe, the areas have been appropriately cleared and there's just an easy-going attitude with customers being treated like people.
---
Atmosphere:

8
If you have a dark creepy farm with lots of dark woods, and corn then it's best to go with that strength and embrace the natural ominousness and Night Terrors does that very well. I believe there was music in the main area, but it wasn't distinctive enough to really stand out to me. But, there were sounds coming from the woods area that definitely set a tone.
There is an old decrepit barn that is lit up right at the edge of the property which, as we discovered, is part of their expansion plans for the future as an indoor haunt. This is significant because all but one of their attractions are essentially outdoor haunts.
The midway definitely felt like a 'haunted hayride' area, complete with bonfire, lit-up facades and extensive amounts of fog rising up from behind the walls of the circus area. For the most part, each of the entrances matched well to what the theme was inside that area. My only exception would be that a little more detail could be needed for the Maize Mayhem corn maze on the outside.
---
Special Effects:

7
There's not a lot of special FX here, so they are not really the focus or strong suit of Night Terrors. The theme doesn't really call for it, though, as the property mainly consists of dark, naturally-creepy woods and cornfields. They could use some more sound effects along the Hayride and the other areas as well. There is a loud horn early on, but I think it serves more as a warning to the actors that another wagon is coming. Though, it is pretty loud and effective. The sounds that they do use are realistic and more natural to what the theme would be, but again, they are limited. Those that we heard in the Old West town scene and other areas on the hayride were also effective.
The scenes were detailed enough, but the theme is mostly post-apocalyptic, so the need for heavy detail doesn't exist. At one point, The Hayride traverses a watery area, which I must admit was disconcerting to me as we pitched downward in the wagon towards the water.
The first area in the Circus is a wooden pallet maze that leads into a tent area I believe, which is where this area starts picking up. It becomes a thick, bloody sheet maze with one girl clown leading the way and a ringmaster following and popping out in front of you repeatedly as you make your way through the disorienting place.
Lighting was used well through most of the haunt (more so than sound), but we only noticed limited use of them' again, most likely for the theme.
---
Theme:

8.1
The themes are all fairly common: nightmares, clowns, and a sadistic doctor. With the theme of 'nightmares,' things seemed to be a little unconnected as a whole. But, each of the separate themes were executed well and you could clearly tell what was going on in each area. There was a dragon prop in one of the areas that did strike me as odd where it was, but that's a minor thing. The haunted farm landscape completely matches its seemingly post-apocalyptic theme.
---
Fright Effect:

7.75
They don't want to just startle scare you, they want to stalk, linger and get into your head. Particularly so on the Hayride where they WILL touch you. Night Terrors does not specialize or utilize a lot of the startle or jump scares. Instead, it lets the atmosphere work for it. The vulnerability and desolation we felt out on the trail and the corn maze specifically was very unsettling and just completely unnerving. Not terrifying, but that sense of dread and uncertainty in your stomach is just so overwhelming here.
After the Hayride we started our journey through Dead End while the rest of the group was taken back to the main area to experience the Maize Mayhem and Berzerker Circus area. That left just me and my teammate as the only ones on the trail. After the relative safety and comfort of the Hayride, having to travel on foot through the woods felt very vulnerable just being out there in the open, unknown area. The worst part is that we had no idea how far we had to go to get back to civilization and, at some points, even what direction that was. There are stretches of this dystopian-themed trail with empty spaces between occupied areas, but that just makes it all the creepier. There is a big set towards the end with vehicles and a helicopter where one of the guys actually got me by surprise to where I just stopped for a few seconds before we crossed the bridge to head back towards the lights.
If you save Krouse House for the end it packs the most bang for the buck of noise, scares and chaos, even though it is fairly short.
---
Value:

9.33
Despite a couple short areas like Circus and Krouse, the Hayride is really long and traveling on foot through the Dead End Trail and Maize Mayhem takes a considerable amount of time. With almost no waits at all, it took us a total of an hour and a half to go through all of the haunts, so you get your money's worth and it's a very good natural Haunt. The Harvest Hayride itself is long… like 25 to 30 minutes long. I would highly, highly recommend getting the full ticket so you can experience the full event because Dead End is absolutely worth it. For 90 minutes of entertainment at the combo ticket price of $35, Night Terrors gets an MPD score (minutes of entertainment received per dollar spent) of 2.57, which is well above average.
General Admission: $18
VIP/Fast Pass: $50
Combo: $35
Krouse House (add-on): $7 / Dead End (add-on): $12
I would recommend the combo ticket to experience all the attractions. We went early in the season so there was no need for RIP part but that could help when it's busy. They have a lot of land on their 60+ acres and it seemed like they tried to make use of all of it. Perhaps it's a little too big right now, though, for the size of staff they can put out there, but the Hayride goes way deep into the woods which makes it very effective when you have to get off and walk back
---
Promo Images:
Click to Enlarge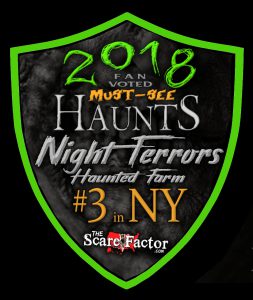 ---
Guest ReviewsGuest Average: 10 out of 10
Shsron – 10/10 – October 20, 2016Great nite at the farm! I go every year and bring a friend each time!
---
Past Awards
---
2016 Awards
Scariest Haunt in New York (Given by: Team Hallowoosh)
---