Night Terrors Haunted Farm – Full Review
Night Terrors Haunted Farm is a Haunted Attraction located in Schoharie, NY.
4193 NY-7, Schoharie, NY 12157View All Details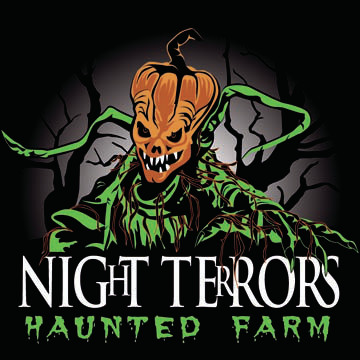 Features:

Free Parking, Food/Concessions, Gift Shop/Souvenirs, You may be touched, Uncovered Outdoor Waiting Line, Indoor/Outdoor Attraction

This attraction was reviewed on October 13, 2018 by Team Old Crow Hollow.
How Do We Get These Scores?

Final Score:

8.34
How Did We Get This Score?

Summary:
Night Terrors Haunted Farm is a farm-based haunted attraction in Schoharie County, New York that lies just a few minutes west of Albany. Five different attractions here provide about an hour of haunt time! Starting with the Harvest Hayride, you will ride into the darkness of the farm to meet many tortured souls. Then you will be dropped off at the start of the walking trail, Deadend Trail. At the end of this trail you will come across Maize Mayhem and Bezerkus Circus. Inside, there is a pallet and curtain maze with a circus theme featuring a sideshow of characters and their ringmaster. Last but not least, is their final attraction that's located near the entrance, Krouse House. Inside, you will enter the twisted mind of Dr. Krouse and this is the only indoor haunt at the farm.
Overall, due to the variety of attractions, you're in for a full night of entertainment at Night Terrors. The Hayride is fun, Deadend Trail and the cornfield provided a variety of scares, and Bezerkus Circus and Krouse House added to the overall package. I would opt for the full ticket so you get the full experience on the farm!
---
Cast: 8
How Did We Get This Score?

The cast seemed to be primarily older, more rugged-type men or younger kids, more so than in past years. They definitely tried hard and there was a lot of effort here, but sometimes there was not much to work with. The burly guys (especially the ones on the hayride) fit the bill to be threatening enough, but also were a little too normal. The younger children were effective in some areas. The only downside to the cast was that many of them went for jump scares rather than characterization, although, this will still get your attention.
On the hayride, at all stops, the actors will get on the wagon as a way to increase the fear of the riders and make this attraction as interactive as possible. Some of the other highlights of the ride was a character in the church that was definitely modeled after the Nun from The Conjuring and the two girls who were looking for their baby sister as they were very believable and convincing.
There is something unnerving about being in the woods by yourself to face the actors. In the trail, the scareactors do a good job at bringing out the character they are portraying and providing a story for the scene they are in. One of the standouts here was the actor playing the role of one of their icon parts, he was able to get me pretty effectively. In all, I would say the folks out on the trail are not looking to run at you and make noise or scream at you, but they are trying to portray more realistic characters as they threatened anyone that came along.
In Bezerkus Circus, the characters inside all represented side show or circus types. Standouts were those in the cloth maze where we were surrounded by curtains and had to find our way out. The characters always seemed to find shortcuts to cut us off.
In the Krouse House, Dr. Krouse is the standout here both in costume and performance as he is all over this maze, popping out repeatedly.
---
Costuming: 8.1
How Did We Get This Score?

The makeup and costumes ranged from basic to a few more detailed pieces. The Nun's makeup on the hayride, the ringmaster in the circus area, and Dr. Krouse were good examples of the more detailed makeups that we saw. A lot of the actors were playing regular people so they were wearing a lot of regular clothes but it worked.
The Deadend trail had some good costumes overall depicting people who live out in the desolate, wooded area. It's also where we found their best mask which was kind of a post-apocalyptic design almost like a Sand People mask from Star Wars but different. The guy wearing that is the one out by their crashed helicopter. For the maze and circus a standout was the girl in a red dress at the beginning of the cornfield with her silence and complete lack of care for whether her dress was dragging in the mud or not.
---
Customer Service: 9.35
How Did We Get This Score?

It is very easy to find the attraction as it stands out as a bright beacon surrounded by dark woods and mountains. Everyone here was very friendly and they really wanted you to have a good time.
Due to the heavy rains this season, there is not any on-site parking, so you will need to follow the directions on their website to nearby off-site parking and shuttle bus service to the attraction. So be sure to check before you go this season, and wear boots or rain boots if you have them as it is quite muddy here and don't be that lady we saw wearing open-toed sandals in the wet mud.
The cornfield is surprisingly larger than it looks when you first arrive. The walkways here are clear and there's no real safety issue of tripping in the darkness which is good as most of the maze area is fairly dark except for some small buildings and other structures.
One minor quibble was that I didn't understand why security didn't do their wanding and checks at the shuttle bus pickup before the buses got there and we were just waiting so that once the bus got there we could just load on right away and not have to wait for them to check everybody. It would've cut down about 10 minutes. Also, DON'T BRING ANYTHING OTHER THAN KEYS, WALLET, CELL PHONE, or you will have to dump it before getting on the bus or take it back to the car and lose your spot in line. No drinks, food or smokes as well as the usual obvious stuff like weapons, lighters, etc.
---
Atmosphere: 8.6
How Did We Get This Score?

The atmosphere appropriately gave off a Haunted Farm vibe. The common and food areas are right in front as you enter so your first impression is that of a bright carnival setup, which is reinforced by the circus lights from the maze behind it. These differ greatly from the dark and creepy natural woods and corn field atmosphere in the other areas. There is a cool fun vibe here, but it doesn't exactly prepare you for the rest of your experience.
---
Special Effects:

7.8
How Did We Get This Score?

There wasn't a lot of sound effects in any of the attractions. The hayride had a shotgun at the jail cell, a flooded scene, and lighting effects at the Witches Camp to name a few. The scenes were creative and different from each other, and not always super detailed as most of the scenes are supposed to be natural and realistic, broken down buildings and structures. The cave and a lot of the little buildings in the cornfield were unique and effective especially the actor controlled animatronic dragon or monster that would growl and blow smoke while it would try to come out at you.
The Hayride this year included 8 scenes with full stops at 7 of them and one where the wagon will drive through a flooded pond scene, which was not as unnerving as last year surprisingly, but be sure to pick up your feet here just in case. The adventure begins at an asylum scene, if you can make it up the muddy hill. Mother nature has been cruel this year. You will then move on to a church scene with a funeral that is the comedic highlight of the show, and then there is a hillbilly gas station. There is also a butcher shop with lots of hanging meat and body parts, and then on to my favorite scene, the old west jail and shootout. Just something about the shotgun firing, and the marshal taking care of the bad guys is just really cool. Bezerkus Circus is a relatively small pallet maze and cloth curtain maze combination.
---
Theme:

8.45
How Did We Get This Score?

The theme between all attractions was a combination of a haunted farm, woods, cornfield with an evil circus theme, and an evil doctor. The themes were fairly general but the characters and scenes matched and it was pretty easy to tell what they were. So by keeping it basic, the theme was authentic to each area and they were easy to follow.
---
Scare Factor:

8.08
How Did We Get This Score?

There was a lot of jumping and screaming on the Harvest Hayride as the actors would scare from the side of the wagon. A large group of women on our wagon were coming right out of their seats repeatedly to get away from people behind them. The Deadend trail is unsettling because you are on foot and exposed, and the cornfield is the creepiest with it's dark trails and various little buildings and people hiding among the corn rows. Krouse house can be disorienting and has jump scares with the actors moving ahead of you to pop out repeatedly.
A lot of the scares are somewhat predictable as the characters are often out in the open and mostly make you uncomfortable knowing you are going to have to interact with them to get by. There wasn't a huge variety of scares as most were pop scares or consisted of actors sneaking up behind you on the outside of the wagon. On the hayride, the actors tended to hit the same guests repeatedly as they could almost smell the easy marks, so they didn't get everyone, but the way the other attractions are set up, they will get everyone in your smaller group. The endings were good in most areas, they weren't exactly big, but they were effective.
---
Entertainment & Value:

8.83
How Did We Get This Score?

It took us close to an hour to go through everything. With five attractions to go through even though two of them are short, there is definitely a night's worth of entertainment here, and a good variety of attractions as well.
Outside of the haunts there are a couple of food trucks with a good variety of food, a shop with mostly clothing merch for the haunt, as well as music playing which gave waiting guests something to listen to.
They have a lot of space here with the fields and the woods and they use every bit of it. There is an awesomely creepy looking building right at the entrance that if possible would make a great shell for a haunt.
The ticket prices are really reasonable, only $18 if you just want to do the Harvest Hayride, Maize Mayhem, and Bezerkus Circus and you can add on the other two for an additional price. I think the full ticket price is reasonable as well for $35 and you get all five attractions. You can also upgrade to the R.I.P Speedline Combo ticket for $50.00. This was valuable at the hayride queue line which can take a while as there is a longer turnaround time between the wagons.
---
How Did We Get These Scores

Promo Images:
Click to Enlarge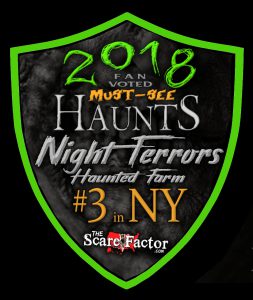 ---
Guest ReviewsGuest Average: 10 out of 10
Shsron – 10/10 – October 20, 2016Great nite at the farm! I go every year and bring a friend each time!
---
Past Awards
---
2016 Awards
Scariest Haunt in New York (Given by: Team Hallowoosh)
---