Nightmare Chambers – Full Review
Nightmare Chambers is a Haunted Attraction located in Foley, AL.
1501 South OWA Blvd, Foley, AL 36535View All Details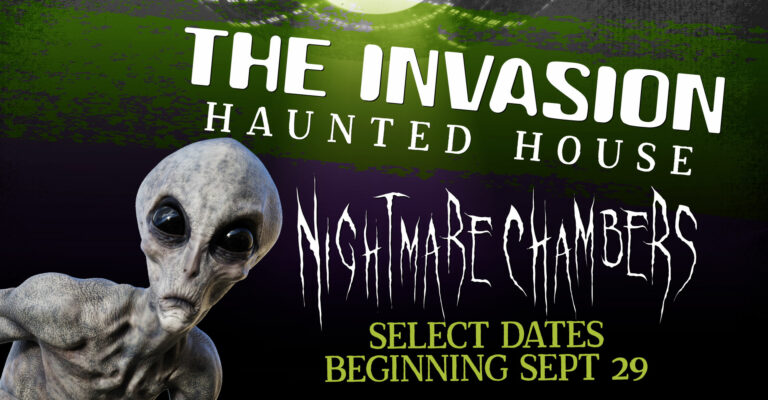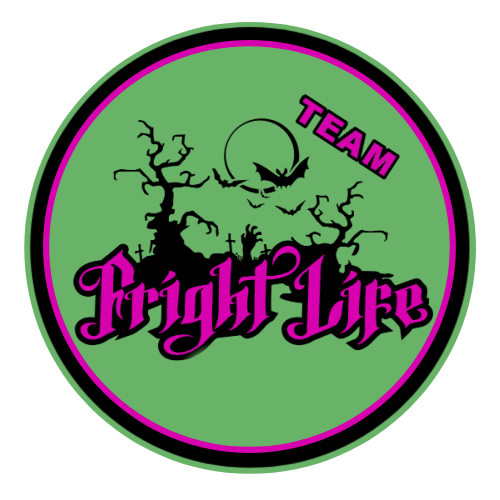 This attraction was reviewed on October 21, 2023 by Team Fright Life.
---
About Our Reviews and Rating System
---
Final Score: 8.03
Final Scores – By Category

Final Scores – By Attraction

Summary:
A haunting good time for adults and children alike, Nightmare Chambers at OWA Parks and Resorts should be on the bucket list of every haunt-loving family. With two completely different haunts to experience this year ("The Invasion" and "Mystic Mansion), seasonal Halloween activities, photo ops, a water park with "dive-in" horror movies, trick or treating, shows, and two amusement parks, you can make it a two-day spooky weekend vacation!
---
Cast Score: 7.13
Cast Scores – By Question

Cast Scores – By Attraction

Cast Review:
The overall good crew of scare actors for both haunts. The majority engaged with the hauntgoers and embodied their character with sinister pride. It took a bit more work to do successfully for the alien characters in masks, however. Given their limited ability to emote in a mask, they did their best.
Each attraction could have also benefitted from having more actors, however. In "Mystic Mansion," we saw/heard no more than four total, so the lack of actors was most noticeable. Having ten actors would have ensured that the majority of hauntgoers had an opportunity to be scared. "The Invasion" was an alien-themed haunt, but aliens were not the only characters. There were evil clowns, buzzsaw-wielding psychos, and victims too. There are two things we feel the haunt could do next year to continue to improve its haunt actor impact and grow attraction for many years to come. One would be to expand to challenge their actors to add to their character's vocabulary and teach some improvisation techniques. Their actors were great, but if they can make the guest's experience more personal and interactive, it will take this haunt to an even higher level.
---
Costuming Score: 6.58
Costuming Scores – By Question

Costuming Scores – By Attraction

Costuming Review:
Costuming was better than your average haunt. This haunt could have benefitted from having makeup artists rather than masks. There also didn't seem to be any original costumes at Nightmare Chambers. They looked like your average store-bought costume but with alterations and updates to improve them. But what we did see at both haunts was appropriate and fit the theming/scene.
---
Customer Service Score: 9.1
Customer Service Scores – By Question

Customer Service Scores – By Attraction

Customer Service Review:
Nightmare Chambers is at OWA Parks & Resort in Foley, AL. It is only 45 minutes from Mobile, AL, and Pensacola, FL. A GPS makes it easy to find, and maps are located throughout the property. Every staff member we encountered was friendly and helpful. They all seemed to enjoy being part of the experience. It was also easy to find information about the haunt and the location. Nightmare Chambers has their own Facebook page, and they post frequently there. They are also included in the OWA website under the events calendar. You can click "Halloween at OWA" to see all the activities they offer, times, dates, and details. Weblinks are included to take you to where you can purchase tickets online.
---
Immersion Score: 9.05
Immersion Scores – By Question

Immersion Scores – By Attraction

Immersion Review:
Immersion is one area where these haunts stand out. As you approach "Mystic Mansion," an enormous, spooky, haunted house appears. This haunt is a permanent dark ride attraction at OWA. They put a lot of thought and creativity into it. The queue line area had professional theme park-quality tombs and gravestones. There was a spooky theme playing all around us. The queue line continued inside, and everything from the ceilings, walls, and floors was themed. There were large posters on the walls sharing the story of the mansion. A family used to live in it a century ago but realized right away that it was haunted. The paranormal activity became unbearable, so they left. The most sinister ghosts of the South took over, including the mighty Boocifer, who commands them all. Descendants of the original owners want the ghosts gone and their family's mansion back. Dr. Phearstruck has been hired to get rid of the ghosts. He invented a ghost eradicator machine, and he is looking for qualified ghost hunters to help him rid the mansion of its ghosts once and for all. That's what we were there for. We stepped into a car, and the adventure began.
The sets throughout this haunt were spectacular! The creativity in every scene was jaw-dropping. No area felt barren or lackluster. During the day, the ride includes laser guns, and riders shoot at the ghosts. During the day, guests are awarded points depending on the targets they hit and how many. It becomes a contest for everyone on the ride in and around you. The guns were deactivated at night, and we were beyond disappointed. We were told that they decided to add live actors at night, and the lasers were getting pointed at the actors, and it hurt their eyes. While that is an understandable reason, it was a bummer that the guns were there, and they didn't work. We will return outside haunt season, and this will be the first place we go.
The other, more traditional haunt, "The Invasion," had a storyline centered around an alien invasion. In all areas inside this haunt, we felt transported to another world. The storyline seemed to change and was inconsistent, but it was still fun.
---
Special FX Score: 8.55
Special FX Scores – By Question

Special FX Scores – By Attraction

Special FX Review:
This is another area where The Nightmare Chambers shines like a full moon. "The Invasion" haunt was exceptionally long, with expansive hallways between significant scenes. These hallways had props hanging from the ceiling that would lightly brush against you, just enough to make your skin crawl. There were plenty of hidden spots for actors to surprise you from. Animatronics were in short supply; however, the sets in the various scenes didn't always need animatronics to make them effective.
"Mystic Manor" sets a high bar in their haunt attraction effects. From the approach to the load-out area of this haunted ride, spooky music could be heard. The sets were at the professional level with major theme parks. They were both creepy and entertaining. A few major animatronics can be found in various locations in the haunt. One animatronic, Dr. Phearstruck, is part of a scene in the queue line.
---
Scare Factor Score: 7.68
Scare Factor Scores – By Question

Scare Factor Scores – By Attraction

Scare Factor Review:
Nightmare Chambers is an excellent haunt if you have a group of people with varied tolerance levels for being scared. "The Invasion" haunt had a higher scare level than "Mystic Mansion." Dim lighting and strobe lights added to the scare factor of "The Invasion." The characters were also more disturbed and gruesome in that haunt. "Mystic Mansion" is the way for those with pre-teens or younger children who are scared more easily. "The Invasion" had more actors, and they interacted with the guests far more overall.
---
Entertainment & Value Score: 8.75
E&V Scores – By Question

E&V Scores – By Attraction

E&V Review:
Our review is focused on the two Nightmare Chambers haunts, so we are not going into too much detail here about OWA Parks & Resorts, but be sure to visit their website for information on all the "Halloween at OWA" fun. If you can't make it this year, start planning a visit now for 2024. During the Halloween season, they have activities for all ages at OWA, including costume contests, magic shows, themed photo ops throughout the property, trick-or-treating, and "Dive-In" horror movies at night at their indoor water park. There are three ticket price options: $19.99 for just The Invasion, $24.99 for both The Invasion and Mystic Mansion, and VIP, including haunts and front-of-the-line privileges for $39.99. So, with the combo ticket, that works out to .48 minutes for every $1.00 spent on tickets. It's a little pricey but worth it when you consider all of the other activities available to you.
---
View Full Score Sheet
---
Pics We Took From Our Visit:
---
---
Have you visited this attraction?
Join ourspookyadventures!
We visit Halloween haunted attractions year-round! Follow us for haunted house walkthrough videos, behind the scenes footage, and more!