Nightmare Factory – Full Review
Nightmare Factory is a Haunted Attraction located in Havelock, NC.
29 Park Lane, Havelock, NC 28532View All Details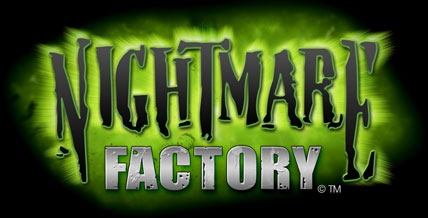 Features:

Free Parking, Restrooms/Porta Potties On-Site, Food/Concessions, Gift Shop/Souvenirs, "Old-School" (Low Tech), You may be touched, Original Characters, Uncovered Outdoor Waiting Line, Indoor/Outdoor Attraction, Family Friendly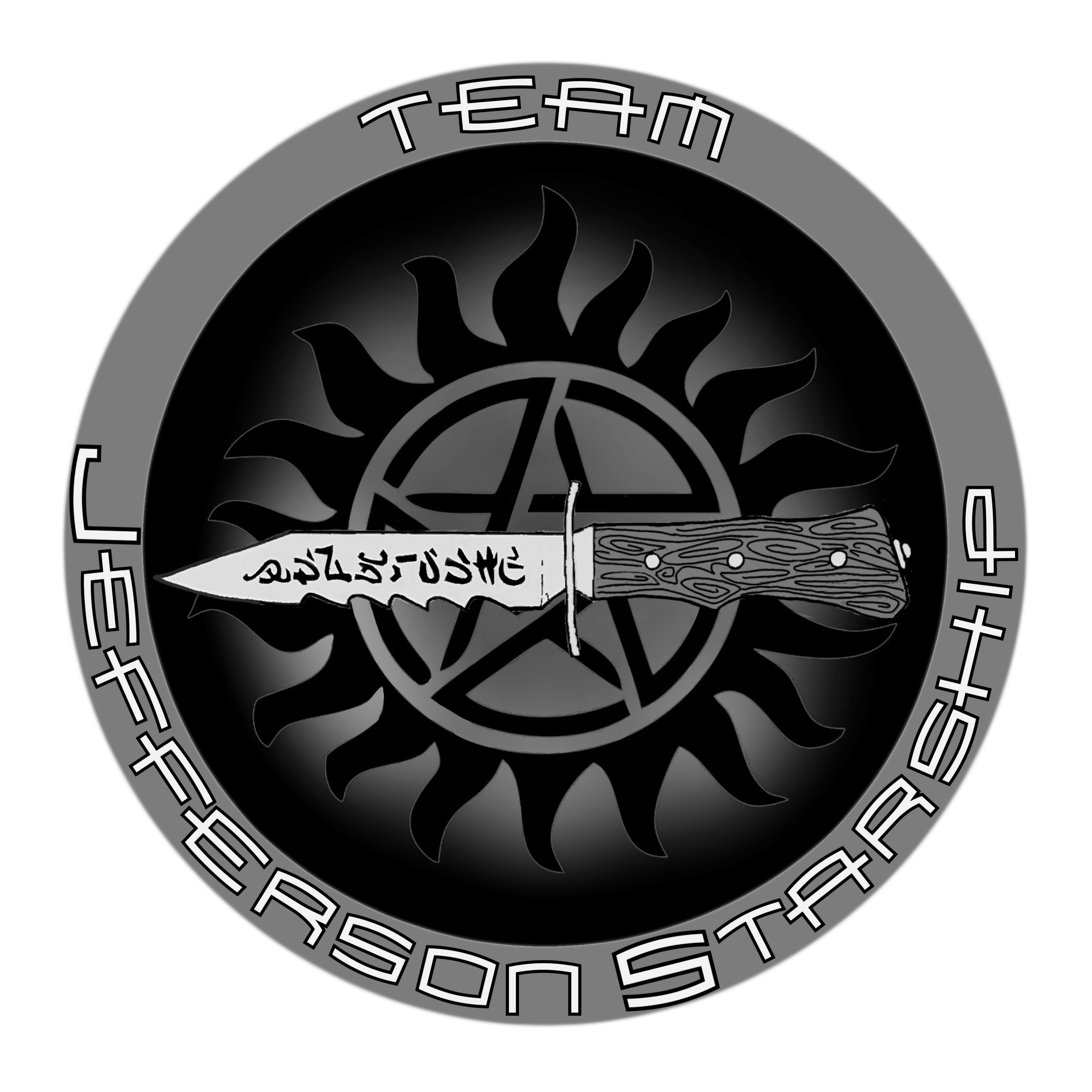 This attraction was reviewed on October 7, 2022 by Team Jefferson Starship.
---
About Our Reviews and Rating System
---
Final Score: 9.02
Final Scores – By Category

Final Scores – By Attraction

Summary:
Nightmare Factory (NF) out in Havelock, North Carolina, is an amazing night of entertainment, fun, and fear that we had the joy of experiencing recently. NF has been around for over 15 years, and each year seems impossibly better than the last.
An old-school traditional haunt, the crew of NF obviously love what they do and pour every bit of that love into delivering the best possible show they can. With an expansive street presence and a thrilling crew, Nightmare Factory is a show that is not to be missed! The first two hours of each night, from 7 to 9 pm, are great for families with younger children; after 9 pm the haunt transitions into its adult show with slightly more intense acts and scares.
---
Cast Score: 9.09
Cast Scores – By Question

Cast Scores – By Attraction

Cast Review:
About 40 costumed actors stalked the Nightmare Factory. The worst thing we can say about these various costumed freaks, geeks, and personalities back from the dead is that we would love to see more of them. These various creeps present a gamut of personalities and reactions to the crowd. For each one that growls and snarls and screams, there's another that sneaks up silently to loom behind you, and another that cackles with demented glee.
No matter their style, each of the nightmarish horde was intensely interactive. Since we were on site during the "rated R" hours, we did get a little extra interaction in the form of light touches and some up-close and personal views from some of the side-show acts.
---
Costuming Score: 9.38
Costuming Scores – By Question

Costuming Scores – By Attraction

Costuming Review:
Let me start off this section by mentioning that there are no masks at NF. Instead, everyone was in impeccable make-up with a few additional touches like prosthetics and contacts. The make-up and costumes here are so amazingly good.
At the start of each hour (8, 9, 10, etc.), all of the monsters from inside the attractions come out to the street under the lights in a "Monster Rush" accompanied by a pounding rock song. They swirl and spread through the waiting crowds, not only getting up close, but also giving everyone a full view of the costumes and make-up. Almost nothing is missed as these roaming, screaming, pumped-up scores of creatures flood into the crowded streets outside. The fact that the crew here pull double-duty as queue actors and still pull off scares inside the house is a mark of how energetic and passionate they all seem to be.
---
Customer Service Score: 10
Customer Service Scores – By Question

Customer Service Scores – By Attraction

Customer Service Review:
The Nightmare Factory takes up a large stretch of frontage on a city street. Guests are advised to approach the location slowly as their parking also stretches up both sides of the street and into all of the adjacent parking lots. Too, there is the aforementioned Monster Rush which pours through the crowd and out onto the street. Still, the crew here does a great job with safety in mind, and there are plenty of non-costumed staff available to answer questions, point guests towards anything they need, and are almost constantly in-motion themselves, moving from place to place to provide coverage and a helpful smile for everyone.
NF maintains a heavy presence online, from a dedicated website to various social media. It's easy to find something about the NF no matter what online service one might use.
---
Immersion Score: 8.76
Immersion Scores – By Question

Immersion Scores – By Attraction

Immersion Review:
The immersion that NF brings to its guests extends out into the street during the Monster Rush. They've also brought back some of the haunt's original storyline for this year. The sordid tale of Mr. Night and his factory and the horrors it wrought on the town of Havelock is entertaining. Too, the tale encompasses how Mr. Night wound up wealthy from the suffering of others, expanding from the Factory to encompass his ownership of the town's only hospital, two of its motels, and more. Each of these pieces of the story are carried through into the haunt itself, manifested in a variety of different scenes and sections of the haunt.
From the outside Dead Zone (which features a number of the shipping crates from Mr. Night's Factory, each with its own descriptive label) and into the sections of the interior haunt, the staff at NF have worked to create a fully surrounding experience. It seems like there is always something to look at here – so if you've got a friend who simply cannot look at the monsters out of fear, there will still be something spooky to catch their eyes. The various sections of the haunt flow fairly seamlessly into one another despite their different themes; the haunt ends about twenty minutes after it begins in a decorative lobby where guests are encouraged to sign the haunt's guest book (be sure to leave a message about how much you enjoyed your stay) before emerging back out on the street.
---
Special FX Score: 8.7
Special FX Scores – By Question

Special FX Scores – By Attraction

Special FX Review:
The Nightmare Factory is a slight step above an old-school, low-tech haunt. Some interesting effects are going on and a veritable plethora of decor decorating the walls and ceilings of the walking path. Even the actors sometimes loom above the guests, popping through walls to scare from up high or forcing guests to walk beneath them as they loom overhead. Effects are utilized well, and the lighting makes the various sections stand out. NF even works to contain the fog in one section instead of letting it spread throughout. There aren't a lot of big huge expensive animatronics, but that's not a bad thing. It simply means more room for the cast to do their thing, bringing their heightened energy directly to the guests.
---
Scare Factor Score: 8.69
Scare Factor Scores – By Question

Scare Factor Scores – By Attraction

Scare Factor Review:
While inside NF, the actors work to bring scares to everyone, occasionally clumping behind a group after a room or two. In the tight confines of the winding path inside NF, even just a few actors grouped together seems to be a mob. Scares come in a variety of types and from seemingly every direction, from ankles to overhead. Scares and screams are abundant here; even extending to the various side show acts.
Schizo the psycho side-show involves the audience as he does everything from eating glass light bulbs to standing on broken glass to hammering a screwdriver into his nose (only to have one of the watching crowd pull it out).
---
Entertainment & Value Score: 8.96
E&V Scores – By Question

E&V Scores – By Attraction

E&V Review:
The Nightmare Factory has a varied ticket price depending on the night. Prices are lower earlier in the season, but the crowds are larger later in the year. With the Monster Rush and the Sideshow acts, there's enough stuff going on at NF to keep folks entertained for quite some time.
Too, the Monster Rush and Sideshow acts are completely free. Guests could arrive and spend a majority of the evening just hanging out on the street without ever buying a ticket to venture beyond the walls of the factory. Add in a well-stocked gift shop and the presence of a food truck outside and NF has enough going on to serve as a draw for a huge swath of the East Coast. Every trip out to the Nightmare Factory is a blast for us and we can't wait to see what comes next.
---
View Full Score Sheet
---
Pics We Took From Our Visit:
---
Promo Images:
Click to Enlarge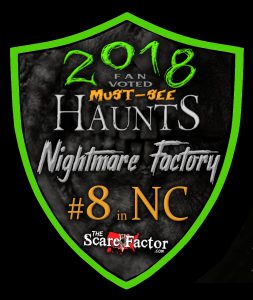 ---
Guest ReviewsGuest Average: 8.54 out of 10
Tammy – 10/10 – November 4, 2022They blew me away on 10/12 with the Halloween scare but they really topped it tonight with the …show more haunted Christmas!! This a must see!! All characters props and makeup outstanding!! But really loved jack!!!
Charles – 10/10 – October 8, 2022Wow! This place is great. From the outside shows to the inside haunt, we really felt like we got our …show more moneys worth! And it's actually scary! We jumped and screamed more times than we could count. Definitely coming back here again.
Angel – 10/10 – October 10, 2020OMG. What a Thrill. Spent 25.00 for 4 attractions. Drove 45 minutes to get here and got scared out …show more of my white. First time we to it. It was awesome. Thank you
---
Past Awards
---
2022 Awards
Best Makeup (Given by: Team Jefferson Starship)
Skeevy the Sideshow Psycho - Damien Duggan (Given by: Team Jefferson Starship)
---
---
Past Awards
---
2022 Awards
Best Makeup (Given by: Team Jefferson Starship)
Skeevy the Sideshow Psycho - Damien Duggan (Given by: Team Jefferson Starship)
---