NightMARE Island – Full Review
NightMARE Island is a Haunted Attraction located in Vallejo, CA.
1080 Nimitz Avenue, Vallejo, CA 94592View All Details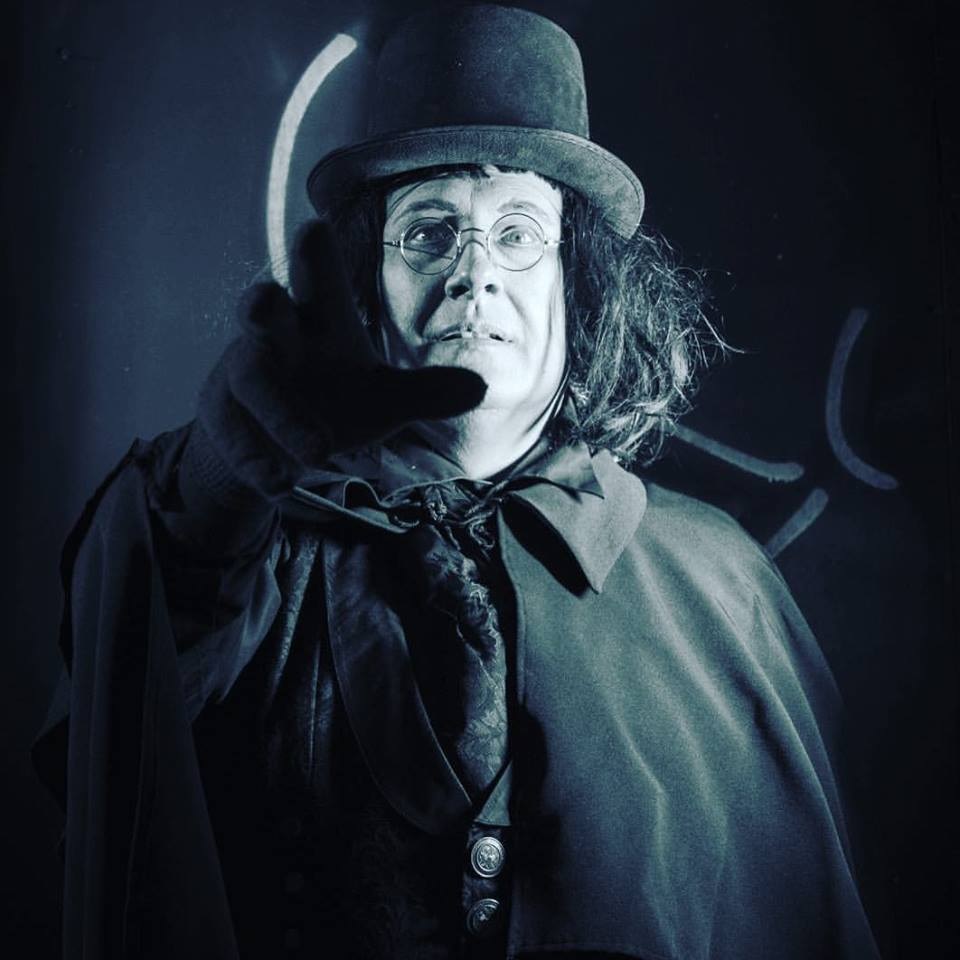 Team In-Corpse-A-Rated reviewed this attraction on October 8, 2017.
Final Score:

7.37
Summary:
After the United States Navy closed the Mare Island Naval Ship Yard in Vallejo, its munitions barracks remained empty for several years. Volunteers of the non-profit Mare Island Shoreline Heritage Preserve have taken over this empty structure to create one of their top fundraisers, Nightmare Island Haunted House. Vallejo may have Six Flags Discovery Kingdom's Fright Fest, but if you want a cheaper alternative to get your haunt fix, Nightmare Island will fulfill the role. Nightmare Island consists of a single walk-through haunt with the option to go into either a family friendly section or a scarier section. Outside of the actual haunt, there are a few souvenir stands, a tarot card reading stand, and tours of the historic Navy cemetery. The munition barracks dates to the 1930's, so the haunt smells old and feels old.
---
Cast:

8.17
Nightmare Island has a volunteer cast who, for the most part, are young, but are full of energy and enthusiasm. A moment of verbal interactivity was when the ghost bride spoke to us about finding her groom. Also, the witches cackled as they created their potions. The butcher held up some authentic-looking organs as he cut up his victim. In the 'Alien' themed room, an actor lays on a table twitching as a face-hugger clutches to his face and a chest-buster sticks out of his chest. The clowns in the clown room went out of their way to startle us. Everyone stayed in character as we walked through each scene and successfully fulfilled their roles. There were enough actors throughout the haunt, so there were no dead areas to be found.
---
Costuming:

7.46
Each of the actors wore a complete costume, which were decent looking, and made sense to each scene they were fulfilling. The makeup was fair; the bride and witches makeup looked good, but a few of the clowns' makeup was beginning to come off. A few actors wore masks, which were appropriate to the costumes they were wearing.
---
Customer Service:

7.75
We felt Nightmare Island was very safe and had no hazards for the guests. As we entered Mare Island, there were several sidewalk signs at various points which directed us to the haunt. There was no obvious queue entertainment as we waited in line, other than the occasional line actor. The staff were very friendly, professional, and answered any questions we asked. There are portapotties, souvenir stands, tarot card reading, cemetery tours and special events scheduled on various days, such as a short horror film festival and a funeral hearse car show.
---
Atmosphere:

6.67
As we drove to the location, we saw various lights, but no music or sounds. There was a sidewalk sign with the name of the haunt and a short dirt trail up a small hill. Halfway up the trail was the ticket vendor under a pop-up tent with bright lights. It may not have created a spooky mood, but it at least let us know we arrived at the right place. Past the ticket station, an actor dressed in a full camouflage moss costume startled us from behind the bushes. Overall, it was calm outside.
---
Special Effects:

7.21
There were enough sound effects so there was no awkward silence in the haunt. The sounds used did help enhance various scenes. The scenes were detailed very well. You can tell that some of the prop and scenery pieces came from department stores' Halloween sections, but others appeared original. A notable scene was where the ghost bride talked to us from the other side of a broken glass wall, but when she reached her hand out to us through the crack lines, we realized it wasn't a glass wall at all. This was a very good magician's illusion. Also, worth noting was a giant spider on a pneumatic cylinder which appeared to lunge at us. The butcher had some realistic-looking organs that he was showing us. There was a prisoner behind a chain-link fence who was creating electrical sparks. The lighting was used appropriately to allow guests to see each scene and offer enough illumination to navigate through the haunt.
---
Theme:

N/A
Nightmare Island has no unifying theme. Each room has its own unique theme appropriate to the Halloween season.
---
Fright Effect:

7.75
Most of the scares were created by actors lunging at us from behind scenery and hidden corners. They also used distractions to startle us. The actors made an effort to scare everyone in the group. We felt the clowns in the clown room were the most intense of all, as they lunged at us and stared at us intimidatingly.
---
Value:

6.58
Nightmare Island took about 6:20 to walk through. At a General Admission price of $10.00, that come out to 0.63 minutes per dollar, which is an OK deal. We couldn't find any dead areas, so the munitions barracks is probably at full capacity.
---
Promo Images:
Click to Enlarge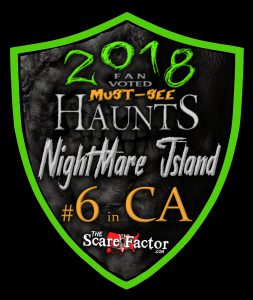 ---
Guest ReviewsGuest Average: 9.52 out of 10
Jaime Esparza – 10/10 – October 13, 2018The haunted house has very great effects with spooky sounds and great scary actors. It has multiple …show more rooms with different themes in each one. Multiple real hearses. What makes it one of the best places for the scare factor is the actual history of the place that dates back 1000s of years. There is history of indigenous people being buried there, Spanish, Mexicans when it was part of Mexico, and the historic history of the US Navy after 1848. The place has the oldest military cemetery West of the Mississippi. It is well documented that there are real spirits at the location. The cemetery tour is a must. You will feel the spirits around you. They also show up in some pictures.
Kat Von Tanner – 10/10 – October 31, 2017OMG… THIS was the BEST freaking haunt ever! Not only was it a haunt, but it had venders, food …show more concessions, a haunted cemetery tour AND a smaller fake cemetery for kids. I would recommend a visit to Mare Island 100%!
Jaime Esp – 10/10 – October 21, 2017This is the only place you can go to visit that haves the oldest military cemetery west of the …show more Mississippi, haunted barracks, HearseCon,ghost hunts,halloween film Festival, and various other spooky events. All the money goes back to a great local Charity and helps to pay for the all volunteer park to be maintained.
---
Past Awards
---
2018 Awards
Best Victim Actor - Girl in the meat grinder (Given by: Team In-Corpse-A-Rated)
Best Homemade Props (Given by: Team In-Corpse-A-Rated)
---