Nightmare Realm – Full Review
Nightmare Realm is a Haunted Attraction located in Mattawan, MI.
23492 Red Arrow Hwy, Mattawan, MI 49071View All Details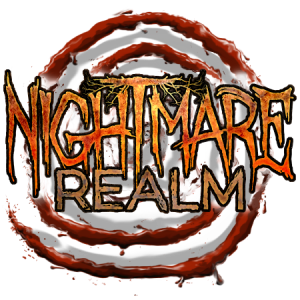 Features:

Free Parking, Restrooms/Porta Potties On-Site, Handicap Accessible, Food/Concessions, Gift Shop/Souvenirs, Optional Games/Midway, "Hi-Tech" Attraction, Original Characters, Celebrity Appearances, Covered Outdoor Waiting Line, Indoor/Outdoor Attraction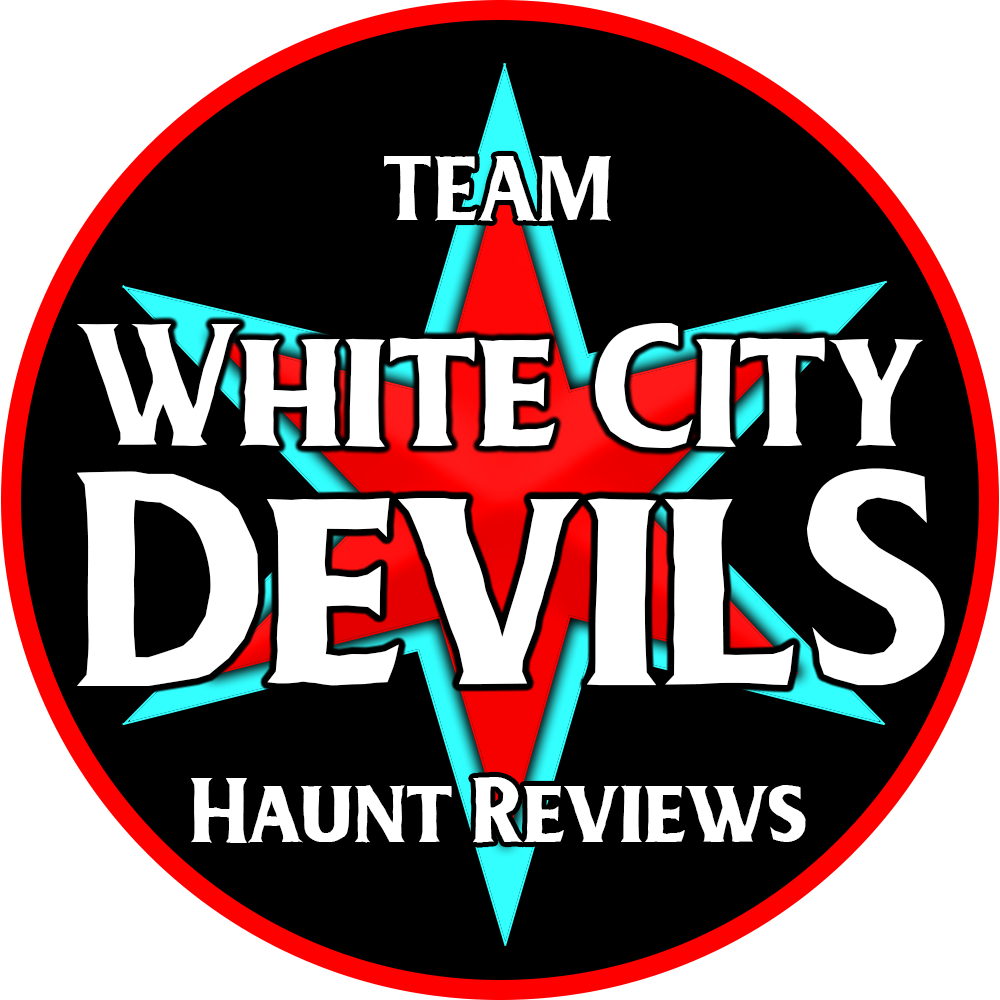 This attraction was reviewed on October 15, 2021 by Team White City Devils.
How Do We Get These Scores?

Final Score:

9.06
How Did We Get This Score?

Summary:
We found our way to Mattawan, Michigan (near Kalamazoo) for the opening season of Nightmare Realm (NR). This haunt found its way from a home haunt a few years ago into the pro haunt it currently is today. They were scheduled to open last year to give the town of Mattawan a haunt unlike anything in the area with driven actors, a fantastic storyline, creative props, and detailed scenes. However, much like all of us in 2020, NR had been delayed a year due to Covid. I guess looking on the bright side of things, this gave the team at NR an extra season to create the town of Cypress Hollow. Alongside all of the lingering creatures in the town waiting for another season to show themselves, we also couldn't wait to find out about the happenings of Trista and the Extinction Event #16: Retribution.
---
Cast: 9.19
How Did We Get This Score?

The actors at NR have a very unique way of combining actor-driven action with almost a sense of theatrical dialogue that remains in unison throughout the attraction. What is great about it all is there never seems to be a break in character and everyone plays a role that they have committed to. Queue actors seem to know about what's inside as well as there was mention a few times if we were friends of Trista's friend. Based on this interaction it seemed like she wasn't very favorable amongst her peers and classmates, but we will deep dive into all the Trista stuff during the theme category.
Sid was a queue actor who was just trying to focus on providing a good time' for himself. You can tell the actor playing Sid was having a great time in doing so. There was a moment waiting out in the midway area where Sid invited a group of guys to play a game. He said the first person to take my hat (a stranger to these guys by the way) would win the game. You could tell they were so confused and politely asked to borrow my hat instead of just snatching it so there it went. I suppose the description I can use for his portrayal is kind of quirky and chaotic.
Once inside the haunt, the actors committed to their roles as mentioned earlier. They all tell parts of a story and mean something to the haunt, which is an interesting approach. A great example would be the janitor in the school. There is a great bit where he is talking about baptizing in the fire and there are examples of outlines of human-shaped chalk marks to add to the believability of it all. He had a real standout and demanding voice to be remembered. Other great examples would include a staple character such as Grandmother who is cooking up some sort of cannibal casserole. The actor portraying this character did a great job at moving as though they are frail but in an unusually fast fashion also. It was brilliant to see that as it kind of gave an elderly person on the brink of death a new life of sorts due to internal trauma. Father and mother also gave some key points on the portrayal of how their family is ruined and mother seems to want to put an end to the madness that has plagued the town. It is rather great to be able to see some of these characters such as the mother in multiple scenes showing the progress of her journey on trying to stop the chaos' *spoiler' it doesn't end well for her.
Overall, the cast at NR is committed to the haunt. It remains one of the highlighted pieces during our visit as this attraction feels very actor-driven for more than just scares, but rather a story to tell.
---
Costuming: 9.04
How Did We Get This Score?

When it comes down to makeup and costuming, NR is also very in unison here. There is a very noticeable theme here going around that something otherworldly has taken control and has divided the town so to speak. Everyone who has been infected with this unfortunate disaster is all marked with a spiral somewhere noticeable and those who are trying to stop everything are not. It is kind of a cool catch as those who seem hostile are marked and those that heed warning are not.
A great effect we saw play out was the sewing room. The actor seemed to have sewed themselves together with other body parts grotesquely stapled to the ways. With string connecting all sorts of things along with themselves. The makeup work here was great in giving a menacing vibe to help create the scene as a more believable statement. The same can be said for some of the burnt victims throughout. That makeup felt as though these victims (victims depending on who you ask) were smoldered to a crisp but somehow still alive through that pain. The application here really stood out and added so much depth as to what we were witnessing and helped the scenes so much.
Some of the masks used were of high quality as well. Sid has a sort of skull-looking mask that is oversized but looks as though it could be made of bone, even having the correct details in the sutures detailed throughout. For a more creepy-looking example, in the doll room, there is a mask that looks like a broken baby doll on top but a creature coming out of the bottom; it is pretty frightening alone but adds a good deal of depth in the scene as well.
Overall, the costuming department had its shining moments throughout. Everything seemed of a higher quality and continued to give to create an immersive feeling.
---
Customer Service: 9.43
How Did We Get This Score?

NR has free parking at the Paw Paw High School which is roughly a ten-minute bus ride away. They provide a free shuttle to and from the property. The staff at the ticket booth provide answers to questions pertaining to the haunt and seem to enjoy talking about it to all who want to know. It is easy to spot staff on the grounds of the haunt for any questions to be answered. The staff here remain helpful throughout the experience, and it is a plus when there are plenty available both at the haunt and in the high school lot. The NR website has a great deal of information and online tickets available as well.
---
Atmosphere: 9.12
How Did We Get This Score?

When we started our journey in the parking lot, there was an actor who was the house slider providing scares to any and everyone. You could tell he was having such a great time in getting everyone spooked but also knew when to tone it down for the younger audience to not frazzle them as much. During the bus ride, some actors help provide a great deal of entertainment and make the bus ride feel seamless. When approaching the attraction, there is this giant mural of a spiraling eye that looks like something from a Junji Ito comic, specifically Uzumaki. With the spiral theme and symbol throughout, the approach at this mural is a good statement as to what's to come and the ride that is NR.
The attraction is an indoor and outdoor haunt, so it is great when pulling up as it provides an almost disorganized feeling (in a good, haunted house way, of course). To see the attraction firsthand amongst the thick fog they create to give an even more ominous tone. There is so much to look at and take in and it gives this questionable feeling like what's inside and a curiosity that is peaked as what we got ourselves into exactly.
To be able to provide these notions for a first-year attraction is rather impressive and should be seen to gain a full perspective. NR does a pretty great job at setting the tone here.
---
Special Effects:

9.01
How Did We Get This Score?

The special effects here do a great job at helping provide a good deal of scares throughout the haunt. The first room we enter to watch a 2-minute video summarizing the story behind the haunt transforms us in time to older box TVs and advertisements to movies from the 90s. You can tell there are small details throughout the haunt to keep that same 90s vibe, such as Aladdin-themed Life cereal in the kitchen.
There are a few higher-end props throughout the haunt that are well placed and only revealed until they want you to see them which is great. They have a great-looking marionette doll that seems to be held up properly by muscle tendons and chains. It is a creepy-looking prop. Speaking of creepy props and dolls, the doll room at NR has a fantastic effect in which upon walking in, it drew attention from everyone. Make what you will of that statement, just be careful upon arrival as all eyes are on you.
Some of the outdoor effects and props felt a bit more limited. This makes sense as the higher ended props would be exposed to the elements and risk damage, so it seems to be well thought out as to have what prop in what scene. It felt like the outdoor scenes relied on more of a built and structured material feel over a full detailed scene which worked as good transition scenes. What I mean by this is some of the school scenes happen to be outside, so we are seeing a mess of school desks piled high amongst actors of course, but something like Grandma's kitchen holds the small gory details of human remains in the oven and the more key characters.
The doctor's office seems to do a good job at small details throughout as well. We were able to see these small prescription pill bottles throughout that seem to be prescribed bottles at one point along with old x-rays. It didn't feel like an overwhelming hospital feel which worked great for a few reasons: the theme of the haunt is not a hospital, only a portion of the story has to do with a doctor visit so it is not a primary focus. Having such a small portion of the scenes as a 'hospital' also helped highlight a small-town feel. This made the experience feel more of a local clinic over a multi-floored hospital and helped continue the story correctly in my opinion.
Overall, the team and NR did a great job of providing particular details throughout the attraction that helped tell the story they were looking to tell. It had some great effects that will continue to grow as this is their 1st season, and we are looking forward to returning visits to see the development.
---
Theme:

9.4
How Did We Get This Score?

The theme at NR scored so high because they did a great job at telling the story of Trista and her misfortune with the community of Cypress Hollow.
To summarize the happenings, Trista heard voices in her head that no one else could hear. When said voices took a toll on her and became too much to ignore, her parents took her to the town's doctor who then tested her with all sorts of drugs. After some time, she was told she was faking and had an imagination. The distraction caused by the voices is deemed too much for teachers and students alike. Eventually, Trista had stopped becoming a concerning distraction and more of a nuisance from actions beyond hers and she was labeled a freak outcast by all, including her once embracing family.
Trista eventually found comfort in the voices and was eventually able to telepathically communicate with them, finding out information such as the name of their realm, Aedifex. This led to a quiet 'reality' for her; the known surrounding world of Cypress Hollow while she was mentally in the Aedifex, far beyond the cruelty of the surrounding physical world around.
As cruel as kids are sometimes, a group of them decided to approach Trista on her way home from the library to lure her into a prank scare by tying a noose around her on top of the industrial building. One girl took it too far and kicked Trista off the ledge causing her to hang. This resulted in her consciousness being safe in the Aedifex and creating a portal between worlds. What came from the Aedifex are some of the worst creatures who want to terrorize and torment the town for the wrongdoings bestowed upon their 'bridge' to this realm, Trista.
It is a cool story and is highlighted throughout the haunt. So what we are introduced to is a combination of the monsters from both realms (the creatures and the kids who created this domino effect) as well as surrounding town folks such as Trista's parents, doctors, teachers, and principal.
What helps tie the story along is showing signs of the Aedifex throughout scenes such as a lingering noose representation, sort of as if realities crossed and created breaks within one another. This does lead to a tremendous ending where we happen to catch the result of a reoccurring character trying to reason with Trista, something that didn't work out better for anyone involved.
What helps translate this story throughout the haunt is key characters are mic'd up making it so much easier to follow and nothing is lost in translation. It was well performed and left us excited to talk about everything afterward. This is a creative plot and a creative way to tell the story. If you venture to their official website, this is only one story of the Aedifex but there is a whole Lore section that provides plenty of detail and is rather interesting to take the time to read through.
---
Scare Factor:

8.84
How Did We Get This Score?

As far as the Scare Factor goes for NR, there are plenty of scary moments throughout provided by both props and scenes and plenty around actors. Many of the jump scares also include dialogue, so there is hardly a moment of just a growl. There was one exception where this girl screamed the loudest possible when we passed by, and it was seriously ear piercing.
The other scares and moments of uncertainties provided by actors held interesting moments as well. When we walk through the doctor's office, he has some creative dialogue that tells a story of how all his torment created is for the best. When we exit and are outside, there is a cell holding a man pleading for our help to escape. It turns out that he is the actual doctor, and someone affected by the spirals created in the Aedifex has cast him aside as a next experiment. It left us with a feeling of uncertainty as to what exactly was going on, and we received no help from a character named Ambros who wanted us to progress and forget about what we had just seen. This also led us to a good scare from a friend of Trista who was looking to help. It seems that everyone that only wanted to help or were truly friends of Trista's was deemed crazy from the takeover.
*Spoiler* One of the craziest scares comes from the library of all places. What makes this scene so great is even though there are actors here, we can hear a heated argument in the next room between Trista (who we have not met up to this point) and her mother who finally found her. The exchange sounds like an actual domestic fight and is timed so well to end right before we enter, so we only see the result of what Trista has done to her mother due to the neglect and carelessness. It is a gory, frightening scene and is well done to captivate so much attention to the story.
Overall, there is a fair balance between scares throughout. I feel as if there is more of a focus to the story as a whole and some of the scares can get lost because of it but there is still plenty of great spooky moments throughout.
---
Entertainment & Value:

8.83
How Did We Get This Score?

Our walkthrough time at NR was just over the 23-minute mark. With general admission starting at $20 our MPD value is a great 1.15 which I believe is our personal highest this season. They have a great VIP option which has some great perks such as a pizza slice, 10% off merch, and a lanyard.
There is a small midway area that provides some great cider and donuts as well as a local pizza shop truck selling Detroit-style slices. Being from Chicago, I wasn't sure how to process this, but it was a good slice it turns out. The Midway does have plenty of space available for other future activities, but it remains a great start to year one. For being a first-year professional haunt, NR stood its ground on what the team wanted to accomplish here, and it was a great story throughout an exciting attraction. We were very pleased to make a return here to see the developing story of Cypress Hollow.
---
How Did We Get These Scores

Promo Images:
Click to Enlarge
---
Have you visited this attraction?
Join ourspookyadventures!
We visit Halloween haunted attractions year-round! Follow us for haunted house walkthrough videos, behind the scenes footage, and more!