Nile Nightmares – Full Review
Nile Nightmares is a Haunted Attraction located in Mountlake Terrace, WA.
6601 244th Street SW, Mountlake Terrace, WA 98043View All Details

Features:

Free Parking, Restrooms/Porta Potties On-Site, Handicap Accessible, Food/Concessions, Gift Shop/Souvenirs, Optional Games/Midway, You will NOT be touched, Celebrity Appearances, Indoor/Outdoor Waiting Line, Indoor/Outdoor Attraction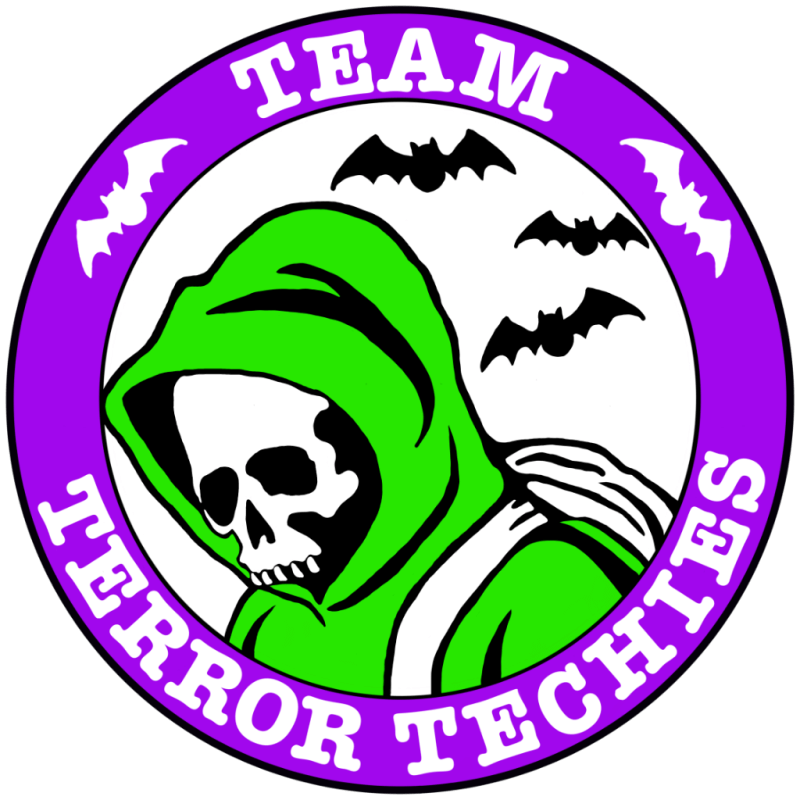 This attraction was reviewed on October 15, 2022 by Team Terror Techies.
---
About Our Reviews and Rating System
---
Final Score: 7.27
Final Scores – By Category

Final Scores – By Attraction

Summary:
Nile Nightmares is a haunted attraction that guides guests through several themed sections. Each section touches on almost every phobia that people could have – making for an entertaining night out. The areas between these themes are more cohesive than they were from one section to the next.
We visited Nile Nightmares last year in 2021 and enjoyed our time. We decided to revisit to see what changes they have made over the past year. Before, we wrote about the one thing that makes Nile Nightmares great is the party atmosphere and ever-growing midway.
The improvements made to the midway were noticeable. The beer garden was pushed out into a large tent next to the ticket booth. Under the tent outside the beer garden, there were tables and chairs set up, allowing people to sit and enjoy food from the food trucks. The expansion of the midway helped spread out the activity where last year, it was concentrated on a paved area next to the pole barn.
---
Cast Score: 6.42
Cast Scores – By Question

Cast Scores – By Attraction

Cast Review:
With the cast, it was a hit or miss rather there were enough actors in a particular scene. Sometimes scenes would be teeming with actors while others could have afforded a few more. With how the haunt was set up, it wouldn't be easy to shuffle around actors between scenes once the haunt opened. But, we would have liked to see the actors spread out a bit more.
Actors were often stationary within the various scenes which added to our impression that there was a lack of actors. There were a few more chatty actors, particularly in the slaughterhouse and the pirate ship. At both locations, there was someone posted out front to engage with customers entering that section. There was a particularly good Jack and Jill scare outside the slaughterhouse that got a couple of our teammates.
---
Costuming Score: 8.13
Costuming Scores – By Question

Costuming Scores – By Attraction

Costuming Review:
The costumes fit the characters well and there weren't any wandering characters – those that didn't belong to their scene. There even were a couple of creature costumes. However, there were opportunities to have a couple of larger-than-life creatures to add variety.
With the broad variety in scenes, there, too, was a large variety in the costuming. Two of the standouts were the pirates and the clowns. Each pirate had details that made them unique, from the captain out front that hurried us onto his ship to the barmaid who carried a tray of drinks. The pirates were made up to look ghostlike like they were echoing a time before their ship was under siege. The clown costumes were wonderfully complex with a lot of tattered, colorful layers that played with the blacklight. There was one clown in a mask but the rest of the clowns we encountered had detailed makeup created for each character. One of our teammates was even caught off guard by Anubis when he went in to inspect if the creature was a prop or alive.
---
Customer Service Score: 9.7
Customer Service Scores – By Question

Customer Service Scores – By Attraction

Customer Service Review:
From clear signage to friendly staff, Nile Nightmares did a fantastic job taking care of its customers. Within the haunt, there weren't any issues this year with mud and a slippery path. The most significant safety issue was a powerful light directed up toward the parking lot – making it difficult to see where we were going. The light was definitely needed, but changing the location of the light would have helped.
It is easy to navigate the haunt with these huge spotlights and the location is right off the I-5 Montlake Terrace exit. We were able to find all the information we need on their website. One thing that is important to note is that the website format is a bit off depending on the screen size used to view the site.
---
Immersion Score: 8.5
Immersion Scores – By Question

Immersion Scores – By Attraction

Immersion Review:
A point of excellence for the Nile Nightmares has been their midway area. It is difficult not to be drawn into the party atmosphere of the midway. We will speak more on the midway a bit later. The midway prepared us for the haunted house experience and allowed us to hang out after going through the haunt itself.
Inside the haunt itself, there was a better flow between the scenes than there was last year. Instead of dead zones between sections, there were solid walls and fence barriers decorated as extensions of each section. It made the entire attraction more cohesive.
An excellent example of this expanded transition is the path leading to the pirates. There was a graveyard scene with animatronic skeletons digging graves and the sound of cannonballs firing ahead of us. There was a dock that led up to a ship structure with vegetation jetting out from beyond the wooden planks.
---
Special FX Score: 7.13
Special FX Scores – By Question

Special FX Scores – By Attraction

Special FX Review:
There are notable instances where sound effects were well implemented within the haunt. The transitions from one theme to another had excellent use of music that related to the scene ahead. One example of this effect was on the way to the slaughterhouse. There was a small shack off to the side with a lone rocking chair that was lit up by flood lights. We were able to hear a lone banjo playing slowly. All this was a distraction from the actors that were scaring along the path.
The 3D clown section was more polished than it was the previous year. The setup also allowed patrons to move more easily without bottlenecks. The contrast between the 3D airbrush artwork and the set pieces blended better this year, instead of having a jarring difference.
New this year was the pirate section, Dead Man's Cove. This section had the immersive path leading up to a broken and worn ship. The facade of the ship was realistic – looking like it was wrecked right there with no water in sight. Actors were standing on deck overhead hurrying us to get in as new mates trying to earn our sea legs. Our team agreed that this was the most impressive scene in Nile Nightmares.
---
Scare Factor Score: 5.98
Scare Factor Scores – By Question

Scare Factor Scores – By Attraction

Scare Factor Review:
To be honest, our team didn't find this attraction too intimidating, but mileage will vary. There were a few moments when one of us would jump at an actor coming out of the wall or a scarecrow sprinting to life. Most of this was dampened by the fact that the majority of the cast were not active or engaging.
There was some animatronic use, but it didn't line up with the areas where actors were sparse. However, if you are the type of person who is creeped out by things leering from the shadows, the creatures that live in Nile Nightmares will find you.
---
Entertainment & Value Score: 7.25
E&V Scores – By Question

E&V Scores – By Attraction

E&V Review:
It took us 17 minutes to get through Nile Nightmares. At the cost of $25 for regular tickets, the minutes per dollar ratio comes out to .68. The national average is 1 minute per dollar, but it is around the same pricing as other attractions we visited in the area this year.
We mentioned this earlier but included with your ticket is access to the midway. Nile Nightmares often has guest artists – bands, DJs, and fire eaters that make appearances throughout the season. We spent some time watching the troupe of sliders (Northwest Possessed) doing the thing that they do – making people jump. On our way out, we were able to catch fire eaters performing in the middle of the midway. They definitely drew a crowd.
Something that was new to us this year was a pair of close-up magicians. Nile Nightmares have had tarot card readers for a few years now, but these magicians offered something different. The magician's tent was located right at the exit of the haunt. There was a magician, wearing a turban, who sat outside talking to those waiting to enter. When we got to the front of the line, he asked us if we wanted to sit in silence for several minutes or listen to his terrible spiel – his description, not ours. We can confirm that his spiel was not terrible and it was better than standing in silence. The magician explained that they didn't want to do anything but provide a bit of a vacation from reality – which was a great way to describe our experience.
If you feel like spending some extra money, there are also escape rooms and axe throwing. We spent a few hours at Nile Nightmares while taking in the midway and the haunt itself. It was exciting to see how they grew over the last year, and we are waiting with anticipation about what else they have in store for the future.
---
View Full Score Sheet
---
Pics We Took From Our Visit:
---
Promo Images:
Click to Enlarge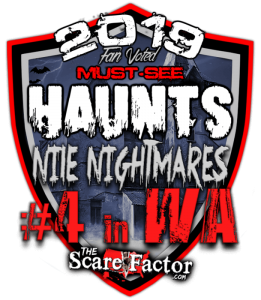 ---
Guest ReviewsGuest Average: 9.5 out of 10
Kathleen – 10/10 – October 28, 2016I totally poured my pants when I went here and so did my friends!!
Patrick – 9.5/10 – October 22, 2016I've been going to this haunt since 2013 and it has gotten bigger and better every year. Formerly …show more known as Haunted Nightmare at the Nile, Nile Nightmares puts on an amazing show. One of the things I noticed, besides the amazing detail in each scene, was that most of the actors had elaborate makeup on and not cheesy masks. The actors really create an atmosphere of fear. I can't wait to see what Nile Nightmares does to scare me this year!
Carl – 9/10 – October 21, 2017I absolutely love this place, it is one of my usual stops every year. They seem to get bigger and …show more better every year. It's more like an event than anything.