Review of Niles Scream Park Haunted Attraction
Review of Niles Scream Park Haunted Attraction
Review of Niles Scream Park Haunted Attraction
Niles Scream Park – Full Review
Niles Scream Park is a Haunted Attraction located in Niles, MI.
855 Mayflower Road, Niles, MI 49120View All Details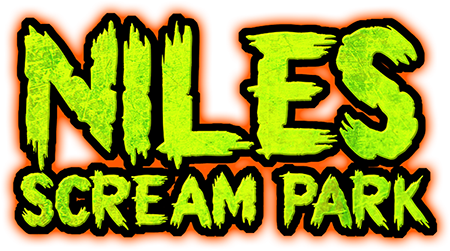 Features:
Free Parking, Restrooms/Porta Potties On-Site, Handicap Accessible, Food/Concessions, Gift Shop/Souvenirs, Optional Games/Midway, Special Events, Indoor/Outdoor Waiting Line, Indoor/Outdoor Attraction
reviewed this attraction on September 29, 2017.
Final Score:

8.84
Summary:
Now in their 44TH Year of operation, Niles Scream Park is a huge 44-acre park that's home to a staggering 6 attractions! Niles is a charity haunt and since 1997 has donated nearly 2 million dollars to local charities! This is a great place to take the entire family as there is something here for all ages. Niles Haunted House which has a modern horror theme this season and has a 100 different routes and so many different rooms that Niles claims you would need 7 separate trips through to see everything! Field of Screams is a combination outdoor trail and maze, DarkTERRORtory Haunted Hayride which has a 60's theme this year, Possessed and Incarcerated which are 2 smaller haunts, and Hooded which is quite unlike all the other attractions. We found all of the attractions to be family friendly with the exception of Hooded. Hooded is for those 18 & over and it is a very interactive attraction of the 'extreme' variety. You even have to sign a waiver before you are allowed to enter the attraction!
Niles Haunted House: 9.14
Field of Screams: 8.91
Possessed: 8.94
Incarcerated: 8.81
Dark Terror-Tory Hayride: 8.38
Hooded: 9.15
---
Cast:

7.72
We enjoyed a cast of 75 – 100 volunteer actors on the night we visited. In peak season Niles can have up to 250 volunteers on staff total! We noticed the majority of the actors seemed to focus on quick startle scares. While they did a good job of startling our group on several occasions, we would have really enjoyed some more interaction from most of the attractions. The one exception to the rule was Hooded, with the majority of the actors being very interactive, in fact, they were 'all about interactivity during the entirety of the experience. There were also fun moments of interactivity with a couple different characters, during the maze portion of the Field of Screams, during a time when we were lost. Unfortunately, there were several actors throughout the different attractions that did not speak their lines convincingly enough. We also heard a little bit of rather uninspired dialogue, the worst of which was when an actor spotted my water bottle and ad-libbed 'are you thirsty?' I said 'no,' then the actor then replied with 'ok then' while walking away looking down at the ground. The midway actors, on the other hand, are quite excellent. They interacted well with the customers and portrayed their characters with confidence. The actor that stole the show from the entire park was Death Himself. We enjoyed interacting with him around the midway on several occasions and found him to be quite convincing. He used a great voice that fit his character perfectly, which made it a lot of fun to talk with him. We would give his performance a 10 if we were rating him exclusively. We enjoyed the actors in Hooded more than any other attraction; they were quite intense and pretty convincing all around.
Niles Haunted House: 8
Field of Screams: 7.5
Possessed: 7.28
Incarcerated: 7.35
Hooded: 8.64
Dark Terror-Tory Hayride: 7.5
---
Costuming:

8.4
With Niles having such a large cast of characters, we had the pleasure of seeing a huge variety of costumes. We saw everything from simple distressed street clothes, to more elaborate creations such as, what looked to be, authentic Victorian period attire and highly detailed creatures of the night. We saw a similar mixture with the makeup effects, from a simple dirty face to a highly detailed full face of makeup with prosthetics. There were also some Hollywood quality masks, our favorite of which was Death Himself who could be found interacting with guests in the midway. We found the majority of the costumes to fit the characters respected scenes quite nicely and enjoyed the costuming very much overall.
Niles Haunted House: 8.66
Field of Screams: 8.41
Possessed: 8.5
Incarcerated: 8.41
Hooded: NA
Dark Terror-Tory Hayride: 8
---
Customer Service:

9.97
Niles was a breeze to find with GPS and is easy to see from the road. There is a huge grassy field to park your vehicle for free. Everything was quite easy to find as there was clear signage for just about everything. One problem that can occur with outdoor attractions is that when it rains, the ground can get muddy and sometimes be impossible to walk on. This is not a problem at Niles because the entire park is covered in AstroTurf! There is a midway that serves as the central hub for the park. In it, you will find carnival games, several food options, a large screen playing old movies and restrooms, not to mention roaming actors and lots of cool Halloween props. There are many opportunities for photo ops and you can even scare unsuspecting patrons as they are going through one of the attractions. If we had to think of one word to describe Niles customer service, it would be 'superlative'.
---
Atmosphere:

9.73
As soon as we drove into the parking lot we could tell that we arrived at the enormous Niles Scream Park. Once we parked we could hear music in the distance and spotted the spooky, classic haunted house facade of the entrance. Queue line entertainment, roaming actors along the midway, a large movie screen showing old horror movies, and the midway itself really set the mood perfectly for a full night of some frightfully fun times! The cool graveyard entrance and the creepy exterior of Niles Haunted House really helped prepare us for our journey inside. The facade to Possessed was also quite themed appropriately. We thoroughly enjoyed the atmosphere of Niles, we thought it was just about perfect for a Scream Park.
---
Special Effects:

8.62
Niles has been in the haunted attraction business for many years and has accumulated a huge variety of really cool effects, many of which, are designed and built right at the park. We especially enjoyed the effects in the haunted house. There were moving floors, walls, and bridges. We found the elevator intro to be highly enjoyable and especially liked the creative 'puke barrel' and earthquake rooms. The two effects that were most consistent throughout all of the attractions were the sound effects and lighting. The sounds were realistic and often times quite alarming. The lighting really enhanced most scenes very well and was especially excellent in Niles Haunted House. There just so much to be seen throughout the 5 main attractions, clearly way too much to mention, but here is just a taste of some of the neat effects that you'll encounter; waterfalls, possessed objects, electrical contraptions, highly effective strobe lighting, and animatronic creatures. All of the sets were nicely detailed, however, we enjoyed the set of NHH and Possessed the most. They were the most authentic and creative, set wise, of all the attractions we visited during our visit.
Niles Haunted House:9.31
Field of Screams: 8.62
Possessed: 9.12
Incarcerated: 8.43
Hooded: 8.12
Dark Terror-Tory Hayride: 8.31
---
Theme:

8.48
Niles redesigns and changes up themes from year to year. This season the theme for NHH was Classic Modern horror films. Within the walls of the house, you'll walk through scenes from movies like Halloween, The Exorcist, Hellraiser, Saw, among many others. The Adler family mansion is teeming with evil spirits, will the town be able to exercise the undead before they escape? Find out when you take a journey through Possessed. In Incarcerated you will venture into a prison being overrun by the inmates, will you make it out or be locked up behind bars forever! The hayride takes you on a trip back in time down Route 66 for a trip back to the 60's. Neither Field of Screams or Hooded have a backstory or follow a specific storyline. We felt as a whole, all of the themes were well executed with the exception of the hayride. While there were several fitting scenes like the Drive-In movie theater and sci-fi themed scenes, however, there were several other times we found our group looking at each other thinking 'huh?' We couldn't help but notice we weren't the only ones having that kind of reaction.
Niles Haunted House: 9
Field of Screams: NA
Possessed: 8.8
Incarcerated: 8.7
Hooded: NA
Dark Terror-Tory Hayride: 7.4
---
Fright Effect:

7.98
While Niles is appropriate for the whole family and isn't exactly terrifying, they still provided a good amount of effective scares. Most of the actor-driven frights that we encountered during our time at Niles were of the 'pop' scare variety. These quick scares were often quite unpredictable, due to some excellent hiding spots and clever drop panel placement. The actors did a wonderful job at targeting all members of our group, hitting the front and back equally. There was a number of effect environmental type scares including a brutal assault of air cannons, moving floors and walls, and some extremely effective loud explosion type sounds. In fact, there were quite a large number of sound effects that really got our hearts pumping. In one portion of Field of Screams, there was a sound effect that was so unnerving, that one group member plugged their ears each time we passed. Niles did an excellent job with misdirection, our sense of direction was stripped away numerous times, giving us the feeling of being hopelessly lost. We also gave high marks for distractions and follow up scares that we didn't see coming.
Niles Haunted House: 8.66
Field of Screams: 8.33
Possessed: 8
Incarcerated: 7.91
Hooded: 8.62
Dark Terror-Tory Hayride: 6.33
---
Value:

9.83
General admission to all five main attractions, which is known as the Frightful Nightful package is $30 Fridays/Sundays and $35 on Saturdays (a $49 value). It really is the way to go as it provides a much better value than the attractions being purchased separately. The 'adult only' attraction 'Hooded', however, must be purchased separately and cost $10. For those not familiar with Niles main haunted house, there are so many different routes and rooms that we highly recommend you take advantage of the $5 re-entry fee and go through at least twice. We did so and were told there were still multiple rooms we didn't get to see! Niles is so much more than a haunted house, with a total of 7 different attractions, midway games and sideshows, Niles really is an all-night event! You should plan on arriving early to get a jump start on the crowds that grow to enormous proportions as Halloween draws near. It took us a total of 86 minutes to complete the five attractions that are included in the 'Frightful Nightful' package and about 10 to complete 'Hooded', for a grand total of 96 minutes! You would be hard-pressed you find another haunted attraction that provides that much entertainment and for such a low price to boot!
---
Promo Images:
Click to Enlarge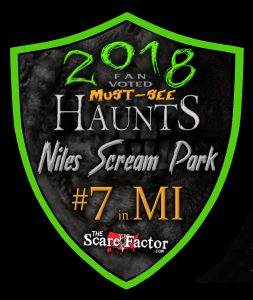 ---
Guest ReviewsGuest Average: 9 out of 10
Taylor – 9/10 – September 30, 2022Was so good! Field of screams was by far the best this year. Best haunted house around!