Niles Scream Park – Full Review
Niles Scream Park is a Haunted Attraction located in Niles, MI.
855 Mayflower Road, Niles, MI 49120View All Details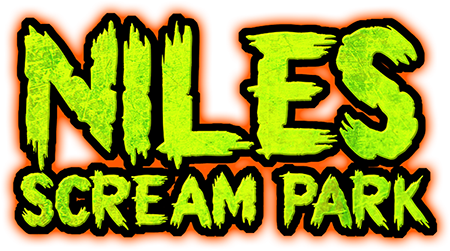 Features:

Free Parking, Restrooms/Porta Potties On-Site, Handicap Accessible, Food/Concessions, Gift Shop/Souvenirs, Optional Games/Midway, Special Events, Original Characters, Celebrity Appearances, Uncovered Outdoor Waiting Line, Covered Outdoor Waiting Line, Indoor/Outdoor Waiting Line, Indoor/Outdoor Attraction, Family Friendly

Most Recent Video from The Scare Factor:
(Scroll for Scores and Written Review)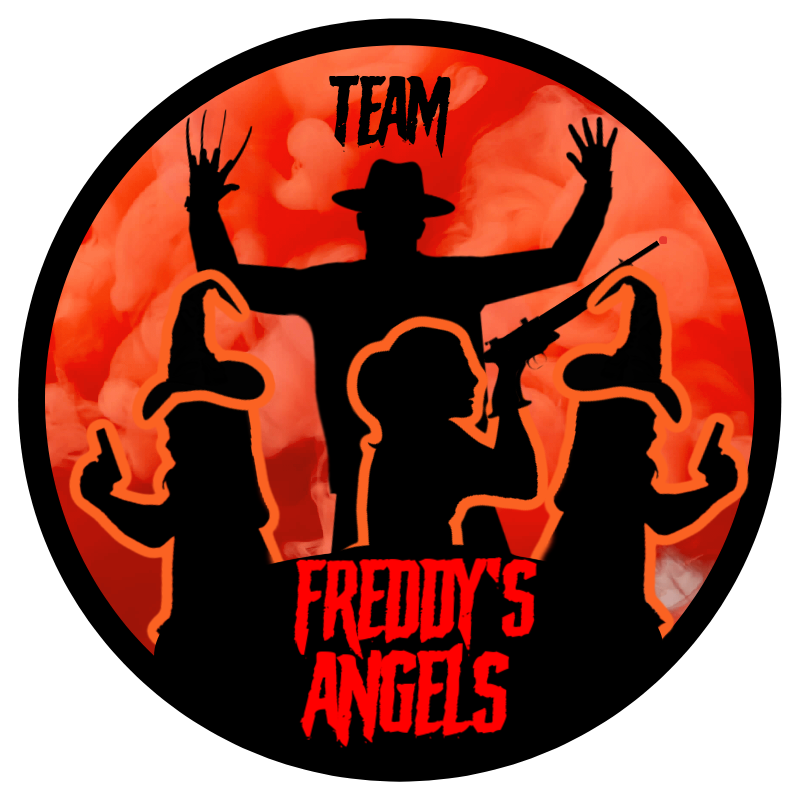 This attraction was reviewed on October 29, 2022 by Team Freddys Angels.
---
About Our Reviews and Rating System
---
Final Score: 8.84
Final Scores – By Category

Final Scores – By Attraction

Summary:
If you are looking for a fun family night of spooks and scares, Niles Scream Park in Niles, MI, is where you want to go. Erected 49 years ago (yes, you read that right, 49 years ago), this attraction has a deep-rooted history in the community and continues to help local non-profit groups, having donated over $2.2 million over the years. It is the second oldest haunt attraction in the nation and is ranked as one of the best time and time again.
Comprising both volunteers and employees, this attraction can have anywhere from 150 to over 200 busy workers a season and is always growing. Multiple generations of volunteers and staff fill each attraction and booth to assist patrons in any way they can. The operation sits on over 44 acres of land, with 15-20 of those acres set aside for parking, with plenty of room to maneuver. They even have a light show for guests as they wait to enter the park and some monsters who would love to be your new friend.
We had the pleasure of heading out to Niles Scream park last Saturday; neither one of us had been before, and we were more than excited. Having six major attractions plus escape rooms, ax throwing, shops, projector movies, and a sprinkle of ghoulish decor, you have yourself a little Halloween town. Carnival-themed food vendors line the back, the smell of elephant ears filled the air drifting you back to your childhood…
Although we will talk about it below, Hooded has not been scored since this attraction is an intense horror experience that fully removes all vision from its guests.
---
Cast Score: 8.49
Cast Scores – By Question

Cast Scores – By Attraction

Cast Review:
Operating an attraction of this magnitude takes quite a bit of manpower to operate smoothly. Not only do you need a team for maintenance and repair, front-of-house workers, security, and customer service, but you can't forget a key component which is the cast! Niles Scream Park would normally operate with a staff of 250+ workers both volunteer and salaried, this year it is closer to the 200 mark. Several haunts across the board have seen a dip in volunteer/cast numbers with the decline beginning when the Covid pandemic began. Niles met this obstacle head on and developed a way to evenly disperse actors and cast throughout the park to ensure optimal scares all around. The only attraction we would have liked to see more cast interaction would be in The Dark Terror-tory Hay Ride. There were a small handful of actors with some interaction but so many locations throughout the ride that would be great opportunities for cast interactions/scares. Cast members who were part of this attraction did a great job with their individual scenes, just needed a few more to add.
The Niles Haunted House was filled from floor to ceiling with monsters of all kinds peeking around every corner, waiting for the next victim to pass through. Cast members in each theme remained true to their character while in scare mode and out of scare mode. Some will come in close proximity to you, while others will give you big hugs trying to pull you into the darkness to your impending doom. There were those with the softest of footsteps that would follow you around every turn, never making a sound that could give away their location. This can take quite a bit of work and determination to achieve, they accepted the challenge with ease. You could hear the screams of guests from all corners of The Niles Haunted House.
There were cast members that it could be said they achieved Ninja status with their level of ability. They would remain completely still even when breathing, never flinching or blinking if their eyes were open. Waiting for the perfect scare to cross their path, only to come alive scaring the unsuspecting patron to their knees. They blended perfectly into the decor in the room but in plain sight, giving a false sense of security even with plenty of light available.
The Hooded attraction had some of the best interactions we have come across in a while, the more you interact, the better the experience.
---
Costuming Score: 8.79
Costuming Scores – By Question

Costuming Scores – By Attraction

Costuming Review:
Depending on which of the five attractions you decide to brave through, you will see a variety of monsters and ghouls. Some attractions call for less is more and others make you question the state of your reality. One of the best costumes was in the Field of Screams where we came face to face with a cast member we affectionately call the Lady of the Reptiles. This cast member was also one of the characters able to maneuver without sound and look as though she was a mannequin or part of the decor. The clowns were wonderfully done as though to look old and worn rather than gory which can give a great spooky vibe, especially in the ghost town with a lost carnival.
With the Haunted Duplex(Sinister Streets of Salem & The Evil Estate) and Field of Screams being attractions that have both indoor/outdoor interactions, the costumes made sure to match to ensure optimal scare levels are reached. From the witches on trial to Death who stalked the streets of Salem, you can see the care that went into the planning of each monster and spook.
When it comes to the Hooded attraction, there are things to consider as this is not your run of the mill haunt. You don't see the costumes or the makeup, not even the actors faces but you do still have your sense of touch, sound and smell which brings on a whole new experience. Their costuming did have texture variety so your mind could build whatever monster in your head that you could come up with which can be scarier than the real thing. For those who are looking to try something a little different than the regular walk through, this would be a great place to check out.
---
Customer Service Score: 9.9
Customer Service Scores – By Question

Customer Service Scores – By Attraction

Customer Service Review:
Having both of us worked in customer service for years (decades for yours truly) we would like to think we have a strong understanding of what would equate to great customer service. The Niles Scream Park staff and volunteers are top notch when it comes to taking care of their patrons needs. Signage is clearly indicated both upon entering the park as well as inside the attraction itself. It is also readily available and easily accessible on their website as well. From pricing to information pertaining to the attractions themselves, the site makes sure to go over everything you would need to know to enjoy your experience.
Niles Scream Park implemented a program in hopes of cutting waiting time when entering the park by offering ticket purchasing online and in-person purchases incur a cost increase, and reservations are also made online when you plan to attend. Tickets come with a barcode which are used at each attraction by scanning, helping expedite the process and cut down wait times, this can be done by printing the ticket or mobile scan. Some might question the reasoning for requesting reservations and ticket purchase online, simply put, it helps regulate the flow of traffic and balance out the experience. There is still a general admission line to purchase tickets in person, but there can be a longer wait and it comes with an additional fee depending on your selection. When you have over 5000 people walk through your haunt in one weekend, you want to make sure you've taken every possible action to ensure a smooth operation.
Knowing they would still have a wait even with the online ticket purchases, the park erected a stage/set up for some entertainment in the form of a light show. This show, pictured below, can be seen from all corners of the parking lot/waiting area and boasts fun music and great light effects. Coupled with the monsters paying you a visit while you patiently wait for your doom, the park wants patrons to keep with the spirit of spooky no matter whether they are in the park or not. They understand that the wait itself can be a game changer for the overall experience of the haunt which they hope is a great one.
Staff/volunteers are placed throughout the park in the event you have a question or concern, they are clearly indicated so you aren't left playing the guessing game of if they work there. The owners also walk about to personally check and make sure each attraction is operating properly and making sure patrons are having a great time. We made sure to take a peek and people watch to make sure we were getting a true perspective of how they handle customer service-related operations. There were no upset patrons, no indications of dissatisfaction but there were instances of associates going above and beyond to make up for any issues that were presented, no matter how big or small. The fact the haunt has been in operation for 49 years, has several families with multiple generations involved (some up to 3) speaks to the overall integrity and care put into this park.
---
Immersion Score: 8.74
Immersion Scores – By Question

Immersion Scores – By Attraction

Immersion Review:
When we say it is like a mini Halloween town, we mean you are literally walking into what seems to be a movie set for a slasher movie or Spooksville. Everywhere you turn, there is something to either look at, take a photo op, explore or scream from. Everything from the sweet carnival elephant ear to the giant projector screen with our beloved childhood movies, we were immersed in all things spooky.
They do a wonderful job keeping the haunt vibe going as you make your way to each attraction, especially to the Niles Haunted House. Your journey begins with a walk through the haunted forest/cemetery where the ambiance is the main focus, not so much the scare. This gets you in a head space where the scares that come later will be all that more powerful because you had time to simmer in your own sweat. Most attractions had an indoor/outdoor walk through, depending on which one and where you were in the haunt, which, in our opinion, is great because it gives a variety of scenes as well as more opportunity for scares.
The Dark Terror-tory Hay Ride would have been amazing if there wasn't as much down time from each display which is can be easily remedied if having more monsters available was easy. One could say riding in the dark in quiet can let the mind concocked crazy things, however, the flip side is the scare adrenaline looses steam in down time causing the scares to follow to have less effect. It is a dilemma all haunts are having at the moment, luckily Niles is always developing and changing the attraction so we have complete confidence it will be even more amazing next season.
The way the park is designed, you are surrounded by some variance of bootastic entertainment or vibe. Rather than the typical in and out, you have an oddly shaped circle you have to journey through to get from one haunt to the other. The midway is then placed smack dab in the middle with seating, heaters, a movie, ax throwing, food, and of course, bathrooms. You also can experience a fun little treat called witches brew, made with your childhood favorite Jones Soda! These tasty concoctions are alcohol free so the whole family can enjoy them. We picked the staple Green Apple, delicious.
The main idea of the design is to keep any external notions that you are not in a Halloween town of sorts out of your line of vision. You enter and exit each attraction within the park so the scaring never stops coming in or out. The Hooded attraction is a great example of immersion that is different from the usual. Due to the loss of sight, your other senses tend to pick up the slack and become a bit more heightened than normal. Between the actors touching you, grabbing you, or yelling at you, the sounds that can be loud or just a whisper to the smells that has your stomach turn depending on where you are, you are in 360 degrees of scare immersion. Without giving too much away, both of us came out different than how we had entered. Either by fright or pure adrenaline excitement, it was one of our favorite attractions in the park and thus far overall.
When I mentioned the smell difference within each attraction's room/areas to the park team, a smile came across their face. We don't consciously think to note or pay attention to smells when we are in a haunted house or attraction, but it can play an important role. Instinctively, it can affect different hormone/chemical releases that you aren't even aware of simply based on what they scent it. Depending on what the theme/genre is, the smell can either add to the full effect or it can take away or have no effect at all. I happened to pick up the varying scents and mention it to team member Samantha who also began noticing how each room or area had a distinct scent. Making sure it matches the theme to a letter can be very time consuming as it has to be just right as well as how you disperse it without overlapping other rooms. Kudos to Niles for executing that detail flawlessly, it really speaks to the dedication the team and owners have to making this haunt a truly haunting experience.
---
Special FX Score: 8.91
Special FX Scores – By Question

Special FX Scores – By Attraction

Special FX Review:
From the wax figures to the illusion of walking through water in a swamp, the special effects for all five attractions really dragged you into their storyline. Each room or walkway was meticulously planned to give off a certain perception, even for the outdoor sections. Real headstones can be seen strewed across the Field of Screams that were donated by a local monument retailer. We were lucky enough to get a behind-the-scenes peek on the catwalk at the Niles Haunted House, it is breathtaking to see from that point of view. The amount of work to construct just a room in that specific haunt is astounding. Designed so that the sound effects for each scene doesn't carry into the next is something many attractions aren't able to master.
One of our all-time favorites would be the library room, where floor-to-ceiling walls are beautifully constructed with individual old books. You are then met with a wonderful surprise which we won't ruin but to create that surprise in all of its glory took great care and detail. While in the field of Screams, we embarked on a journey through the swampy cemetery where the lighting effects were able to mimic low lying fog that would normally hang just above a body of water. This gave the illusion that you were actually swimming through a bog, even when you moved through, it looked as if the smog reacted like true bog fog.
The ghost carnival in the Field of Screams makes you feel as though you are in a horror movie. The lighting, music and props/decor keep you on edge, waiting for what may turn around the corner. The music plays softly with slight low hanging fog which plays into the nightmare-like theme with low lighting, just enough where your eyes may play tricks on you with what you see.
Overall, most of the attractions were able to cover all of the senses aside from taste which is covered by the delicious elephant ears and cheese fries from the onsite food vendor.
---
Scare Factor Score: 8.55
Scare Factor Scores – By Question

Scare Factor Scores – By Attraction

Scare Factor Review:
The length of the walk through attractions was on par, it wasn't short but long enough to make you feel as if you had stepped into a horror movie. Due to how each area is structured, the Scream Park team did an excellent job at spacing decor/animatronics and cast to give you windows of having the notion of false security only to turn the corner and scare the pants off of you. The jump scare was one of the main forms of scare used by the cast which plays well as many are chameleons and blend in with their surroundings waiting.
There is a point in the Field of Screams with one of the most simplistic setups, a pitch black hallway/room with nothing in it (so you think) will be a random flashing light bulb. Our natural instinct pulls us away from situations such as this but alas you must proceed forward. Even as seasoned haunt enthusiasts, that had us hesitant and for good reason. Another monster ninja appeared and there may have been a small involuntary twitch coupled with a gasp. The group directly behind us also attempted a work around but their efforts were to no avail, their scream could be heard throughout the attraction.
The Hooded haunt brings a different kind of scare than what many are used to, the loss of control and fear of the unknown. The attraction is completely interactive with the monsters; they can grab you, yell at you, bark orders at you and so much more. Giving complete control to someone who you know has the intention to scare you can be very difficult for some for us, challenge accepted. Some leave absolutely distraught, some lose control of the bowels or if you are like us you leave running on full adrenaline wanting to walk right back in line and do it again.
The Dark Terror-tory Hayride did a great job with playing off of Phonophobia which is the fear of loud sounds. The air cannon (or whatever the name of the machine used) is well hidden and placed throughout the attraction. It was not discharged at every set but when it went off, you popped 20 ft into the air. That type of scare is difficult to prepare for or spot as the equipment is well hidden and you can't gauge how loud it will actually be. It is a classic scare technique that delivers some of the best results and a great way to get the heart beat racing.
The cast overall does a great job at reading their victims prior to their execution to make sure the scare is at optimum level, which isn't easy to do. The one issue we experienced which stems from decreased workforce, was some of the backup of people when getting through the haunt which can decrease the effectiveness of the scare. There was a delay in the Field of Screams to continue through in the middle of the attraction which caused a line to form. This can happen from time to time especially during busy weekends. There are plans to help alleviate some of those issues already in the works for the next season which speaks to how on top of things the team really is.
---
Entertainment & Value Score: 9.04
E&V Scores – By Question

E&V Scores – By Attraction

E&V Review:
As soon as we walked in, we were a bit awe-struck at the sheer size of the attraction. Each haunt is spaced strategically, so you walk the entire perimeter of the park to reach each one, coming across multiple shops and vendors as you go, including ax throwing and paintball! The Ghostbusters movie is played on a large screen at the midway of the park with plenty of seating placed throughout the park to rest your rapidly beating heart. If scary haunts aren't your speed, have no fear escape rooms are here! Try your best problem solving skills to some great mind blowing escape, do you have what it takes?
Overall, Niles Scream Park is completely worth the drive, cost, and time needed to experience this one-of-the-kind spooktacular attraction. If you were to purchase tickets to each attraction separately, it can total $74-$85, but scare packages are available! If you purchase the Frightful Night Plus package for $45 ($50 on Saturdays in October) you have access to all 5 of the attractions. There are other packages available based on how you would like to plan your evening, all of the listed prices on the site are online purchase only. There is an increase if you were to wait until you got to the park to make your selection. There is a fast pass that gets you in front of the long line which can range from $10 (slow nights) and increases depending on time and demand. As noted above, if scares are not your thing, there is plenty for you to enjoy such as escape rooms ($5 a person), Spooky Splatt paintball ($3 a play), or a projector with movie and shops filled with all kinds of spooky goodies.
The Freddy's Angels team spent over 5 ½ hours in the Scream Park, yes 5 ½ hours and we still don't feel as though we got to see it all (we did). Approx. 90 minutes of that was just inside the attractions. Per the website FAQ section, it can take 2-2 1/2 hours to make it through all 5 attractions, but it also depends on how busy the park is as well. Having the midway designed as it is really does a great job retaining customer engagement even if there is a long wait on one or all of the haunts. There is plenty of covered seating to relax or take a moment to compose yourself as well as heaters placed throughout the area just in case there is a nip in the air. During our visit, the all time favorite Ghostbusters was played on a large screen with bleacher seating which is a bonus while you chow down on cheese fries or chicken tenders from the food vendors.
If you plan to brave the challenge and plan a visit to Niles Scream Park, we highly recommend that you purchase your tickets/package online and once at the park you purchase the fast pass (available to purchase at park). It will save you cash but also save time so you can make sure you don't miss out on all the screams at the other attractions. This is a family-friendly environment, so a night out with kiddos with thrills and shrills is a great way to get into the spooky spirit.
The Niles Scream Park was definitely a great experience for our team, not to mention a good work out from all of the walking. Getting the chance to experience the history, the passion of the staff gave us a great perspective of what the haunt is about. Volunteers and staff are treated like family and even gather together prior to open to hype one another up for the great night ahead. They also have a ceremony to commemorate the dedication of staff members and volunteers to solidify their impact on the program which we were honored to witness. This operation is constantly developing/evolving with new and exciting entertainment to wow their patrons and hopefully make them scream. If you are still operating your haunt after 49 years with thousands visiting every season, you must be doing something right and, they're a charity attraction to boot.
---
View Full Score Sheet
---
Pics We Took From Our Visit:
---
Promo Images:
Click to Enlarge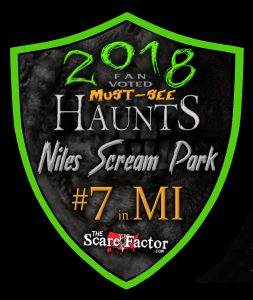 ---
Guest ReviewsGuest Average: 9 out of 10
Taylor – 9/10 – September 30, 2022Was so good! Field of screams was by far the best this year. Best haunted house around!