Ominous Descent – Full Review
Ominous Descent is a Haunted Attraction located in Plant City, FL.
TBA, Plant City, FL 33566View All Details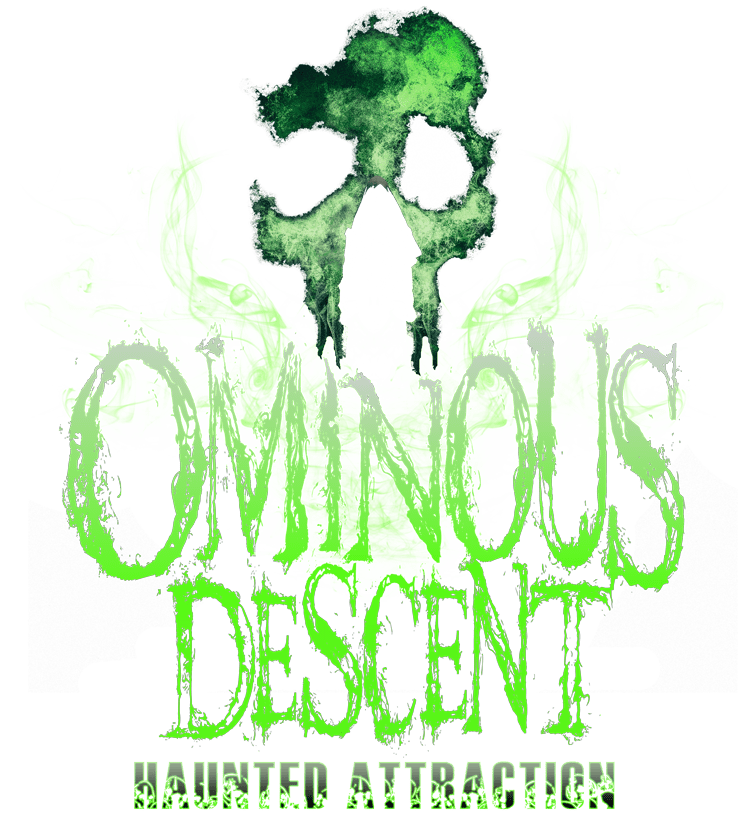 Features:

Free Parking, Restrooms/Porta Potties On-Site, Food/Concessions, Gift Shop/Souvenirs, You will NOT be touched, Original Characters, Uncovered Outdoor Waiting Line, All-Outdoor Attraction

Team Giraffic Shark reviewed this attraction on October 6, 2017.
Final Score:

9.25
Summary:
OMINOUS DESCENT has been working since early 2017 to bring their haunt to life in an old produce plant in Bartow, Florida. This building was the perfect aesthetic for their slaughterhouse based storyline. When Team Giraffic Shark got a sneak peek at what they were working on in August, the level of detail and thorough theming in this attraction was top notch for a first year haunted attraction.
Unfortunately, Hurricane Irma had other plans, as tornados ripped the building to pieces, damaging the majority of the haunt between the storm and broken sprinkler system flooding the maze filled with months of hard work. This devastation unfortunately forced owners to announce that OMINOUS DESCENT would not open for 2017, and would work towards a 2018 opening.
Down the road, Zach Glaros, owner of SIR HENRY'S HAUNTED TRAIL in Plant City, Florida graciously opened his doors and a piece of land to allow OMINOUS DESCENT to present a portion of their haunt from what they were able to salvage from the wreckage, this time in an outdoor trail form. OMINOUS DESCENT owners created a new story for the relocation, seamlessly creating a new themed experience.
From the moment of this relocation offer to opening night was less than two weeks' time, making a seemingly impossible task to deliver a haunt of the quality OMINOUS DESCENT had previously developed in their former location. However, they pulled out all the stops and the creative team made a massive effort to bring forth not only a successful preview to what is to come in the future for OMINOUS DESCENT, but an extremely well done haunt overall, forgetting the two weeks' design and build time. Exceeding expectations, OMINOUS DESCENT is not to be missed, especially for those that have followed the story of these new haunt owners over the past year.
---
Cast:

9.29
The Cast of OMINOUS DESCENT is dedicated to delivering solid scares. While the cast is not necessarily delivering a story or dialogue, in this case it isn't necessary. Scares are aggressive, physical, and active, with Cast climbing the sets to get a more dynamic scare and often utilizing several different locations to scare the same group of Guests.
Cast interacts strongly with their surroundings to create a very believable atmosphere for these characters, and the familiarity with every corner of the layout works extremely well to their benefit.
In a few locations, such as the girl in the trailer at the end could have had a little more panic or pleading to create a stronger distraction for the imminent scare. The haunt did a phenomenal job of finding some extremely tall performers nearing 7 feet tall creating some characters which are, for the lack of a better word'ominous. That being said, some of these characters could be slightly more strong and aggressive in their posture and stance to emphasize that intimidation effect even more. Regardless of acting skill, the close proximity and looming nature of these massive and foreboding henchmen is extremely intimidating and effective.
---
Costuming:

9.33
While costumes are effective and detailed, and makeup, where used, works well, the true winner of the Costuming category are the masks used in this attraction. Straight out of the slaughterhouse, the henchmen donning these animal head masks makes for a perfect theming and treatment without ever feeling out of place or too 'plastic,' as a primarily masked haunt can often feel.
The creativity and realism of these mask designs make it look like the family is up to some serious grotesque activity in the slaughterhouse, creating disguises out of whatever is available in the meat locker. Not only does this create a looming and intimidating appearance, but also fits the theming and storyline perfectly, matched with butcher aprons and other themed costuming.
---
Customer Service:

9.69
Though a last minute haunt build in the woods, this layout never had a feeling of danger with uneven footing or debris. The sets, though rugged in appearance were safe to traverse for Guests and Cast alike.
The entire staff, including owners Eric and Chad were helpful, available for questions and discussion, and just grateful to be where they are doing what they love. The passion and enthusiasm of the Cast, Crew and Staff is truly remarkable with high spirits despite the unfortunate events leading up to the season.
---
Atmosphere:

8.92
OMINOUS DESCENT shares their scare grounds with SIR HENRY'S HAUNTED TRAIL, and they are set up in a large field on the edge of woods containing the trails. The large area past the ticket booth is dark with some themed lights, spotted with general fun Halloween decorations and photo ops. There are a few small vendors selling freshly made snacks (popcorn, boiled peanuts, etc) and prepackaged homemade desserts (marshmallow treats, etc). Fire pits help to set the ambiance along with plenty of seating around the area.
OMINOUS DESCENT, though a last minute add to the location, has an overhead banner as an entrance to the queue making it easy to locate while not overly themed. Alongside the entrance is a fun horror themed photo op along with some roaming characters in the area. Once inside the queue, there is a rusted car with a shattered windshield, lights and fog effects to help set the scene before walking around it to begin the haunt.
---
Special Effects:

9.45
Despite the length of the trail, OMINOUS DESCENT packs special effects into every corner including puppets, animatronics, deafening sound effects, and effective lighting effects. The use of lighting really adds some suspense and disorientation while perfectly highlighting the details in the trail.
Not all of the special effects planned for the original location made it to the outdoor haunt due to storm damage, moving outdoors, etc. This being said, the effects that are used are perfectly spaced and placed properly for maximum impact and effectiveness.
The sounds, among other scare inducing special effects are spaced in such a way to keep Guests moving forward and send them running, keeping up the intensity through the entire trail.
---
Theme:

9.45
The original theme of OMINOUS DESCENT would have no longer been successful in the outdoor trail when the haunt was relocated. Rather than scrapping the theme all together in order to throw together a general but scary haunt, the team created a side story relating to the original theme, creating a more elaborate backstory for the characters. This was extremely effective, and after reading the backstory made the haunt that much more intense as the theme, story and characters all come together from the scenes to the costuming and makeup/masks.
---
Fright Effect:

9.68
From the first scare to the end of the trail, OMINOUS DESCENT provides high intensity scare tactics delivering scare after scare with little to no time for recovery. Having such a high intensity amplified the disorienting lighting effect halfway through, with the mystery and suspense making those scares that much more intense.
Performers are aggressive, demanding scares. If one scare was not sufficient, they will scale the walls and fences and grab another scare (or several) in the next section. Scares are unexpected, unpredictable, and hidden well throughout the trail. You'll never know what's lurking below the murky swamp water, or when you just might get locked up in a bull pen with an angry henchman.
---
Value:

8.17
While the trail may be on the shorter end, the experience is still longer than any theme park haunted attraction which locals are used to. Despite the length, the amount of scares and detail packed into the trail (especially considering the less than two week build time) is astounding.
Many different ticket packages are available featuring combination packages with SIR HENRY'S HAUNTED TRAIL, as well as a Friday the 13th special. For this single haunt, prices range between 10-12 dollars depending on the package purchased, and you will NOT be disappointed.
General Admission: $12
3 Haunt Combo (incl. both attractions (2) at Sir Henry's Haunted Trail): $30
---
Promo Images:
Click to Enlarge
---
Guest ReviewsGuest Average: 10 out of 10
Jennifer Martinez – 10/10 – October 13, 2018Ominous decent is an awesome fully submersion haunt with sights sounds smells and sets that put you …show more deep within your fears!
Wonderful sets and special effects makeup and costuming… plus the acting is spot on.
HHN has got nothing on Ominous… Ominous Decent has got the talent and passion to pit on an epic haunt each year that keeps getting better.
Aurelia Traub – 10/10 – October 12, 2018Amazing well planned out had a great time definitely worth the drive they do an amazing job with …show more everything Great actors great entertainment. If you want a good haunt with great scare factors this is where you need to come. And the attraction designs and layout are amazing. And PHENOMENAL customer service. Everyone there is great and their T-shirt souvenir stand had some really unique items and treats. Definitely and great attraction.
---
Past Awards
---
2018 Awards
Scariest Finale - Twisted Souls (Given by: Team Giraffic Shark)
Best Chainsaw Performance - Twisted Souls (Given by: Team Giraffic Shark)
Most Atrocious Scent (Given by: Team Giraffic Shark)
Most Aggressive Characters (Given by: Team Giraffic Shark)
Scariest Haunt in FL (Given by: Team Giraffic Shark)
Highest Rated Haunt in Florida (Given by: Team Giraffic Shark)
Actor Shout Out - Tinker Belly Cow – For their variety of scaring, aggression, and intimidation (Given by: Team Giraffic Shark)
---