Ominous Descent – Full Review
Ominous Descent is a Haunted Attraction located in Plant City, FL.
TBA, Plant City, FL 33566View All Details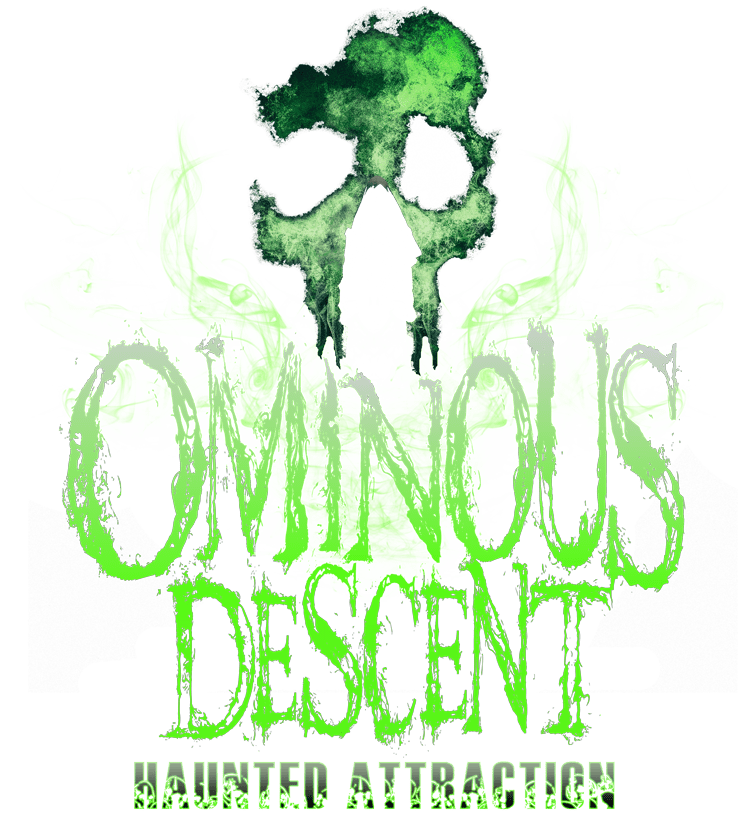 Features:

Free Parking, Restrooms/Porta Potties On-Site, Food/Concessions, Gift Shop/Souvenirs, You will NOT be touched, Original Characters, Uncovered Outdoor Waiting Line, All-Outdoor Attraction

This attraction was reviewed on October 5, 2019 by Team Giraffic Shark.
How Do We Get These Scores?

Final Score:

9.5
How Did We Get This Score?

Summary:
Just when we thought OMINOUS DESCENT couldn't grow any more, they are back for 2019 bigger and better than ever, with added size, scares, and sights to see. The creative team at OMINOUS DESCENT has effectively grown their haunt while changing enough of the returning scenes so that they are nearly unrecognizable in places. Packed with special effects and startling scares, OMINOUS DESCENT is not one to miss. OMINOUS DESCENT shares the I4 PREMIER FEAR PARK with SIR HENRY'S HAUNTED TRAIL, offering a combo ticket for both.
---
Cast: 9.51
How Did We Get This Score?

OMINOUS DESCENT has gathered an impressive cast featuring aggressive performers motivated to pull multiple scares out of groups, utilizing every nook and cranny of the twisted trail to their advantage. Unfortunately, this year it seems as though some of the truly ominous characters of unreal height are still hiding in the woods. Understandably, finding folks of that height is difficult, but those characters REALLY set the haunt apart from others, being inherently scary while blocking the path, with minimal further effort needed to get effective scares.
Normally, we dislike victims in haunts, especially when there are too many and they don't serve a purpose. They tend to come off whiny or weak and parroting generic lines to passersby. The victims at OMINOUS DESCENT changed our mind, at least temporarily. These victims were effectively placed and utilized (and there were quite a few, also a bold choice) throughout the haunt, and were genuine in their panic and concern, often acting as a great distraction or team scare element.
Team Giraffic Shark visited on the first weekend of operations for the season, which was also met with unprecedented crowds. The owners of OMINOUS DESCENT are already looking for ways to improve for the rest of the season, including potentially bringing on more performers to allow breaks for some of the more intense actor roles, due to minimized downtime on the trail because of the crowds, a smart move to keep Actors energized and safe due to increased danger when they become fatigued.
---
Costuming: 9.4
How Did We Get This Score?

Once again, OMINOUS DESCENT brings gritty realism to their theme with detailed and distressed costumes, but elevated beyond a thrift store purchase and simple distressing. Accessories and detail enhance the looks, giving Guests a feast for the eyes between the costumes, masks, and special effects makeup. Speaking of masks, OMINOUS DESCENT has added to their arsenal of character masks with several more hyper realistic silicone masks, making iconic images for some of their named characters.
Without spoiling the details, one favorite moment was the dual distraction of a disembowelment, a grotesque and extremely realistic effect, which was so captivating that it acted as the perfect distraction for subsequent scares. While the makeup effects were clearly well designed, applied, and used, it was truly the two actors that made this scene as effective as it was.
---
Customer Service: 9.41
How Did We Get This Score?

SIR HENRY'S HAUNTED TRAIL and OMINOUS DESCENT share the general staff, ticket booth, and common area employees, all of which are extremely friendly and nice, including being very helpful and communicative with each other and Guests. All trails are in the woods/fields, and none of them feel unsafe or with uneven footing. Police are onsite for assistance with parking and monitoring the attraction as a whole, and while there is no security checkpoint, the presence of police and security is much appreciated for a worry free night of enjoyment.
---
Atmosphere: 9.6
How Did We Get This Score?

OMINOUS DESCENT and SIR HENRY'S HAUNTED TRAIL share a common area which is filled with merchandise and food options, roaming characters, photo ops, and the main attractions. The lighting, video, audio, and general atmosphere add so much to the experience and make it a great place to want to hang out for the entire evening. There are fire pits as well which are likely lit when it is a bit cooler out. The entire haunt and scaregrounds is reminiscent of New England haunts, and made the review team think back to their childhoods growing up in the Northeast. Certainly plan on spending some time just taking in the atmosphere around I4 PREMIER FEAR PARK.
---
Special Effects:

9.5
How Did We Get This Score?

OMINOUS DESCENT has added once again to their impressive collection of special effects, including additional lighting, fog, scent, and others that we won't spoil! There is something around every single corner here, and the design of this trail is extremely well done to incorporate all kinds of special effects into the layout of the trail. Special effects seem to never be used haphazardly, but are well placed and fit with the theme of the trail. Once again, the laser effects are some of the best in the haunt industry, with the team creating unique effects and setups in and around the lasers. One major addition this year (again not going to spoil it) created a huge surprise for our team as repeat Guests, and other Guests will feel the same for sure.
---
Theme:

9.93
How Did We Get This Score?

OMINOUS DESCENT follows another subplot to their overarching theme and characters this year, which works so well for the location and the scenery and props they have, it would be a shame to ever fully deviate from that. The scenes are so immersive and realistic, that it's easy to forget this scenery was created and distressed for this purpose, it just feels so real and gritty. The creative team at OMINOUS DESCENT has done a remarkable job creating these scenes, and the way that they reuse certain areas year after year (but in different ways) is extremely smart to allow them to focus time on updates and major tweaks, while utilizing some preexisting scenes with minor changes.
The attention to detail (including antique farm equipment) is exquisite, with props everywhere to add to the scenes, giving Guests plenty to look at as they walk through the farm. Thinking about some haunts that do sleepovers in their walkthroughs or solo walkthroughs, if that is something OMINOUS DESCENT ever offered, I'm not sure I would be able to due to the creepiness of the maze itself.
---
Scare Factor:

9.79
How Did We Get This Score?

Scares are all over at OMINOUS DESCENT, with aggressive Performers attacking from all (and I mean all) directions. Unfortunately, we visited towards the end of the night, and some of the more active performers were growing tired, but still managed to get many scares out of our group. One of our hard-to-scare reviewers even ran out of the last scene of the trail. I don't know where OMINOUS DESCENT finds their Performers or what they feed them to get them so aggressive and energetic, but it is working extremely well. These Performers go hard for the scares and rarely back down. There are only a few places in the haunt that are a little bit less filled with scares, but the anticipation and nerves carry Guests through the quiet moments between some scenes.
---
Entertainment & Value:

9.15
How Did We Get This Score?

Sharing a location and ticket options with SIR HENRY'S HAUNTED TRAIL at I4 PREMIER FEAR PARK, these two attractions (including three trails, and upcharge offerings [Laser Tag/Escape Room], as well as a variety of food and merchandise opportunities) add up to a full night's entertainment, a great feature of a haunted attraction. I4 PREMIER FEAR PARK offers a variety of ticket options including common area access only (no access to haunted attractions), general admission for all trails, front of line access for all trails, and their best deal for repeat Guests, a full season pass option. With deals this reasonable, and a full night's entertainment, this is a great destination for those after a scary night out! This haunt alone took us 10 minutes to escape from.
Even on opening weekend, this attraction (well, all of them) were very busy this year, so plan accordingly and get there at the beginning of the night if looking to maximize the evening for the ticket price.
---
How Did We Get These Scores

Promo Images:
Click to Enlarge
---
Guest ReviewsGuest Average: 10 out of 10
Jennifer Martinez – 10/10 – October 13, 2018Ominous decent is an awesome fully submersion haunt with sights sounds smells and sets that put you …show more deep within your fears! Wonderful sets and special effects makeup and costuming… plus the acting is spot on. HHN has got nothing on Ominous… Ominous Decent has got the talent and passion to pit on an epic haunt each year that keeps getting better.
Aurelia Traub – 10/10 – October 12, 2018Amazing well planned out had a great time definitely worth the drive they do an amazing job with …show more everything Great actors great entertainment. If you want a good haunt with great scare factors this is where you need to come. And the attraction designs and layout are amazing. And PHENOMENAL customer service. Everyone there is great and their T-shirt souvenir stand had some really unique items and treats. Definitely and great attraction.
---
Past Awards
---
2018 Awards
Scariest Finale - Twisted Souls (Given by: Team Giraffic Shark)
Best Chainsaw Performance - Twisted Souls (Given by: Team Giraffic Shark)
Most Atrocious Scent (Given by: Team Giraffic Shark)
Most Aggressive Characters (Given by: Team Giraffic Shark)
Scariest Haunt in FL (Given by: Team Giraffic Shark)
Highest Rated Haunt in Florida (Given by: Team Giraffic Shark)
Actor Shout Out - Tinker Belly Cow – For their variety of scaring, aggression, and intimidation (Given by: Team Giraffic Shark)
---