Pantophobia Haunted House 2023 Home Haunt Review
Visit Date: 10/29/23
Visited By: Team Lone Wolf & Team Zombillies
It's a soggy Sunday night in late October. We're standing outside in a quiet, unassuming neighborhood, with cool rain pelting on our heads as we admire all the nice homes around us. But there's one that doesn't quite resemble the rest – a looming, ramshackle building that sticks out like a sore thumb. There are a bunch of papers plastered to its outer walls… wait. Are those missing person posters?!
And did we just hear a chainsaw…?
Yes, October is here. And that can only mean one thing: the Waterfalls are back in town.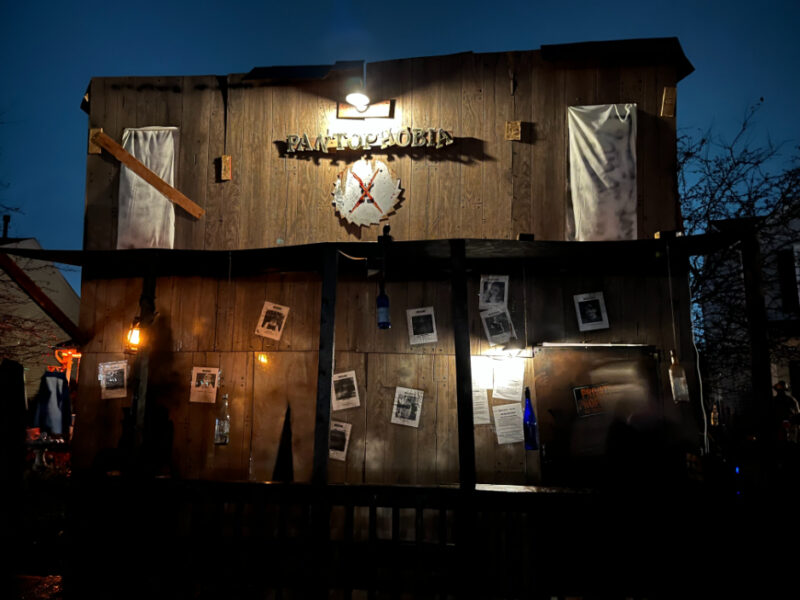 Pantophobia Haunted House is a home haunt located in McCordsville, Indiana about 20 minutes from Indianapolis. I found out about it in two ways: from Team Zombillies' excellent coverage in 2022, and from meeting owner Joey Morris when he was acting at another Indy haunt I visit often. In operation for several years now, Pantophobia rolls out a new storyline each season, and often closes out their run with a holiday event as well. Admission to Pantophobia is free, but the more daring can up the intensity of their walkthrough – Ultimate Experience Packages are available for $1 (more aggressive behavior/potential touch), and for the truly bold, $5 will get you the VIP WATERFALL Experience (a season pass with unlimited 'front of the line' entries, full contact and potential for getting wet). Armed with our little glow sticks, we upgraded to the former and well, at least one of us got a bit more than we bargained for… more on that shortly.
For 2023, the house was built around the story of the cannibalistic Waterfall family. Just waiting on their front porch evoked an unsettling feeling, with one of their chainsaw-wielding, crazy relatives prowling around and missing person posters stuck all over the walls. We were shocked to see two familiar faces from our group among them – was coming here really a good idea?! Once we cautiously stepped through the front door, our tour took us through scenes that included the living room, the kitchen, a bloody, gory barn, and a pumpkin patch outside guarded by scarecrows. Considering this is a home haunt, an impressive amount of detail was poured into the whole place – on par with what you'd see from a for-profit show. Some SFX were utilized as well, like the 'smoke' (fog) drifting from a burning fireplace and a spooky soundtrack playing in the background.
The Waterfalls had quite a clan populating their home, and I don't think we encountered a single area without at least one character in it. Among those who 'welcomed' us were Otis, whose face was concealed behind a creepy animal skull. We were not entirely sure we could trust him… sure, he seemed friendly – but he also came at us with a chainsaw as soon as we arrived! In the kitchen, Mama tried to convince us to sample some of her old-fashioned home cookin'. (We declined. Those treats looked a little too human!) In another scene, we encountered an actor wearing a bunny mask and brandishing an axe. After she pinned one of them to a wall and sneered, "Are you ready? … For your head start?" and began counting down, our two leading ladies scattered like cockroaches! Probably the scariest of the bunch was Charlie, who we'd been warned in advance was 'in a bad mood', and told we should avoid the barn if we could.
Yeah, 'in a bad mood' – understatement of the year. Stalking in and glowering at us from behind the fleshy pig head he wore, one of us caught his wrath immediately (and of course it was me) when he dragged yours truly across the room, nearly threw me on a table, and laid into me with cleaver and chainsaw! Yikes!
Most of us don't make it to as many home haunts as we'd like every season, so it's a real treat when we do find time to visit one. This wasn't the rest of our group's first run through Pantophobia, but it was for me. And I really enjoyed it! It was built and designed well, and staffed by a strong cast of actors who were all believable in their roles.
Pantophobia Haunted House is open on limited dates from late October to November; make sure to follow their Facebook page for the latest updates. Got some wiggle room in your night of Indy haunting? Try to swing by and check this place out while you're in town, it is absolutely worth a stop. And keep an eye out on The Scare Factor's YouTube channel for a full video from our visit!