Pennhurst Asylum – Full Review
Pennhurst Asylum is a Haunted Attraction located in Spring City, PA.
250 Common Wealth Drive, Spring City, PA 19475View All Details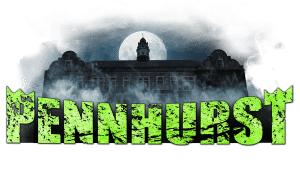 Features:

Free Parking, Restrooms/Porta Potties On-Site, Food/Concessions, Gift Shop/Souvenirs, "Hi-Tech" Attraction, "Extreme" Attraction, You may be touched, Original Characters, Uncovered Outdoor Waiting Line, All-Indoor Attraction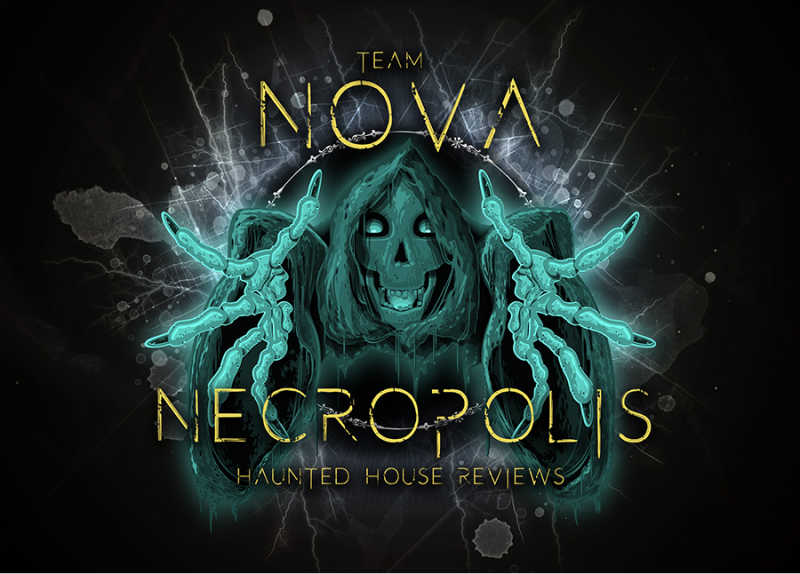 This attraction was reviewed on October 9, 2020 by Team NOVA Necropolis.
How Do We Get These Scores?

Final Score:

8.88
How Did We Get This Score?

Summary:
For our horror fans out there, you'll understand this when we say that the drive up to the infamous Pennhurst Asylum, once dubbed, 'the shame of Pennsylvania,' is very reminiscent of the scene in The Shining when the Torrance family takes their drive up to the Overlook Hotel. The tight, winding roads, that lead you to the now derelict campus of Pennhurst Asylum really evoke that feeling of dread and amplify that ominous voice in the back of your mind that says, 'Should you really be doing this?' Indeed, there is a weight that seems to befall you as you enter the campus and walk from your car, down the beaten path, and in between the ruins of what was clearly a once magnificent campus.
It's an entertaining, yet humbling experience as you wait in line and stare up at the old buildings. Buildings that seem to stare back at you. And perhaps they are. But don't stare too long, because Pennhurst has an array of physicians wandering the grounds to make sure that, as patients, we are cleaned 'for our discomfort' and ready to enter the asylum. During our visiting hours at Pennhurst, we learned that the campus holds many surprises, both real and imaginary. What was that in the window? What's around the corner? What makes Pennhurst Asylum such a high intensity haunt? Well, follow us (six feet away) into one of the biggest and baddest buildings north of the Necropolis.
---
Cast: 8.83
How Did We Get This Score?

The cast at Pennhurst Asylum is some of the most enthusiastic and engaging group of psychopaths that we've seen. In years past, prior to Covid, Pennhurst actors would be able to touch you, so we were very interested to see if they could make up for that novelty. We're excited to say that yes, yes, they did. From the moment you start walking down the catwalk on the asylum campus, you're greeted with doctors, one of which was carting a squeaky container of cleaning supplies, ready to spray your hands (and will make sure that you do so).
The actors gave off great energy tonight, more energy than we would be able to maintain, certainly. If they weren't running around in a padded maze, they'd be crawling on the ground. If they weren't crawling on the ground then they'd be jumping off the walls and kicking open doors for you, jumping on tables, and plenty more that we'll let you experience should you choose to come for a visit. These people made us feel'.rather sane. Which is very telling of their abilities, let us tell you.
With such great actors, it's clear that Pennhurst has set a high bar. We definitely felt they could have used more actors in certain areas, as you maybe had one or two scenes that were just walk through or gave you a special fx scare instead. We also missed a cast presence in the queue line as we got closer to entering the building. This wasn't common, however, and with a space as large as the asylum we're sure that it can be a struggle to staff at times. Overall, great performances, great engagement, and great scares.
---
Costuming: 8.95
How Did We Get This Score?

When working with a haunt who's theme is a central part of who they are, costuming is important to nail. The overall feel from the costuming was hyper-realistic. They weren't trying to create demented clowns in the basement, or mutant physicians, or any of that extra noise. It was paired back, simple, and effective. Color schemes were mostly all neutral, from white, off-white, to browns and blacks. Pennhurst also has the luxury of being a medical themed facility during a pandemic, so the use of face masks on actors felt 100 percent natural and very organic.
We could tell that the looks were put together with great detail, from the distressed long johns of the patients to the crisp, yet bloody uniforms of the nurses. It was perfect in the sense that everyone felt like they belonged in the asylum, in one form or another. No costuming felt out of place, or even out of time, as Pennhurst does give off that 50's to 60's vibe.
Makeup, from what you can see, felt very professional. Makeup was airbrushed to enhance features around the eyes, deepening the sockets and temples, to give everyone a very gaunt and uniform appearance.
---
Customer Service: 9.3
How Did We Get This Score?

We really have to commend Pennhurst on being one of the most thorough and safest feeling haunts we've been to in regards to COVID health standards. Before you even step foot onto the campus, you are temperature checked and sent through security. You'll have a nice walk onto the campus, but it's all lit and easy enough to follow with signs and staff appointed at specific points to direct you. Once you've arrived and have received your tickets, you're directed onto the catwalk that connects all of the buildings. From the very start of this extremely long catwalk, Pennhurst had 6ft markers spray-painted on the grounds, which was impressive given the distance. They literally had 6ft markers all around their vast campus.
Sanitizing stations were placed everywhere you could imagine, at all entrances and exits to their themed areas, staff was very thorough at making sure people maintained that social distance in line, which is something that we haven't seen many haunts enforce, at least at the level we experienced. You could walk through this entire haunt without touching anything, which was fantastic because while the surroundings were decrepit and horrific, you never felt that actual gross feeling of touching something that hundreds of other people have touched before you. We could also tell that the flow of foot traffic had been redirected from last year to make it so that you came in one way and left one way, and traffic wasn't being crossed with one another coming in and out.
We even found out from one of the staff that the actors had been told to disengage and back away 6ft from you if you were not wearing a mask or if you tried touching them. There was so much detail and care that went into making sure this haunt was put together safely, and they are probably a beacon for safety standards that we feel other haunts could learn a lot from.
On top of all of the safety standards, there are parts of the haunt that require you to go up stairs, which are like separate 'no scare' zones, with staff ready to help you find your way. One staff member even made sure that we took notice of the arrows pointing which way to walk by flashing a light on the floor, which we found to be really helpful. Everybody here was friendly, helpful, and they really honestly nailed this category in our opinion.
---
Atmosphere: 9
How Did We Get This Score?

Harkening back to our summary, Pennhurst has a really heavy feeling when you're on campus. When you exit your vehicle, you begin your journey down a gravel path into a heavily wooded area. You'll soon pass by the ruins of the buildings, which give you an eerie sense of dread that's very much unique to those special haunts that come with actual historical baggage. It's a different type of 'haunt' atmosphere that you experience in places like these.
As we made our way down the catwalk, which was a long catwalk that circled around the campus, they really amped up the atmosphere this year with the addition of cornstalks and pumpkins lining part of the path, something that we didn't recognize from last year. Music played over the loudspeakers as you made your way up to the entrance of the Asylum, which was lit with hues of purple and green. The Shining's main theme song played on a loop, interrupted by an announcement every so often from the doctor reminding everyone about masks and social distancing, which worked beautifully. Tents are set up at various points before you enter for food and drinks, and upon exit from the final building they had more food tents set up, as well as their merch shop 'Wicked Wares.' We didn't opt to try any of the food as we had already grabbed a bite before going in, but the smell was to die for.
---
Special Effects:

8.95
How Did We Get This Score?

Another very strong category for Pennhurst, they probably have some of the most detailed scenes from a haunt that we've seen. As you go further and further, the props go from a little more vintage to more modern and scientific. Huge test tubes, filled with bodies, neon green toxic waste, huge 'containment' tunnels that glow a hellish red and make you feel like you're in a Ridley Scott science fiction film. But what we appreciated is that nothing ever bordered on the line of tacky. Everything felt real and extremely high quality. It almost felt like the switchboards and nobs on the walls in their Containment area were real. The Morgue, which is the second part of the haunt, felt hyper-realistic (and honestly it probably was an actual morgue) with the use of blue lighting and some fog apparatus that an actor was using to blow fog at our feet.
We love when a haunt incorporates music that juxtaposes its surroundings, and so it was eerie to hear this old-timey upbeat music which only made the hallways that much more demented and twisted. Actors utilized their own sound and lighting effects to deliver a variety of high-intensity jump scares that, yes, got plenty of screams from us. We noticed two large scale puppet props throughout the haunt, only one of which felt a little underwhelming. There was a moment where we could see one of the staff members crossing over into what appeared to be a well-lit room that appeared to be a staff area within the haunt. It was a tiny break from the immersive experience, but nothing that garnered too much attention.
---
Theme:

10
How Did We Get This Score?

Pennhurst Asylum knows what they have and they utilize it extremely well. The buildings were constructed in the early 1900's and were eventually shut down after 79 years of controversy. The grounds themselves are reportedly a hot spot for paranormal activity, which only elevates the richness of the location. There are some community members who feel that the haunt is exploitative of the people and the events that occurred during it's time being opened. We'll let you make that decision, but proceeds from the haunt do go towards the maintenance of the buildings and the property itself.
With all of that history, one would be remiss in not including that as a part of your story. As such, the haunt has 3 different themed areas. You start out at the actual main Asylum, which is filled with wandering patients and demented hospital staff. Or maybe the hospital staff are actually the patients parading around as staff? We'll let you figure that one out. You then begin a kind of descent further into the ground as you head into The Morgue and, finally, Containment, which is themed around being an underground research facility where doctors 'experiment' on their patients. These three areas flowed naturally and felt like a very organic path to follow throughout the haunt as you went from a more 50-60's style aesthetic to a more science-fiction and 'technical' aesthetic.
---
Scare Factor:

8.58
How Did We Get This Score?

Pennhurst is one of those places where you almost second guess yourself before going in because they do such a fantastic job of being ominous and foreboding. As we mentioned earlier, COVID has prevented them from being a contact haunt, which does take away some of their scare factor, especially if you've experienced them before. A few staff members we spoke with seemed to be a little nervous about the changes, but honestly, they didn't need to touch you to be able to scare you. I literally threw my own self into a wall because an actor scared my soul straight out of my body. Good to know that I'll knock myself out if I ever end up in my own personal horror film. They provided a variety of scares, from high-intensity jump scares to instilling within you a need to keep an actor within eyesight because you don't know what they're about to do.
We noticed that a common theme was actors working hand in hand with special effects to get their scares. Electrical shocks or 'clackers' were used, but never in ways that felt superfluous. Intentional and smart are the words that we'd use to describe the ways in which Pennhurst gets their screams out of you. And trust us, they'll get plenty. The only part that we could have used a bit more of a punch was at the ending. We don't want to give it away but the current setup caused a small back up and didn't really give us that bang for our buck that we were looking for.
---
Entertainment & Value:

8.33
How Did We Get This Score?

We spent about 2 hours on the property from parking to exiting and probably 45 minutes of that was spent actually inside the haunts, 15 minutes browsing the shops and food, and an hour of standing in line total. I would say we probably waited about 30 minutes in line for the Asylum, and then roughly 15 minutes for the final two. Tickets are $44 for general admission into all 3 areas, and $68 for the fast pass which puts you at the front of every line. These are a little on the higher end of pricing to through a haunted attraction, but for what you get it's worth it. You're not only getting a haunt, you're getting to see a bit of history as well.
The campus itself is rather large and there's lots for your eyes to feast on while you're there, however, we were missing some line entertainment towards the entrance of the haunt. We remembered last year they had employed a fire-breather who was swallowing swords and doing all kinds of neat tricks to watch. While you're not really in line that long for it to be a huge missing factor, it would have been nice to have something special going on entertainment-wise just before going in.
Overall, Pennhurst Asylum is a truly interesting place to visit, and you can even buy tickets for photography tours, historical tours, and overnight paranormal investigations. We'd love to come back one day to experience some of these extra events that Pennhurst offers to learn more about the history and, hopefully, get an up-close experience with something that haunts the grounds even after the haunt season is gone. Because as they say at Pennhurst Asylum: 'The fear is real!'
---
How Did We Get These Scores

Join ourspookyadventures!
We visit Halloween haunted attractions year-round! Follow us for haunted house walkthrough videos, behind the scenes footage, and more!