Review of Pirates of Emerson Haunted Attraction
Review of Pirates of Emerson Haunted Attraction
Review of Pirates of Emerson Haunted Attraction
Pirates of Emerson
Pirates of Emerson is a Haunted Attraction located in Pleasanton, CA.
4501 Pleasanton Avenue, Alameda County, Pleasanton, CA 94566View All Details
Features:
Paid Parking, Food/Concessions, Gift Shop/Souvenirs, "Old-School" (Low Tech), "Hi-Tech" Attraction, You will NOT be touched, Original Characters, All-Indoor Attraction
Team In-Corpse-A-Rated reviewed this attraction on October 7, 2017.
Final Score:

9.27
Summary:
An empty dirt parking lot at the Alameda County Fairgrounds is once again transformed into not just a haunted house, but a large scale haunted themed park, complete with six feature haunted attractions, a performance stage, game area, concession stand, souvenir stand, and various displays for photo ops. Pirates of Emerson Haunted Themed Park opens for their 26th year as a major haunt destination in Northern California. The six feature haunts are: Beneath The Darkness, Trick Or Treat, Pirates Of Emerson, Farmaggedon, Dark Gauntlet, and Terror-Torries.
Beneath The Darkness is a haunt that gives guests a look into what lurks in the subterranean dwellings of our cities. Trick or Treat is a collection of various Halloween haunt scenes commonly seen in haunted houses. Pirates of Emerson is the signature haunt of the themed park, where guests are taken back into the world of Colonial America and the Golden Age of Piracy. Farmaggedon is a farm house where cannibal hillbillies eagerly welcome new guests. Dark Gauntlet is a chain-link fence labyrinth with various strobe lights, fog machines, and lasers to disorient guests as they try to find their way out. Terror-Torries is an outdoor corn maze with a hillbilly wielding a chainsaw.
We feel that the Themed Park has made multiple improvements this year, and we thoroughly enjoyed our stay. It's easy to spend a few hours here with all the various sites to see.
---
Cast:

9.29
The actors were very believable, showed intensity, and interacted with guests. The line actors outside of the haunts gave photo ops and served as customer service. The ticket takers in front of each haunt engaged with guests before granting them entry. Most of the actors inside the haunts either growled at us or stared at us intimidatingly, but there was an actor in Pirates Of Emerson who stopped feeding on a dead body to tell us he was going to use our teeth as a necklace. All the haunts had sufficient number of actors, so there were no dead spots. From hiding behind scenery, behind corners, and using animatronics as distractions, the actors used their surroundings and props very well. We can't think of any cast member who did not give it their all. Actor shout outs to "Gigante" the pirate, "Needleman" the pirate, "Cutthroat Sanchez" the pirate, and "Caleb the Crazy Cave Pirate".
---
Costuming:

9.45
All the actors had complete costumes, and there were no obvious faux pas in what they were wearing. Each haunt had its actors in appropriate costumes for its respective theme. Authenticity is the first word to come to mind here; no Halloween store apparel at all. Many kudos must be given to the makeup department, because whether the actor was an undead pirate or a bludgeoned hillbilly, there was great attention to detail for everyone. It must be noted that if there were any actors wearing masks, we either didn't notice them or they blended in so well. A stunning job for those involved in makeup and costuming.
---
Customer Service:

9.63
The Themed Park is a very safe place to walk, and there are no trip hazards. There are plenty of clearly-marked exits in each haunt. It must be noted that last year, the restroom area was too dimly lit, but this year there is sufficient lighting for guests. Various cities do have digital billboard advertisements for Pirates of Emerson Haunted Themed Park. Since this place is at the Alameda County Fairgrounds, there are already city street signs which navigate you to the location. As you enter the front gate of the Fairgrounds, the Themed Park and guest parking are easily visible. There is no problem finding the ticket booth, porta-potties, concession area, or the waiting lines. In the center of the Themed Park is a performance stage in front of a pirate ship backdrop structure. The entertainment alternates between a live band and a belly dancing troop. Different bands perform during each day of the week, and we happened to catch a sea shanty pirate rock band. This entertainment center point does help pass the time while waiting in line. The staff are very helpful, friendly, willing to answer questions and easy to find. As well as restrooms and concessions, there is a souvenir stand, a game area, an oddities museum, and various displays for photo opportunities.
---
Atmosphere:

9.25
When you are outside of the Themed Park, the only music you can here is what is playing from the performance stage, so it does let guests know the place is open for business. The front façade appears as gothic grey brick walls, with a large banner of the name of the park on one side, and a theatrical light shining the name of the park in a yellow light on the other. The ticket booths are in front, and the employees there are dressed as undead pirate wenches. The vibe outside gives a hint to what's going on inside, but let's face it, it's so much better on the inside.
---
Special Effects:

9.28
Each haunt had appropriate music and sounds, so there is no awkward silence anywhere, and served the ambiance of the haunts well. There are a variety of special effects throughout the haunts, from numerous animatronics, a claustrophobia tunnel, vortex tunnel, air compressors and an abundance of fog machines. A new effect for this year, was an actor attached to an elastic band, so he could lunge down at us from a dark corner and bounce away. There's a very impressive attention to detail, and we couldn't find any place or any scene that looked incomplete. Special Shout Outs to Beneath The Darkness and Pirates Of Emerson for exceptional scenery décor! An extra detail to The Dark Gauntlet this year, was the use of laser lights, that disoriented us throughout the maze. Although lighting was used sparingly, it was highly effective in creating a scary atmosphere throughout the park.
---
Theme:

N/A
Score N/A
The overall theme of the Haunted Themed Park is pirates, from the pirate ship as a stage backdrop to the line actors dressed as various undead pirate deckhands. Each feature haunt has an independent theme of its own. It's very reminiscent of template used by major theme parks like Disneyland, but this is a "Haunted" Themed Park. Farmaggedon and Terror-Torries both used hillbilly themes. Pirates of Emerson is the obvious pirate theme. Trick Or Treat is a hodgepodge of common Halloween haunt themes, with each room featuring a different theme. Beneath The Darkness is the most original, because it's hard to describe. It feels modern day, and it gives you the impression of walking through basements and utility service tunnels, which we don't see other haunts use.
---
Fright Effect:

9.04
We were scared multiple times as we walked through the different haunts. Distractions played a major part in the scares because there is so much scenery detail and multiple animatronics at work, that it was easy for the actors to startle us. Most of the actors lunged at us, but some threatened us, and a few banged the walls. There were various drop walls in many of the haunts. In Terror-Torries, the actor revved his chainsaw and successfully emerged from the cornstalks to scare the wits out of us. A few of the haunts used an air compressor blast as their finale.
---
Value:

8.98
It took 21:55 minutes to walk through all the featured haunts. At a general admission price of $30, we calculate this to be 0.73 minutes per dollar, which is reasonable when you take in all the scares, special effects and scenery. You do get a lot of bang for your buck. There are so many points of interest besides the six feature haunts, that you can spend a few hours here. The Themed Park has used all their available space effectively, so there are no dead zones to be found.
Speed Pass: Add $10.00
Twice Through: Add $10.00
VIP: $60
---
Photos from Review Trip:
Click to Enlarge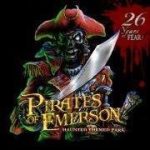 Promo Images:
Click to Enlarge
Guest ReviewsGuest Average: 9.5 out of 10
Sybil – 10/10 – October 28, 2017A yearly tradition and the BEST in the Bay Area! Don't go too late in the evening because you dont …show more want to miss a thing and there is so much to see and do! Games, food, live entertainment PLUS multiple haunts!
Sharon schutjet – 10/10 – May 18, 2016Best time you can have in October. Very professional and surprisingly scary. Great props and other …show more side games and attractions.
Judy – 8.5/10 – October 23, 2020We waited about 40 minutes on a Friday night to enter the attraction. The entry was very well …show more organized and ran smoothly considering the large number of vehicles. Each scene was a separate vignette. We especially loved the pirate ship and the prison scenes, though all were fun. There were four of us in the car (ages mid-20's to mid 60s's) and throughout we enjoyed a fun, celebratory mood. The actors came up to the car on both sides. Since I was the driver I missed seeing some of that action, but the delight of my passengers made it all worthwhile. I appreciated that the cars were spaced well apart so we had a mostly individual experience like driving through a haunted town by ourselves. Added to the suspense! We all agreed that it was really fun and we would do it again, and it was worth the $95 admission for the car. The drive through was about 30 minutes.
---
2018 Awards
Best Atmosphere (Given by: Team In-Corpse-A-Rated)
Best Fantasy Scenery (Given by: Team In-Corpse-A-Rated)
Best Use of Lasers (Given by: Team In-Corpse-A-Rated)
---