Pirates of Emerson – Full Review
Pirates of Emerson is a Haunted Attraction located in Pleasanton, CA.
4501 Pleasanton Avenue, Alameda County, Pleasanton, CA 94566View All Details

Features:

Paid Parking, Restrooms/Porta Potties On-Site, Handicap Accessible, Food/Concessions, Gift Shop/Souvenirs, "Hi-Tech" Attraction, You will NOT be touched, Original Characters, Uncovered Outdoor Waiting Line, Indoor/Outdoor Attraction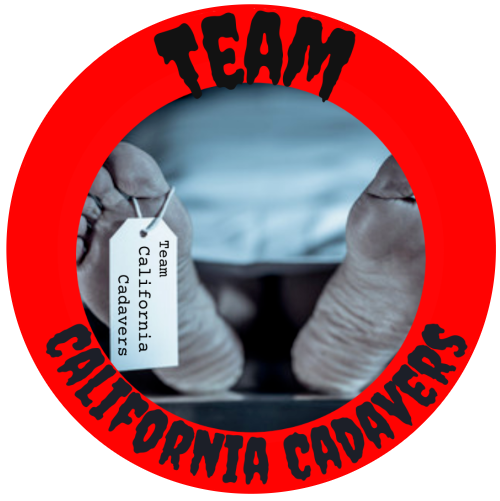 This attraction was reviewed on October 14, 2023 by Team California Cadavers.
---
About Our Reviews and Rating System
---
Final Score: 6.38
Final Scores – By Category

Final Scores – By Attraction

Summary:
In the heart of Northern California's Alameda County Fairgrounds lies a Halloween tradition that has been haunting the imaginations of thrill-seekers for decades – the Pirates of Emerson. As someone who had the privilege of returning after a two-year hiatus, I eagerly anticipated new offerings and an evening filled with spine-tingling scares. However, this year's visit turned out to be a rollercoaster of emotions, with moments of exhilaration balanced by bouts of disappointment.
The showpiece of the evening was undoubtedly the eponymous attraction, Pirates of Emerson. Stepping into this chilling adventure felt like entering a whole new world, one inhabited by spectral pirates and their malevolent ways. The set design deserves special mention, as it transcends mere props and backdrop. Visitors traverse sunken ships, navigate through an eerie mermaid lagoon, and tiptoe through a plundered pirate town. The attention to detail is awe-inspiring, and the level of craftsmanship is evident, making it feel more like a visit to a high-end theme park than a haunted house.
What truly sets Pirates of Emerson apart is its cast. These actors are not just performers; they are storytellers. Their dedication to their roles brings a unique vibrancy to the experience. The commitment to their characters not only enhances the fear factor but also adds an extra layer of enjoyment to the whole adventure. It is evident that this attraction is the heart and soul of Pirates of Emerson.
Another attraction that piqued my interest was Psycho Path. I was told that the house in this location had been one of the best in previous years, and I was excited to experience the 2023 re-theming. The maze takes visitors through the labyrinthine corridors of an insane asylum, complete with a theme that is thoroughly executed. It keeps visitors on edge, with a barrage of well-thought-out jump scares and unsettling surprises. However, there were moments where long stretches of inactivity left us yearning for more engagement.
Unfortunately, not all attractions managed to meet the high bar set by Pirates of Emerson and Psycho Path. Two specific mazes, Clowndemic and Pandemonium, left much to be desired. During our visit, both of these experiences suffered from a severe lack of actors, with over 70% of the space feeling eerily empty. The set designs in these mazes were disappointingly minimal, making it challenging to become invested in any kind of narrative.
Clowndemic, for instance, primarily comprised a labyrinth of chain-link fences, while Pandemonium felt like a journey through a makeshift paintball course filled with empty storage containers. It's important to note that the actors present in these mazes were doing their utmost to create scares, but their valiant efforts couldn't fully compensate for the substantial void that permeated these experiences.
A poignant change was the replacement of the live music stage with a makeshift movie screen that showcased commercials of past events. This transformation, while interesting, left us wondering about the missed opportunity to screen classic horror films – a common practice at many other haunts in the area.
In sum, our visit to Pirates of Emerson was a perplexing mixture of exhilaration and disappointment. While Pirates of Emerson and Psycho Path provided thrilling and immersive experiences, Clowndemic and Pandemonium fell short in terms of engagement and design. The extended periods of inactivity in some mazes were a drawback, as they hindered the overall sense of excitement.
The removal of the live music stage, a long-standing attraction in its own right, in favor of commercials was a bold move. Nonetheless, it raises questions about missed opportunities, particularly when considering the prospect of screening classic horror films.
In conclusion, Pirates of Emerson retains its reputation as a Northern California Halloween staple, offering moments of genuine thrill and excitement. However, there is room for improvement in some areas to ensure a consistently outstanding experience. For those seeking a Halloween adventure with a mix of highs and lows, Pirates of Emerson remains a viable option, but visitors should be prepared for an uneven journey through the ghostly waters of this beloved haunt.
---
Cast Score: 6.3
Cast Scores – By Question

Cast Scores – By Attraction

Cast Review:
The cast at Pirates of Emerson certainly played a pivotal role in creating an unforgettable Halloween experience. Despite the limited number of actors, those present demonstrated their commitment to delivering spine-tingling encounters. Their costumes and makeup were praiseworthy, ranging from great to at least decent, enhancing the overall atmosphere. These dedicated performers breathed life into their eerie characters and went above and beyond to craft a memorable and chilling experience for visitors. It is important to acknowledge the hard work and dedication of the cast. However, it was somewhat disheartening to visit on a mid-October Saturday night and find the cast numbers to be lacking. One would expect that a prime time slot like this would feature the event's best offerings, and the limited cast presence raised questions about whether they could effectively cover the vast expanse of the venue. For an attraction of this size, it seemed evident that they would benefit from doubling the number of scare actors to fully match the grandeur of the venue.
---
Costuming Score: 6.68
Costuming Scores – By Question

Costuming Scores – By Attraction

Costuming Review:
Costuming took center stage at this year's Pirates of Emerson event, emerging as a true highlight. Despite the limited cast numbers, those who did partake in the scares were impeccably adorned in full thematic regalia. The pirates within the Pirates of Emerson attraction, in particular, were a standout, resembling characters straight out of a blockbuster movie. Their attention to detail, whether it was the tattered clothing, eerie accessories, or ghostly makeup, added a layer of authenticity that intensified the experience within this specific maze. The dedication to creating an immersive world through these meticulously crafted costumes elevated the overall atmosphere and made for a genuinely memorable adventure.
---
Customer Service Score: 10
Customer Service Scores – By Question

Customer Service Scores – By Attraction

Customer Service Review:
Customer service at Pirates of Emerson left a positive impression during the visit. The enthusiasm of all the employees was evident, creating an infectious energy that permeated the event. It was clear that they were not just going through the motions but genuinely excited to be a part of the experience and have a good time themselves. Their commitment to ensuring the comfort and satisfaction of all visitors was commendable. From addressing immediate needs to providing assistance whenever required, the staff went the extra mile to guarantee that everyone felt well-cared for. This level of attentiveness and dedication to guest satisfaction significantly contributed to an enjoyable and seamless experience, making the night at Pirates of Emerson even more memorable.
---
Immersion Score: 6.34
Immersion Scores – By Question

Immersion Scores – By Attraction

Immersion Review:
The element of immersion at Pirates of Emerson showcased a stark divide. In two of the mazes, the level of detail and thematic design was so impressive that it felt as though you had stepped onto the meticulously crafted sets of an indie horror movie. The dedication to creating an atmospheric and captivating experience in these particular attractions was commendable. However, in contrast, the other two mazes left much to be desired, with a distinct lack of enthusiasm evident in their minimalistic designs and sparsely populated areas. The chasm between these two extremes in terms of immersion was undeniable, leaving the overall experience significantly split in this category. While some portions of the event excelled in drawing visitors into a nightmarish world, others failed to capture the same level of engagement, ultimately affecting the overall balance of the haunt.
---
Special FX Score: 6.87
Special FX Scores – By Question

Special FX Scores – By Attraction

Special FX Review:
The division in quality was once again evident, this time concerning special effects. In the Pirates of Emerson and Psycho Path attractions, special effects were skillfully employed to enhance the atmosphere of the mazes. These effects were strategically placed to accentuate the most captivating areas of the experience, adding depth and immersion to the haunt. However, in the case of the other two mazes, a different approach was taken. Instead of using effects to enhance the experience, these mazes resorted to filling certain areas with fog and strobe lights, seemingly attempting to distract from the stark reality of walking through an empty, scare-actor-less space. This divergence in the application of special effects further underlines the inconsistency in the haunt's offerings, making the divide in quality all the more pronounced.
---
Scare Factor Score: 5.58
Scare Factor Scores – By Question

Scare Factor Scores – By Attraction

Scare Factor Review:
Regrettably, the scare factor at this year's Pirates of Emerson was minimal. Although there were three to four well-executed scares that managed to send shivers down my spine, the majority of the event felt more like a tour through a haunted art exhibit. While I marveled at the intricate set designs in certain areas, there were instances where I found myself questioning the thematic cohesion and effectiveness of others. Surprisingly, the two most significant scares of the night were delivered by roaming characters stationed outside the maze entrances. This fact only served to emphasize the overall lack of intensity and the missed potential for in-maze scares, leaving the event somewhat wanting in terms of its primary objective – to induce heart-pounding frights.
---
Entertainment & Value Score: 4.5
E&V Scores – By Question

E&V Scores – By Attraction

E&V Review:
The entertainment value, especially considering the premium price of the fast pass admission, was a point of contention during my visit to Pirates of Emerson. It's undeniable that the fast pass allowed for swift entry into each maze, sparing me from the long queues that can often be part of the Halloween haunt experience. However, when weighed against the overall quality of the mazes, there was a lingering sense that the ticket cost, in this case, around $60, was somewhat steep for what was ultimately delivered. A fairer price point might have been closer to $40 for the fast pass (their general admission pricing), given the mix of well-crafted and underwhelming attractions. While the speedy access was undoubtedly a convenience, it left me pondering whether the premium paid for the fast pass adequately reflected the overall entertainment value provided by the event.
---
View Full Score Sheet
---
Pics We Took From Our Visit:
---
Promo Images:
Click to Enlarge
---
Guest ReviewsGuest Average: 9.5 out of 10
Sybil – 10/10 – October 28, 2017A yearly tradition and the BEST in the Bay Area! Don't go too late in the evening because you dont …show more want to miss a thing and there is so much to see and do! Games, food, live entertainment PLUS multiple haunts!
Sharon schutjet – 10/10 – May 18, 2016Best time you can have in October. Very professional and surprisingly scary. Great props and other …show more side games and attractions.
Judy – 8.5/10 – October 23, 2020We waited about 40 minutes on a Friday night to enter the attraction. The entry was very well …show more organized and ran smoothly considering the large number of vehicles. Each scene was a separate vignette. We especially loved the pirate ship and the prison scenes, though all were fun. There were four of us in the car (ages mid-20's to mid 60s's) and throughout we enjoyed a fun, celebratory mood. The actors came up to the car on both sides. Since I was the driver I missed seeing some of that action, but the delight of my passengers made it all worthwhile. I appreciated that the cars were spaced well apart so we had a mostly individual experience like driving through a haunted town by ourselves. Added to the suspense! We all agreed that it was really fun and we would do it again, and it was worth the $95 admission for the car. The drive through was about 30 minutes.
---
Past Awards
---
2018 Awards
Best Atmosphere (Given by: Team In-Corpse-A-Rated)
Best Fantasy Scenery (Given by: Team In-Corpse-A-Rated)
Best Use of Lasers (Given by: Team In-Corpse-A-Rated)
---
---
Past Awards
---
2018 Awards
Best Atmosphere (Given by: Team In-Corpse-A-Rated)
Best Fantasy Scenery (Given by: Team In-Corpse-A-Rated)
Best Use of Lasers (Given by: Team In-Corpse-A-Rated)
---