Post Mortem Haunted Trail – Full Review
Post Mortem Haunted Trail is a Haunted Attraction located in McDonald, TN.
200 Natures Trl SW, McDonald, TN 37353View All Details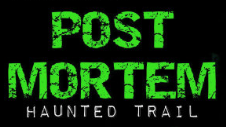 Features:

Free Parking, Restrooms/Porta Potties On-Site, You will NOT be touched, Movie Characters, Original Characters, Uncovered Outdoor Waiting Line, All-Outdoor Attraction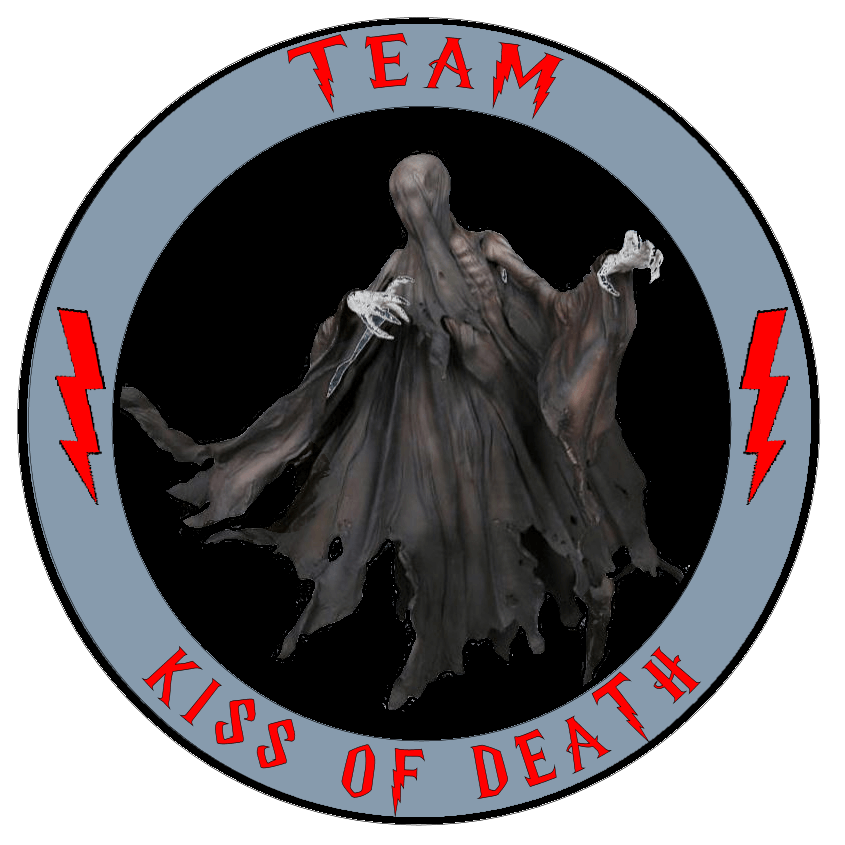 This attraction was reviewed on October 28, 2023 by Team Kiss of Death.
---
About Our Reviews and Rating System
---
Final Score: 6.62
Final Scores – By Category

Final Scores – By Attraction

Summary:
Post Mortem Haunted Trail was a nice surprise, with it being our first visit. We were not sure of what to expect, but we were quite happy with what they had done based on what they had available to them. This is a charity haunt and completely run by a group of volunteers. These volunteers are very passionate about this haunt.
Upon arrival, it didn't quite appear to be a haunted trail as there wasn't much to see except a few lights and a ticket tent. Once you moved past the ticket tent and started going into the woods, it became obvious we were in for a spooky treat. We were given a glow stick and the rules and sent into the depths of the dark woods.
This trail includes all things spooky and terrifying. You never know what you will see next in this haunted trail!
---
Cast Score: 7.11
Cast Scores – By Question

Cast Scores – By Attraction

Cast Review:
There were many cast members in this haunt. We always seemed surrounded by ghouls and creeps lurking in the darkness or hiding behind a tree. Every new scene had at least 2 or 3 cast members who were very happy to scare us as we approached them.
Each cast member did a great job of staying in character! At one point, we were surrounded by them, and each one would follow us incredibly far within the haunt. There were so many different types of scare actors, too. Many would hide in the darkness, only to jump out at the last moment and follow us long distances. Some would creep in the darkness for us to barely see them, then do something unexpected once we approached.
Only a handful of scare actors were interactive with us. We encountered a few of them who would have some creepy dialogue, such as "Farmer Joe," who introduced himself and asked us how much we would weigh if our heads and arms were chopped off. We also really liked the person in the kitchen who wanted to "have" us for dinner. Other actors would physically interact with us by standing in our way, so we were forced to go around them.
---
Costuming Score: 6.14
Costuming Scores – By Question

Costuming Scores – By Attraction

Costuming Review:
The costumes were hit or miss. Some of them were very well done, while others were missing some important details that could have benefitted the outfits. For example, we noticed a lot of hoodies and jeans or black pants. In some areas, like the dark corners, these types of costumes can be fine as long as they don't leave the darkness. Other costumes like Farmer Joe, the Bird Person, Jason, or the one toward the end that looked zombie-like were very well done with all the important details to complete the costume.
Most of the scare actors wore masks, and for the most part, they fit the actors well. Some of the masks worn showed off some skin or hair that took away from the costume's realisticness. The actors who wore makeup were decently creative. The zombie-like actor was very cool-looking!
In some scenes, the costumes fit well, like Jason in the wooded area or the chef in the kitchen. Other times, the costumes seemed out of place, like the clown in the woods or some of the mask choices in general. While they were creepy, they didn't fit the scenes they were in.
We only noticed one queue actor: the scarecrow. He was pretty cool-looking and entertaining. We arrived at the haunt during a slow period, so it wasn't easy to tell how well he was doing to please the rest of the guests, but he sure entertained us!
---
Customer Service Score: 8.03
Customer Service Scores – By Question

Customer Service Scores – By Attraction

Customer Service Review:
Locating the attraction is fairly easy. We put the address into our GPS, and we were taken to a building. There was a sign near the entrance directing us to go further down the road to get the haunt. There were lights and a sign near the entrance that took us to an all-grass parking lot. The only things we saw from there were the ticket tent and some lights near the main entrance.
We didn't see anything unsafe about this attraction. We were told to watch our step upon entering due to all the tree roots. This was expected since we were in the woods. We would have liked to see some security/police on site, but we never felt like we were in danger.
Every staff member we spoke with was very helpful and friendly. We visited on their last operating day of the season, and they all seemed very happy to have us there.
Most important information about the haunt can be found on their Facebook page. We easily located their dates/hours, price, and location. We assumed it was outdoor because of its name, but we weren't sure about the touching policies, whether or not it is ADA accessible, or the storyline. For clarity, they will not touch you, and it is not ADA accessible because it is in the woods, and we don't believe they have a theme.
---
Immersion Score: 4.88
Immersion Scores – By Question

Immersion Scores – By Attraction

Immersion Review:
The pre-haunt areas were quite boring, unfortunately. Once we arrived, it took time to tell if we were in the correct location. We would have liked to see more spooky lighting or music, etc. There was only one queue actor that we were aware of, and he kept us entertained as we walked toward the main entrance.
We didn't notice if there was a storyline behind the haunt. We believe it was just meant to be spooky, and they did a great job of doing so.
Overall, the line flow of the haunted trail was done well. We didn't see anything out of place, or that wasn't meant to be there. Everything kept running smoothly except for the few places where we weren't sure which direction to go. This may have been intentional to confuse people.
The haunt's exit is very near the entrance, so we didn't feel we needed to leave immediately. However, with nothing to do in the Midway area, there was little reason to stick around.
---
Special FX Score: 5.78
Special FX Scores – By Question

Special FX Scores – By Attraction

Special FX Review:
We noticed several different sound effects used throughout the haunt. There was one main sound on an overhead speaker, and a few others dispersed throughout. The sound on the overhead speaker was just a bunch of creepy sounds/music. At one point, the music became very intense, and immediately afterward, something very scary happened. Overall, the sounds worked well, but there were still areas of complete silence that didn't contribute positively.
Some of the scenes were very well done! We were happy to see a lot of detail and creativity. We enjoyed the kitchen scene, the Quarantine room, and the Devil worship area. Other places needed more details, however. For example, we went through some areas with only black plastic.
We only noticed a few props and no animatronics throughout the haunt. They had enough actors to keep the scares flowing, so we felt that animatronics weren't entirely needed. Many of the props were used to make the experience seem more realistic.
The only types of sensory effects used were different types of lighting and strobing effects. We would have liked to see some use of fog, illusions, or others to mess with our senses.
---
Scare Factor Score: 7.6
Scare Factor Scores – By Question

Scare Factor Scores – By Attraction

Scare Factor Review:
We had a great time being scared in Post Mortem Haunted Trail. There were several times we felt like we were going to jump out of our own skin. The actors did a fantastic job of scaring us many times!
Only two of us went through as a group, so it's difficult to judge how well they scare larger groups. Neither one of us was singled out, and we felt like we were scared equally.
Being in the woods at night is already scary enough. Add to that with scare actors lurking in dark spaces or behind trees. We never saw any of the scares coming, and we were always caught off guard by the places they liked to hide.
There was a smaller variety of scares than we would have liked to see. Many of them were either jump scares or distractions. There were a few others, such as camouflage, victimization, and blood and gore.
The finale was intimidating, with a chainsaw actor following us out as far as he could. The only thing that we would like to see differently is the ending being in a slightly different location than the beginning, instead of crossing paths with each other. This is because when we started our walk-through, another group was just finishing by being chased out by that same chainsaw actor, so we already knew how this would end.
---
Entertainment & Value Score: 6.04
E&V Scores – By Question

E&V Scores – By Attraction

E&V Review:
Post Mortem Haunted Trail was very entertaining, and we were satisfied by visiting it. It did feel slightly short, so we would have liked it to be longer. Despite this, the actors kept the entertainment flowing easily, and we really enjoyed ourselves.
Unfortunately, there wasn't anything else that was included in the ticket price except for the single queue actor. We would have liked to see some more entertainment while waiting in line or something to do after exiting.
The cost of admission was $20, and the time spent inside the haunt was 13 minutes, so the Minutes Per Dollar (MPD) rating is 0.65. This is on the low end compared to other haunts we have been to. However, we felt the money was going to a good cause because it is a charity haunt, so we thought it was all worth it. We are excited to see what they will come up with next year and can't wait to come back again!
---
View Full Score Sheet
---
Pics We Took From Our Visit:
---
---
Guest ReviewsGuest Average: 10 out of 10
Rae – 10/10 – October 15, 2021Awesome haunt! It was very entertaining and scary! Well worth the amount you spend especially since …show more it is going toward a great charity! Been going here since day 1 of them being in this location and it is different every year.
Sam – 10/10 – October 26, 2019It was incredible! They had this killer zombie walk through and a huge enclosed hall thing filled …show more with fog a monster greets you out of a unknown place.I screamed through a lot of it so idk really what came after me in some of it lol.It was scarier than I thought it would be. We all had a blast and will be going back! They were really nice and made sure we were okay because it was rainy out.
Join ourspookyadventures!
We visit Halloween haunted attractions year-round! Follow us for haunted house walkthrough videos, behind the scenes footage, and more!