Pure Terror Screampark – Full Review
Pure Terror Screampark is a Haunted Attraction located in Monroe, NY.
299 Museum Village Road, Monroe, NY 10950View All Details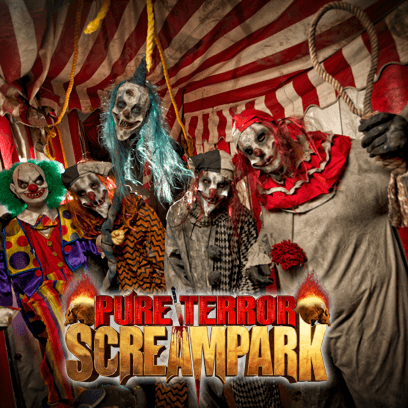 Features:

Free Parking, Food/Concessions, Gift Shop/Souvenirs, You will NOT be touched, Movie Characters, Original Characters, Uncovered Outdoor Waiting Line, Indoor/Outdoor Attraction

Team Scare Response Unit reviewed this attraction on October 1, 2016.
Final Score:

7.77
Summary:
As you drive through Monroe, New York, you may see some spotlights shining in the distance. Careful not to become a moth drawn to the flame, because if you do, you may just be the next victim at Pure Terror Screampark. This trek through terror takes you from dark crypts to even darker corridors, and through the homes of some of your favorite movie maniacs. Wear some comfy shoes that you don't mind getting a little dirty as your journey will take you through 6 different realms of fright: The Crypt, Plague, The Coven, Terror Under the Big Top, Terror in the Dark and Legends of Horror!
---
Cast:

7.6
While a good handful of actors here stay in character and fulfill their roles within their rooms, there were a handful who you could tell were just going through the motions. The number of actors also seemed a bit small. The dialogue was mostly scripted, but worked well where it was used. As mentioned, besides a small handful that we saw that night, most of the actors were in character and believable.
---
Costuming:

7.6
Some of the makeup that we saw was nicely done, and pretty detailed. A friendly clown in the beginning and some of the witches looked very good. The downside here was the number of masks used. It seemed like at least half the creatures used masks instead of makeup or prosthetics. A good number of the masks worked where they were used as well, but some of them just felt out-of-place, like a good makeup job would much better fit the type of room it
was in.
---
Customer Service:

7.83
Possibly one of the easiest haunts to find, Pure Terror Screampark has spotlights to help guests find their way to their doom. Once you get closer you start to see signs to help you find your way. Unfortunately, there are a few safety issues within this haunt. I ended up leaving with a large scratch on my arm from one of their claustrophobia balloons that pushed you up against a wall which had a sharp edge near the entrance to it. There was uneven flooring and an area where you had to crouch down and walk for about 20 seconds. You can purchase tickets online, or at the ticket window with cash.
---
Atmosphere:

8.5
The second you go through security you feel a slight feeling of dread. Maybe that's because we were told that sometimes actors would come out and roam the area between the entrance and the ticket booth. We did run into one clown with a very large mallet, who was very happy to meet us, and make a few new friends. A small table with some goods on it sits in front of the queue to start your journey into the dark, and that by itself is a bit creepy. Just a lone table, with a lone proprietor, selling goodies as crazy clowns and sadistic soldiers wander around them. It is obvious you are at a haunt, but there aren't many sound effects before you walk in.
---
Special Effects:

7.1
Halfway through the walkthrough this haunt earned the nickname Pure 'Stuff-In-Face" Screampark. Every other room had S.I.F. hanging from the ceilings to distract guests as they walk through but, after a while, it becomes annoying. Also, there is an overuse of claustrophobia balloons. We counted at least 3, but possibly more. There was also a completely dark room where you could hardly see your hand in front of your face as you walk through, but it went on too long, and also had endless S.I.F. throughout its entire length. Some of the animatronics are cool and a few rooms had some great detail in them, but mostly it felt like a prolonged adventure with the same effects just repeated too much.
---
Theme:

9
There are 6 different themed attractions at this haunt, and they do stick to their themes very well. There is no bleed-through, you can instantly tell when you leave one haunt and enter another. You walk into the Pure Darkness area, and that's exactly what you get. And once you see that Camp Crystal Lake sign, you know you are heading into the Legends of Horror section to face the villains and monsters that plagued your nightmares as a child, or as an adult.
---
Fright Effect:

7.5
A lot of the scares here were straightforward ones, right in front of your face and out in the open. There was the occasional use of distractions and misdirection, but it was mostly a jump out, or an actor set in the room waiting for you so they can deliver a line. They did try to hit as many people in the group as possible, and the finale sent a group of guys running out while we were there. The good part about that, is that it is recorded so you can watch your group leaving, sometimes at a quicker pace, from the last room of the haunt and experiencing the finale.
---
Value:

7
The walkthrough for this haunt and its six themed rooms was about 35 minutes. Tickets sell for between $41-$65 depending on the night you decide to go. Make sure if you did not buy your tickets online, that you have cash on hand, they do not take cards at the ticket booth. Coupons can be found in nearby restaurants, but can only be used on Sundays. There is a lot of space to play with here, but a lot of it seems like the same thing done repeatedly. At least twice we thought we had been doubled back and led into a room we had previously been into, but turned out to be a different room, just very similar.
---
---
Guest ReviewsGuest Average: 7.76 out of 10
Santos Carr – 10/10 – October 16, 2021Pure Terror Scream Park is by far the best haunted house I've been too. Last season, when I attended …show more during the pandemic, they did a great job keeping costumers safe and following local rules which were very strict (NYS). The sets are too notch and the actors were amazing. Can't wait to return this year
Montgomery – 10/10 – October 31, 2020100% the greatest i ever been to. Its lile your in your own horror movie so so so real. On point …show more from start to finish and super longggg well over an hour to complete all 10 haunted houses. Worth every dollar. I guess you get what you pay for. We will be back this Oct 2021 I just purchased tickets for 10/3
Maxwell Johnson – 10/10 – October 24, 2020All I have to say is WOW! My first visit to PureTerror was in 2014 and less then a year later we …show more moved to Winter Park Florida. I moved back to NY in 2019 and me and the wife decided to take the family to Pure Terror 2020 Season and Holy Cow with the 10 haunted houses it was over the top right up there with Universal Horror Nights which by the way is my number 1 of all haunts. But man I have to say Pure Terror is our new favorite haunted house go to in New York. It's long scary and fun for the whole family I strongly advise you to check it out trust me you won't be disappointed and they handled the covid safety very well and there security team looks like a defensive line of a NFL Team…. lol