Purgatory Scream Park – Full Review
Purgatory Scream Park is a Haunted Attraction located in Kingwood, TX.
1965 Northpark Drive, Kingwood, TX 77339View All Details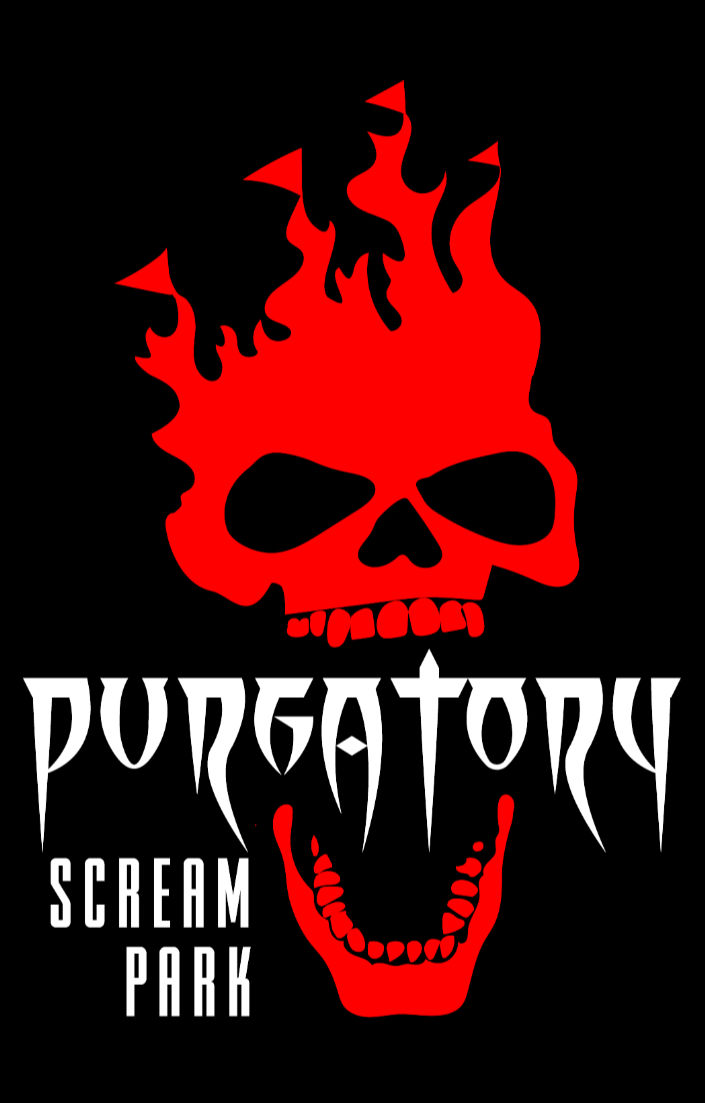 Features:

Free Parking, Restrooms/Porta Potties On-Site, Food/Concessions, "Hi-Tech" Attraction, You will NOT be touched, Movie Characters, Original Characters, Uncovered Outdoor Waiting Line, Covered Outdoor Waiting Line, Indoor/Outdoor Attraction

This attraction was reviewed on October 12, 2018 by Team Lollipop Massacre.
How Do We Get These Scores?

Final Score:

9.63
How Did We Get This Score?

Summary:
***EDITORS NOTE***
This attraction was formerly known as 'Kingwood Asylum' prior to the 2019 haunt season. As of 2019, they have completely re-branded to 'Purgatory Scream Park.' Any and all mentions of 'Kingwood Asylum' should be construed as references to the attraction now known as 'Purgatory Scream Park.'
—
If I could take the memories out of my brain and display them for all of you, fine readers, I would display them for the world to see. We got a behind-the-scenes tour before going through to get scared, and I cannot believe the time, effort, and pure talent that has gone into building this beautiful haunted house. The details throughout these four haunts are absolutely stunning, so if you can (and you're not getting *too* scared), keep your eyes open and watch for the small things. They don't have any purely dark places, because they are so proud of their work. They use lighting to highlight all of their scares, so you don't have to worry about being blind. Watch for the clown dolls that turn their head, or the faces on the walls. They also use a lot of things to keep you on your toes, vortex tunnels, or their hellevator for starters. I've never been so wobbly coming from any haunt before! You won't be disappointed coming to visit the Kingwood Asylum.
---
Cast: 9.54
How Did We Get This Score?

The Kingwood Asylum (KA) was filled to the top with monsters galore. We were told there were about 80 actors on the night we went! No matter where we turned or looked, there was someone there, ready to pounce. The actors there really put their all into their work. We could tell that there was a lot of love put into their haunt, making the vibe almost magnetic.
When walking through the Asylum, we came across a few eccentric 'patients.' They were singing, screaming, towering over us from on top of hospital beds, and they were everywhere we looked. Even when we thought they were finally gone, we would feel the hair on the back of our necks stand up as the breath from an escaped patient went down our necks. Hysteria is also a high energy haunt, as the patients have taken over a nearby carnival and have taken on the personas of clowns. Evil, scary clowns. Watch for Bendie the evil contortionist clown as she flips, flops, and twirls around you. When I finally got a good look at her, she was standing on her head around a corner in another room, but she had just been with us in the previous room. It truly is a great show. Just don't let Kill Count get to you first'
The actors were startlingly interactive, but the only issue we had was the overuse of 'Get out' and 'Come play with me'. These phrases are used often and tend to get over-played.
---
Costuming: 9.34
How Did We Get This Score?

All of the ghouls were properly dressed for their scenes, though some actors wore street shoes. There were a few things they could have done to improve their characters, such as darkening around the eyes, or even putting a little makeup on their arms to really complete the outfit. Why would a serial killer be covered in blood everywhere but their arms?
Other than those things, there wasn't anyone out of place or just 'normal'. Everyone really committed to their characters. Some even had me questioning if they were actually hurt or not, blood dripping from their mouths into puddles on the floor.
The evil clowns of Hysteria were all truly 'clowning around'. Wearing traditional and new-age clown attire, they went all out making us feel as if we were really at a circus.
Inside of Asphyxia, you will see strange creatures you've not seen before. These are not your traditional haunted house monsters. They looked more like aliens from a long-lost cave system deep within the dark confines of the Earth. These guys really gave me a good scare as I had no idea what to expect within the cave walls. They would come out of any crevice, blending in with dark walls, making it hard to know they were with us until they started making their ear-piercing noises.
The Asylum has tons of good, old-fashioned straight jackets, but these don't hold together through these patients very well. Patients have killed the nurses and doctors and have stolen their apparel as well, leading you to believe that everyone inside this bin is for sure looney!
---
Customer Service: 9.85
How Did We Get This Score?

We stayed in Houston to be close to these haunts, so I had absolutely no idea where I was supposed to go. That being said, KA was very easy to find with GPS. We found the address and all of the other information to plan our trip on their website. We had absolutely no trouble finding where we were supposed to be going, especially with the giant spotlight they have to help guide you! The parking attendants even had masks on to start the haunted house vibe.
The crew out at KA was so welcoming. They answered all of our questions and told us a lot about their beautiful haunt. It isn't a full time job for them, but more of a hobby fueled by passion. They had to rebuild a lot of their houses due to Hurricane Harvey in 2017. Believe me when I tell you, it doesn't seem like it ever happened.
There is only one queue line, so there isn't a lot of waiting and waiting. It was unique to me, as I personally haven't been through one like that in many years.
They've got a stage set up by the queue lines and had an incredible metal cover band playing live music. With lots of queue line actors running wild through the crowds, there is never a dull moment while you wait.
Though the attraction felt safe overall, having stairs after a vortex made me a little uncomfortable due to feeling dizzy.
---
Atmosphere: 9.95
How Did We Get This Score?

When you pull up to KA, you feel like you're pulling up to a haunted house. From the outside, it just seems like a standard haunted house in the city limits. Don't let that fool you, though. Just because the outside looks like a typical haunted house, it doesn't mean the inside isn't amazingly insane!
This place has great energy and you can feel it from the moment you step out of your car. This is absolutely a great haunted house.
---
Special Effects:

9.86
How Did We Get This Score?

The special effects in the Kingwood Asylum are mind-blowing. This is an intricately and beautifully designed haunted attraction. When you're walking through each scene, they really have pushed it to the limits. I can't even pick a favorite part because of how truly remarkable the small details are in this haunt. They know that not many people will notice, yet they still add them and it really completes the picture. From the clown dolls slowly turning their heads to the cannons strategically placed (and yes, I DID scream!) and the sliding monsters coming at your legs, it's a whirlwind of emotion and fun.
The transition between each of the four haunts was astounding. I expected it to get confusing, but I could definitely tell when one haunt ended and the next began.
As much as I want to get into all of the details of this haunt, I also don't want to give it all away. This is truly a "see it to believe it" kind of place.
---
Theme:

9.52
How Did We Get This Score?

Each haunt had it's own theme within KA. The Asylum, Asphyxia, Hallowed Grounds, and the new Hysteria Carnival are all well-themed and thoroughly-detailed. The attractions feature escaped mental patients, whatever lurks beneath the Earth, voodoo witches, and evil clowns.
Their location does really play into the theme as they're kind of built through the woods, but not too far from the city. The huge trees of southeast Texas are beautiful and cannot be replicated.
---
Scare Factor:

9.24
How Did We Get This Score?

I don't typically get too scared when going through haunted houses. I do get startled easily, but being actually scared takes a good actor knowing their scene and timing it just right. I can say, not only did they have plenty of good jump scares to get our blood pumping, but they actually DID scare me in a couple rooms.
In one of the scenes, we were able to see the actor getting ready to pop out at us. This took place in Hallowed Gallows, and we could see the actor when we walked up. He came out and growled, then went directly back into his 'hiding spot'.
The rest of these actors truly went above and beyond to give us the best scares from all angles. They had no problem getting right up in our faces to intimidate us, which really made for a good show. However, the ending was a bit of a let-down. We knew there was a chainsaw at the end because we had seen a few of the other groups running and screaming back to the common area, but when we went through, the actor wasn't there to immediately greet us with his loud weapon. We had actually already started walking away from the exit when he casually walked up behind us and revved his chainsaw a couple times before retreating back into the woods. I was a little disappointed because this attraction is so great that we expected an ending with a bang. Instead, it was a fizzle.
---
Entertainment & Value:

9.81
How Did We Get This Score?

There truly wasn't a moment while we were at Kingwood Asylum that we were bored. There are tons of queue actors, photo ops, a live band, and food trucks to keep you busy while you wait. If you have the opportunity, ask to meet Magik the clown. They don't call him Magik for no reason!
They also have another form of entertainment called the Last Ride. It's an add-on to your ticket. You lay in a coffin, they put headphones on you, close it up and then you go for your very own last ride. They play funeral music, and you can hear people crying and missing you. Then you feel them load you into the hearse to take you to your final resting place. There, they proceed to lower you into the ground and cover you with dirt. Now, you may be thinking, 'Oh, that doesn't sound too bad,' but I haven't mentioned that you can smell the flowers from your funeral. You can smell the fresh dirt they lay over your casket, and you can definitely smell the rotting flesh that comes when the zombies come from back from the dead.. Oh yes, the zombies!
They have used the space they have wisely, and I can't wait to see what else they come up with in the years to come.
We went through the VIP line at KA because we went on a very busy Friday night, and we waited about 25 minutes. That was also including the Last Ride trip we did. The walk through of the 4 haunts, since it's only one queue line, took about 45 minutes. The VIP package is $50, and includes the Last Ride. Standard ticket price is $33; the Last Ride is an additional $5. These prices aren't unreasonable due to the fact that you will NOT be bored at Kingwood Asylum.
From the outside entertainment, to the immense detail of all 4 haunts, and the passion of the creatures that live inside, this is a great haunt to add to your Halloween haunted house list.
---
How Did We Get These Scores

---
Guest ReviewsGuest Average: 10 out of 10
Michele – 10/10 – October 19, 2019This is what a real haunted house attraction should be. It wasn't just loud noises and animatronics. …show more There were creepy things everywhere. And clowns! I love to hate the clowns. Out of the 5 haunted houses I went to this year, Purgatory was the best, the scariest and the most fun. I love this place!
Wade chapman – 10/10 – October 4, 2019It was a enjoyable fun and scarry place and i recommended people to come to see it there self
Cody – 10/10 – October 4, 2019Best haunted house ever! Hands down! Should be a 10/10. Ive been to all the haunted houses in the …show more Houston area. None of them even come close to Purgatory Scream Park.