Realm of Terror Haunted House – Full Review
Realm of Terror Haunted House is a Haunted Attraction located in Round Lake Beach, IL.
421 West Rollins Road, Round Lake Beach, IL 60073View All Details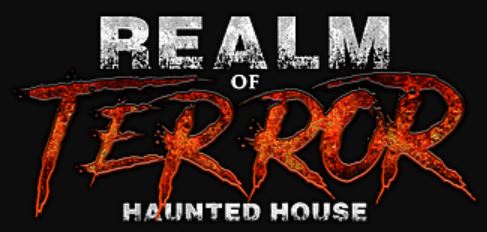 Features:

Free Parking, Restrooms/Porta Potties On-Site, Gift Shop/Souvenirs, "Old-School" (Low Tech), "Hi-Tech" Attraction, You will NOT be touched, Original Characters, Indoor Waiting Line, Covered Outdoor Waiting Line, All-Indoor Attraction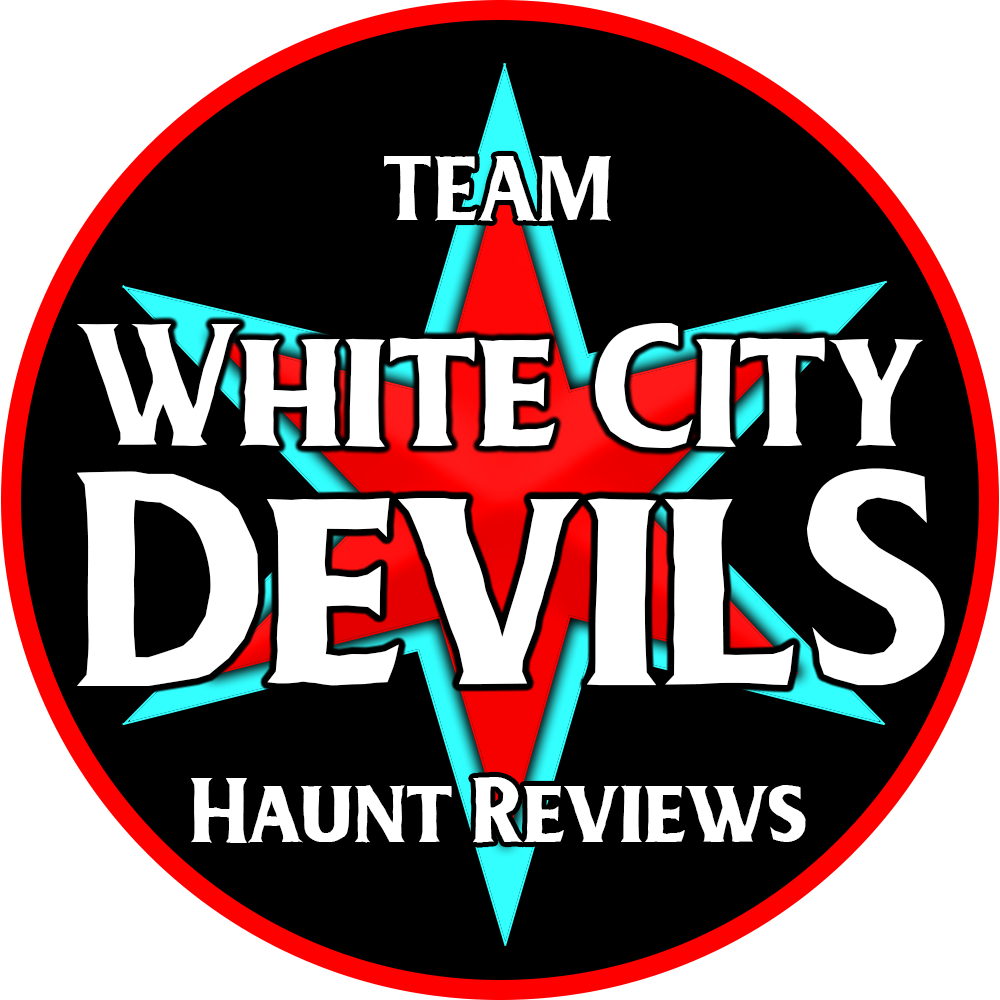 This attraction was reviewed on October 28, 2023 by Team White City Devils.
---
About Our Reviews and Rating System
---
Final Score: 9.08
Final Scores – By Category

Final Scores – By Attraction

Summary:
We found our way to Round Lake Illinois for some family fun center action. Parts of this center are done differently in October as it houses one of the craziest haunted houses in our area, Realm of Terror. ROT has a great team of actors, disorienting scenes and props, a black-out maze, a heavy fogged maze and so much more to make it a fine visit (that's for you, Steve).
---
Cast Score: 8.75
Cast Scores – By Question

Cast Scores – By Attraction

Cast Review:
The actors at ROT are some of the most fun to interact with, regardless of the queue or in the attraction.
In the queue, we learned much more about rabies than I thought we knew, thanks to Bibble, the Trash Goblin. Unfortunately, Bibble revealed a revelation to us that they were none years old and dying of rabies, so they were looking for any handout trash we had. Having just finished my limited edition Pumpkin ROT ale, I offered up my can, which Bibble started munching on! Another score pointed out I gave a beer can to a minor, but we let it slide as Bibble was dying of rabies anyway and would likely die in the next few days (I hope they somehow made it through, but likely throwing a RIP here for Bibble).
Inside the attractions, actors are heaving, hitting, and putting on a great show. Someone inside asked me a great question trying to sike me out. They had asked me, "Could you be my dad?" I informed them I was not ready for that responsibility. They took a few seconds to gather a response and hit me with a flirtatious "Could you be my Daddy then?" It was a hilarious exchange from them I appreciated. Most of the actors in the attraction use pop-up scares and tight spaces to also get in guests' faces rather closely. It makes for a great show overall.
---
Costuming Score: 9.03
Costuming Scores – By Question

Costuming Scores – By Attraction

Costuming Review:
ROT has a wide variety of costumes throughout the show. Walking up to the facade of the attraction, we are greeted by a dashing feller who is the doormen. They have a suit and tophat that works with their chapping personality. There are plenty of hospital scenes, so most of the costuming there is patient scrubs that are torn and tattered along with dark and veiny makeup, giving them the appearance of being disturbed.
Another great costume we saw was the maid who was going around cleaning everything. They had a classic maid outfit with great makeup applied and walked around with cleaners just wiping things down. There is also a great mockingbird mask that will do just that to people passing by. It's great character work to just mock people with a large bird mask.
ROT provides plenty of unique characters that are a great mixing pot of fun, quirky, and scary all together, and they looked the parts!
---
Customer Service Score: 9.63
Customer Service Scores – By Question

Customer Service Scores – By Attraction

Customer Service Review:
ROT takes over a part of the already great Kristof's Entertainment Center. So there are opportunities to play pinball, video games, mini golf, and bowling before and/or after going through the haunt in the back of the center. Parking is free, and there is plenty on-site just beyond the mini golf course.
There is security on-site with a bag check and metal detectors which is a great addition as guests can sometimes suck instead of being fun. Security here was also a huge priority for guests' safety as well as staff.
ROT has a great social media presentation as they are humorous while remaining scary-themed in posts. Tickets are available online but will need to be checked in to get registered for the queue. Ticket sales work a bit differently here; you can check in and will receive a text message on when to get in line so guests can enjoy the midway games, gift shop, bar, and fun center instead of standing in the queue. Thankfully, ROT offers so much entertainment to keep customers busy (more about these things in the immersion category).
---
Immersion Score: 9.07
Immersion Scores – By Question

Immersion Scores – By Attraction

Immersion Review:
Walking into the actual midway for ROT provides different photo opportunities. There are food trucks on-site on certain nights, but food is also available in the entertainment center. A bar is available, and we had to try the limited-edition Pumpkin R.O.T beer we mentioned before. ROT worked with a local brewery to create their own special beer,, which is awesome.
The facade of the actual attraction is a traditional haunted house, similar looking to that of the Munster's house, and a second flat facade that is as rustic-looking as the aforementioned.
Inside the attraction, there is plenty to be immersed by and ROT does a great job of just throwing non-stop chaos at its guests. Every room feels over the top and hits as hard as the room before. ROT doesn't have a storyline but rather just gives guests the experience of "this, that, and the other" in a good way. They add so much that it makes the next two categories fun to talk about as well…
---
Special FX Score: 9.21
Special FX Scores – By Question

Special FX Scores – By Attraction

Special FX Review:
As mentioned above, ROT gives and gives and gives. The opening scene in the dining room is a very creative one as there is only one obvious entrance (the one we had just gone through), yet we needed to proceed somehow.
Going further in, ROT seems to add great props everywhere and plays with slapping some traditional things in randomly as well. For example, there was a great scene with gore and strobe lights. Within this area were things like jack-o'-lanterns and Halloween party hats. It's random enough to notice, but it fits the idea of Halloween and makes it fun!
Scene after scene is pretty graphic and gory in details, and there are plenty of props throughout that keep the attraction flowing well. Sounds help to disorient guests and work well in addition to the other effects. One of my favorite rooms has to be the junior prom scene. It's set up as a dance floor like one in a junior high school prom but replaces the awkward dancers with hanging bodies in sacks still shaking. It makes it difficult to walk through but combines two different ideas and mashes them greatly together.
Sometimes, nothing is something and ROT does a great job of utilizing this. There is a fully blacked-out maze to walk through, and it's where we could tell most guests panic. With these small bursts of actors inside to help with a quick light in the form of a scare, we can eventually make our way out of what feels like a long time inside. This leads to an even more disorienting portion of the haunt with another maze. This one is covered in a thick fog with a slow strobe of red, green, and white lights to help throw guests off. It's hard enough to see the person ahead of you, but to constantly try to adjust your eyes is near impossible here. Realm of Terror continues to impress during every visit and as fans, we appreciate all the efforts thrown in this attraction.
---
Scare Factor Score: 9.04
Scare Factor Scores – By Question

Scare Factor Scores – By Attraction

Scare Factor Review:
This section is going to be a bit different. The night of our visit, we were paired with a mother and her two children around 7-10 years old. Initially, we would have gone separately, but the mother kindly asked if they could tag along with us because her children (and secretly herself) were not confident enough to go alone.
During our walkthrough, it was apparent that these kids wanted to go faster than we normally do. To try and not lose them was a challenge so I offered my hand to keep them together. The actors did an excellent job, being gentle as they approached them while still staying in character but giving them enough to make it worth the visit.
The scenes are beyond detailed and highly gory, leaving us confused and squeamish. What does not help is that the scenes were also tight which makes us come up close and personal with the graphically bloody props. Everything was very personal and intimate, which was effective in leaving us quite disturbed.
The actors did plenty of pop-up scares and had some great growls and screams. It was easy to be caught off guard as the props were over the top. The actors would use the highly detailed and distractive props leaving us rubbernecking and coming out from the sides to execute the scares quite nicely. There was an instance when we ended up in a new scene where there was a junior high school prom dance, and the bodies were moving disturbingly. It was unique, and we were unsure about what was happening, leaving the kids trying to take off while holding on to me.
In both mazes mentioned above, the actors did a fantastic job in creating scares that kept us all on our toes and some of us wanting to run. As mentioned above there is a blacked-out maze and an extremely foggy maze that distorts the vision, which both equally creates some nerve-wracking scares since there is no way to see in front of you. The blacked-out maze executed its scares by timing the sudden lights with loud sounds while the actors came out from their designated spots, leaving us to walk in the dark waiting to see who else would pop out. The foggy but lit maze was not any better as we would come across actors until they were right in our faces. The lights would flicker and leave us forgetting which way we were going.
Overall, the kids in the end enjoyed their time despite screaming and hollering that they wanted to leave. One of them even asked if they could find another one to go to right away. We were happy to see Realm of Terror become the stepping stone for these future haunt enthusiasts.
---
Entertainment & Value Score: 9.13
E&V Scores – By Question

E&V Scores – By Attraction

E&V Review:
Our walkthrough time for ROT was an entertaining 23 minutes. Ticket prices vary depending on how early in the season guests visit, but most commonly $30 is the general admission price. Our MPD value comes to .77. This is a great value and goes even further when you can grab a round of mini golf afterward or evening bowling.
This attraction is a super entertaining one and has all sorts of great items for purchase, including the official Realm of Terror Red Dot used to open bottles and seconds as a coaster, the classic official Realm of Terror shirts as well as the official Realm of Terror underwear and lounge shorts (purchased) in case you need to change out right away. Personally (no longer offered, unfortunately) I have the official Realm of Terror brick in my trunk, in case I ever need to protect myself, and will be placing our official Realm of Terror 12 days of Christmas painting up during the holidays. All this to say, Realm of Terror is fine (great, actually).
---
View Full Score Sheet
---
Pics We Took From Our Visit:
---
Promo Images:
Click to Enlarge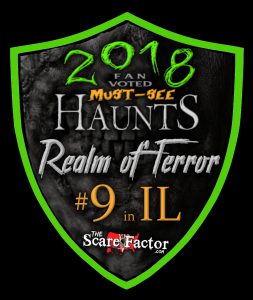 ---
Have you visited this attraction?
Join ourspookyadventures!
We visit Halloween haunted attractions year-round! Follow us for haunted house walkthrough videos, behind the scenes footage, and more!