RED VEIN Haunted House – Full Review
RED VEIN Haunted House is a Haunted Attraction located in Ashland, VA.
13580 Ashland Road, Ashland, VA 23005View All Details

Features:

Free Parking, Restrooms/Porta Potties On-Site, Food/Concessions, Gift Shop/Souvenirs, Original Characters, Uncovered Outdoor Waiting Line, Indoor/Outdoor Attraction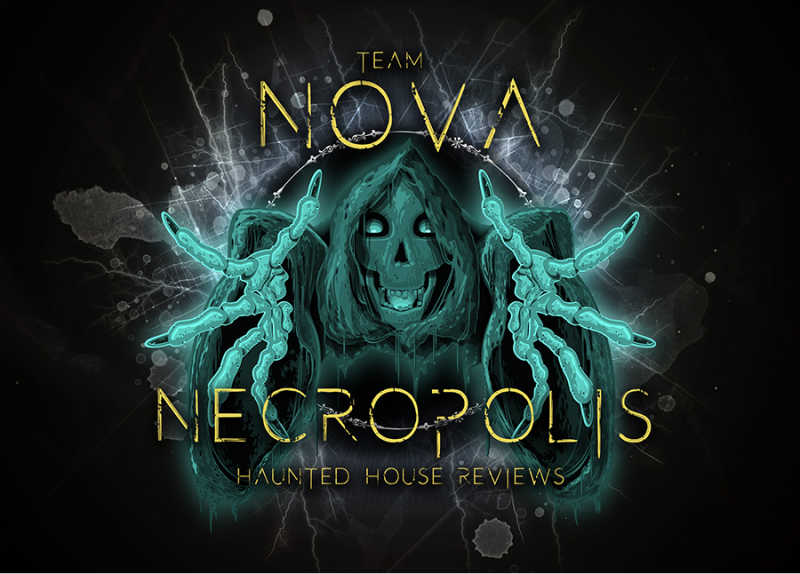 This attraction was reviewed on October 30, 2020 by Team NOVA Necropolis.
How Do We Get These Scores?

Final Score:

8.63
How Did We Get This Score?

Summary:
And so the last stop on our haunt tour this season landed us right in the farmlands of Ashland, Virginia, at a haunt tucked away behind the Hanover Vegetable Farm. Needless to say that it was bittersweet as we made the little over 2-hour journey south from northern Virginia. Bad weather prevented us from coming opening weekend and so the haunt that was meant to be our first of the season ended up being our last: RED VEIN.
Coming down the back roads, with the sun having set and the almost full moon shining over us, we couldn't help but side-eye each other as we turned down state road number 666. Perfect circumstances, really, for visiting a haunted attraction on the eve of Halloween. So what happens when the necropolis fog rolls in from the north and covers this plot of land for an evening? What secrets will RED VEIN tell us? What relics will we uncover? Read on and find out as we take on this haunted house and the witch at the center of it all.
---
Cast: 8.63
How Did We Get This Score?

The RED VEIN cast is a truly unique group of people. One of the interesting things that we felt from them was that from the first character you meet to the last, they all seemed to be cohesive with one another. You could tell that this felt like a special band of people joined together under one story arc and one intent: to scare the crap out of you. RED VEIN has a really strong and detailed theme and history that we'll get into further down the review, but this really drove the dialogue of all these characters.
They had really unique stories to tell that almost hinged on being too detailed for a haunt, as it was sometimes hard to keep up, but overall really added a cool layer of interactivity that we love to see from haunted attractions. The haunt also felt really full, and the actors were appropriately placed. And you experience a really unique array of characters here that aren't typical of other haunts while also still feeling organic to the haunt's storyline. We also have to give a special shout out to one of the actors in the corn maze who literally crawled in mud to deliver a truly spectacular performance.
---
Costuming: 8.68
How Did We Get This Score?

The costuming was another solid and strong category for RED VEIN. Again, we have to reference that organic feeling that connects us back to their story. The clothing was naturally distressed and decayed for characters that felt like they could have been rotting on the property for years. Or, you would have these characters in crisp red cloaks a la Handmaid's Tale that sort of gave you the idea that these beings held a higher status than the rest of the characters. Creepy sideshow figures, towering ghost-like statues, and more all tie back to this gritty underbelly vibe that these characters exude.
---
Customer Service: 9
How Did We Get This Score?

Undoubtedly one of the strongest categories here, the level of customer service was definitely up there with some of our top haunts this season. RED VEIN is tucked away behind the Hanover Vegetable Farm, so plenty of signage helped us get to where we needed to be. Our temperatures were checked, and mask policy was enforced, which was great to see. Bad weather from the Halloween hurricane that hit earlier caused the area to be insanely muddy, but the staff was prepared and had pallets placed down for us to walk on, and fresh hay had been placed in the queue lines. And plenty of areas to keep your hands sanitized.
In order to get to the haunt, you're required to take a tractor ride down. We were placed inside by a staff member to be distant from others, and once we arrived at the bottom we were greeted by another staff member who helped us navigate the less muddy areas by flashlight into the queue line. Overall, the entire staff was extremely friendly and helpful, and eager to stop and talk to you and carry on a conversation or ask you how you enjoyed your evening. It's small things like this that make your experience feel really personable and cared for, and we definitely appreciated it.
---
Atmosphere: 9.2
How Did We Get This Score?

First and foremost, we love outdoor haunts. There's something about outdoor haunts during late October that amplifies that fun feeling about being at a haunt. It's chilly, you get the smell of the outdoors, if there's a bonfire then you get that hint of smoke in the fresh autumn air. And we got all of that Friday evening while visiting RED VEIN. After you make your way through the ticket area, you head down the hill past all the daytime farm amenities and seating areas, to a small rest area with bathrooms, music, photo ops, and a covered seating area.
On this night they had a group dressed up like the ghostbusters complete with the uniform and ghost mobile for photo ops. It's from here that you're able to get into a queue line for the tractor ride down to the haunt, which is spooky in Its own way due to the darkness of the property which, on this night, just happened to be lit by an almost full moon. The queue line held two actors who prepared you for everything you needed to know about the story before going in, and once out of the haunt, you had a nice bonfire set up next to a small gift shop where you could purchase merchandise. All in all, the 'hauntmosphere' here was really humble but was still able to hit every expectation.
---
Special Effects:

8.1
How Did We Get This Score?

One of the things that we really have to commend RED VEIN on is their ability to transform a space. A lot of the inside portions of the haunts were held in what appears to be trailers or large containers of some kind. But you would never know it once you get inside. The scenes were immaculately detailed and in many places reflected a lot of their own lore and symbology. One example would be in an outdoor area where they had all these really cool looking Blair-witch styled stick figures of their logo hanging all over the trees.
In general, they didn't feel like a very high tech haunt. They had some great use of lighting, fog machines, and a few large scale puppets (and one amazing large scale human prop in their sideshow area), but overall their strength felt more grounded in their actors and their scene design.
---
Theme:

7.25
How Did We Get This Score?

The theme is one place where we kind of felt like there may have been a double-edged sword. On one hand, RED VEIN boasts an immaculately detailed storyline and lore that allows them to build onto it and manifest new ideas each year. Essentially, you have the story of Emily Redvyn, who came to the area after a series of sinister events and was eventually killed by the local townspeople for practicing witchcraft. This story intertwines a demon by the name of Redvyn, historically accurate witch lore, an asylum, a home for wayward children, and more.
You can read all about the RED VEIN legend on their website, which we truly recommend because it almost borderlines the arena of an ARG(advanced reality game). But on the other hand, it's really hard to 'get' all of this if you haven't read the lore. A lot of the dialogue pertaining to this was added into the scripts for the actors, and you had a few moments where you were able to pause and get a portion of this rich history, but we kind of felt like it suffered from being too detailed for the few seconds that we would be passing by the characters. So because of that, we definitely recommend taking a moment to go on their website and reading through the 'Legend' tab which gives you an in-depth timeline into the story of RED VEIN.
---
Scare Factor:

8.4
How Did We Get This Score?

The scares here were a delightful blend of both jump scares and incognito scares. With the jump scares, the actors were very quick at popping in and out, and in many cases were able to get you multiple times. And what I really enjoyed was that in some instances they held character even after they were out of sight. If they were to pop out of a door you could hear their in-character laughter echo on the other side as they went to reset for the next group. As far as the incognito scares go, it was virtually impossible to tell the difference between a prop and an actor at some points throughout the haunt. Body language was important in this, as we noticed many of them would stand at awkward angles that you'd typically think of being an awkwardly set up prop. And they were covered well enough with the costuming and lighting so that it was difficult to check out the feet to uncover what was real.
Also, back to something we mentioned earlier, there was a phenomenal actor in the corn maze. I couldn't even get a good look at this person's costume in particular because of the way they were silhouetted. All I remember seeing is this black figure, who was supposed to be chained up, literally get in the mud and pretty much crab-crawl their way up the corn maze straight toward us. When I tell you my soul quite literally took a Lyft ride out of my body because they were that fast and it was so unexpected. And the actor knew to hold on to us for a minute as they followed us down the maze. Another noteworthy scare to mention would go to an actor who used a simple hand fan to get me as we were going by. Again, completely unaware that this was a person, and then 'CACK!' goes this extra large fan that they popped out right in front of my face. It is truly one of the most unique and simple devices that I've seen used in a haunt. Outwardly, I screamed, but inwardly I couldn't help but to think 'yasss queen!'
---
Entertainment & Value:

9.15
How Did We Get This Score?

Overall, RED VEIN is an extremely fun place to visit outside of the Richmond area. Ashland itself is a nice small town that has some cool places downtown that you can check out before heading to the haunt. I believe RED VEIN's escape rooms are also located there, which we would love to try out at some point.
The best thing is the ticket pricing is extremely reasonable at $20 a pop for General Admission and $40 for VIP, which for about 35-40 minutes of haunt time means you spend about $1.75 a minute. For this season they did end up closing their 3-minute escape room due to COVID, but still kept their gift shops, food trucks, and fire pit. In the off-season, RED VEIN is known to do a special Christmas event so stay tuned to their social media and websites for any information and definitely be sure to check them out for 2021!
---
How Did We Get These Scores

Promo Images:
Click to Enlarge
---
Guest ReviewsGuest Average: 9.7 out of 10
K Sandler – 10/10 – October 30, 2018These people are serious about authenticity and putting right in the middle of red vein legend. …show more prepared to be immersed in Emily's dark tale..If your lucky you'll get blooded.
Hannah – 10/10 – October 21, 2017I would say omg but there's no god at red vein! This haunted house is GREAT!! The walk through was …show more terrifying but I loved every second of it! The actors really do make this haunt different from others in the area. I loved the actors in the line, and the one that split us up before the indoor part was TERRIFYING!!! I had nightmares!! I wish I had time to go back!
Pakawak – 10/10 – October 22, 2016Outstanding design and deployment particularly with the rustic, rural setting. The level of artistic …show more integrity, atmospheric aesthetics, folkloric pedigree and creative rendering is a superlative work and singular experience. There is a legitimate fright factor but, being familiar with the Red Vein Army, I attended more for the anticipated high benchmark for props and setting and was not disappointed…nor will you be. Get thee hence, fiends.