RED VEIN Haunted House – Full Review
RED VEIN Haunted House is a Haunted Attraction located in Ashland, VA.
13580 Ashland Road, Ashland, VA 23005View All Details

Features:

Free Parking, Restrooms/Porta Potties On-Site, Food/Concessions, Gift Shop/Souvenirs, Original Characters, Uncovered Outdoor Waiting Line, Indoor/Outdoor Attraction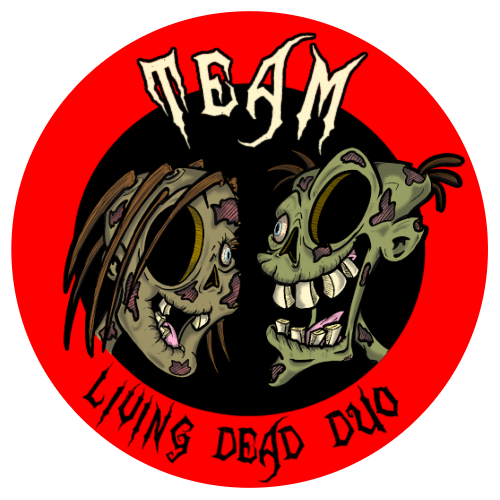 This attraction was reviewed on October 27, 2023 by Team Living Dead Duo.
---
About Our Reviews and Rating System
---
Final Score: 9.26
Final Scores – By Category

Final Scores – By Attraction

Summary:
Nestled just beyond the bustling city of Richmond, VA in the suburban town of Ashland, lies one of the most creative and well-put-together haunts in all of Virginia. Initially, RED VEIN emerged in 2011 by creator Ryan Sligh. It started as a roaming troupe of actors, haunting the queues of various spooky attractions scattered across the state.
But the hunger for horror ran deep in their veins, propelling them toward a darker, more permanent destiny. In 2016, Ryan and his crew embarked on a quest for their very own haunted attraction, a place that would become a home to their most blood-curdling nightmares. Their partnership with Hanover Vegetable Farm in Ashland marked the beginning of an era that would make your heart race and your pulse quicken.
In 2023, RED VEIN unveiled its most terrifying theme yet. Building upon last year's 1987 campground horror, it fast-forwards to 1999. An underground rave unfolds in the bowels of an abandoned asylum, where a deadly street drug known as Double V is passed from hand to hand. Under the ominous glow of a full moon, attendees begin to transform into ravenous werewolves, attacking one another in a frenzied hysteria.
As you navigate through the horrors, the story unfolds before your eyes, leading you to a chilling climax at the House on the Hill. Here, hidden away from prying eyes, a secret society manufactures the drug, and the bloodthirsty Wolf King, along with his horde of transformed campers, awaits in the basement, having lived in the shadows, hunting and killing for years.
---
Cast Score: 8.98
Cast Scores – By Question

Cast Scores – By Attraction

Cast Review:
In the chilling halls of RED VEIN Haunted House, you'll embark on a journey that takes you face to face with an array of around 60 intriguing characters, each contributing their unique touch to your terrifying adventure. The cast did a great job in providing jump scares to everyone in the group.
The chainsaw-wielding maniac, who goes by the name 'Tiny,' is a lurking nightmare in overalls and a skin mask, adding an extra layer of suspense as you wind your way through the haunted maze. The revving chainsaw and his menacing presence will keep your heart racing.
As you venture deeper into the darkness, you'll cross paths with a laid-back Hippie stationed at the bus entrance. He's passionate about sharing tales of secret society conspiracy theories and the purple injections lurking in the fields. Another Hippie beckons you to 'get on his level,' all the while warning about the government experiments and urging you to avoid their lab at all costs.
Other notable characters included the Farmer, who was clutching a sickle and surrounded by disturbing rumors of cannibalistic tendencies. The enigmatic Bunny Man lurks in the shadows intent on delivering a shocking scare. But that's not all; prepare to meet the Dog Boy, a unique hybrid of human and dog, renowned for his extraordinary agility and speed as he prowls through the haunted passages. His presence adds a layer of eerie unpredictability to the experience. He startled everyone who passed by him.
And as you venture further into the haunted depths, prepare to meet the Wolf King. This character is on a quest to gather a pack of wolves to aid in his hunt for unsuspecting human victims, introducing an additional layer of intrigue and suspense to the night. As you navigate this labyrinthine world, avoiding government conspiracies and encountering these mysterious and unforgettable characters, the chilling narrative unfolds before your very eyes, creating an experience that will haunt your nightmares for years to come.
This haunted realm offers a diverse range of scares and interactions, and while some characters had rehearsed lines, a few were caught a little flat-footed when it came to bantering back and forth.
---
Costuming Score: 9.16
Costuming Scores – By Question

Costuming Scores – By Attraction

Costuming Review:
The costumes at Red Vein Haunted House were quite fitting for the scenes. They featured plenty of unique creepy masks that seemed like they were made from human skin, adding a disturbing touch to the experience. Sinister clowns in the freakshow flashed wicked grins, hinting at their less than favorable intentions toward visitors. The tortured ravers were decked out in typical rave attire, complete with glowsticks, which added a fun twist to the scene.
Along the way, we encountered multiple actors dressed as wolves, and their transformation from human to wolf was impressively realistic, thanks to the incredible masks and costumes. These costumes truly brought to life the monsters and wolves in a convincing manner.
---
Customer Service Score: 9.81
Customer Service Scores – By Question

Customer Service Scores – By Attraction

Customer Service Review:
The customer service at RED VEIN was top-notch. When we arrived, we were immediately put in contact with management who gave us some background about the haunt as well as answered our pre-haunt questions. There is a gift shop with plenty of authentic merchandise from coffee mugs to panties to shirts, hoodies, and more. There are also lots of opportunities to take pictures with some really cool gigantic wolves and demons upon exiting.
On the night that we attended, there were 2 food trucks and a vendor market that added additional things to do at the haunt.
Parking was easy to navigate upon arrival and when leaving. There is a lot of info on their website to prepare you for your visit as well. The only thing to note is that you will need to put the RED VEIN address in your GPS. We did not notice a large visible sign in front due to the construction going on at the farm.
Safety is very important at RED VEIN. They train all staff members/actors on safety protocols and call signals over the radio. They have security and roaming managers throughout the attraction, plus a deputy at the box office entrance.
---
Immersion Score: 9.78
Immersion Scores – By Question

Immersion Scores – By Attraction

Immersion Review:
After you pass the food truck area, you quickly begin descending into darkness along a narrow trail that is dimly lit with a few jack-o-lanterns on each side. There are some pretty wicked-looking scarecrows along this trail leading you to the haunt. A little bit of fog along the way helps set the mood when you walk up on a skeleton horse and carriage. With all that you're seeing and hearing on this trail, you half expect something to come to life and chase you.
Just around the corner from the end of the trail entrance is the main haunt queue area that is buzzing with excitement and music. There are a couple of ghouls at the entrance verifying your credentials and doing their part to entertain you once you get near the entrance. The queue area is one location where we'd like to see a couple of characters working the crowd from front to back.
Once you go inside the haunt, you barely get a chance to catch your breath. From the opening Asylum Rave through the Corn, the Woods, and the House, you feel like you're in another world. There's constant looking over your shoulder while the sound of wolves howling and victims screaming is heard from near and far. When you leave the Witch's Woods you expect to get a small break walking through a corn maze, but quickly realize you're not alone there either.
Walking through the first corn area was quite the adventure. There were so many scarecrows and jack-o-lanterns along the path, we felt very outnumbered. The slaughterhouse area in the corn field was littered with intestines hanging from the ceiling in the doorways and lots of dead pigs hanging from their feet.
---
Special FX Score: 9.45
Special FX Scores – By Question

Special FX Scores – By Attraction

Special FX Review:
The special effects at RED VEIN Haunted House contributed significantly to the overall experience. Sound effects played a crucial role, with a selection of rave music that was perfectly in tune with the scene. The eerie ambiance was further amplified by the inclusion of ominous sounds like horns, wolves howling, and distant screams.
The attention to detail was evident in the Asylum section, with realistic bodies, some of them seemingly hosting aliens emerging from within. The air carried a chemical smell, enhancing the atmosphere of toxic waste. Bodies hanging from the ceiling and body bags added to the unsettling environment, along with the presence of carnivorous plants. The integration of large animatronics that suddenly came to life, along with others that descended from the ceiling to launch their terrifying attacks, kept the adrenaline pumping.
Throughout the haunt, a vast array of props and stuffed animals dangled from the ceiling in the arts and crafts area, adding a morbid charm to the setting. The freakshow area of the Woods also boasted a collection of highly effective props that contributed to the eerie vibe of the experience.
The strategic use of fog further intensified the atmosphere, creating an unsettling haze that was well-utilized. A laser and haze section concealed a hidden character who executed their role to perfection, enhancing the suspense and thrill of the haunt.
---
Scare Factor Score: 8.59
Scare Factor Scores – By Question

Scare Factor Scores – By Attraction

Scare Factor Review:
RED VEIN did a great job at scaring everyone in the group. They had those perfect jump-out-of-your-skin moments and sneaky characters who'd pop up outta nowhere. But you know what got us the most? Those crazy machines from the ceiling that'd drop down, ready to freak you out!
The best part? You had your space, so you didn't know what was coming next. No peeking ahead. It was like they had it all planned out to give you the creeps.
And, oh boy, the big finish was a total mind-blower. We can't spill all the beans, but let's just say, there might be a little something about …werewolves in the mix. We came out of the haunt immediately thinking, this was so good!
---
Entertainment & Value Score: 9.69
E&V Scores – By Question

E&V Scores – By Attraction

E&V Review:
Prices range from $21.99 for General Admission (online, it costs more in person) to $71.99 for VIP (online only). With VIP, you'll get to skip GA and Fast Pass for expedited access. You also have the ability to go through the haunt twice in one night. VIP guests also receive a limited edition poster that can be picked up in the gift shop, as well as special discounts on select merchandise. These tickets are limited to 100 per night and only available online.
Cash and major credit cards are accepted. The box office closes at 11 p.m. on Friday and Saturday, 10 p.m. on Sundays and Halloween. They use a timed ticketing system to shorten wait times. The haunt stays open until the final group exits …if you make it out alive…
It takes roughly 30 minutes to make it all the way through, which represents an excellent value for the quality of haunt and scares you'll receive at RED VEIN.
---
View Full Score Sheet
---
Pics We Took From Our Visit:
---
Promo Images:
Click to Enlarge
---
Guest ReviewsGuest Average: 9.7 out of 10
K Sandler – 10/10 – October 30, 2018These people are serious about authenticity and putting right in the middle of red vein legend. …show more prepared to be immersed in Emily's dark tale..If your lucky you'll get blooded.
Hannah – 10/10 – October 21, 2017I would say omg but there's no god at red vein! This haunted house is GREAT!! The walk through was …show more terrifying but I loved every second of it! The actors really do make this haunt different from others in the area. I loved the actors in the line, and the one that split us up before the indoor part was TERRIFYING!!! I had nightmares!! I wish I had time to go back!
Pakawak – 10/10 – October 22, 2016Outstanding design and deployment particularly with the rustic, rural setting. The level of artistic …show more integrity, atmospheric aesthetics, folkloric pedigree and creative rendering is a superlative work and singular experience. There is a legitimate fright factor but, being familiar with the Red Vein Army, I attended more for the anticipated high benchmark for props and setting and was not disappointed…nor will you be. Get thee hence, fiends.
Join ourspookyadventures!
We visit Halloween haunted attractions year-round! Follow us for haunted house walkthrough videos, behind the scenes footage, and more!