Rotten Manor – Full Review
Rotten Manor is a Haunted Attraction located in Holly, MI.
13245 Dixie Hwy, Holly, MI 48442View All Details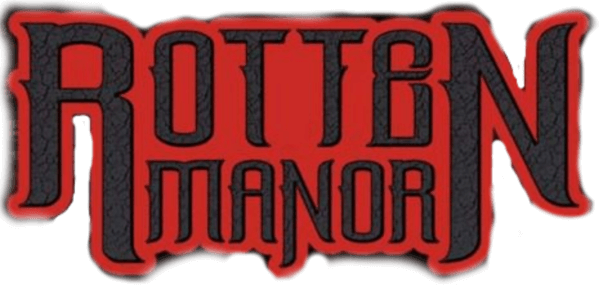 Features:

Free Parking, Restrooms/Porta Potties On-Site, Food/Concessions, Gift Shop/Souvenirs, Optional Games/Midway, "Hi-Tech" Attraction, You will NOT be touched, Original Characters, Uncovered Outdoor Waiting Line, Covered Outdoor Waiting Line, Indoor/Outdoor Attraction, Family Friendly

reviewed this attraction on September 30, 2017.
Final Score:

9.55
Summary:
In only their third season, Rotten Manor has become one of the premier attractions in the Michigan haunt scene. It boasts the largest custom structures of any haunted attraction in the state! There are two huge attractions here; The Rotten Forest and the namesake Manor. They both offer lengthy, highly detailed, immersive, and theatrical experiences, with some really great scares. We highly recommend this haunt be at or near the top of your 'must see' list!
---
Cast:

9.73
Rotten Manor has a cast of approximately 70 – 75 actors between both the Manor and Forest. We found the cast, as a whole, to be quite exceptional and would go as far as saying that there were actually a couple of performances that we would consider to be, among the best that we have ever seen! Our group enjoyed many extended interactions with a wonderful assortment of characters. We normally don't like to give away too much regarding the characters we see, as to not spoil it for the reader but we feel it would be doing the cast a disservice if we didn't at least mention some of our favorite performances. Feel free to skip ahead to the next category if you would rather not know anything beforehand.
The lady in the toy room, the long-haired man in a room full of black oil barrels, the guy in the dummy mask who was playing with "Slappy" the dummy doll, and the mental patient who sang "Welcome to the Jungle" all gave excellent performances. Extended interactions were the norm with much of the cast, but there were two characters who excelled at saying very little. Bubba the Clown and the man wearing a pig's face both kept popping up at just the right time, scaring one group member in particular relentlessly. Often times when we visit an attraction there will be an actor that stands out above the rest. That actor's name at Rotten Manor is Alex, who is a patient at the "Rotten Asylum." We came across his character in 2016 in said asylum on a slow night and what ensued after entering his room was a 10-minute performance for the ages. This time the only thing that kept Alex and his "pussy" from topping last year's performance was the fact that we had another group on our heels, so we had to move on to the next room quicker than we would have liked. Even though the scene didn't extend into the epic length of the previous season, it was still our favorite moment of both attractions. The entire cast deserved applause with even the lesser characters doing a fine job. The only thing we would say that needed some improvement actor wise, was their ability to keep the groups separated. We ran into other groups and had groups run into us on several occasions in the Forest. At one point in the maze portion of the Forest, it became a little chaotic with several groups merging together to make one large group. Perhaps what we encountered in the Forest, was more of an isolated incident because our trip through the Manor was smooth sailing, we didn't see another group at all in the 37 minutes it took to complete our journey.
---
Costuming:

9.38
The costuming and makeup work was top notch. Everything looked professionally done and custom made for their character. We noticed at least adequate cosmetic attention to all the characters, not just the featured performers. The absence of simple distressed street clothes and Halloween store costuming was certainly not missed. Instead, colored contact lenses, professional quality makeup work including prosthetics, Hollywood quality masks and custom-made attire were the norms. Most of the costumes looked complete, believable, and all seemed appropriate for their character's role.
---
Customer Service:

9.55
We found Rotten Manor quite easily with GPS. There is good signage letting you know where to enter, exit and park your vehicle, with free parking available in a large grassy lot out front. The ticket booth is easy to spot, as are the bathrooms and concessions. New for 2017 is the midway, which looks like it came straight from a 19th-century circus. It offers carnival-style games, a gift shop and a burial simulator. We noticed a good amount of roaming and queue line actors that helped to keep the guests entertained during their wait in line. The Manor staff are some of the friendliest and most helpful we've had the pleasure of interacting with. They were eager to help answer our questions and provided some interesting insight about their attraction. A very special thanks to Kristi for being such a helpful and gracious host.
---
Atmosphere:

9.83
Soon after we parked we could hear creepy music and chainsaws in the distance. As we approached we were taken aback by the impressive facade with it's blue and reds lights beaming forth, highlighting the Manor's gothic eeriness. The building looks like it was pulled straight out of a classic haunted mansion horror film. It's a massive, custom-built structure that truly rivals anything we have ever seen before. We noticed several roaming actors and a chilling soundtrack being played. The queue area for the Forest is quite eerie and there is something very unnerving about heading into the dark woods with screams and explosions going off in the distance. This all got us really excited to enter and begin the journey that was lying ahead.
---
Special Effects:

9.6
Rotten Manor's greatest strength, in addition to its cast, is their set design. The level of detail in many of the rooms is truly awe-inspiring. Again we don't want to give away too much, *Spoiler Alert* but we feel we have to applaud a least a few of the sets in particular. The Toy Room was an absolute masterpiece of authenticity and detail. It was absolutely filled from ceiling to floor with what appeared to be authentic Victorian period wooden toys, dolls, and there was even a working carousel in the middle of the room. The church scene was nearly as impressive, as was the enormous clown room that looked like it came straight out of a coulrophobics worst nightmare. The lighting and sound effects were spot-on throughout the entirety of both attractions. Another standout feature was the clever and unique transitions from room to room. Quite often we had to crawl, climb, and jump through innovative, and often hilarious, passageways in order to continue. Although Rotten Manor is primarily an actor-driven attraction, we did see quite a few impressive animatronic creations as well that we found to be quite effective. Then there are the smells…oh the smells! It seemed like every room had its own unique odor, sometimes foul, sometimes rather pleasant, and sometimes just plain odd.
---
Theme:

9.16
The backstory for Rotten Manor Dates back to the 1800's with the reclusive Mr. and Mrs. Rotten who kept their many inbred children hidden away from the rest of society by confining them to the inside the Manor. After their parents passed away, the children grew up and had kids of their own, creating a large family of monstrous inbreds who lived their lives entirely within the confines of the Manor. Now years later they welcome you to come and play their sick game of 'hide and scream.' Knowing the backstory beforehand really added a lot to the overall experience and we felt the theme was very well executed, though we weren't certain whether or not the Forest was supposed to follow the same storyline.
---
Fright Effect:

9.03
During our tour, we noticed a wide array of fright techniques being used. It was a nice blend of environmental hazards, jump-startles, distraction-scares, animatronic aggressors and extended character interactions. There were also long segments of isolation, claustrophobia-inducing passageways, and several utterly creepy tunnels. These tunnels are enormous, damp, and nearly devoid of any light. They are definitely not for the nyctophobic or those who are faint of heart! The actors themselves gave the best scares hands down. There were two actors in particular who followed us throughout the Manor, delivering excellent frights when we least expected it.
---
Value:

9.82
The price of general admission is $25 for both the Manor and the Forest when purchased individually. The 2 attractions can be purchased together for $40. VIP Fast Pass tickets are available for an additional $10 per attraction which we HIGHLY recommend on busier nights where the wait can be several hours long. It took our group 37 minutes to complete the Manor and 33 minutes to complete the Forest for a combined total of 70 minutes. The total tour time divided by the $40 combo ticket price gave us a MPD (minute per dollar) score of 1.75 which is higher than the industry average of 1.5. We all felt that Rotten manor is an excellent value, 70 minutes of high-quality entertainment for $40 dollars is hard to beat! We enjoyed our time at Rotten Manor immensely and feel it's a true contender for Best Haunt in the State of Michigan! Very impressive for a haunt that is only in its third year of operation!
---
Promo Images:
Click to Enlarge
---
Guest ReviewsGuest Average: 10 out of 10
Leanette – 10/10 – October 3, 2019This was my first visit though my 2nd year as a Haunter. I was hugely impressed with the overall …show more atmosphere. So perfectly ghoulish and creepy as expected. Darkened tunnels and secret doors galore.
Carrie Baugher – 10/10 – September 21, 2019This is not my first visit to Rotten Manor, been here several times before but never disappointed. …show more This attraction brings excitement and uniqueness of being set in the woods off a dark main road in the country. Front the moment you walk up every detail has been thought of; from old caskets, an old hearse, the main haunted house that almost resembles an old wooden saloon in the west, this attractions does not disappoint. The actors and scary decor and mechanical zmobies clowns and other scary monsters get you around every corner. The staff and owners take the scaring of patrons seriously, they love their job. The haunted forest with insane asylum is very unique and scary. It also has several small houses that are themed in the woods that you go through that are very fun as well. They have carnival games (even a casket ride), glass house maze, and a regular maze with characters chasing you through every corner. Very exciting.
I have been to many haunted attractions in my life and by far this is the best I have encountered and enjoyed thoroughly. I definitely recommend everyone checking out Rotten Manor, you will not be disappointed.
---
Past Awards
---
2019 Awards
Best Facade - The Gingerbread House (Given by: Team Michigan Macabre)
---