Review of Scared by the Sound Haunted Attraction
Review of Scared by the Sound Haunted Attraction
Review of Scared by the Sound Haunted Attraction
Scared by the Sound
Scared by the Sound is a Haunted Attraction located in Rye, NY.
100 Playland Parkway, Rye, NY 10580View All Details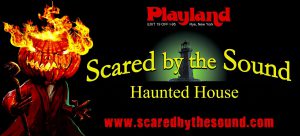 Features:
Free Parking, Handicap Accessible, Food/Concessions, "Old-School" (Low Tech), You will NOT be touched, Original Characters, Covered Outdoor Waiting Line, All-Indoor Attraction
Team Crypt Creepers reviewed this attraction on October 13, 2017.
Final Score:

7.76
Summary:
When I was younger, I remember taking school trips to Rye Playland. Fun memories of roller coasters and thrill rides. That's where I first heard "X Gonna Give It To Ya." Gooood times. But years later I returned, to see my childhood shrouded in darkness and sinister music. This once bright and cheery place was turned into their seasonal event, "Scared by the Sound," something the adult me could enjoy. The rides are all turned off, and the only thing to satiate your craving for amusement is their haunt, a twisted walk through rooms of terror. A different kind of thrill awaits you here, and if you are not careful, your body may just wash up on the beach nearby.
---
Cast:

8.1
The ghosts and goblins are replaced with the scariest monster of all…man! (yeah, deep, I know). You won't find many werewolves or demons, but instead will have to fend off crazed inmates, evil fortune tellers, and a handful of dapper gentlemen. The scaractors are very in character here, and use some great dialogue to interact with the guests. Rolling with the punches and going with the flow, these scaractors are quick with a response to guests. Some of the actors had fun set pieces to work with, though the prop of choice seemed to be a small block of wood. Simple, but effective when slammed on a wall, or when an inmate claims it to be their new cell phone, and they can only receive "BLOCKED" calls. (I'm a sucker for puns, so that amused me more than it should have).
---
Costuming:

8
Avoiding anything over-the-top, the costume choices here are simple and effective. Suits in tatters and ripped up clothes, the subtlety is what makes it so creepy. Aside from wondering why an English gentleman is greeting you in a tomb, the costumes match the décor and the scenes. Zombies prowled the graveyard, crazies circled the asylum, and all looked their parts.
---
Customer Service:

8
The line to get in was extremely short, but if you did end up getting stuck in the line, they have trailers for old-timey horror films playing on a projector. You know, the ones with scenes of people running and big white letters that read "RUN! HIDE! SCREAM! THERE'S NO ESCAPING…" whatever the creature of the week is. The staff here is friendly and personable, having conversations with guests while they get tickets or wait in line. Being an amusement park, it is easy to find and pretty easy to navigate once you get there.
---
Atmosphere:

8.5
Eerie music, creepy laughter, and an ominous voice booming a welcome to guests greet you as you arrive at Scared by the Sound. The walk from the parking lot to the park has a photo op or two with a haunting hearse and a pumpkin ghoul. A feeling of dread comes over you as you look out at the rides, none of them moving, in the deep darkness. The smell of the beach permeates the air, which is the only calming thing in this sinister setting. At least until you get to the comedic old-timey movies playing on the line, then things lighten up again.
---
Special Effects:

7.9
The set designs here are a lot of fun, with fake walls, vortexes, and even a lifting staircase. And yes, vortexes is plural, because you get not one but TWO of them! Okay, maybe that's not something to write home about, but it was unexpected just like the inflatable that is pretty loose, until you are about halfway through, and they pump more air into it, tightening as you walk. Some fun animatronics await you in some rooms, and the lighting is very well done.
---
Theme:

N/A
In this maze of mayhem, there is no theme. No overarching glue to hold this madness together. You enter and lose yourself in the chaos that is Rye Playland taken over by evil spirits. Wine cellars of doom! Asylums of doom! Tombs of doom! No rhyme or reason, only DOOM!
---
Fright Effect:

7
The fright is mixed in with a few laughs at this playland. Scaractors jump out from corners, while others stall you with a joke. Though most of the scares are right in front of you. A scaractor would be standing down a hallway, staring at you as you get closer, then scream in your face and either disappear or stalk the rest of the line of guests. The front of the line got the brunt of the scares, though the scaractors did a decent job of including the middle and back as well. A few decoys and distractions were used to disorient guests.
---
Value:

6.85
This haunt is a bit on the shorter side, being only about 15 minutes. But a ticket price of $20 is not bad at all for what you get, which is some great sets and some fun scaractors. "You'll laugh! You'll scream! You'll never escape from…SCARED BY THE SOUND!"
---
Guest ReviewsGuest Average: 0 out of 10
Sarah – 10/10Challenge Accepted was awesome! Me and my boyfriend were looking for escape rooms in our area, and …show more as poor college students, price was a big factor. Despite being only two small locations in the mall, they have multiple rooms, at 20, 40, and 60 minutes long, with the 20-minute rooms being only $10 each! We've been back multiple times, and loved every one! Staff is very helpful and enthusiastic about their job, and is thrilled to explain all the little secrets after you escape. Will be back every time they make a new room!
Norma – 4/10We visited this attraction on the last night of their 2018 season I believe. We did show up late …show more (about 20 minutes before they closed) and it was dead in the waiting line. Regardless, every group that was in the haunt somehow ended catching up to one another. We walked as slow as we could knowing there wasn't anyone behind us but we still couldn't stay away from the group in front of us. They had one teenage female that was petrified of everything so all the monsters kept taking advantage of it, cornering her every chance they got. They also followed her through multiple scenes that weren't theirs while our group tried to stay behind some and there were no entertainers around because they were all following her. When they would stop and turn around to go back to their base spots (if they even have them there), some of them just walked passed us without any effort towards scaring us. It was a disaster. This chic's name was Lauren and by the time we got to the exit of this thing, we were relieved that we didn't have to hear her name called out over and over and over anymore. She had to of been extremely annoyed by it herself. It took all of the fun out of it. Actors even stopped us in some of the maze portions so the other monsters could entertain their group for quite some time and they would just be staring off into outer space. The only way we knew they could talk is because they said Lauren's name already. Besides that, costuming was mostly store-bought quality. Nothing different to look at here. Scenes were the same. Some looked as if they had been built out there in the woods for years and they've sat through the seasons and no one's ever gone back to touch them up. Parts of the maze where there's a lot of plastic and wood seem to possibly be a danger. We didn't see any actors for quite some time in them bc they were following Lauren and if someone ignited one of these things, I'm afraid it would have taken us a long time to find the exit. Some spaces were very tight for us, if those were to fill with smoke where there are roofs, I don't think that would be good at all. At one point, we didn't know where to go at all so we weaved through these pipe-like things and found a hole and we started walking on this really dark path into the woods. There were props and things out there but 0 lights. Come to find out, it looked like a previously closed portion of the trail because when we got to the end of it, there was no way to get back into the maze. We had to crawl under caution tape to get back in. That right there tells you that no actors were paying any attention to our group. We paid full price for our tickets that night and we honestly should have just passed this place up. We've been here before too and it wasn't that bad. The highlights of the trip were the gentleman that introduced us to the park and gave us the rules before we went in. There was also one clown (Pickles, maybe
?) that actually put effort into scaring us but he was mostly one of the only ones. In one of the mazes there was a chainsaw assailant behind a door and we could hear the saw and see him through the crack of the door but we couldn't get in. When that door finally opened, holy shit! That was the best scare in there for sure! Also, there are places where you will need to duck down, tight corridors as mentioned above, uneven terrain, and a lot of walking (especially if you're bad at mazes) so be prepared for that.
Norma – 6/10Maybe we just went on a bad night but we weren't very impressed with this haunt. We had heard many …show more good things about it and we ended up with a free Saturday night so we gave it a shot. We showed up at probably 9:30 at night. Waited in line maybe 15-20 minutes so that wasn't bad. We really didn't have problems with spacing inside the haunt except for a few times but we were able to slow down and it helped when there wasn't anyone behind us. I will say, there were a lot of unique things in the haunt portion. One interactive set was very different and unnerving. Some of the characters were really into their roles while others were bland. One was sitting on top of a washing machine and he jumped down and we were thinking, "Oh shit" but he didn't do anything, he just jumped at us a little and said, "What?" In the outdoor portion of the haunt it was a bit too dark to see the characters, especially the Creeper. Our favorite part was the alligator! They know how to utilize this now, commonly-seen prop to the fullest for sure! If you are likely to pee your pants, you just might lose it on that one! I would give the house itself a 7 out of 10. Now we were under the impression that the corn field was haunted too. Although it was a good maze, there were three scareactors in it and they were terrible. No lights, sounds, sets, nothing but mud and corn and the dark. At first it was creepy but after we walked and walked and nothing happened, we were aggravated and ready to find our cars. The last actor that we came across could have hidden well since they were in all black but they didn't, they stood in the middle of the trail acting like they couldn't see, whispering to us as we walked asking us if we were customers. Wow. Don't upgrade to the corn if you're expecting a fright in there, it won't happen.