Scarehouse Windsor – Full Review
Scarehouse Windsor is a Haunted Attraction located in Windsor, ON.
1441 McDougall Street, Windsor, ON N9A 1B7View All Details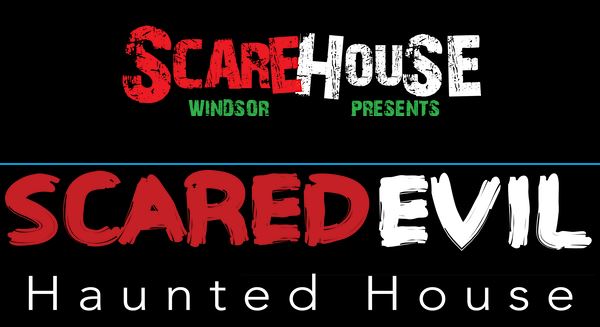 Features:

Free Parking, Paid Parking, Restrooms/Porta Potties On-Site, "Old-School" (Low Tech), "Hi-Tech" Attraction, You will NOT be touched, Original Characters, Indoor Waiting Line, All-Indoor Attraction, Family Friendly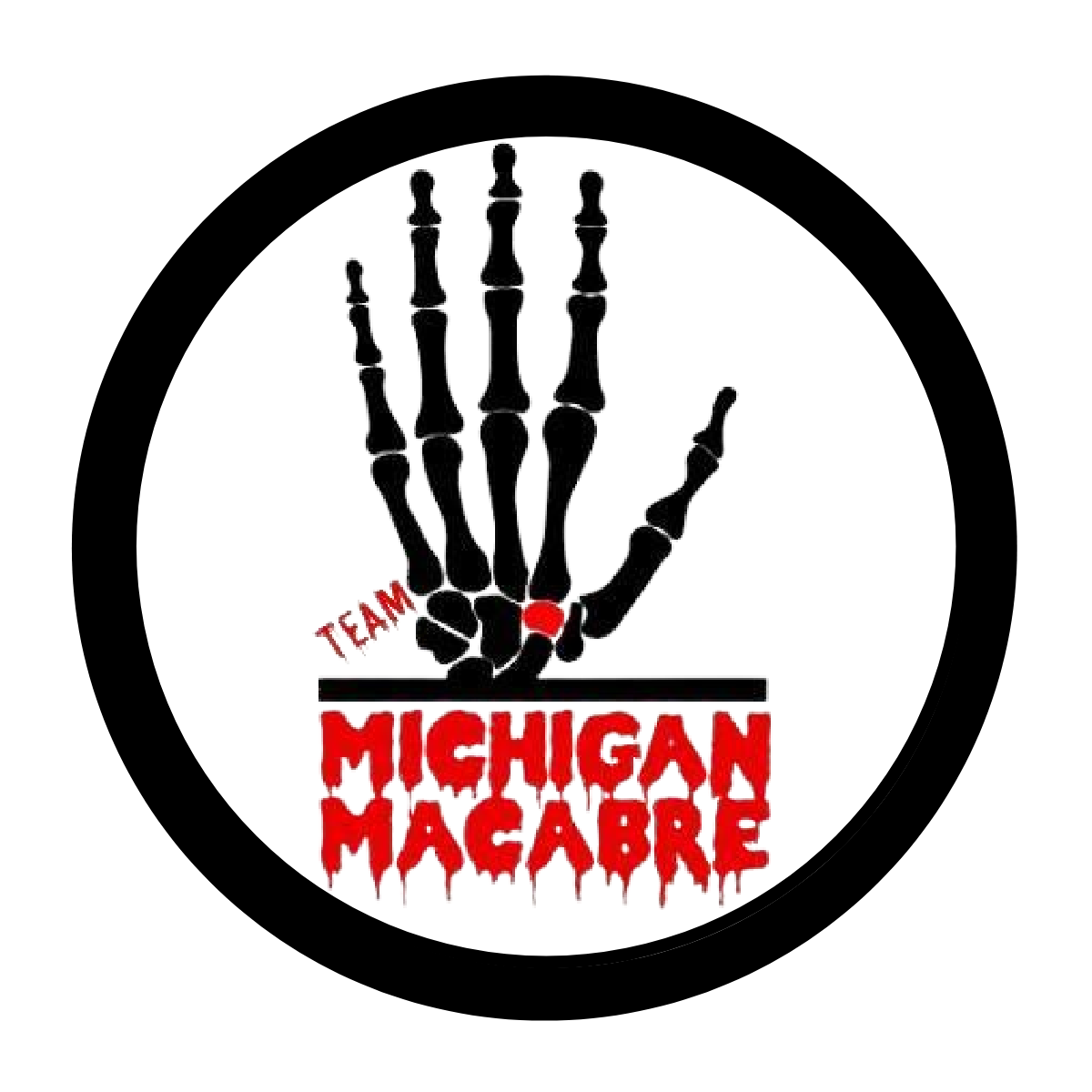 This attraction was reviewed on October 11, 2019 by Team Michigan Macabre.
How Do We Get These Scores?

Final Score:

7.55
How Did We Get This Score?

Summary:
Located in an inherently creepy warehouse district, you will find Scarehouse: Scared Evil and Haunted Darkness. Scared Evil is where you will complete your civil duty of allowing the purge of stored nightmares within the walls of the warehouse. Nightmares are kept in the warehouse for 11 months, and during the remaining month, it is your duty to release their energy to keep the general population safe.
Haunted Darkness is an add-on attraction to Scared Evil, which is an entirely dark walk-through where your sense of sight is taken from you and replaced with fear. Many scary surprises are awaiting you within Scarehouse, won't you do your duty and pay them a visit?
We visited both attractions; however, since Haunted Darkness is an add-on, it does not qualify, nor have all the elements of a normal haunt; therefore, it is not included in the scores below.
---
Cast: 7.12
How Did We Get This Score?

The actors within Scared Evil are a mix of paid and volunteer actors; all have attended Boo School, per the owner. The night we ventured through, we witnessed about 30 actors poised for action. The length of the haunt allows for large numbers of actors to be used. Even though it was a lengthy walk, there were areas that could have used an additional actor or two. Additionally, there were a few areas with multiple actors together, which did not necessarily add to their effect, perhaps separating those actors would suffice.
Most of the actors were believable in their roles. The Gargoyle was the highlight of the haunt! No spoilers here but, the Gargoyle went above and beyond into his character and impressed us as well as terrified us!
This haunt primarily used their actors to scream/startle/and ask things like 'Wanna play a game?' One scene sticks out where an actor demanded our face, and of course, the giggling man who successfully provided a scare we never saw coming!
---
Costuming: 8.08
How Did We Get This Score?

Two costumes were movie quality within Scared Evil; we wish we had more time to truly appreciate them! Those two actors were awesome, but also the only ones of that caliber. There were a few very creepy masks paired with one-piece jumpsuits. A majority of the actors were in dirtied/bloody street clothes and make-up ranging from detailed to black eyes and white faces.
We saw everything from little girls with masks, to prisoners, to a rabbit and pig mask. One mask, in particular, was scary and daunting with no visible eyes or discernible face. Additionally, the two actors in the swamp wearing body suits were a nice creepy touch.
---
Customer Service: 7.88
How Did We Get This Score?

The haunt is challenging to locate. Nothing has been altered on the outside of the warehouse to alert you that there is a haunted house inside. The entrance is a side door to the building with a small sign that states, 'entrance.' There is no parking lot near that entrance. Granted, it gives it an eerie nondescript effect, but you can't appreciate that until you know you are in the right place, to begin with. We had to ask someone if we were in the right area, and upon being directed to the back of the building for parking, did we then see a sign for the haunt at the back.
Parking is limited on-premises. There is an option to pay $5.00 (Canadian) to park in the closest lot. There are parking lots within the vicinity noted on their website at other local businesses. This haunt is not wheel-chair accessible due to the many stairwells to walk through and small corridors.
Staff is at the entrance to greet you and guide you to the interior through the rustic warehouse stairways and halls. Once inside, you will observe additional staff and the ticket booth. Staff was very kind and answered all our questions.
Bathrooms are on-site, and there are security personnel as well as cameras to ensure your safety. The website for Scarehouse is a quick and easy way to order tickets online.
---
Atmosphere: 5.3
How Did We Get This Score?

When you arrive, you cannot tell you are at a haunted house by looking at the building. There is one sign at the rear of the building but no signage at the entrance. When you walk inside, you feel as though you are walking into an old warehouse complete with dark and dingy corners, paint peeling off the walls, and metallic reverberations. This does not scream out, 'Welcome to a haunted house!' but, it does provide an unnerving feel upon entering. Once up the stairwells and at the ticket booth, is another vibe with a photo opportunity to become one of the dead. The ticket booth is flanked with red curtains and fog spills out from the entryway into the opening to the haunts as well as the 'Dead Way'. This is a never-ending hallway with red lights and fog to hide the monsters from view.
The queue line for Scared Evil has a lot of detail and purpose. Your role as a cog in the sacrifice machine housed within the warehouse is explained to you. Giggles the Clown is an expert at making you feel welcome. Other queue line actors are also present, and the sounds of sirens and a government announcement regarding your purpose, all prepare you for what is inside.
---
Special Effects:

7.66
How Did We Get This Score?

Initially, you are put into a room detailing the intention of the warehouse – to house the nightmares which need to be purged. From there, you are dropped into a world of many different scenes and scenarios. Uneven walls, bridges, things touching you from above, and times when you need to fight your way through the props all occur, trust us, it is not for the faint of heart!
Many of the walls were black and uneventful, some scenes were much more detailed than others, and it was inconsistent throughout.
Some rooms had one focal point; an all but empty room and one prop or actor. Others were detailed with floor to ceiling items. There were quite a few areas walking through where there was no interaction at all, including any meaningful sounds to be heard.
Some background music is heard throughout but mostly the sounds from each of the scenes echo the halls. We did run into other groups, which always negatively affects the experience.
There is a lot of room for improvement and much potential within this haunt. We cannot wait to return to see the enhancements for next time!
---
Theme:

6.9
How Did We Get This Score?

We loved the idea of the theme for this haunt (which has already been explained above). We were eager to experience it all the way through, but felt the theme fell short once you were actually within the haunt. Outside of the first room you are put into, the theme somewhat disappears. Once inside, it honestly felt like it could have been any other haunt. We wanted more of the warehouse feel and the true nightmare experience since that is why we were there, (enter theme) to come into contact with all the horrors housed there. They have a lot of ways to incorporate the theme throughout, and we hope they use this unique setting and theme to great lengths in the future!
---
Scare Factor:

7.62
How Did We Get This Score?

Scared Evil did catch us off guard and had us screaming a few times. The scares that got us were primarily those of distraction, jump scares, or sound. One actor timed his scare perfectly all the while laughing as we walked into his trap. The swamp and the actors involved terrified one of the members of our group. Again, the gargoyle owned his scene, making us hide for cover.
Drop panels and bursts of air, large animatronics, and contorting actors all add to the many frights of Scared Evil.
---
Entertainment & Value:

8.78
How Did We Get This Score?

It took our group 18 minutes to make our way through Scared Evil at $18 (Canadian) and that comes out to be a 1.0 minute per dollar ratio. There is also an option of a $25 entrance fee, which includes Haunted Darkness. Even though it was not reviewed here as it is not it's own haunt with admission, incorporating Haunted Darkness and that combo price would have been a 1.36 minute per dollar ratio as it took us 16 minutes to find our way out of Haunted Darkness. The value is on point, and we have no qualms about the cost of the attractions. It is worth your money for a good night of scares.
In addition to the haunts, henna tattoos and tarot card readings were also available for your entertainment. The space within this warehouse is immense, and the owner informed us that he is only currently using a third of the total square footage. Scarehouse has enormous future plans in the works and the space to carry them out!
---
How Did We Get These Scores

---
Guest ReviewsGuest Average: 9.8 out of 10
Sandra Iannetta – 10/10 – October 7, 20223 grown women screaming laughing and clinging to eachother throughout the whole monster package deal …show more and even though we had to be rescued in the dark tunnel one because we were not paying to much attention to finding our way out..we had a riot !! Thank you to all the actors !
Gary smith – 9.6/10 – October 27, 2018We were at a Haunt in Detroit and when we searched for directions we saw this Haunt in Canada. It …show more was really close. So we decided to go. Wow! It was awesome. It's in an old 3 story warehouse and from the get go, it has a really creepy vibe. Nothing I have experiences before from the normal haunts in the US. And it was inexpensive. It was 15 bucks and if we exchanged our money into Canadian Money it would have been 11 dollars. What a gem of a Haunt. You gotta check it out.
---
Past Awards
---
2019 Awards
Best Contortionist - The Girl in the Bathroom (Given by: Team Michigan Macabre)
---