Scream A Geddon – Full Review
Scream A Geddon is a Haunted Attraction located in Dade City, FL.
27839 Saint Joe Road, Dade City, FL 33525View All Details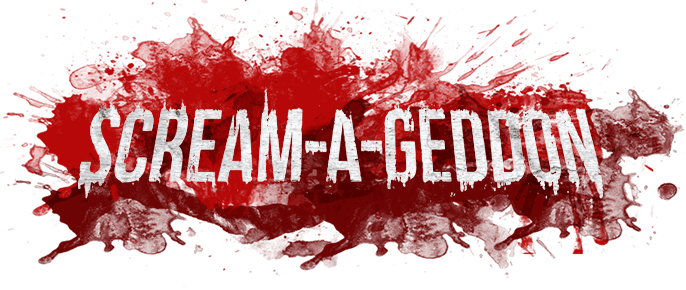 Features:

Paid Parking, Food/Concessions, Gift Shop/Souvenirs, Optional Games/Midway, Original Characters, Uncovered Outdoor Waiting Line, Indoor/Outdoor Attraction

Team Giraffic Shark reviewed this attraction on October 5, 2017.
Final Score:

8.76
Summary:
SCREAM-A-GEDDON successfully creates a unique multiple attraction haunted experience in the middle of the woods where the forest and country setting is perfect for the scares to begin. SCREAM-A-GEDDON truly has something for everyone including a Halloween themed MONSTER MIDWAY with food/beer, games, souvenirs, Zombie paintball and roaming characters. For those looking for scares, they range from a haunted hayride (CURSED HAYRIDE) to a dark trail through the forest (DEAD WOODS), a 3D house (BEDLAM 3D) and two interactive 'hands-on' experiences for those looking for a more extreme haunt experience (INFECTED: GROUND ZERO and BLACKPOOL PRISON).
These interactive houses are truly stand outs and unlike any other attraction in Central Florida, where they escape from the 'They Can't Touch You' rule, if you choose to be interacted with (indicated by a glow necklace, which you can opt not to wear, or can take off halfway through the haunt should it become too much).
Having grown and improved from a successful first two years, Central Florida haunt enthusiasts will enjoy returning year after year to see what's new and changed at this exciting haunt with a night full of fun and scares. This year's focus was on upgrading the INFECTED: GROUND ZERO haunt to become a next level interactive haunt. The attraction has been completely overhauled bringing the interactions and scares to a new level.
SCREAM-A-GEDDON is a hidden gem, so far in the woods that you'll wonder if anyone can hear your screams'
---
Cast:

8.48
The SCREAM-A-GEDDON cast has a little bit of everything, from cast truly dedicated to delivering a great story and scares to those just going through the motions lacking the necessary dedication to character and scare tactics.
The two interactive haunts, BLACKPOOL PRISON and INFECTED: GROUND ZERO deliver the strongest casts, working together to give an interactive experience while keeping the flow of the attraction moving and making sure that everyone gets a unique show. The weakest cast overall was that of the BEDLAM 3D house. Sadly, upon entering some of the rooms in the attraction, the performers aren't ready to scare. In one room, performers were caught having a conversation out of character for a few seconds before assuming positions to scare. Also, in a couple spots, the performers were not quite in position when we turned the corner, ruining a potential scare typically hidden by camouflage. This being said, one of most effective and simple scares came from BEDLAM 3D in the checkerboard hallway.
The amount of cast seems greater this year than in years past. The two interactive attractions had plenty of performers to interact with each and every Guest, not leaving anyone untouched. CURSED HAYRIDE was a little over saturated in the finale, which make for a chaotic cacophony of dialogue and action. While this makes for a good finale moment for the hayride, these performers could be better utilized to fill out dead zones in BEDLAM 3D and DEAD WOODS, ramping up the scares in those locations, while giving CURSED HAYRIDE an opportunity to deliver a clearer finale scene.
INFECTED: GROUND ZERO has a much stronger storyline this year, and the direction of this attraction has really proven successful. Each character you encounter has a definite objective and strong concise scripted moments to keep the story moving along without lagging or lingering. This speaks strongly to the clear and strong direction for the performers, but also to the Cast themselves for staying dedicated to the story and the interactions with Guests.
---
Costuming:

8.61
Costuming overall is very well done at SCREAM-A-GEDDON. Costumes fit the theme for each attraction, and while not overly detailed or elaborate in most cases, the job gets done effectively. The lesser amount of detail is not bothersome due to quick glimpses in the dark while venturing through an attraction, where extensive costume detailing is often lost or not noticed. The characters in the MONSTER MIDWAY strolling around have more detailed costumes and makeup which is important since these are in brighter areas and seen for extended periods of time by Guests during interactions.
Similarly, though not overly detailed in most locations, the makeup also does the job of distressing characters and setting them in the appropriate theme. Masks are used sparingly, and when used are in effective and appropriate roles, which is a plus with so much interaction in the haunts. In a couple of the attractions, camouflaged costumes are used to huge advantage, blending into the surroundings until the perfect scare moment.
The only downfall to the themed costumes are personal accessories which detract from the story. Though understandable, modern glasses seem out of place on an infected military patient. Similarly, watches were noticed on some performers, distracting from their themed costume especially when in highly interactive areas. Though probably unnoticed by most Guests, the attention to detail in costuming will help sell the character credibility, theme and story.
Though simple, the costuming highlight is BLACKPOOL PRISON. Effectively distressed and tattered, this prison gang comes to life through their overall look featuring cuts, bruises, modified street clothes and various accessories to make it feel like you are, in fact, walking through an active prison.
---
Customer Service:

9.63
All of the Guest facing employees are very friendly and helpful, and often engage in conversation and enjoy answering questions and talking about the haunt. Not one less-than-great employee was encountered during the evening. Of special note were the workers assisting Guests on and off of the CURSED HAYRIDE, and while moving the heavy staircases in and out of place and helping Guests on and off by hand, they managed to stay extremely friendly and helpful engaging folks in conversation, and thanking us for waiting for the ride.
Employees at the front of each line quickly and effectively spiel the rules and guidelines for each attraction, ensuring Guest and Cast safety throughout the attraction, which is especially vital during interactive haunts. The one safety concern of note would be an added focus on safety moments through the house. While BLACKPOOL PRISON has many 'head banger' moments, they are visible, padded, and well guided by the performers. The slightly less visible and not-so-padded moment in INFECTED could be set up a little better so as to help keep Guests aware and safe. A nearby Guest hit her head on this opening even though she had been through the haunt previously that night.
Our hosts for the night, Adam and Vanessa were extremely friendly and helpful. They set the expectation for Customer Service from the other employees, and not once did we encounter someone with less than excellent Customer Service. This sets a great reputation and expectation for the attraction, creating a higher likelihood of having return Guests in the years to follow.
---
Atmosphere:

9.67
One of my favorite parts of the attraction as a whole has to be the atmosphere. Though not by design, the road leading to SCREAM-A-GEDDON is a long, dark road through the country, with nothing but dark fields and forests on either side of the road. After miles of that, a sign comes out of nowhere and you are directed to park in the field, adding to this country scare grounds feeling. While walking towards the attraction, you see fog and smoke rising from the different haunts and flame cannons far away in the woods. All of the nerves and excitement grow as you approach the gate.
Upon entering, you find yourself in a carnival of sorts in the MONSTER MIDWAY, with food trucks, game tents, souvenir tents, and even zombie paintball! There are lights strung in the trees and fire pits adding to the ambience along with the scent of kettle corn, hot dogs, cotton candy, and other delicious treats. Fun popular music loosely fitting the Halloween theme is played to create an upbeat and energetic, yet still relaxed atmosphere. Characters stroll the area and while most don't go around attacking scares, they definitely set the scene and provide the creep factor and begin to set the expectation for the interactive elements that lie ahead.
---
Special Effects:

8.28
Fog, Flames, and Scents, oh my! Effects are very well used throughout the attraction, including my favorite, and often overlooked, scent! BLACKPOOL PRISON, for instance, smells dank and dirty, much like a prison of this sorts would likely smell.
Flames are HEAVILY used throughout the CURSED HAYRIDE, however they seem to be in more key locations and utilized more effectively than in years past. There are some great large scale effects in CURSED HAYRIDE, however some of them could benefit from added effects or masking to camouflage performer elements that aren't meant to be seen in order to sell illusions and effects.
Some great and original effects are utilized, especially in INFECTED: GROUND ZERO including some of the inspection equipment and tools used during the interactions.
Unfortunately, the full moon created a much brighter experience on the CURSED HAYRIDE and DEAD WOODS which gave less mystery and fewer dark areas of the forest for performers to hide in. Other than that, lighting is used effectively throughout, including some fun shadow distraction in DEAD WOODS. The mannequins in DEAD WOODS however could use some more facial detail and perhaps placed in darker corners to pull off the illusion and distraction moments, as it was rather noticeable that they were not performers.
---
Theme:

8.19
Wherever there is a theme to be held, SCREAM-A-GEDDON does a pretty good job staying true to it. With only minor exceptions, and some loosely themed attractions, everything fits. This being said, the removal of the machine gun flame thrower in the CURSED HAYRIDE was very welcomed as it seemed a misfit for the western theme.
BLACKPOOL PRISON and INFECTED: GROUND ZERO have to be the most themed areas, and BEDLAM 3D has the loosest theming without a solid concept and overall theme, though not bothersome since it is only advertised as being 'bedlam'. That being said, more bedlam and manic activity would really up the intensity in this attraction, matching the title a bit better.
As mentioned earlier, the updated script, storyline, and character development has really taken INFECTED: GROUND ZERO to a new level, and the attention given to developing this attraction in the past year really shows.
DEAD WOODS theming is also pretty great, albeit simple, where you wander through the woods on a very dark but marked path, entering many small run down, very rustic cabins that seem to have been part of the landscape for years. The one added feature, and seemingly out of place is a closet full of clothes on white plastic hangers. Given the costuming of the performers, a full closet of clothes seems out of place in this minimalistic rustic forest setting.
The story of CURSED HAYRIDE, though overall clear and themed well, could benefit from a stronger script and story delivery, especially towards the end of the haunt, where it gets a bit manic and chaotic. If lines were more clearly delivered, throwing focus to set up the scares and big moments, the scares would be more effective and the story would be clearer overall.
SCREAM-A-GEDDON does a great job of making five unique and distinct themed attractions transporting Guests to different worlds and stories for each. Step inside and become the newest member of the stories!
---
Fright Effect:

8.4
SCREAM-A-GEDDON truly has something for everyone from the not-as-scary though somewhat creepy MONSTER MIDWAY to the pulse pounding BLACKPOOL PRISON and INFECTED: GROUND ZERO and everything in between. No matter what your level of fright desire, it's there for you.
While I stand strong on my belief that hayrides are challenged to be scary by design, SCREAM-A-GEDDON does a great job of creating unexpected surprises and scares leading to some startling moments, impressive for an attraction of this scale.
Scare tactics were varied, and due to the groups being spaced out, everyone got adequate scares and had to maneuver the attractions themselves. Scares and distractions were varied and unpredictable to keep you guessing and surprised the whole time. The only attraction that suffered from down time traveling throughout was BEDLAM 3D which had several hallways and rooms with little to no scares. Similarly, DEAD WOODS and CURSED HAYRIDE could benefit from a few more camouflaged scares in the dark spots between scenes to maintain the intensity and suspense.
---
Value:

8.83
For what other independent haunts will charge for admission to one or two houses, where you spend the majority of time in line, SCREAM-A-GEDDON charges for admission to their scare grounds and all attractions. Much like a theme park, admission to the different haunts is only limited by the hours of operation. Because of this, I suggest getting there as close to opening as possible, and staying until the attractions shut down. Similarly, if able, I recommend going mid-week when crowds are less. We visited on a Thursday night, where the hours were 7:30-11, and could have experienced all the attractions twice. SCREAM-A-GEDDON also uses surge pricing, where weekends and event nights closer to Halloween are more expensive.
SCREAM-A-GEDDON does offer a VIP FAST PASS option which gets you to the front of each line once. In the middle of the week this upcharge option isn't usually necessary due to crowds, but on weekends and closer to Halloween, it certainly would be a nice option.
SCREAM-A-GEDDON often offers several deals to drive sales on less popular nights, such as discounted ticket nights and discounted drink nights. However, these are mostly found through their social media accounts, so be sure to follow them and check before you head out to see if they are running a deal, and what the password might be for drink deals! They also frequently have contests for free tickets which are definitely worth participating in if you plan on going.
Parking is the only required charge above ticket price. This runs at a slightly high price ($10) compared to ticket prices which are very reasonable, and though it may be partially to encourage carpooling, I think the distance from cities would limit the amount of single cars in the same party. Half that price would seem a bit more reasonable as groups have already spent a good amount of money to enter, as well as all of the other items for sale such as food, drink, merchandise and other fun.
Get in the car, throw on some creepy music, and enjoy the drive into the country to experience this unique full evening haunt, where your screams of terror may go unheard even by the closest neighbor. The value of SCREAM-A-GEDDON is unmatched, providing a substantial amount of entertainment for an entire evening of enjoyment at less than half the price of major theme parks.
General Admission: Starting at $20.95
VIP/Fast Pass: $ Starting at $36.95
Parking: $10
Group discounts available, see website for specific date pricing.
Tickets are $5 more at box office. Buy Online and SAVE!
---
---
Join ourspookyadventures!
We visit Halloween haunted attractions year-round! Follow us for haunted house walkthrough videos, behind the scenes footage, and more!