Review of Scream A Geddon Haunted Attraction
Review of Scream A Geddon Haunted Attraction
Review of Scream A Geddon Haunted Attraction
Scream A Geddon
Scream A Geddon is a Haunted Attraction located in Dade City, FL.
27839 Saint Joe Road, Dade City, FL 33525View All Details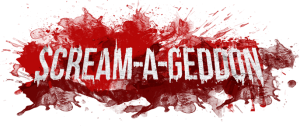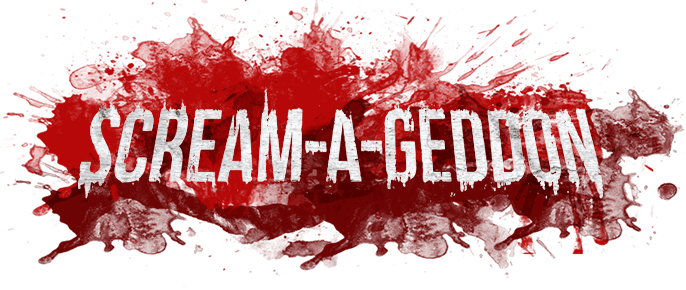 Features:
Paid Parking, Food/Concessions, Gift Shop/Souvenirs, Optional Games/Midway, Original Characters, Uncovered Outdoor Waiting Line, Indoor/Outdoor Attraction
Team Giraffic Shark reviewed this Haunted Attraction on September 29, 2018.
How Do We Get These Scores?

Final Score:

8.67
How Did We Get This Score?

Summary:
SCREAM A GEDDON returns for 2018 with a continued dedication to improving their haunts by adding, updating, and switching out attractions. For 2018, three new attractions were added, including RAGE 3D, DEMON'S REVENGE, and the upcharge attraction ZOMBIE PAINTBALL ASSAULT.
RAGE 3D is a massive improvement from the previous BEDLAM 3D, adding effects, better scares, and a fun soundscape. ZOMBIE PAINTBALL ASSAULT replaces the previous CURSED HAYRIDE and, while some may miss the fun of the hayride, the paintball attraction is very well done and lots of fun. DEMON'S REVENGE is a fantastic addition to the lineup, featuring immersive, detailed sets, intricate technical programming and effects, as well as a great storyline.
After talking to Geoff, of the creative team, SCREAM A GEDDON has no intention of slowing down, with plans to continue to update the attraction in future years. With a reasonable ticket price, and great new things to see, SCREAM A GEDDON is highly recommended for a fun night out for newcomers or folks that have been to the haunt in previous years.
---
Cast:

8.45
How Did We Get This Score?

SCREAM A GEDDON currently staffs over 120 actors throughout their various attractions, with more joining in the weeks leading up to Halloween. Performers go through a thorough training to learn the various types of scares and the creative team works to perfect technique and place actors based on their skills and strengths. This attention to training and placement really shows as Cast is dedicated to their scares, distractions, and storytelling. Cast works together to create great team scares, especially in BLACKPOOL PRISON (though not as separation-driven and aggressive as in years previous), and the finale scene of RAGE 3D. Cast in DEAD WOODS struggled to get good scares with groups running into each other, and repeating the same lines for each group, ruining any illusion or storytelling by parroting the same words over and over.
---
Costuming:

8.52
How Did We Get This Score?

Costuming at SCREAM A GEDDON runs a wide spectrum from dirty distressed "street clothes" in DEAD WOODS and BLACKPOOL PRISON to fully-themed, elaborate costumes with gorgeous detail in DEMON'S REVENGE. The makeup and masks are very well done also, including detailed and accurately-distressed and -affected human makeup, and realistic masks and makeup for various creatures, clowns, etc. With DEMON'S REVENGE being the newest attraction, the attention to detail and exquisite costuming shows great promise for the level of time and detail SCREAM A GEDDON is willing to put into their show. RAGE 3D shows a strong improvement in costuming and masks from BEDLAM 3D, and BLACKPOOL PRISON continues to offer hyper-realistic costuming and makeup with gangs of prisoners throughout in tattered, dirty and distressed clothes. DEAD WOODS, while accurately representing forest folk, could benefit from some greater variety in characters and more detailed looks to assist with storytelling and scares.
---
Customer Service:

8.98
How Did We Get This Score?

Customer Service received at SCREAM A GEDDON is normally top notch, with fun employees interested in chatting with Guests and clearly having fun with their job. While some of these employees were encountered, especially the patient, helpful, and funny guy running the hatchet throwing attraction, there were also a small number of employees going through the motions of the job without taking the extra step to provide excellent Guest Service. The haunt puts an extreme amount of effort and dollars into their marketing, with a large amount of billboards, social media, and radio advertising. The website is thorough and detailed, and information is very easy to find. The attraction itself is in the middle of nowhere, however with the address on hand it is easy to locate with GPS directions.
---
Atmosphere:

8.8
How Did We Get This Score?

SCREAM A GEDDON attractions surround a central area, called MONSTER MIDWAY, featuring many different food and drink stands along with games and other activities. There are several picnic tables and fire pits (with s'more kits being sold) allowing for a fun area to relax, unwind, and watch the roaming monsters as Guests catch their breath between attractions. Teasers of the attractions can be seen without giving too much away, including the church from DEMON'S REVENGE, and the flame thrower and nearby house from INFECTED: GROUND ZERO. Facades for each of the attractions create a setup and beginning to the story and theme of the haunt, including the impressive queue, façade, and holding area of DEMON'S REVENGE, where they have used a great amount of natural wood to create a courtyard leading into the church façade, blocking out light and noise from the rest of the attractions.
---
Special Effects:

8.59
How Did We Get This Score?

SCREAM A GEDDON uses a wide range of special effects, and has implemented an impressive amount in the past year with RAGE 3D and DEMON'S REVENGE. RAGE 3D uses many 3D tricks and techniques to garner impressive scares and disorientation, including that impressive and disorienting finale. DEMON'S REVENGE is home to impressively complex technical programming with lighting, sound, and effects triggered by Guests walking through the haunt. Multiple tents are used to help weatherproof this outdoor attraction and the massive amounts of technical equipment and special effects for a haunt of this type. DEMON'S REVENGE smartly uses the sense of quiet and near silence to their advantage, with white noise simulating a feeling of a silent church, amplifying the scares and adding to the experience. DEMON'S REVENGE also uses "actor-matronics" very well, though it would be great to see them performed a bit more dynamically/aggressively to achieve bigger scares.
With all the attractions besides DEAD WOODS using a large amount of great special effects, it would be nice to see a little more added into the woods, even if just some pin spot lighting to highlight details and increased sound or an animatronic or two to enhance the experience. Overall, the creative team and technical designers are doing all the right things to continue special effect improvements year after year to fine tune and enhance the experience, even in the repeat attractions.
---
Theme:

8.86
How Did We Get This Score?

SCREAM A GEDDON attractions deliver strong and solid themes, with high attention to detail and storytelling. Having said that, the one attraction that seems to be missing that level of detail in storytelling is DEAD WOODS. The performers don't seem to have the same storyline, and the design details seem to be incongruous as well. The use of mannequin pieces and parts throughout is confusing and not explained, and details are often missed due to very low lighting. Scares are still delivered, and the attraction is lots of fun, but it would be great to see the amount of attention poured into this attraction as there is in the other attractions.
Another new attraction with great theming is the ZOMBIE PAINTBALL ASSAULT, with a dark military feel featuring highlights of neon, and a smattering of thousands of fluorescent paintball hits, a simple yet effective post apocalyptic feel for a paintball warzone.
---
Scare Factor:

8.59
How Did We Get This Score?

SCREAM A GEDDON features a wide variety of scares, and they continue to look for ways to scare Guests that are more inventive, creative, and original, promising to surprise Guests with things they have never seen before, but we won't give any of those away here. The time and attention given to training performers shows as performers work well together to create team scares as well as strong individual scares. These, combined with effective and strong effects-driven scares, create a high caliber scare throughout all attractions. Should a trip be taken through the woods of SCREAM A GEDDON, keep a guard up as scares will come at any time and from any location.
---
Entertainment & Value:

8.86
How Did We Get This Score?

SCREAM A GEDDON features one ticket price for all attractions (besides ZOMBIE PAINTBALL ASSAULT, which is an upcharge attraction, and therefore not included in the total minutes of entertainment provided), allowing Guests to enjoy the night as they please, whether hitting all the attractions at their pace, or rushing from haunt to haunt in an effort to visit their favorites again, or multiple times, at the end of the night. Compared to other haunted attraction prices, the ticket price is competitive and well priced for the average Guest. Ticket prices are tiered based on the night, so bargain hunters may want to aim for the middle of the week for the best deal (plus potentially a drink discount on certain nights, follow their Social Media platforms for details). Parking is paid, so plan accordingly, and carpool if desired (can be purchased online – cash only at the location). Those looking for a great bang for their buck should consider SCREAM A GEDDON over the nearby theme park attractions.
---
How Did We Get These Scores