Scream A Geddon – Full Review
Scream A Geddon is a Haunted Attraction located in Dade City, FL.
27839 Saint Joe Road, Dade City, FL 33525View All Details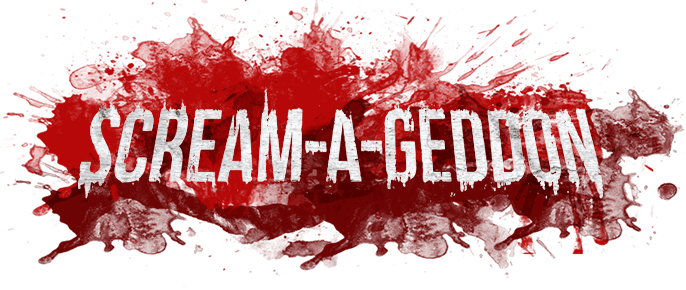 Features:

Paid Parking, Food/Concessions, Gift Shop/Souvenirs, Optional Games/Midway, Original Characters, Uncovered Outdoor Waiting Line, Indoor/Outdoor Attraction

This attraction was reviewed on October 8, 2019 by Team Giraffic Shark.
How Do We Get These Scores?

Final Score:

8.62
How Did We Get This Score?

Summary:
SCREAM-A-GEDDON is back for 2019, with returning attractions that have been upgraded for the season. While the attraction names and themes are all the same for 2019, there is still enough new and fine tuned at SCREAM-A-GEDDON to warrant a trip for the 2019 season. Craft beer fans will enjoy the special addition of BONZO'S BEER GARDEN, a craft beer garden run by BONZO and his whacky group of clowns. Pack the friends up and take a trip out to Date City, FL, where you never know what you'll find in the woods late at night.
---
Cast: 8.03
How Did We Get This Score?

The Cast at SCREAM-A-GEDDON was rather strong this year. While there are always opportunities to add more characters to boost intensity, there at least were not large open holes in staffing this time.
The Cast deserving of the most recognition this year is that of BLACKPOOL PRISON, creating highly immersive, interactive, and aggressive scares, taking the interactive haunt to a new level, without becoming completely extreme. Performers worked large portions of the haunt, and this caused a great dynamic flow of the attraction rather than limiting performers to one scene or area. Of special note was the performer in the jail cell with the music, for a highly fun and comedic moment in an attraction that is very over the top.
---
Costuming: 8.5
How Did We Get This Score?

Costuming once again did not disappoint at SCREAM-A-GEDDON, with well themed costumes and distressed details. Since the cast for some of the attractions passes through the midway in an entrance show moment, these costumes should be fully themed and developed since they are being seen for more than just a few minutes in an attraction. Some costumes (military-esque camouflage especially) were a bit too pristine, and while they were ripped and tattered, the colors were still brand newly purchased looking rather than distressed and dirty to match the rest of the look and theming of the haunt. Again, in the context of the attraction with low light and quick peeks at the Performers, it works, but if costumes are expected to be seen for longer durations of time and in different lighting conditions, they should be adequately distressed and detailed for that use as well.
---
Customer Service: 9.3
How Did We Get This Score?

SCREAM-A-GEDDON's Customer Service was once again leading the way this year, with great informative and interactive employees working the attractions, as well as the general operations (parking, front entrance, merchandise, food and beverage, etc.) All employees are pleasant and friendly, striking up conversation when appropriate, and ensuring all Guests have a pleasurable experience. Security is present at the front entrance with a thorough security checkpoint, and safety is never of concern on the grounds of SCREAM-A-GEDDON.
---
Atmosphere: 9.75
How Did We Get This Score?

SCREAM-A-GEDDON's main addition for 2019 is Bonzo's Beer Garden, adding to the Atmosphere category of the haunt. With the beer garden came some themed characters of Bonzo and his family, most notably Sticky the clown, who was highly interactive as the team enjoyed their beer at the Beer Garden, and he continued to remember the group and continued the interaction all night when our paths crossed. While beer pricing is a bit steep (though around the price you would pay in a theme park for a specialty beverage), the options for craft beers (and most seasonal flavors) are really great and interesting enough to make sales for craft beer enthusiasts. The placement of the bar and seating does seem a bit cluttered right at the entrance of the haunt, however, if Guests move past the shipping container with the bar in it, there is the rest of the common area that Guests have come to love at SCREAM-A-Geddon – dimly lit trees in the woods, with picnic tables and areas to relax and enjoy beverages and/or entertainment between attractions. These added seating areas do, however, create some of the only rain protection at SCREAM-A-GEDDON, especially helpful for small storms which Florida can be notorious for.
SCREAM-A-GEDDON also created a massive clown themed facade to streamline and iconify the entrance to the grounds, an upgrade of little impact other than just making a visual statement for Guests approaching the haunt, as well as a great photo opportunity.
---
Special Effects:

8.19
How Did We Get This Score?

SCREAM-A-GEDDON has a lot of great special effects, all incorporated really well into their attractions. While nothing major was added for 2019 in the way of attractions, there were certainly lots of small adjustments, fine tuning the special effects that were in place, and heightening the intensity of some of scenes in each attraction. Since SCREAM-A-GEDDON's team was not focused on creating an entire new haunt this year, it seems as though they were able to put a lot of effort into really honing in on details including cueing of special effects and programming these technical details to provide maximum effect. This is especially true in DEMON'S REVENGE and BLACKPOOL PRISON. They were both extremely foggy and disorienting at times due to the lack of visibility when the fog rolls in thick. In DEMON'S REVENGE specifically, scenes were developed further than last year, creating more of a story and a cohesive walk through experience from scene to scene.
With all of the advancement of technology and special effects in the majority of the attractions, the one attraction that could use an overhaul and some extra attention is DEAD WOODS, as it seems to lack the same punch of the other attractions, of a more 'old school' low tech trail haunt. Generic lighting, limited large scale effects, and expected themes make this attraction desperate for an update after the extreme amounts of work that the Creative Team has put into the rest of the attractions.
---
Theme:

8.86
How Did We Get This Score?

SCREAM-A-GEDDON has worked to further develop their themes and storytelling for 2019, including the midway with the addition of BONZO'S BEER GARDEN, and the hosting gang of clowns has developed their own story and relationships with each other, making for an exciting themed atmosphere addition. Each attraction has a solid theme and/or story, where appropriate, with the exception of DEAD WOODS, which seems to fall flat on the story and theming, whether just poorly delivered through generic (rather than specific story driven) lines from the Performers, or just a weak story to begin with.
Elsewhere, the level of theming that SCREAM-A-GEDDON has achieved, even in the least expected beer garden, is impressive for sure.
---
Scare Factor:

7.96
How Did We Get This Score?

SCREAM-A-GEDDON consistency packs solid scares, especially for unassuming Guests. While our team was rather familiar with the attractions and maze layouts, returning after last year, there were still plenty of surprises which caught us off guard and made it interesting and fun even as repeat Guests, especially in the interactive attractions, which are never quite the same twice.
Once again, SCREAM-A-GEDDON strives to invent scare tactics that have not been seen before in an effort to achieve great scares from even the most experienced haunt enthusiasts. It is important to note that due to the interactive nature of some of the attractions, they may not be the same level of intensity for all Guests, and for a single Guest's multiple times visiting the attraction. Multiple walk throughs are suggested to get a variety of path and interaction level.
---
Entertainment & Value:

9.14
How Did We Get This Score?

SCREAM-A-GEDDON is unrivaled in its value, at a reasonable ticket price and a full night of entertainment, with Guests able to experience attractions as many times as they want, all for one low price! This is especially important because for most Guests, this location will be a bit of a travel, and a full night of entertainment makes up for the drive.
SCREAM-A-GEDDON is very competitively priced, and again, being a full night of entertainment, it becomes a very viable option for those who want to get a flavor of haunted attractions without being willing to pay theme park prices. Just one trip through took us 30 minutes for all attractions! Prices vary depending on what date you attend. It's best to check their website for the most updated pricing.
---
How Did We Get These Scores

Join ourspookyadventures!
We visit Halloween haunted attractions year-round! Follow us for haunted house walkthrough videos, behind the scenes footage, and more!