Scream Acres – Full Review
Scream Acres is a Haunted Attraction located in Bishopville, SC.
1137 Old Camden Road, Bishopville, SC 29010View All Details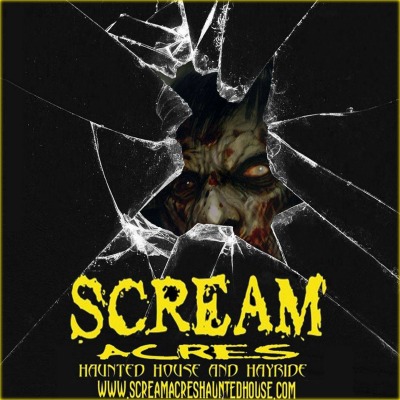 Features:

Free Parking, Restrooms/Porta Potties On-Site, Food/Concessions, Gift Shop/Souvenirs, "Old-School" (Low Tech), You will NOT be touched, Movie Characters, Original Characters, Uncovered Outdoor Waiting Line, Covered Outdoor Waiting Line, Indoor/Outdoor Attraction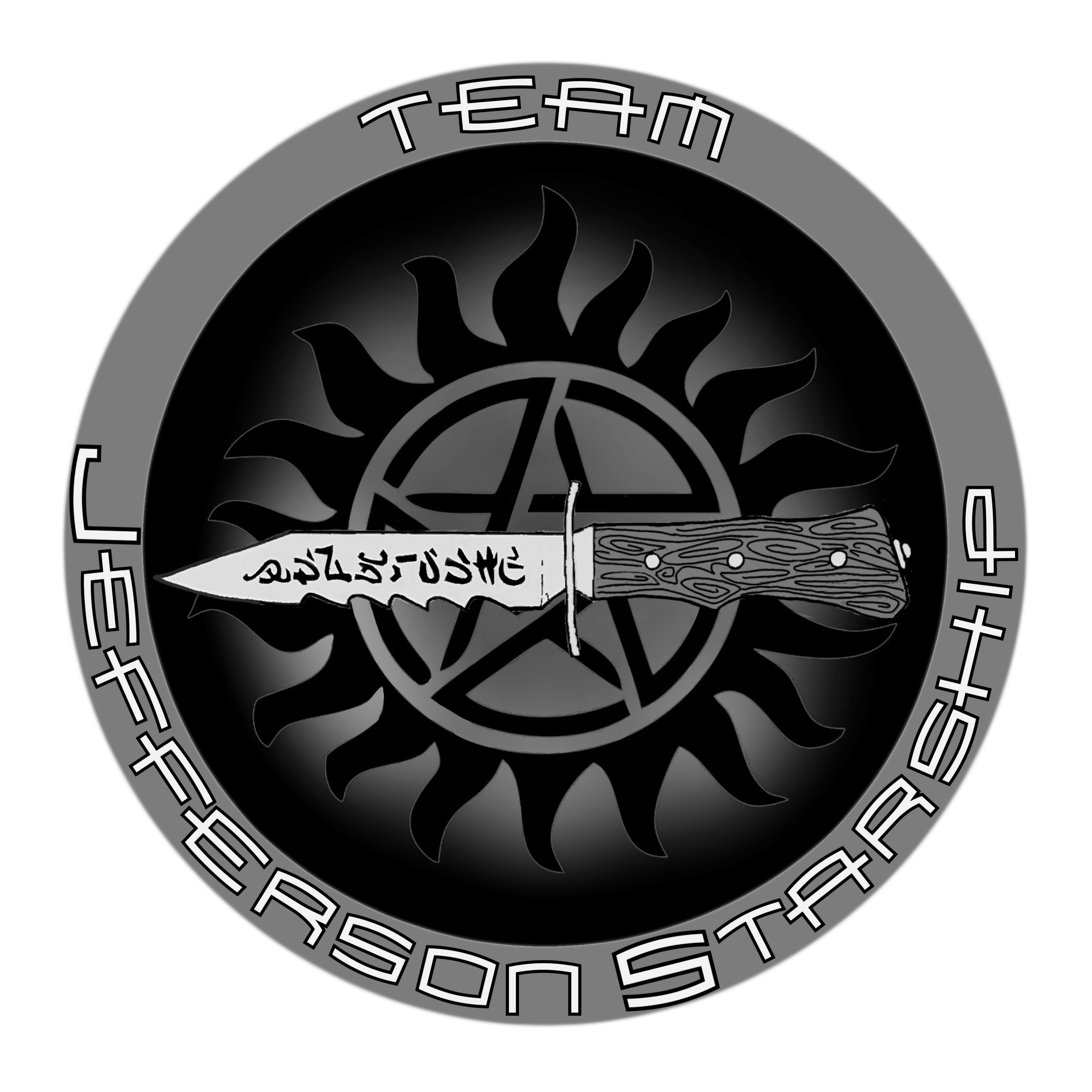 This attraction was reviewed on October 1, 2021 by Team Jefferson Starship.
How Do We Get These Scores?

Final Score:

8.59
How Did We Get This Score?

Summary:
Deep in the woods of Bishopville, glittering in the darkness of the night, is a jewel named Scream Acres. Here, hillbillies tear their way through screaming victims, clowns dance and twirl to a soundtrack of screams, and creatures slip and slide through the darkness waiting to embrace anyone who gets close enough. For a minimal fee, you can look fear in the eye and hope you live to tell the tale. The ghouls and goblins at Scream Acres are invested in giving every person that comes through their domain all the scares they possibly can.
If you're in the area and looking for a full-charity, high-energy, passionate haunt this is a great place to stop and spend your money and time. Our team has been visiting this haunt for many, many years and this was without a doubt the best show they've ever put on. We're looking forward to next year when they do even better.
---
Cast: 8.25
How Did We Get This Score?

The monsters at Scream Acres are very good at not appearing in front of your face until you have no chance at escape. Our team was assaulted from all sides by the creatures inside of the house, and even when a particular shadow had been spotted he still managed to scare one of our leaders a moment later.
On the trail, we ran into countless monsters that shocked and impressed us. As always the hillbillies were high-octane fun, but beyond them, we found a young butcher who was an artist when it came to handling a chainsaw, a clown with a unique look and even better moves, and a statue that managed to confound and then terrify the party from front to back. The variety of monsters was perfect and fitting for the multiple themes and scenes. The Invisible Man approved of our loud and positive responses to the monsters, and we were more than happy to scream and cheer throughout the entire experience.
---
Costuming: 8.08
How Did We Get This Score?

Costuming at Scream Acres is in line with the scenes and the themes that the haunt holds within it. Every character in the finale of the walking path portion of the show is carefully put together to blend the line between animate and inanimate, reality and nightmare.
There is a heavier reliance on masks than costumes, but our team saw a large number of masks we haven't seen before this season. We loved the integration of these masks into some innovative costume combinations like an animalistic hillbilly or the charismatic and swaying Freak Show creature.
---
Customer Service: 9.03
How Did We Get This Score?

Customer Service at Scream Acres is always a pleasure to experience. The Scream Acres team may be volunteer-based, but they are all lovers of haunted houses. Our team had an intensely positive experience from entering the lot to leaving and everything in between. The staff are considerate and sharp-eyed and make sure that all customers are safe and happy.
Exits, safety concerns, and risks are all explained or marked clearly so that guests aren't in any serious danger outside of the monsters. The walking path is well-lit but you do have to keep an eye on roots and other common outdoor obstacles. There's also an opening directly through the lines to the concession stands and midway for non-participants or people needing a break.
---
Atmosphere: 8.82
How Did We Get This Score?

Every year there is some new aspect to the outside of Scream Acres that our team delights to see. From the deeply authentic-looking entrance that screams cabin in the woods to the props and photo ops that embody death and fear.
The lines leading to the front of the house and through the midway to the hayride waiting area are devoted to all things spooky and rustic and our team loves the addition of the little graveyard and the new souvenir shop that blends into its haunted cabin surroundings. Horror movies and haunted projections finish off the atmosphere to confirm that you are heading deeper and deeper into the fear they're creating.
---
Special Effects:

8.64
How Did We Get This Score?

The special effects within the house and along the trail are eye-catching and bespoke to their scenes and creatures. Despite having a large number of variables in a wide outdoor setting like the hayride light and darkness are applied carefully to carry guests from the Hillbilly's home base to the depths of Hell. Sound effects and gouts of flame add realism and horror to every scene.
Within the house, automated distractions create otherworldly feelings and help monsters to leap out unsuspected at the guests. Textures and details within and without the house create locations that are believable and a world apart from their physical home in Bishopville.
---
Theme:

N/A
How Did We Get This Score?

There is not a single overarching theme through Scream Acres aside from a desire to elicit screams from the guests. The House is an old-school haunted house that brings back classic, nostalgic feelings that we love. The hayride trail is filled with a variety of different scenes that cover a range of different things in order to be sure to hit almost anyone's fears.
---
Scare Factor:

8.49
How Did We Get This Score?

Guests at Scream Acres can expect a lot of things. They can particularly expect to get a wild experience that assails them with sights and sounds. The name includes screaming, and this they always deliver. We expected to hear the people around us shrieking with fear and delight, but we were surprised to find that even our fairly stoic team members were sent jumping and exclaiming as the night progressed.
Among the monsters that slayed our team members were a wide-mouthed woman with an intense set of lungs in the cabin, the dancing freak at the freakshow, the shadow man inside the house, and the camouflaged monsters along the swamp walk. Our fellow adventurers going through the hayride also seemed terrorized by all of the Hillbillies and the Butchers.
---
Entertainment & Value:

9.02
How Did We Get This Score?

Scream Acres is $25 for general entrance and $30 for a fast pass. It is a strong value for money when you look at the length of the experience offered for these prices. Fast passes are always recommended, not just for the speed at which you go through the line, but because it gives you time to go through the haunt again if you loved it, and our experience this year at Scream Acres was worth going several times in a single night.
We spent a total of 40 minutes getting terrified! That comes out to 2 MPD (minutes of entertainment received per dollar spent) which is well above average!
Free parking, great fair-style concessions including deep-fried cheesecake, and a community of fellow horror lovers round out this experience for both the casual fear fan and the hardcore adrenaline junkie.
---
How Did We Get These Scores

Promo Images:
Click to Enlarge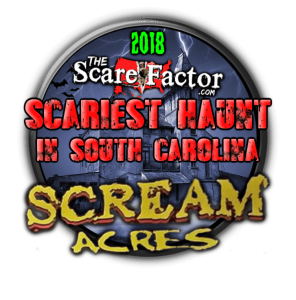 ---
Guest ReviewsGuest Average: 8.13 out of 10
Big mike – 8.13/10 – October 19, 2019Scream acres has a good setup but should change it around a bit
---
Past Awards
---
2019 Awards
Most Intimidating Chainsaw Attacker - The Butcher (Given by: Team Jefferson Starship)
Best Child Performance (Given by: Team Jefferson Starship)
---
2018 Awards
Scariest Haunt in SC - Highest Rated Fright Effect for 2018 (Given by: Team Jefferson Starship)
Actor Shout Out - Freakshow Freaks (Given by: Team Jefferson Starship)
Actor Shout Out - Texas Chainsaw Rednecks (Given by: Team Jefferson Starship)
Actor Shout Out - The Bridge Minder (Inside house) (Given by: Team Jefferson Starship)
---
2017 Awards
Most Intimidating Chainsaw Attacker - Most Entertaining Chainsaw Artist (Given by: Team Jefferson Starship)
Actor Shout Out Award - Gum (Given by: Team Jefferson Starship)
---