Sir Henrys Haunted Trail – Full Review
Sir Henrys Haunted Trail is a Haunted Attraction located in Plant City, FL.
2837 South Frontage Road, Plant City, FL 33566View All Details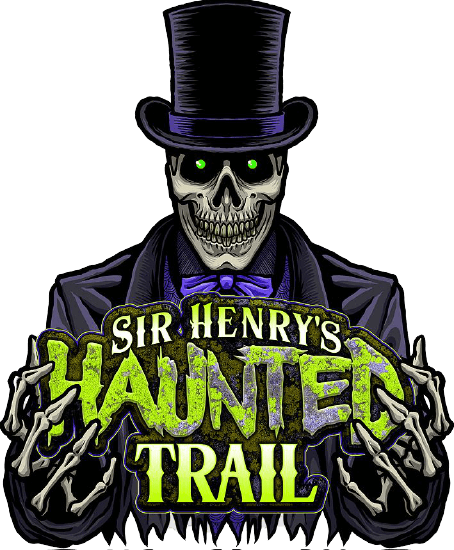 Features:

Free Parking, Restrooms/Porta Potties On-Site, Handicap Accessible, Food/Concessions, Gift Shop/Souvenirs, "Hi-Tech" Attraction, Original Characters, Uncovered Outdoor Waiting Line, All-Outdoor Attraction

Team Giraffic Shark reviewed this attraction on October 6, 2017.
Final Score:

8.66
Summary:
SIR HENRY'S HAUNTED TRAIL delivers two well-themed haunted trails nearly a mile in total length. Also home to OMINOUS DESCENT (see separate review) for 2017, SIR HENRY'S packs great scares and theming into both trails. With both being built primarily by a team of two, this massive amount of work pays off with two very successful haunted attractions. Utilizing a strong cast and traditional effects, these trails provide a fun atmosphere and good scares for those looking for a laid back atmosphere, yet an exciting and thrilling haunted experience this season.
Team Giraffic Shark says 'Do not miss what Sir Henry has to offer for 2017! We recommend the 3-attraction combo pass, including OMINOUS DESCENT for the best overall value!'
---
Cast:

8.36
The cast of SIR HENRY'S HAUNTED TRAIL is primarily made of young actors dedicated to storytelling and scaring guests. While this doesn't provide a wide range of character types, the cast does a great job of portraying those different characters, despite a small range in age.
Both trails could benefit from more actors to "plus up" the scares and storytelling; however, the cast does well working the space to make more of an impact instead of staying in one location. Sir Henry's performance in RESURRECTION is notable, as he is around every corner providing a dynamic presence, ringing true to the story of the attraction.
The cast roaming the general scare grounds do a great job of setting the scene, including Sir Henry himself interacting with guests and a witch like character who really does a fantastic job talking with guests as they travel in between the different attractions.
---
Costuming:

8.9
Costumes are well done and complete, while not being overly detailed. They fit the characters and theme and deliver solid storytelling. Makeup is similarly well done, adding to the overall aesthetic of the haunt. Sir Henry has a great mask and costume for his character, providing a solid, iconic character that matches the statue at the center of the grounds. Other notable character looks are those from the cemetery scene in CURSE OF HOLLOW OAK, as well as the Frankenstein-like character in RESURRECTION.
---
Customer Service:

9.19
Every cast and crew memeber encountered had great customer service, from the parking attendants and vendors to our host for the evening, Zach Glaros. We felt welcomed, comfortable and at home at SIR HENRY'S HAUNTED TRAIL. The queue attendants had a clumsy setup for tickets and wristbands, but they seemed to get more comfortable as the night went on. They did a great job reviewing the rules and guidelines for the attractions, as well as casual chat as we waited for our turn. For being very dark trails in the woods, there were not any safety concerns or dangers (including tripping hazards) while traversing the trails.
---
Atmosphere:

9.19
SIR HENRY'S HAUNTED TRAIL shares their scare grounds this year with OMINOUS DESCENT (a haunt they are hosting for the year after they lost their building due to Hurricane Irma) and they are set up in a large field on the edge of woods containing the trails. The large area past the ticket booth is dark with some themed lights, spotted with general fun Halloween decorations and photo ops. There are a few small vendors selling freshly-made snacks (popcorn, boiled peanuts, etc.) and prepackaged homemade desserts (marshmallow treats, etc.). Fire pits help to set the ambiance, along with plenty of seating around the area. Characters roam the area, including Sir Henry himself and a few other interactive, themed characters chatting with guests.
---
Special Effects:

8.33
SIR HENRY'S HAUNTED TRAIL relies mostly on traditional haunted house effects to create the story and deliver the scares. However, the special effects they do use are well-placed and spaced-out to deliver maximum effectiveness and story telling. Not relying on large-scale animatronics and extreme effects to deliver scares forces them to explore creative options to deliver quality theming, scares and storytelling. Some of the best effects were the lighting and scenery of the smoldering cabin, the setup of the laser swamp section and the electrical/lab section with strong lighting and sound effects.
Lighting is well done throughout the trails utilizing pin spot lighting and colorful wash lighting as well to create a dark, yet vibrant atmosphere. Fog effects enhance the lighting and create a stronger atmosphere.
For a team of primarily two designers and builders, this haunt is seriously impressive due to its large scale spanning multiple acres and two completely-themed and -detailed trails of their length.
---
Theme:

8.48
SIR HENRY'S HAUNTED TRAILS both have strong back-stories, which are developed and told effectively throughout the attractions. While they both are connected through the icon character, Sir Henry, they stand alone and provide unique and original stories by themselves. CURSE OF HOLLOW OAK has a more unique and creative concept, dating back centuries to tell its story… a time period not often seen in haunted attractions, making for a fun and unique atmosphere for this story.
---
Fright Effect:

8.57
SIR HENRY'S HAUNTED TRAIL packs some great, unexpected scares throughout the trails, causing everyone to jump in fright. Scares are spaced out for impacting the entire group and might be somewhat different each time you go through the haunts because you never know where Sir Henry and his minions may be hiding. Distractions are well utilized to enhance jump scares for the cast.
Effects greatly enhance scares through lighting, including lasers and strobes, as well as triggered sound effects. One notable scare in CURSE OF HOLLOW OAK greatly caught us off guard, as it was completely unexpected in a trail and haunt of this style. Some camouflaged actors deliver strong scares as well while blending into the landscape along the dark trail.
While this haunt is great for adults, of course, and has great scares, I would recommend it as a good haunt for teens and older children as well. The haunts are not terrifyingly scary, as the scares are well paced through the attractions so as to not overwhelm new haunt enthusiasts.
---
Value:

8.28
SIR HENRY'S HAUNTED TRAIL is a great value, providing a decent amount of entertainment in one location. Sir Henry donates a portion of his proceeds to charity. This season, proceeds are going to VS. CANCER, Pediatric Brain Tumor Foundation.
My suggestion would be to utilize the three-haunt combo, including OMINOUS DESCENT, which is calling SIR HENRY'S HAUNTED TRAIL their home for 2017. VIP packages are also available, offering multiple passes through each trail. Space is well utilized, creating long trails while still leaving room for expansion, or possibly the addition of more trails in the future as well. SIR HENRY'S HAUNTED TRAIL delivers an evening of quality entertainment and a good amount of scares and fun.
Head on down to Plant City and see what Sir Henry is up to for 2017.
---
Promo Images:
Click to Enlarge
---
Guest ReviewsGuest Average: 10 out of 10
Jennifer Martinez – 10/10 – October 13, 2018Sir Henry's is our favorite! Full submersion, intricate detailed sets, high quality makeup and …show more costuming and great actors! We look forward to going each year and it keeps getting better! HHN has nothing on Sir Henry… Henry is keeping it old school scary with the passion to provide us with an epic event each year!
Susan Wright – 10/10 – October 12, 2018This year we did all 3 trails and the escape room. Truly creepy and sometimes terrifying, it's the …show more most fun I've had all year. You guys are awesome!
Aurelia Traub – 10/10 – October 12, 2018Amazing well planned out had a great time definitely worth the drive they do an amazing job with …show more everything Great actors great entertainment. If you want a good haunt with great scare factors this is where you need to come. And the attraction designs and layout are amazing. And PHENOMENAL customer service. Everyone there is great and their T-shirt souvenir stand had some really unique items and treats. Definitely and great attraction.
---
Past Awards
---
2018 Awards
Most Authentic Location - The Carving (Given by: Team Giraffic Shark)
Best Camouflaged Scares - The Carving (Ghillie suit scares and tree droppers) (Given by: Team Giraffic Shark)
Most Improved/Best Improvements since 2017 (Given by: Team Giraffic Shark)
Actor Shout Out - Laser Swamp Performers, The Carving (Given by: Team Giraffic Shark)
Actor Shout Out - Tree Droppers, The Carving (Given by: Team Giraffic Shark)
---