Sir Henrys Haunted Trail – Full Review
Sir Henrys Haunted Trail is a Haunted Attraction located in Plant City, FL.
2837 South Frontage Road, Plant City, FL 33566View All Details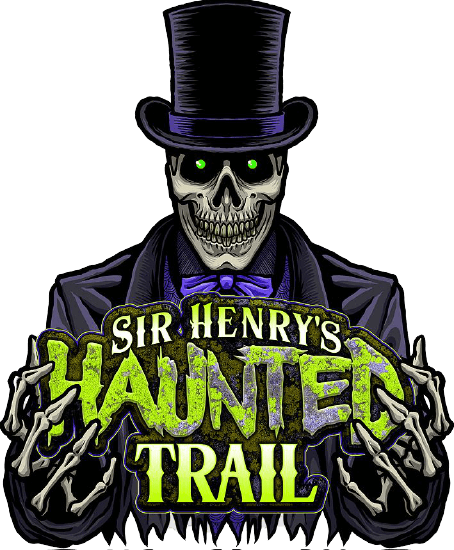 Features:

Free Parking, Restrooms/Porta Potties On-Site, Handicap Accessible, Food/Concessions, Gift Shop/Souvenirs, "Hi-Tech" Attraction, Original Characters, Uncovered Outdoor Waiting Line, All-Outdoor Attraction

This attraction was reviewed on October 5, 2019 by Team Giraffic Shark.
How Do We Get These Scores?

Final Score:

8.87
How Did We Get This Score?

Summary:
SIR HENRY'S HAUNTED TRAIL, voted 'Most Improved Haunted Attraction' in 2018 from Team Giraffic Shark, returns again, and once again, massive improvements and changes can be seen on the two trails this year. SIR HENRY'S HAUNTED TRAIL has worked to bring two brand new themes to their trails this year, while utilizing some existing scenery and either enhancing or upgrading from previous years to create the themes for 2019. OMINOUS DESCENT shares the I4 PREMIER FEAR PARK with SIR HENRY'S HAUNTED TRAIL, offering a combo ticket for both.
---
Cast: 8.73
How Did We Get This Score?

The Cast at SIR HENRY'S HAUNTED TRAIL is once again very wide in demographic, from young to old, experienced to novice. The creative team at SIR HENRY'S has once again done a great job at placing Performers according to their character type and skill level, allowing more experienced and agile performers to take on some of the more difficult and/or active scares. Because of the wide demographic, SIR HENRY'S is also able to present a very wide variety of characters, including children characters to mature characters as well. The trails are also designed with many areas that can be added or subtracted depending on the number of Performers available for the night, allowing the haunt to function at any level.
One Performer unfortunately had to step out of his role in order to help Guests pace and group themselves through the claustrophobia tunnel, and then apologizing for not scaring people. Kudos to the performer for recognizing the operational need for Guest safety and throughput challenges, but hopefully another role can be added to accomplish this task while this performer in a well-camouflaged suit can focus on getting great scares.
---
Costuming: 8.59
How Did We Get This Score?

SIR HENRY'S has once again stepped up the game with some of their costumes and masks. They have worked to develop more complete looks and have made some smart choices when designing and choosing masks for their attractions. Of special note was the look of the old lady towards the beginning of the attraction (including wig and creepy contacts which popped under the lighting of the scene). There are still a few opportunities for improvement in the costuming area, but at this point, it would primarily be in the details. With these attractions being very strongly historically themed, costuming should reflect that, and while it may be unreasonable to costume all Performers in period appropriate basics (shoes, etc.), special effort should be made to hide personal items (watches, jewelry, etc.) and recognizable footwear (white edged black converse sneakers) in order to fit the period costume look.
SIR HENRY'S has made massive progress in the costume department in the past three years of our visits, so it is exciting to see where they will continue to go as they develop new themes, stories, and are able to continue to focus on the detail work.
---
Customer Service: 9.41
How Did We Get This Score?

SIR HENRY'S HAUNTED TRAIL and OMINOUS DESCENT share the general staff, ticket booth, and common area employees, all of which are extremely friendly and nice, including being very helpful and communicative with each other and Guests.
All trails are in the woods/fields, and none of them feel unsafe or with uneven footing. Police are onsite for assistance with parking and monitoring the attraction as a whole, and while there is no security checkpoint, the presence of police and security is much appreciated for a worry free night of enjoyment.
---
Atmosphere: 9.6
How Did We Get This Score?

OMINOUS DESCENT and SIR HENRY'S HAUNTED TRAIL share a common area which is filled with merchandise and food options, roaming characters, photo ops, and the main attractions. The lighting, video, audio, and general atmosphere add so much to the experience and make it a great place to want to hang out for the entire evening. There are fire pits as well which are likely lit when it is a bit cooler out. The entire haunt and scaregrounds is reminiscent of New England haunts, and made the review team think back to their childhoods growing up in the Northeast. Certainly plan on spending some time just taking in the atmosphere around I4 PREMIER FEAR PARK.
---
Special Effects:

8.55
How Did We Get This Score?

SIR HENRY'S has continued to develop their special effects adding more triggered sound effects (though sometimes special effects are spoiled by visible equipment, though still effective), as well as visual effects. They had a great setup for a laser swamp in one of the attractions, including well placed performers. However, unfortunately, the fog was not captured at the time of our walk through to allow it to be effective, a tricky effect to master. Each year, the lighting gets better and better, becoming more focused and showing off the detail and creating or enhancing ambience.
The team has added and/or enhanced some very effective maze elements within one trail, creating some misdirection, slowing down and pacing Guests, and allowing for some very effective scare positions, where the same Performer is able to scare in multiple locations.
---
Theme:

8.95
How Did We Get This Score?

SIR HENRY'S creates unique historical based themes generally for their attractions, which work well with their setting and scenery, and provide a very unique theming not usually offered in haunted attractions. Often feeling like a twist on folklore, or some traditional haunted story, these stories are unique and original, and it's always fun to see how they are translated into a haunted attraction. They do, however, do a good job of making things generic enough that if Guests don't take the time to read the description (though highly recommended to fully understand the concept and backstory), they will still understand the story and themes of the trail well enough to have an enjoyable experience.
---
Scare Factor:

8.45
How Did We Get This Score?

SIR HENRY'S has continued to develop a very good balance of strong scares and creep out moments, providing a variety and pacing through the attractions. Once again, some of the strongest scares come from the ability of Performers to camouflage and hide in plain sight in the trail, with Guests passing within feet of them prior to the scare. Occasionally groups would get too close, not allowing time for Performers to fully reset for the next scare, especially with the longer scenes where Guests are able to see further ahead. Because of this, Performers need to work on developing a Plan B scare, where they are already revealed and can still effectively scare or intimidate the Guests, even if a full scare is not possible at that point.
SIR HENRY'S has worked hard to increase their scares every year, and they have made some clear momentum this year, including better utilization of existing scenes to provide stronger scares, perhaps most notable in the new path through the village scene, creating a twisting walk through rather than the straight shot that they have used in previous years.
---
Entertainment & Value:

9.15
How Did We Get This Score?

Sharing a location and ticket options with OMINOUS DESCENT at I4 PREMIER FEAR PARK, these two attractions (including three trails, and upcharge offerings [Laser Tag/Escape Room], as well as a variety of food and merchandise opportunities) add up to a full night's entertainment, a great feature of a haunted attraction. I4 PREMIER FEAR PARK offers a variety of ticket options including common area access only (no access to haunted attractions), general admission for all trails, front of line access for all trails, and their best deal for repeat Guests, a full season pass option. With deals this reasonable, and a full night's entertainment, this is a great destination for those after a scary night out!
Even on opening weekend, this attraction was very busy this year, so plan accordingly and get there at the beginning of the night if looking to maximize the evening for the ticket price.
---
How Did We Get These Scores

Promo Images:
Click to Enlarge
---
Guest ReviewsGuest Average: 10 out of 10
Jennifer Martinez – 10/10 – October 13, 2018Sir Henry's is our favorite! Full submersion, intricate detailed sets, high quality makeup and …show more costuming and great actors! We look forward to going each year and it keeps getting better! HHN has nothing on Sir Henry… Henry is keeping it old school scary with the passion to provide us with an epic event each year!
Susan Wright – 10/10 – October 12, 2018This year we did all 3 trails and the escape room. Truly creepy and sometimes terrifying, it's the …show more most fun I've had all year. You guys are awesome!
Aurelia Traub – 10/10 – October 12, 2018Amazing well planned out had a great time definitely worth the drive they do an amazing job with …show more everything Great actors great entertainment. If you want a good haunt with great scare factors this is where you need to come. And the attraction designs and layout are amazing. And PHENOMENAL customer service. Everyone there is great and their T-shirt souvenir stand had some really unique items and treats. Definitely and great attraction.
---
Past Awards
---
2018 Awards
Most Authentic Location - The Carving (Given by: Team Giraffic Shark)
Best Camouflaged Scares - The Carving (Ghillie suit scares and tree droppers) (Given by: Team Giraffic Shark)
Most Improved/Best Improvements since 2017 (Given by: Team Giraffic Shark)
Actor Shout Out - Laser Swamp Performers, The Carving (Given by: Team Giraffic Shark)
Actor Shout Out - Tree Droppers, The Carving (Given by: Team Giraffic Shark)
---