Six Flags Fright Fest NJ – Full Review
Six Flags Fright Fest NJ is a Haunted Attraction located in Jackson, NJ.
1 Six Flags Blvd., Jackson, NJ 08527View All Details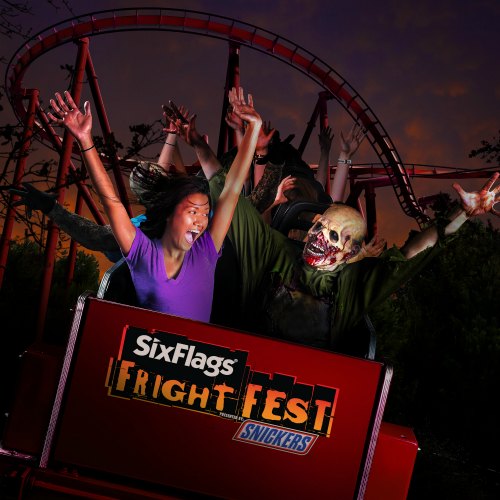 Features:

Paid Parking, Handicap Accessible, Food/Concessions, Gift Shop/Souvenirs, Optional Games/Midway, Original Characters, Uncovered Outdoor Waiting Line, Indoor/Outdoor Attraction

Team Scare Response Unit reviewed this attraction on October 10, 2016.
Final Score:

7.6
Summary:
Frightfest is Six Flags' Halloween event, adding 7 haunts, 4 scare zones and 5 Halloween-themed shows to the park. The water in the massive fountain is dyed red, they decorate to the nines and they let loose roving bands of actors. You can enjoy the atmosphere, scare zones, and shows with park admission, but if you want to do the haunts, you'll need to purchase a haunt admission wristband potentially bringing admission up near $100.
On the night of our visit (10/10), 2 of the 7 haunts were closed. They gave us $5 off for the inconvenience.
---
Cast:

7.5
The cast was all over the place. Cell Block and Big Top's actors were wonderfully creepy and interactive, but the majority of actors in Manor and Bloodshed both fell into the "pop out and say boo" category. Total darkness suffered from a total lack of people.
The cast in the scare zones were all on point though! I think they gave me better scares than half of the houses!
---
Costuming:

8.5
All of the costumes (in haunt and in the scare zones) were well done, in theme, and complete.
---
Customer Service:

7.5
Customer service for the haunts themselves were fine, but we had some less-than-stellar interactions with ride operators and box office workers.
---
Atmosphere:

8.5
Fright Fest does a great job of creating an atmosphere of fear within the park. Scare zones are well decorated and the blood fountain is super cool. Some areas feature scary sound effects while others have pop-y Halloween music piped in.
---
Special Effects:

7.5
Fright Fest has a lot of the new, cooler scare tools like air guns, animatronics and 3D and puts them all to good use. I feel that their blackout house was a missed opportunity, however.
---
Theme:

8
Each of the haunts and scare zones convey their respective themes well. Sets and costumes are detailed and well thought out.
---
Fright Effect:

6.3
Cellblock 6: 8.5
New this year, Cellblock 6 is a take on the prisoners that are loose in the prison trope. The sets and sound effects give you a pretty good feeling of the Prison motif. Strategically-placed animatronics and air guns elicited several shrieks from me. Actors are costumed well, in character, and ready to mess with you. Kudos to the gal clinging to the wall and the upside down guy for using the sets for ultimate creepiness.
Make this house priority #1.
Wasteland: CLOSED
NOTE: In past visits, this was one of my favorites – really cool sets, animatronics, and fun, unexpected scares.
Big Top Terror: 8
Neon 3D seems to be the new hot gimmick for haunts (especially paired with clowns), so I didn't have high hopes for anything new from this haunt. I was pleasantly surprised with a chill haunt that skipped the shrieking and jump scares and, instead, brought us into a really unique circus of paranoia. The 3D paint made some of the sets seem like they were moving out of the corner of your eye. Then there were the clowns; they had 3 modes of messing with you: babbling weird stuff/giggling, using distractions (including babbling cohorts), and just generally creating an aura of paranoia by making themselves known, but not actually going in for the kill (creeping). I was suspecting EVERYTHING by the end of the haunt.
I'd suggest making this haunt a priority as well.
Voodoo Island: CLOSED
BloodShed: 7
Welcome to the slaughterhouse – blood, dismembered bodies and chainsaws. The sets were well executed, costumes were good and the actors were all into it. A couple of good jump scares got me too. This haunt was perfectly adequate, but there was nothing in here interesting enough for me to say "let's go again" or "make this a priority."
The Manor: 5
Like BloodShed… while adequate, this haunt brings nothing interesting to the haunted house trope. Additionally, some weird set choices (funeral home attached to the haunted house?) and bored-looking actors really killed this one for me. It really felt like "let's squish as many different scary house things in here as we can."
Total Darkness: 3
Your group is given a flashlight tied to a rope and you're sent to navigate a maze in almost total darkness. The flashlight is gimmicked to dim or cut out during the walk.
I don't know if we caught it on a bad day/time, but this haunt fails on so many levels. I was the caboose of the rope train so I should have been a prime target (in the back, farthest from the light) – not one scare was made in my direction. I think we counted 2 actors in the entire walkthrough. 95% of the trip was walking through twisting black halls with no detail. The big effect was an area that had hanging string to hit you in the face!
Wrapup:
The houses vary in scare quality and I think real Haunt Fiends will be disappointed at a nearly $100 price tag. With that said, if you're planning a trip to Six Fags for the coasters, the haunts are fun add-ons and are readily accessible for anyone.
---
Value:

7
None of the houses took more than 10 mins; however, some of the lines are massive. At the lowest price point of the season ($83.99), it works out to 0.83 minutes of entertainment per dollar spent (7 houses at 10 mins. divided by $83.99). Most of the Coasters are still running during Frightfest so you can enjoy other parts of the park with the admission.
---
---
Have you visited this attraction?